Jordan Spieth makes miracle, round-saving birdie from the woods Saturday at the Masters
Masters.com
Jordan Spieth really, truly seems to be back this year on the PGA Tour. And it's very much the Jordan Spieth of old, as entertaining as ever, with both crooked numbers and miraculous scrambles dotting his scorecards. On Saturday afternoon at the Masters, he checked both off his list on consecutive holes.
Spieth began the final round at Augusta National in great shape at five under, just two shots off Justin Rose's lead and with as good a chance as anybody to make a Sunday charge for another green jacket. After a birdie at 2 and early stumbles by Rose, Jordan found himself within one shot of the lead.
Then things started going haywire. First, he burned the edge on a birdie putt at 3 to halt his momentum. Then, he made bogey at the par-3 4th to fall back to five under. When his approach shot at 7 sailed well over the green, then his ensuing chip ended up in a bunker, a devastating double-bogey 6 was the result.
The crooked number, his second of the week after a triple-bogey at 9 on Thursday, dropped him to three under, leaving him four shots off the lead. Hopes of a potential comeback Masters win were fading fast, as the broadcasters were quick to acknowledge.
It almost got worse. Needing a birdie at the par-5 8th to get back into the mix and stop the bleeding, Spieth instead hit a near-shank with his second shot, sending it way left and into a grove of trees and behind some azaleas. You can get a better idea of the predicament he faced with this helpful graphic from the broadcast: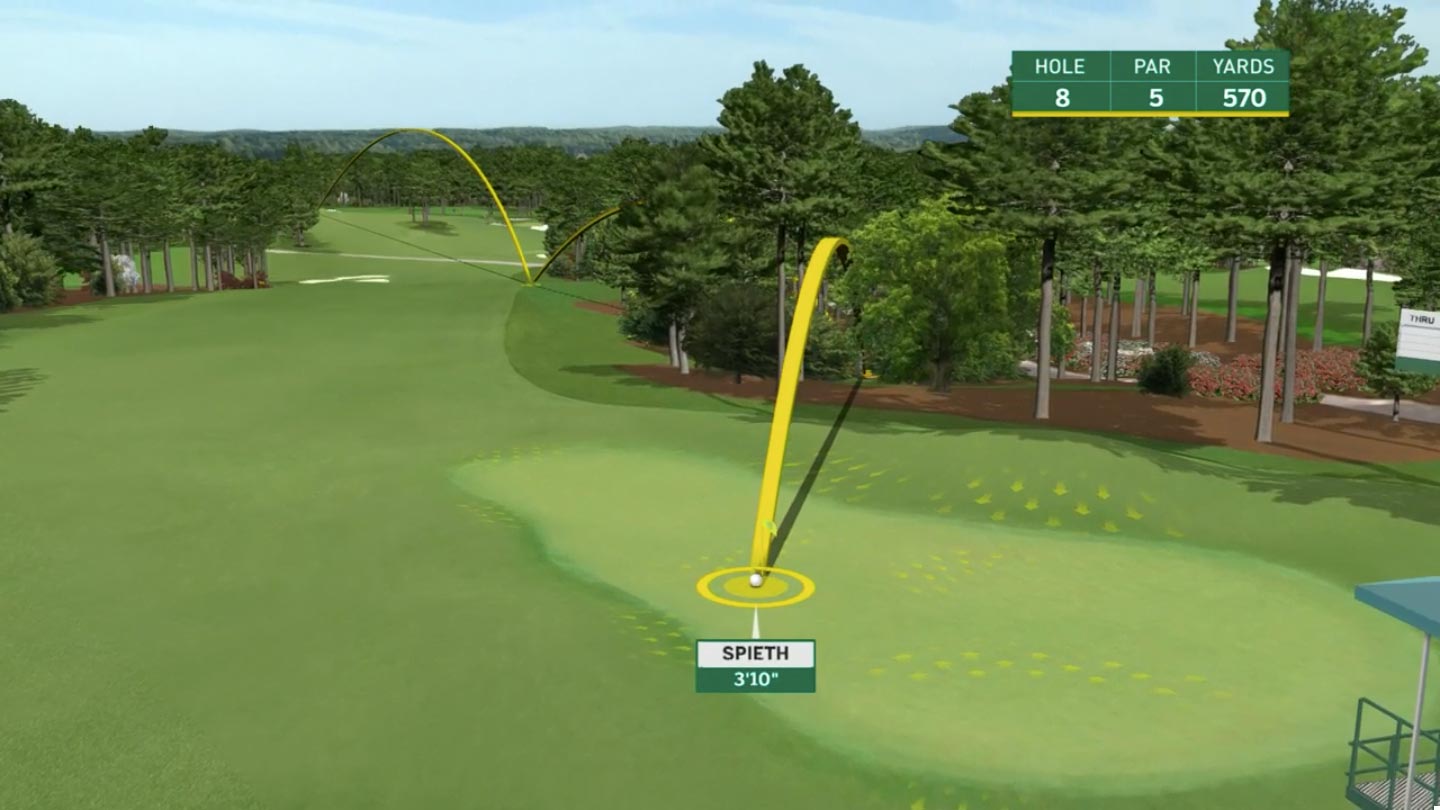 But just when it looked like the Spieth of the past two years had returned, he pulled off his best shot of the week, one that, at least temporarily, saved his tournament.
With 94 yards left to the green, his ball sitting on pine straw and a set of huge trees standing between him and the flag, Spieth lofted a wedge high up in the air and over the towering pines. His ball came crashing down on the green, rolling past the hole and a swale, before rolling back toward the cup to finish within 3 feet.
Check it out below.
He'd make the short birdie putt from there, turning what could have been another crooked number into a circle on his scorecard, and putting him back within three shots of Rose's lead. Shortly afterward, play was suspended due to storms, but not before Spieth had created some positive memories to stew over in the clubhouse.