How the coronavirus is stopping golfers from playing all of this golf course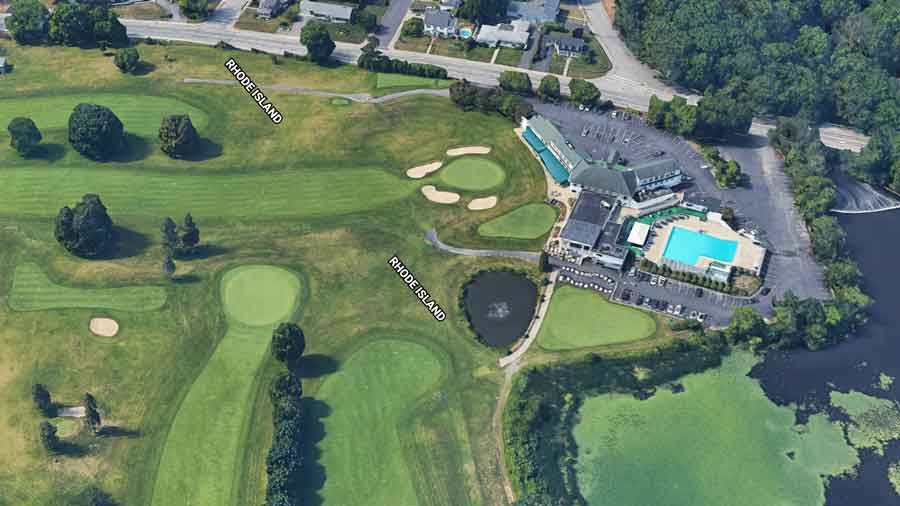 The Pawtucket Country Club, which is divided by the Rhode Island-Massachusetts border.
The Pawtucket Country Club has members from Massachusetts and Rhode Island.
The Rhode Island golfers are allowed to play all 18 holes of the 6,500-yard, par-69 course.
The Massachusetts golfers are allowed to play about 15.5/18ths of it.
Because coronavirus. 
The course also has holes in both states, and the states have had different restrictions for golfers due to the pandemic. Massachusetts players only recently have been allowed to play again. Rhode Island players have never been restricted, but the state's courses have been allowed to have only state residents.
Holes 2-17, along with the drive and approach on the par-4 18th, at Pawtucket CC are on the Massachusetts side, according to television station WCVB. All members play.
Holes 1, 10 and the 18th green – and the clubhouse – at Pawtucket CC are in Rhode Island. The Rhode Island members play. The Massachusetts members do not.
"Until they can play all 18 holes, we're not really keeping score," Rhode Island golfer Max Jackson told WCVB of playing with Massachusetts golfers.
The course's co-owner, Gary Reiss, told WCVB that the restrictions are in place to keep the course legal. In addition, only the Rhode Island players are allowed to ride in carts.
"If they come in in Massachusetts and walk the holes in Massachusetts because Massachusetts people can't take carts, we're allowing that," he told the television station.
WCVB reported that police have not been patrolling the border. The golfers and the course have been.
Reiss was worried members would start canceling their memberships.
"These are blue-collar, hard-working people," he told the television station. "I'm not looking for a favor for spoiled rich people in any way. These people deserve to be out here."
Golf Magazine
Subscribe To The Magazine
Subscribe