The interesting reason Jim Furyk uses a crooked grip on his putter
Getty Images
Jim Furyk has never much cared about how something looks, only that it works.
It's a good thing, too. If he did, Furyk likely wouldn't have become one of golf's household names — fourth on the all-time earnings list, with a major championship and two sub-60 PGA Tour rounds to his name.
While most of us have become accustomed to the various peculiarities in Furyk's long game, there's no shortage of interesting tidbits in his short game, either.
One of them I encountered first hand earlier this week as Furyk was rolling putts. I couldn't put my finger on it at first, but something just seemed… different. And then I spotted it.
Furyk's putter grip was on crooked, rotated 45 degrees toward the target.
"It looks weird," he said, grinning. "But it feels good."
Furyk has been using his crooked grip since last year en route to his second-place finish at the Charles Schwab Cup. It started when he made the switch away from a left-hand low putting grip, which he had been using for most of his career, to a more conventional overlapping style.
He liked how his new grip made his stroke feel, but the putter didn't feel like it was sitting right in his hands, so he started tinkering in his at-home golf club workshop.
Looking for the right feel took him to some strange places, including, at one point, putting into play an upside-down putter grip.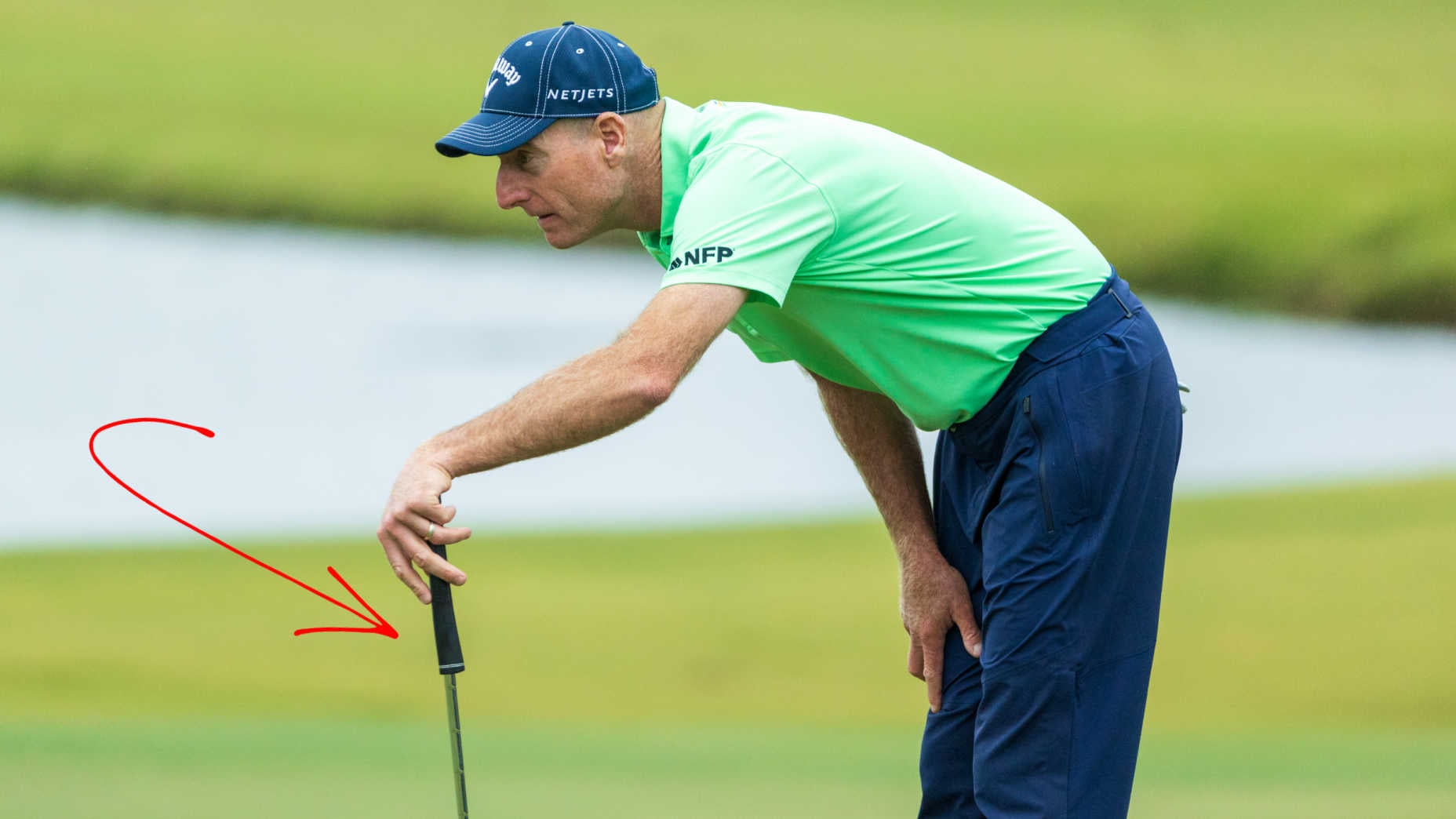 But then, in 2021, he settled on his off-center putter grip and has been using it ever since.
Fewer putts missed left
Furyk doesn't grip the putter with his thumbs completely on the flat part of the putter grip, but the putter grip being rotated toward the target does help weaken both of his hands. This doesn't just feel more comfortable, Furyk says, but prevents him from pulling putts to the left — which is his most common fault on the greens. He may push putts occasionally, but he'll rarely miss left.
"Especially on shorter putts," Furyk adds.
You won't find many putters gripped like this, and I'd definitely proceed with caution before trying it yourself, but the moral of this story is simple: Whatever works!