The pre-round drill this U.S. Open champ uses to sync-up his putting stroke
BROOKLINE, Mass. — When it comes to putting, there's one thing pros care about above all else: Starting the ball on their intended line.
It's something pros work on a lot before each of their rounds, and especially early in the week, before the action gets underway.
Think of it like a quick engine check on a car. Without it, golfers could start pulling putts left, for instance, without knowing they're doing it. They could think they're mis-reading putts — so they start aiming more right, which means they have to start pulling putts more left to start the ball where they actually want. It's one small problem that creates multiple bigger ones that take hard work to undo.
Which is why they try to prevent it before those problems start piling up. They work on it in a variety of ways, usually with some combination of a string, chalk line on the ground, and a line on their golf ball. One drill along these lines that caught my eye, while roaming the ground of The Country Club on Monday came from 2020 U.S. Open champ Bryson DeChambeau.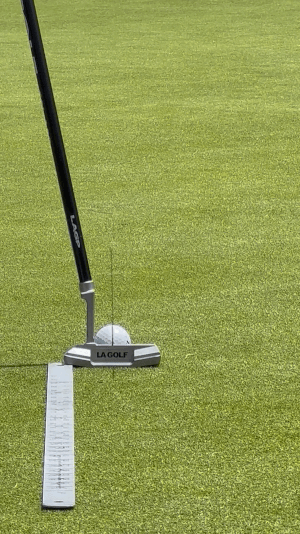 Bryson was one of the most recent players to defect to the Saudi-backed LIV Golf Invitational Tour, a move he described purely as a "business decision." But on the practice putting green ahead of the 2022 U.S. Open, it was business as usual. He was practicing the same sync-up drill he uses before he does before each of his rounds.
First, he finds a relatively straight putt of about 20 feet.
Next, he draws a chalk line on the ground. This indicates his desired start line.
Then, he aligns the line on his golf ball down the chalk line.
Once he's all setup, he simply starts rolling putts. He's looking for the line to roll end over end, down the line on the ground. The ruler you see is a separate tool he uses measure his backsroke.
"It just allows me to calibrate my start line, so I know the ball is rolling off the face the way I want it to," he says.
And it's a drill simple enough for you to use at home, too.