A frame-by-frame breakdown of Phil Mickelson's 350-yard bomb
About a year and a half ago, a lightbulb seemed to go off in Phil Mickelson's head. He had never been a short-hitter or easy-swinger before — and certainly was never known for his accuracy off the tee — but perhaps beset by the effects of time, he decided to make some big changes. He altered his diet, hit the gym, and focused on hitting "BOMBS."
And it worked! Phil looks healthy, and his speed in 2019 immediately jumped four miles per hour.
2016: 115.41 mph
2017: 114.24 mph
2018: 116.48 mph
2019: 120.78 mph
Phil is making his PGA Tour Champions debut this week, and in the process of transitioning from elder statesman to young gun he decided to unleash that newfound power on the senior circuit. I'd like to focus specifically on the 350-yard 3rd hole, where Lefty showcased that power by driving the green and two-putting for an easy birdie.
Watch the highlight of the clip below, and when you do, take notice of his footwork.
As you can see, Phil's feet move all over the place. At one point, he looks like he's about to fall over — which Mickelson said makes sense, considering the green is 350 yards away — but losing your balance isn't necessarily a bad thing. And while it's a product of him swinging extremely hard, the details of how his feet move in this clip are important. You can learn a lot from watching this clip, especially if you're trying to hit some BOMBS yourself.
So let's break it down…
1. Lead heel lifts
This is an old-school move that's become new school again as players go hunting for more distance. Lifting your left heel, as Padraig Harrington explains, helps shift your weight to your trail side, and allows you to turn your body more around you for a longer arm swing. All of that is a recipe for faster clubhead speeds, which is why you can see Phil raise his left heel high in the picture above.
2. Weight shifts to front foot
During Phil's downswing, you can see his lead heel — once almost fully off the ground — is now firmly planted. That's because Phil is driving his weight from his trail foot back to his front foot. It's a textbook weight shift (or "pressure shift") and puts his body in a position where he can begin turning through.
3. Rotate around lead heel
It's really important not to rotate around your lead heel too soon — that's a major power leak, according to Hall of Fame teacher Mike Adams. But once your weight shifts onto your front foot, that's when you can begin turning around your lead heel. That's why you can see Phil's lead foot go from fully planted to toes in the air, heel planted.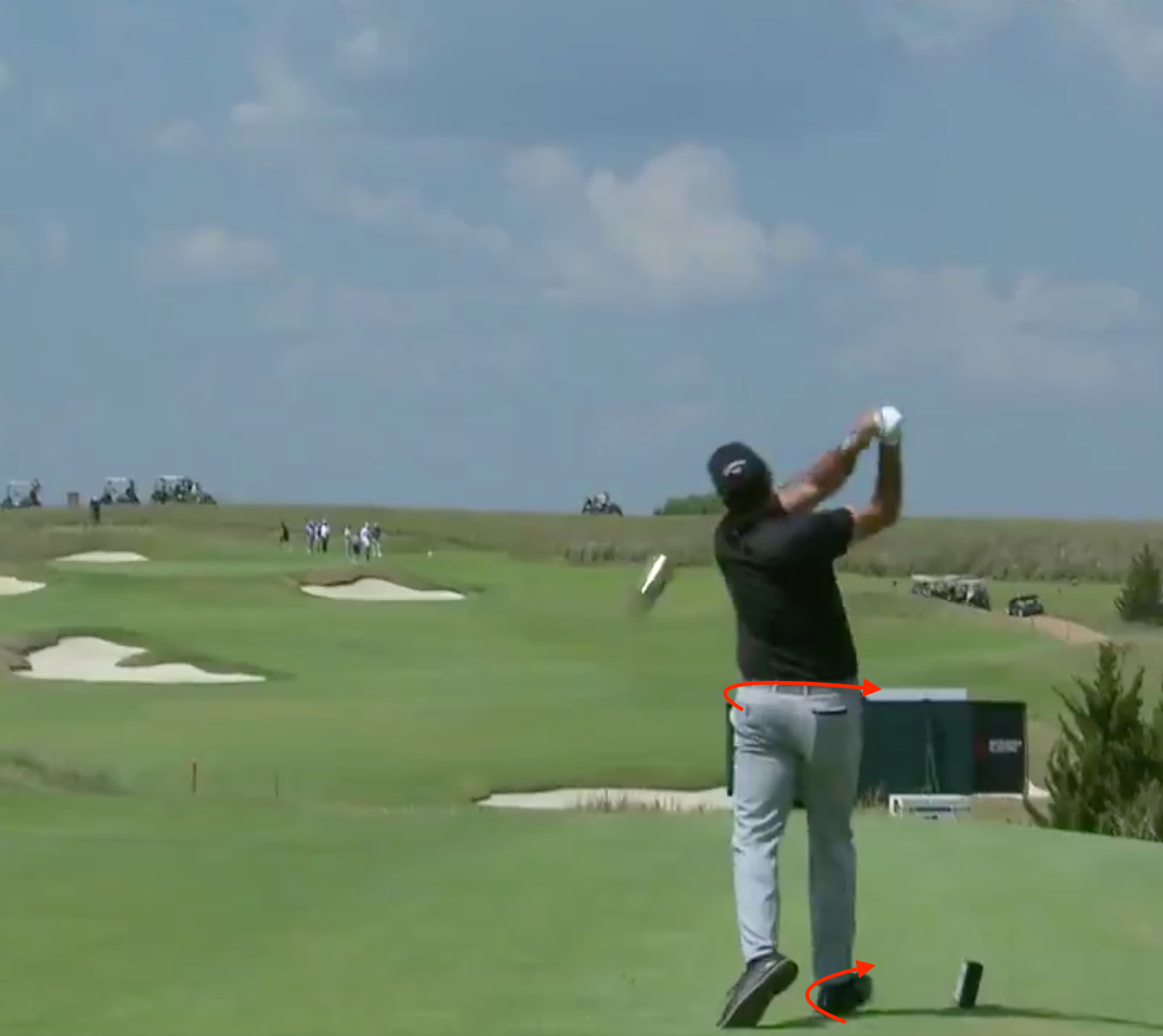 4. Keep turning
This move is more of a reaction than anything intentional, but Phil is rotating so hard and fast that he almost twirls around. His lead leg jumps over to the right to give his hips more room to turn, and his left toe remains fully airborne as he continues rotating.