The REAL heroes at TPC Sawgrass? Squeegees.
ESPN+
Friday's word of the day at TPC Sawgrass? Eight letters, two syllables, endless importance, sounds exactly how it looks: SQUEEGEE.
You may have heard that Ponte Vedra Beach and the rest of northern Florida have been battling thunderstorms since the Players Championship got underway Thursday. It has thrown most players in the field into some sort of limbo. Ian Poulter literally ran to finish his first round Thursday so he could sleep in on Friday. Smart man!
While Poulter rested calmly Friday morning, the other half of the field continued their first rounds as more rain dumped on them. Around 9 a.m. local time, the heavens opened up and started leaving puddles all over the course. TPC Sawgrass had received 1.5 inches of rainfall Wednesday night and then another half-inch or so Thursday afternoon. When the course took on additional rain Friday, it was no question that it was going to affect the golf ball and the greens.
So when Daniel Berger started sizing up his chip shot from just off the 11th green, the depression short of the hole felt like a good landing spot. But a soft, spinny pitch that's supposed to check and release up the hill? Who knows what that's going to do if it's skidding on watery turf.
Now, maintenance teams have long used squeegees to roll moisture out of the greens, but often only once players are on the green. Berger wasn't there yet, so he called in a rules official to see if a special exception could be made.
Granted!
Berger left his caddie and the cover of his umbrella to tromp into a pair of squeegeers and direct them where to apply their skills. And he wasn't alone.
Squeegee teams jumped into action all over the course, wherever needed. The 11th green got plenty of attention as the hole was cut just on the other side of a significant valley in the green. Players who hit wedges into that green often spun their balls back into the valley, or players who went for the green in two found themselves playing through the valley. So every single time a player was sizing up their third, fourth or fifth shots, the squeegee men jumped into action to clear the runway.
Dustin Johnson lines up a putt? Squeegee time.
Jordan Spieth has the same putt? Squeegee time.
The next group arrives at the 11th green. Squeegee time! Squeegee as much as you can. Squeegee the noun and squeegee the verb. Squeegee while Xander Schauffele reads his putt, even if you're in his way.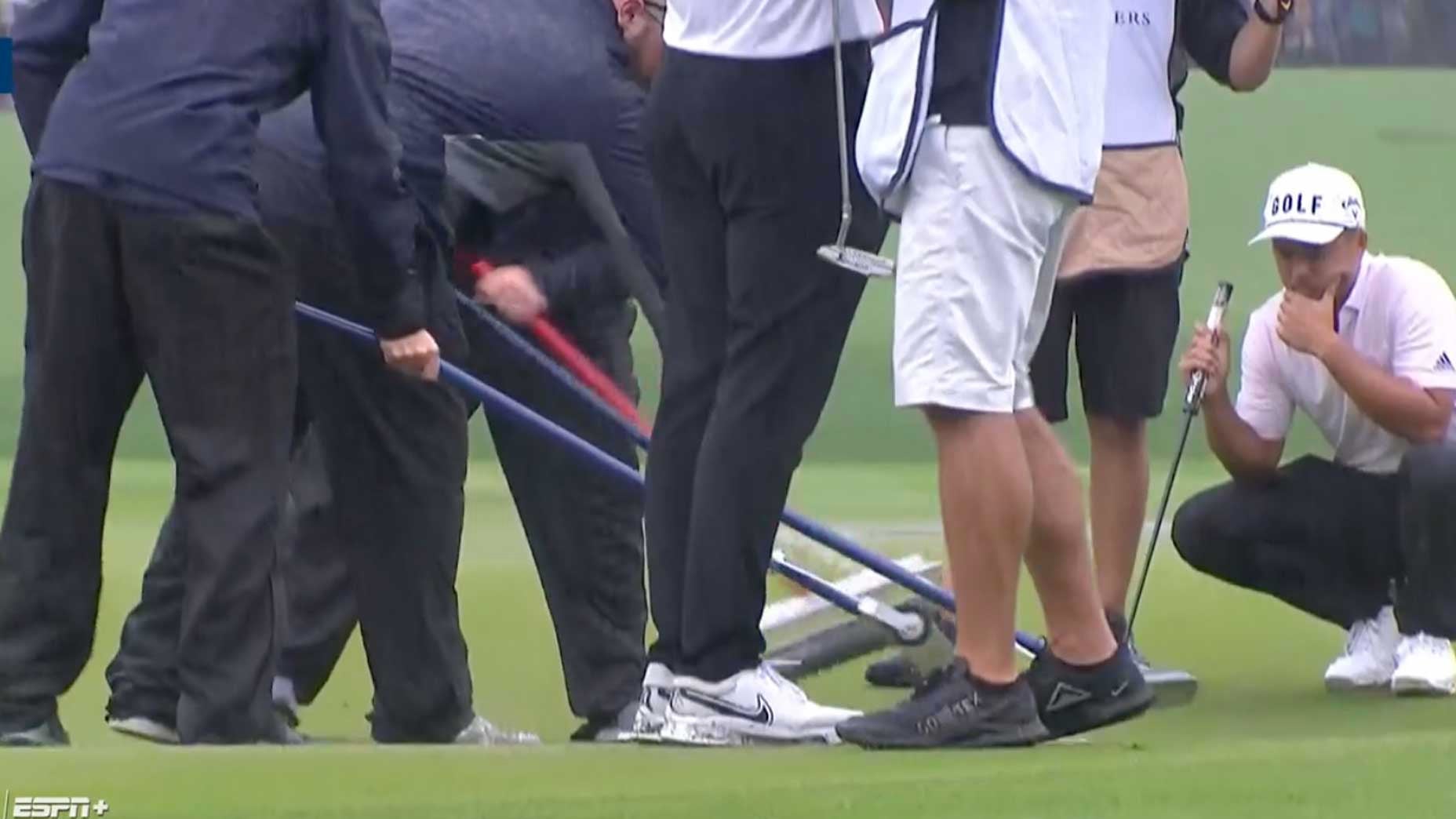 Squeegee the same exact area for Brooks Koepka just moments later. He became the first player to get this putt to the hole, now that excessive water had been cleared. Congrats to him and congrats to the squeegee team.
Congrats to the inventor of squeegees, too! Could you name a device that is more simple in form, more effective at doing its job and more visually appealing while doing it? Good luck.
Now, one might see all this squeegee praise and think, Duh. And that's a totally welcome reaction. But the praise is justified. The squeegee squad at Sawgrass signed up for these shifts a long time ago. They might even be volunteering this week. When they took the pledge to handle maintenance during the Players Championship, they were dreaming of sunshine and rainbows and constant water splashes on 17, not the brims of their hats.
When the thunderstorms pass and players jump up off their comfy seats to warm-up again, we'll be ecstatic that the Players was turned back on after hovering in neutral. Someone will win and it might be the biggest tournament of their life. Just know that will only follow another concerted effort from the squeegee squad. Thankfully, Pete Dye's focus on torture implied all kinds of water hazards, so there's plenty of places to deposit the impurities.