What it was like amid the 18th-hole chaos of Phil Mickelson's historic PGA victory
Getty Images
KIAWAH ISLAND, S.C. — The eyes of history were upon Kiawah Island, and one of its participants couldn't see a thing.
In retrospect it was destiny that Phil Mickelson, the people's king of the Tiger Woods era in golf, would become the oldest major winner at the first major where fans were back in earnest. Not the polite patrons at home in the cordial pines of Augusta National, but on the beaches of South Carolina, where the people were here for a good time, and looking for Phil to provide it.
The energy was there from the start — it always is with Mickelson — but the underlying belief wasn't. He is 50, after all, and 50-year-olds don't win majors. Not nowadays, when men half that are manhandling courses with their new-age physique, and not ever.
The first tee greeted Mickelson with the loudest cheer of the day, but it was one of those hopeful cheers. An enjoy-the-moment-while-it-lasts cheer. This championship was Brooks Koepka's to lose. He tasted blood. He wanted to spoil the party. He knew it and we knew it. Nobody really believed — maybe not even Phil — that another major was heading his way.
And then they did, slowly at first and then all at once. The cheers turned to roars, suddenly laced with a sense of purpose and the scent of alcohol.
Mickelson, it seemed, was back to his old self. Though he may have played like it during the first three days, he wasn't the Phil of old. Not really. He kept his glasses on and his head down, tossing the crowd an occasional thumbs up more out of habit than intention. But by this point he was back, well and truly. Missing fairways and making eye contact, sharing gestures and smiling. Each shot was a confirmation of what was to come. The crowd was willing it into existence, at times even an active participant in it, and Lefty was riding the wave.
The energy kept growing and growing until there was nowhere left for it to go.
"Phil's your daddy!" they shouted at Koepka as he made his way off the 17th tee.
"Take it home Phil!"
"Give us one for the old guys!"
"This is your time!"
Louder and louder, more and more. Once Mickelson's drive found grass on 18 and he made his way down the fairway — two-shot lead and smelling that Wanamaker — the seams finally burst. Or rather, the ropes did.
It seemed to start with a small group of friends, holding their beer in one hand and lifting the rope with the other. They ducked under and ran forward. All it takes is one. The dam was broken, and the water poured. A group of police swarmed around Mickelson and another around Koepka. The remaining marshals tried to hold the line, but it was a fruitless task.
It was only when the collective realization dawned that Mickelson and Koepka still had shots to hit that things settled down.
Things calmed for a moment, and the marshals formed a line. A nice gesture, but it was obvious what was going to happen. As soon as Koepka — the second to play — hit his shot, the race would be on.
Trying to stay within one-arm's length of a rope that no longer existed, I had walked up the fairway behind Mickelson and his caddie, Tim, but I had meandered my way over to Koepka by this point. I thought the crowd would be more interested in sticking to Mickelson and therefore give Koepka (and myself) some breathing room. I didn't realize that at this point, they had forgotten about Koepka, the four-time major champ, altogether.
Koepka set up to his ball. A marshal manning the crowd went to plug a gap in the line, but it had the inadvertent effect of his shadow hovering over the ball. Koepka backed off and asked the crowd to move back 10 feet. They managed about a foot. Koepka stepped into the shot again, sent the ball into the air and the crowd rushed past before it even fell to the ground.
It was exciting and beautiful and terrifying all at the same time.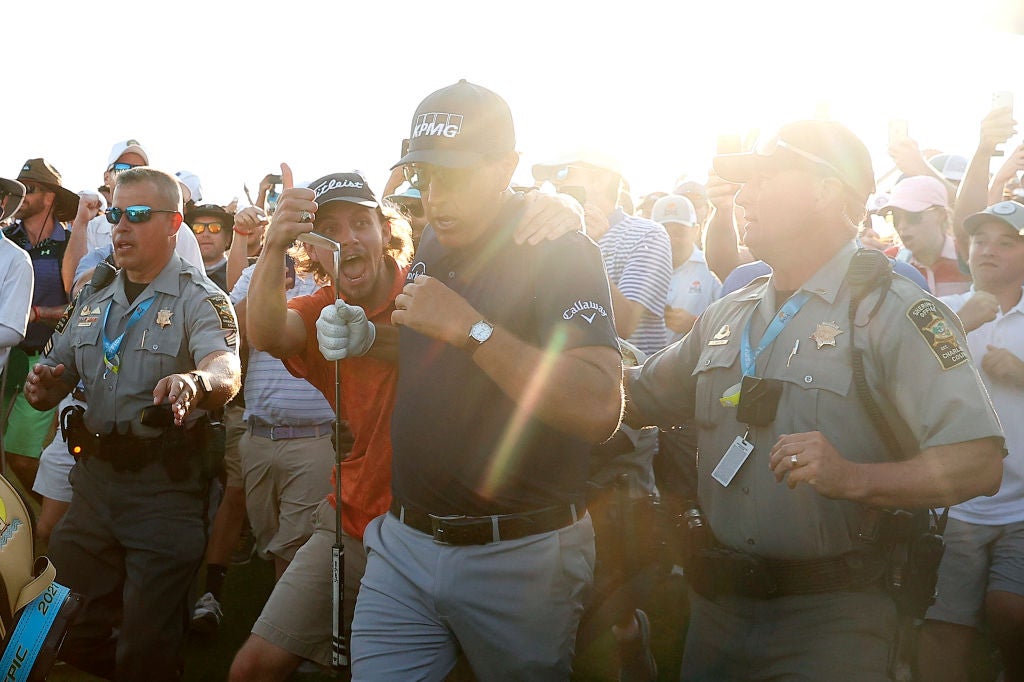 Koepka's walk up 18 was slow and cramped. He kept his eyes locked onto the ground, and his head bowed as the noise intensified. He needed a birdie. Mickelson needed to three-putt. Security had formed a box around him, about the size of a small elevator shaft. What was he thinking? Trying to stay focused, I assumed. Professional golfers, I like to say, are essentially robots. What else could Koepka be thinking about in this moment but the next shot he needed to hit?
Turns out, what was going through his mind was far more human.
"I don't think anybody really understands, unless you're coming out of surgery how, when there's five people kind of standing by your knee, you get a little skittish," he said afterwards, obviously referring to the knee doctors worked on months earlier.
Things came to a grinding halt at one point. The smallest of steps forward had became a standstill.
"Guys, we gotta get through" a security guard bellowed at the crowd, which didn't part as much as it got pushed through. Koepka was worried about his knee.
"It got bumped a few times," he said. "Somebody jammed [my caddie] Rickie. Rickie stopped unintentionally because he got drilled in the face, and then I got drilled in the bag because he got stopped so quickly. It feels like s— right now."
And then there was nothing to push past anymore. The sight waiting for Koepka was Mickelson, bathed in sunshine, taking a moment for himself on the cusp of history.
"I thought he was trying to slow-play me," Mickelson joked afterwards.
A few moments later, Mickelson had won. The crowd roared once again, lost in the moment, as the sun shone overhead, illuminating the brightest moment of the people's champion's career.
Golf Magazine
Subscribe To The Magazine
Subscribe