Justin Rose explains post-quintuple-bogey withdrawal from Arnold Palmer Invitational
pgatour.com
Justin Rose hit his tee shot into the water. Then his third shot on the par-4 3rd at Bay Hill. Then his fifth shot. Rose hit his seventh shot on the green, and, from there, he hit two putts during Saturday's third round of the Arnold Palmer Invitational. 
He'd hit only four more shots after that.
Rose, after the three-water-ball, quintuple-bogey nine, withdrew before his fifth stroke on the 4th hole. He said after his round and on Twitter that he had lower-back pain.
"Yeah, just kind of woke up with a sort of spasmed lower back today and tried to kind of get through it," Rose said to reporters. "My warm-up was hard work, and I just couldn't stay down in a shot. I missed basically every golf shot left to start the day."
Rose had started the day four shots out of the lead after rounds of one-under 71 and four-under 68. On the 449-yard, par-4 1st on Saturday, Rose hit his drive down the left side of the fairway, then got up and down from the left greenside bunker for a par. On the 222-yard, par-3 2nd, after playing partner Jordan Spieth aced the hole, Rose hit his tee shot just over the green, and he nearly made the putt from there. Then came the 428-yard 3rd. 
Rose and Spieth both hit their tee shots left and into the water. Spieth hit on after a drop. Rose didn't, his third stroke hitting the rocks short and left of the green and bouncing into the drink. Rose dropped again, and again his ball landed short and left. He'd hit on on stroke seven.
On the 572-yard, par-5 4th, Rose hit his tee shot near the trees on the left side of the hole and took two shots to get near the green, then hit over it. After Spieth tapped in for a par, Rose took off his cap, walked over to Spieth and told him he was done. Spieth would finish the round alone and shoot a four-under 68, and he is two shots behind leader Lee Westwood.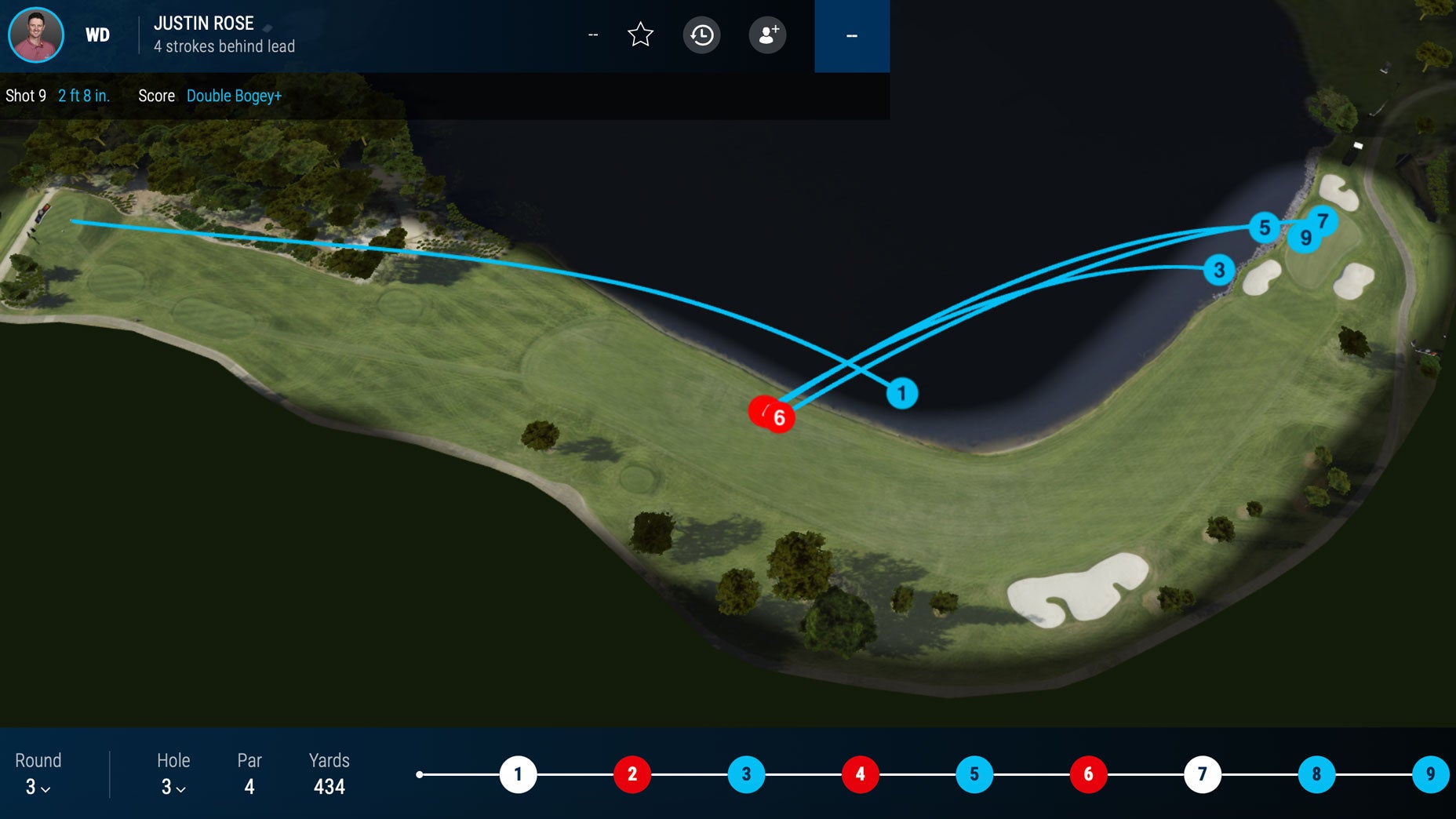 "Rosey's not feeling good with the back, his lower back right now, and just opted to not continue," analyst Notah Begay said on the Golf Channel broadcast. "So you've been out here long enough you see a little bit of everything. Now Jordan's got to play by himself for the rest of the round."
Rose, in talking to reporters, said with the Players Championship next week, "I just felt like it was a prudent call just to call it at that point."
"Frustrated to have to WD from @APinv," Rose wrote on Twitter. "I woke up not feeling my best and hoped my lower back would ease up through my warm up and into my round. Unfortunately it went the other way."
"@JordanSpieth was on fire early in his round and I was sorry to leave him out there on his own," he also tweeted.