The ingenious trick Tiger Woods uses on every single one of his tee shots
Getty Images
TULSA, Okla. — Tiger Woods is capable of the most phenomenal feats of athleticism. Never has that been more apparent than at the 2022 PGA Championship, as he continues to make cuts in majors amidst a painful, lingering leg injury.
But what makes Woods truly great isn't his body, but his mind. He's a genius in everything from how he looks at golf, in how he swings the club, in his approach to his equipment, in the advice he gives to others (when they're lucky enough to receive it).
He seemingly cracks the code on every element of the game and figures how to glean little advantages everywhere. Watching him fight through the PGA Championship this week, I noticed one of those so small that it was easy to miss.
Look at Woods' golf ball every time he tees it up — whether it's with his driver or an iron — and he'll place the Bridgestone logo on his ball directly on the back, away from the target. He'll even do it at times when he's on the driving range, like you see in the right most frame below (though on that occasion you'll notice the logo is situated closer to the ground, because he's hitting a wedge).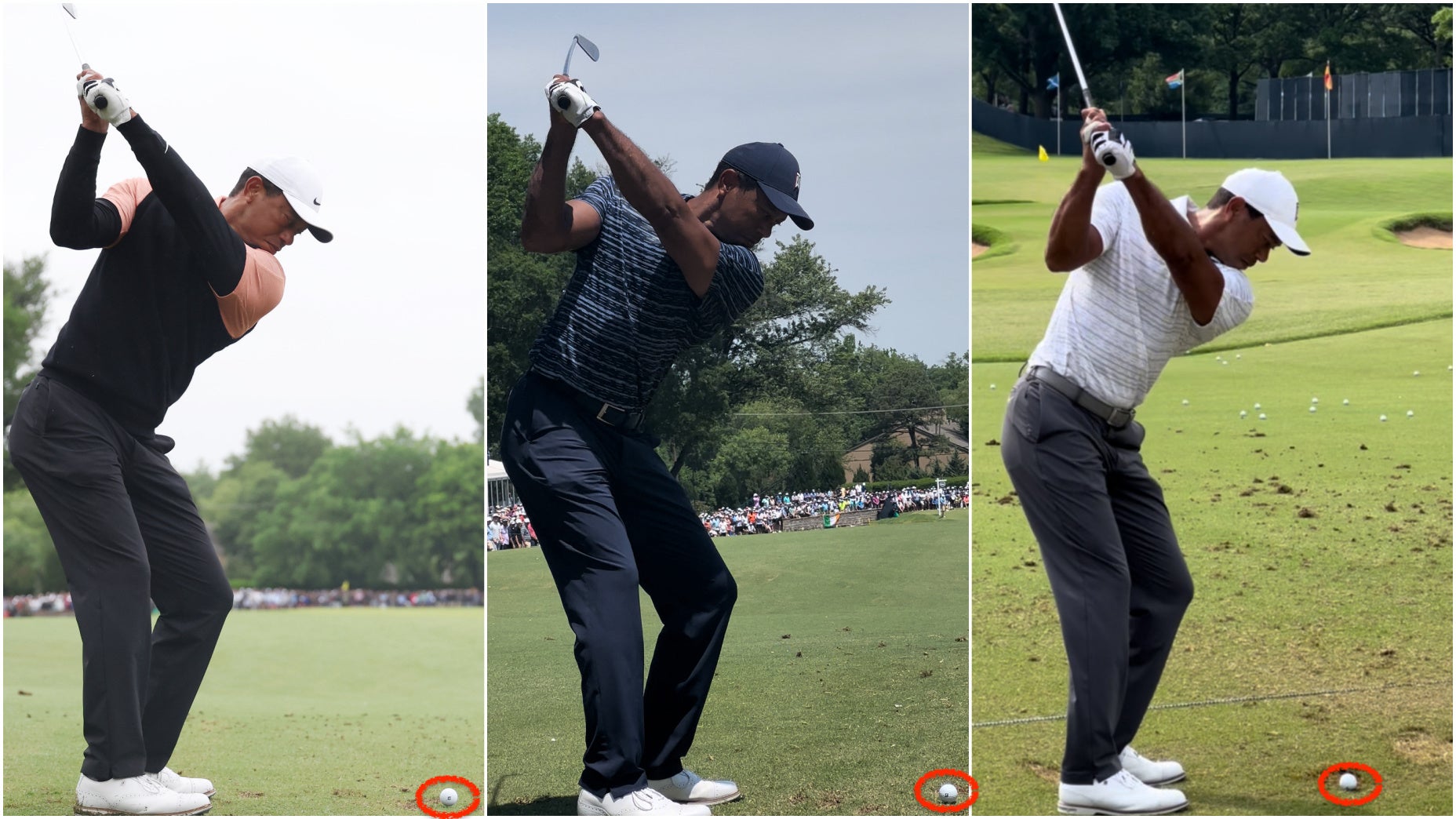 It seems like he's placing the logo where he hopes to impact the golf ball, and in doing so, the logo is probably what his eyes are focused on as he swings the club. It's a small, but rather ingenious, idea that's actually driven by some good science. Researchers have studied this and found that highly skilled golfers actually lock their eyes onto a very specific part of the golf ball and keep them there as they swing. Less skilled golfers tend to move their eyes more around the golf ball, which hurts their ability to hit good shots.
By placing the logo in the specific spot of the golf ball he wants to actually hit, whenever he can, Tiger allows himself to tighten his focus. Aim small, miss small. Just another way Tiger has figured out how to give himself the best change of a good shot — and give the rest of us something to learn along the way.