How a pre-shot waggle can dramatically improve your golf swing
Getty Images
Bryson DeChambeau bludgeoned his way to the winner's circle in the U.S. Open at Winged Foot. His performance was complete, admirable, well-deserved and worth recognition.
Many things can be learned from what Bryson achieved, and most folks would look toward power off the tee as that has been his 2020 calling card. I, however, contend that the lesson us mortal golfers can all learn, and apply, is regarding the utmost devotion to a goal in order to be successful.
Bryson's singular focus, and his preparedness to sacrifice to get to his goal, is something that should be recognized a little more than it has. Indeed, I believe any aspiring champion should emulate Bryson's desire, sacrifice, work ethic and focus if they hope to be successful.
That all being said, I want to pivot away from Bryson and talk about the U.S. Open first round leader, Justin Thomas. Thomas does a number of things well, and he sets himself up for success with a good pre-shot waggle.
Thomas uses a simple pre-swing rehearsal where he simulates the first few feet of his backswing by moving the club away to where it is over his toe-line with the shaft parallel to the target-line and the clubface square. I love the move so much, a few months ago I advised my daughter, Isabel, to do the same thing. We call it "The Justin" and she does that to ensure she doesn't snatch the club too far in behind her in her backswing.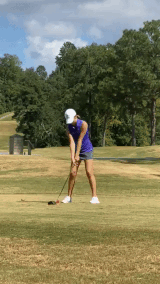 While watching Thomas I thought about the waggle and felt inspired to write about it.
Before I share my thoughts, I want to share the insights of one of the great U.S. Open champions of all time, Ben Hogan. In his book, Five Lessons – The Modern Fundamentals of Golf, Hogan called the waggle the "bridge between the address and the actual start of the swing." He also spoke of it as an "extremely important part of shot making" and sort of "miniature practice swing" and a "dry run" for the upcoming shot.
So, if Hogan devoted about four and a half pages in one of the great instructional books of all time to the waggle, and most of the game's top players, including Thomas, use their own variation of the waggle, I feel like it should be incorporated by every golfer. It takes no talent, and it can set you up for ball-striking success.
Some things to bear in mind:
— A good waggle galvanizes your awareness of the path the club will take away from the ball in the actual backswing. I have always believed that a good start to any endeavor, including the golf swing, sets you on a course to success. Or in the worst case, sets you on a course where minimal compensation for a bad start is needed.
— A relaxed waggle reduces tension in the forearms and shoulders. Tension in my opinion, is a huge wrecker of a golf swing.
— The waggle keeps your body in motion before the swing — this sets the table for some decent rhythm and timing. And while we are on the subject, the waggle can be used to set the tempo and cadence of the upcoming swing.
— A minor variation to the waggle (adding focus to the downswing segment) can reinforce a square approach of the clubface into impact. Incidentally, Hogan highlighted this in his writings.
— Initially the waggle may feel awkward, but just like your golf swing, keep repeating it, keep working on it, keep refining it and very soon in will be part of your golf DNA.
If you are unsure how to develop your waggle, watch some of the game's best and see what they do before the shot. I copied Curtis Strange when I developed my waggle and it is so ingrained that, to this day, I still use it.