How much inventory sits inside a Tour equipment truck? The answer ($$$) will surprise you
Andrew Tursky/GOLF.com
There's a lot that goes on behind the scenes of a PGA Tour event that they don't show on TV. During live coverage of a tournament, for example, you'll rarely ever see an OEM equipment truck, and the magic that goes on inside. That's because the trucks are long gone from the premises by the time the event actually begins.
These equipment trucks — they're essentially portable warehouses and build shops — travel to nearly every PGA Tour event, but they only hang around from the Sunday night prior to the event until Wednesday afternoon.
They stay for the practice rounds only to ensure that each PGA Tour player has the proper gear and apparel they need for the week. So that means when the week's event starts on Thursday, the trucks are already off to the next event.
PGA Tour players have many needs, and the equipment trucks are stationed at the events to help fulfill them. Every week, players need new hats, golf balls, gloves, and they need to make equipment changes and repairs. Since PGA Tour players are constantly changing, fixing and dialing in their golf clubs, there's a lot of grunt work to be done.
When a player wants to test a new driver, that driver gets built on the equipment truck. When he wants to try a new wedge grind, he gets it from the equipment truck. When he wants weight added to the head of his fairway wood, or he needs a new shaft in his hybrid, he gets it fixed up on the equipment truck.
For the purposes of this story, I focused on the Callaway tour truck specifically, but essentially every major OEM has its own. Cobra, Mizuno, Ping, TaylorMade, Titleist, they all have their own truck. Even shaft manufacturers, independent builders and suppliers, and apparel companies such as Nike have a truck, as well.
The trucks travel like a fleet from event-to-event, racking up 30,000-plus miles per year, and there's a camaraderie among the tour reps that work on them. Although the reps work for different companies and have opposing interests, their purpose is all the same: to make PGA Tour players happy and comfortable with the equipment they're playing.
Callaway, for instance, has two builders, two player reps, a putter rep, and a content creator that calls the truck their workplace from Monday to Wednesday. Every company has a number of reps that run back-and-forth from the driving range to the truck, fulfilling orders and making equipment tweaks. The reps fit golfers into new equipment, work with players to dial in their current equipment, and solve any issue that needs to be solved.
Tour reps are the doctors, and the equipment trucks are their operating rooms.
With all of the new product that players go through each week, the trucks need to house a bunch of inventory. They also need to have the proper machinery to execute all of the builds and changes that are required.
As the senior equipment editor for GOLF.com, I've been on all of the Tour trucks. It's where I learn about building techniques, and gain information on what golf clubs particular players are switching into that week and why. I've always been blown away by how much product gets stored within the relatively small spaces on these trucks. But how much product is in there, exactly? I mean, if you sold every piece of merchandise inside one of the trucks, how much money would you make?
To help figure out the answer to that question, I got a full tour of the Callaway equipment truck from Jacob Davidson, Manager of the PGA Tour and Champions Tour for Callaway. Together, we went inside every cabinet, closet door, nook and cranny. I'm not thinking about casing one of the trucks, I was simply curious.
Below is a full breakdown of estimated inventory value on the Callaway equipment truck, per my own market research based on Davidson's estimates.
A quick note: Many of the products housed on a PGA Tour equipment truck are high-end, Tour-only products that would fetch even higher prices on third-party platforms. For this story, I tried to estimate reasonable retail prices, but keep in mind that resellers could get significantly more value.
Iron heads: 38 sets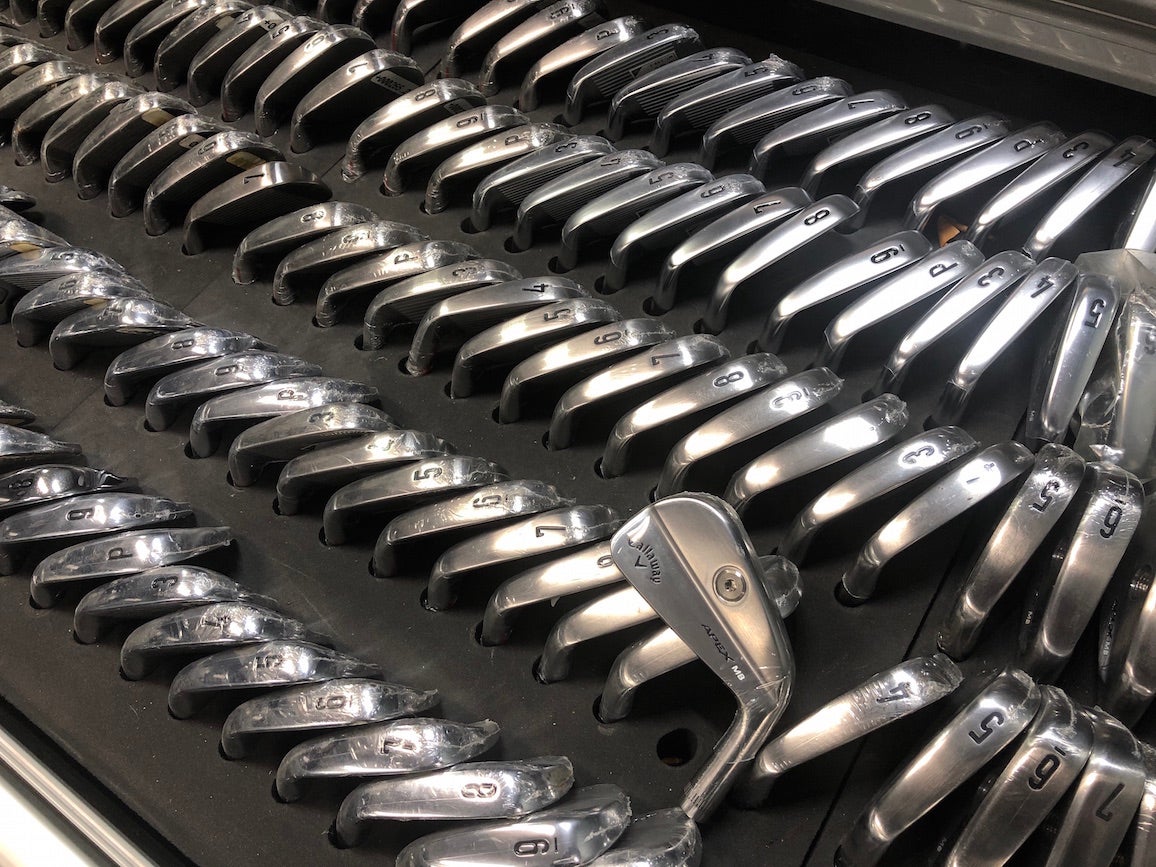 Since there are 8 heads per set (3-PW), and each retail head would sell for about $180 (this is very conservative since there are sets of raw Apex MB heads and Tour-only customs that would fetch higher prices), the estimated value of the iron head inventory is about $54,720.
All of our market picks are independently selected and curated by the editorial team. If you buy a linked product, GOLF.COM may earn a fee. Pricing may vary.
Callaway Apex MB Iron Set
$185
OUR TAKE: This is the point where we offer our take on Callaway's shiny Apex MB 21, but one tester took the words right out of our mouth: "Best turf interaction of the bunch I tested," he stated. "Sole slices through the ground with impressive precision, and the lack of offset is going to appeal to the guy who likes to work the ball." Enough said.  THE DETAILS: Forged from 1025 carbon steel, Apex MB is built for superior ball strikers who crave the look and feel of a classic blade. There's little in the way of mishit protection with this compact head, but the musclepad does include a removable weight that allows swing weight changes to be made without altering the center of gravity location. It's a feature the better player will surely appreciate.  This set is available in 3-AW
Buy Now
View Product
Club grips: 1,620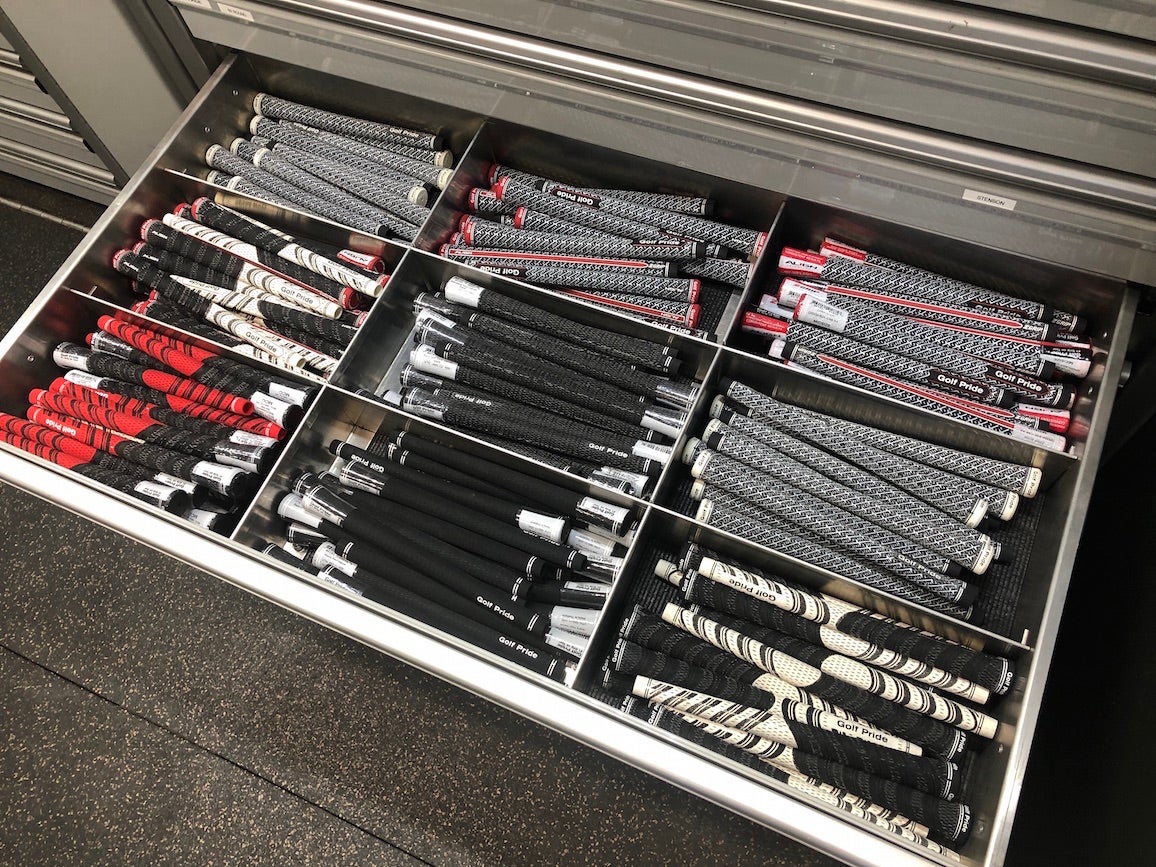 Golf Pride Tour Velvet grips sells for $6.99 a pop, so we'll call the grip inventory worth $11,323.
Wedges: 350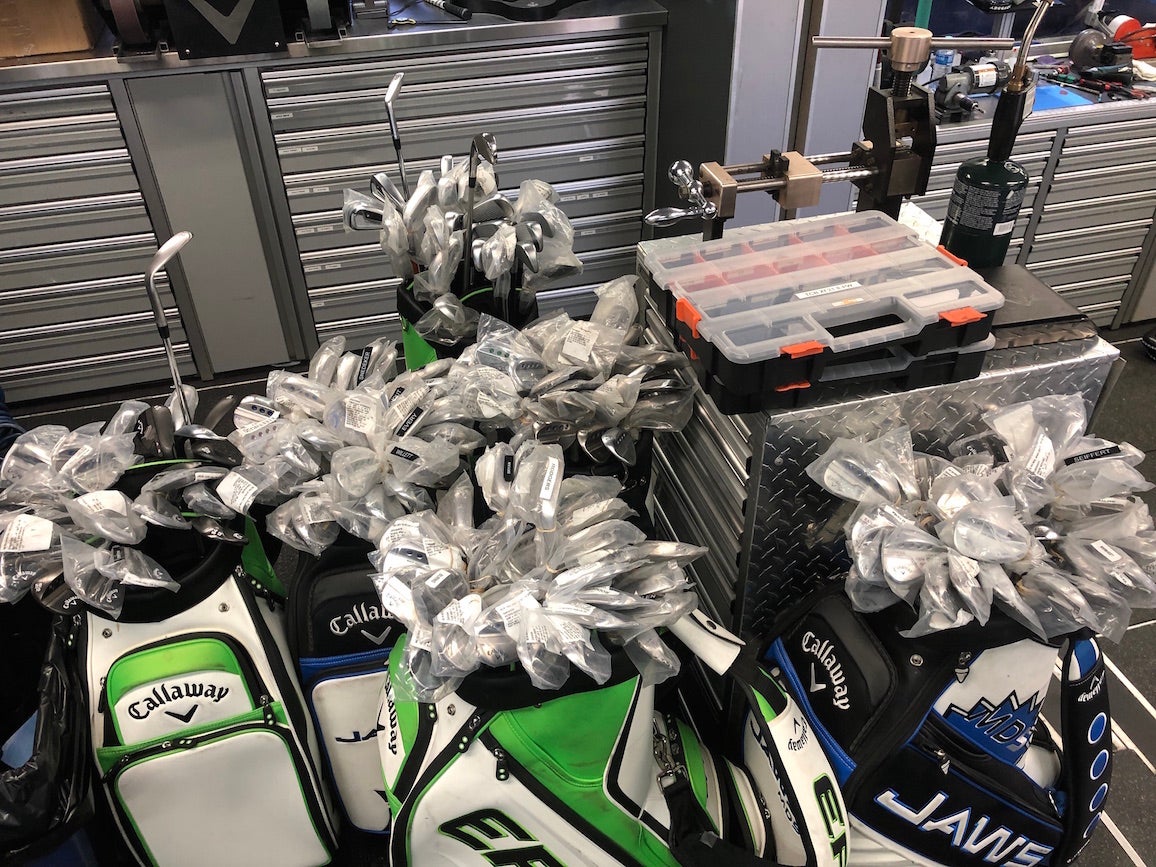 With all of the different grinds, bounce options, finishes and models, there's simply a whole lot of wedges and wedge heads on the trucks. Plus, PGA Tour players practice a lot so they're constantly changing out wedges. As for the value? Since each wedge would go for roughly $159.99, let's call it $55,995 for wedges.
Iron shafts: 45 sets
Since a set of the True Temper Dynamic Gold Tour Issue S400 or X100 shafts sell for roughly $300, and those are probably the most popular iron shafts on Tour, we'll call the iron shaft inventory worth about $13,500.
Wedge shafts: 50
Callaway estimates there are 50 wedge shafts that don't already have a wedge head on them. At around $39.00 per shaft, that's about $1,950 worth of wedge shafts.
Driver heads: 190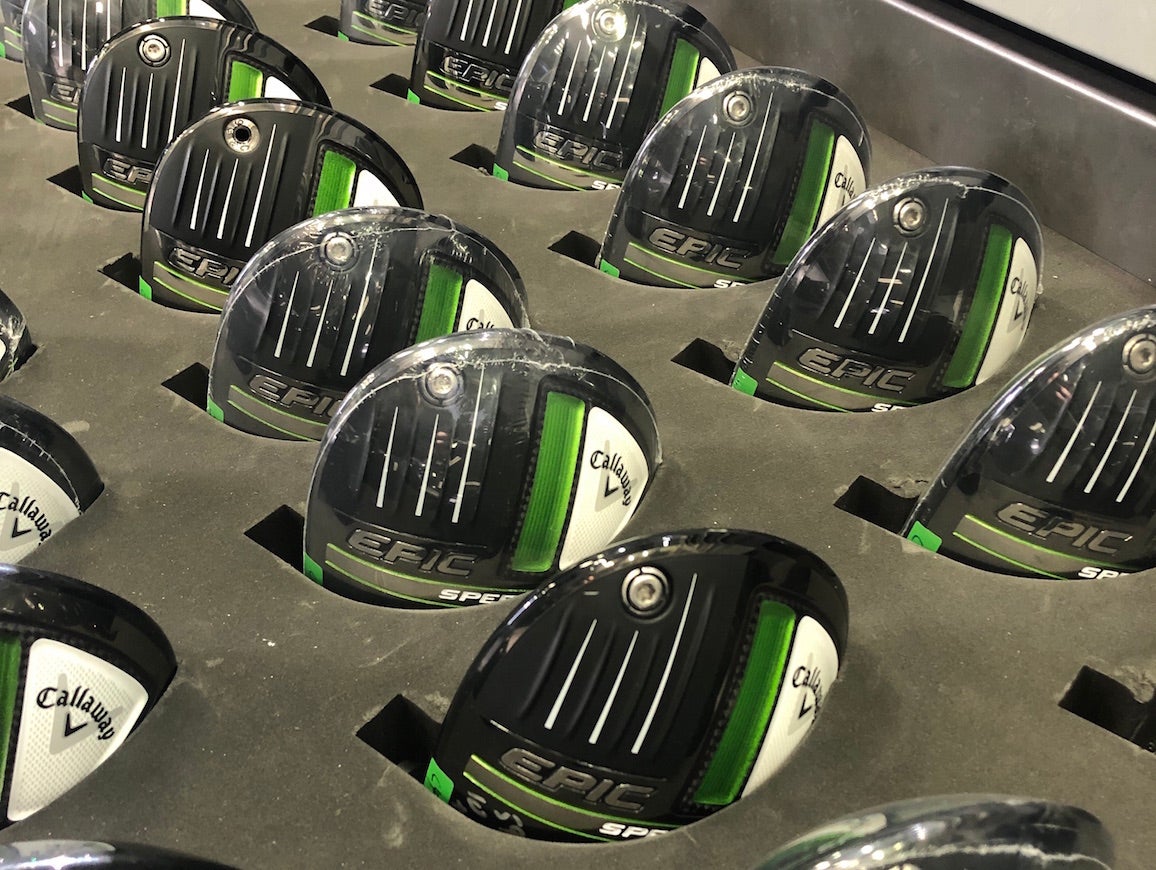 Here's where estimating a value could get a bit interesting. While many believe there are super limited Tour heads on the truck — and there are some — a lot of the players actually use heads that are available at retail. Tour-only custom heads can go for over $1000 on third-party sites, but let's stick to retail heads for the sake of this story. At around $500 each for driver heads only, we'll estimate the value to be $95,000.
Callaway Epic Speed Driver
$529.99
OUR TAKE: It's good to have options. With Callaway's new-look Epic Max and Epic Speed, testers found two equally appealing packages: One geared for those who need a bit more forgiveness and another for the better player craving a penetrating launch. "I could put both in the bag," said a tester. "Both were fantastic on misses, and the flatter flight of the Speed was very consistent. I could totally see myself throwing in a strong-lofted Speed and Max 5-wood to launch it high. That sounds really appealing." Don't be surprised if other golfers follow suit. THE DETAILS: While the new Jailbreak system in the driver is sure to garner the most interest, it's actually not the only club receiving a complete makeover. The Epic fairway woods feature Jailbreak A.I. Velocity Blades that are spread wider apart to stiffen the structure, allowing the C300 maraging steel face cup to flex at impact. The forward CG location on Epic Speed, combined with a new leading-edge design, promotes a strong ball flight with less spin. An oversized head and shallow face make Epic Max an ideal option for a wider handicap range. Launch and spin can be altered depending on where the two sole weights (2 and 14 grams) are positioned. Check out 150+ reviews from our gear experts in the ClubTest 2021 collection
Buy Now
View Product
Fairway Wood heads: 250
With all of the models and loft variations, there needs to be a plethora of fairway wood heads at Callaway's disposal. At an estimated $230 per head, that puts the value of fairway woods at $57,500.
Hybrid heads: 75
While not every single Callaway staffer uses a hybrid, there has to be plenty around for those that do. Let's say the average hybrid head on the truck would go for $134.99 at retail, placing the estimated value at about $10,125.
Utility irons
The same as hybrids, not every Tour pro has one in the bag, but there are many who do. At $190 per utility iron head, the estimated value would be $14,250.
Callaway hats: 500
Callaway staffers proudly display their sponsor's name on the front of the hat, and being the sharp dressers they are, they need to have crispy new hats at the ready. Conservatively speaking, we'll put each hat at $20 on the retail market. Simple math puts the estimated value at $10,000 for hats.
Rain covers for staff bags: 30
Being that golf is an outdoor sport, caddies always have to be ready to bear the elements. In case they forget a rain cover for the golf bag, Callaway keeps some on deck. At $34.99 apiece, the rain cover inventory is estimated to be $1,050.
Headcovers: 90
When a player puts a new driver or fairway wood in play, they have to keep it safe underneath a Callaway leather headcover. If they retail for $20 apiece, that means the estimated value of headcovers would be $1,800.
Boxes of gloves: 120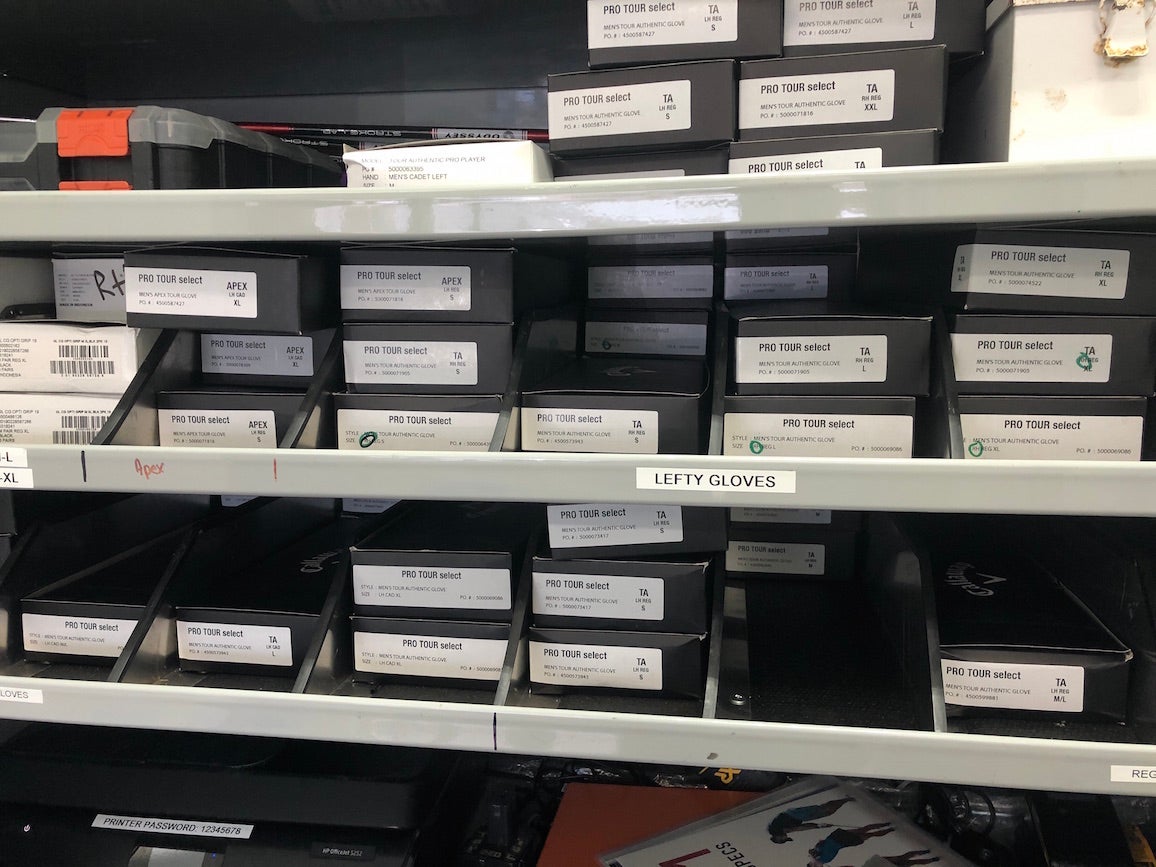 So there are 120 boxes of gloves, and six gloves in each box. A Callaway Tour Authentic golf glove goes for about $21.99 at retail, so the glove inventory is estimated to be $15,833.
Metalwood shafts: 800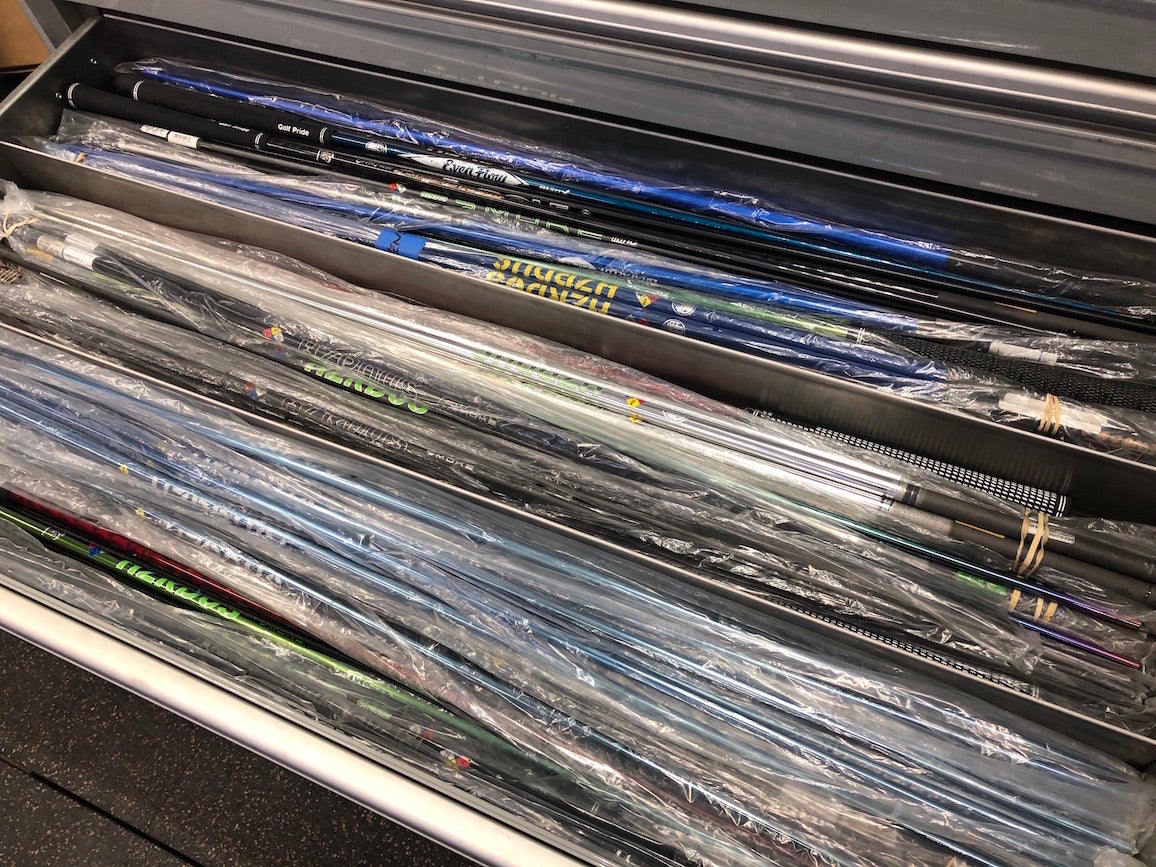 Are you ready for a big number? Driver and fairway wood shafts carry notoriously high retail prices, and the Callaway truck is stacked with some of the most expensive options available. Super conservatively speaking, let's say that each shaft would sell for $129.99 on average. That would mean the estimated value for metalwood shafts alone would be $103,992. Whoa.
Umbrellas: 40
As mentioned before, sometimes it rains. Tour reps have to get from the truck to the range, and caddies don't always remember their umbrellas. Callaway has them covered with around $90 umbrellas, putting the estimated value at $3,600.
Putters: 100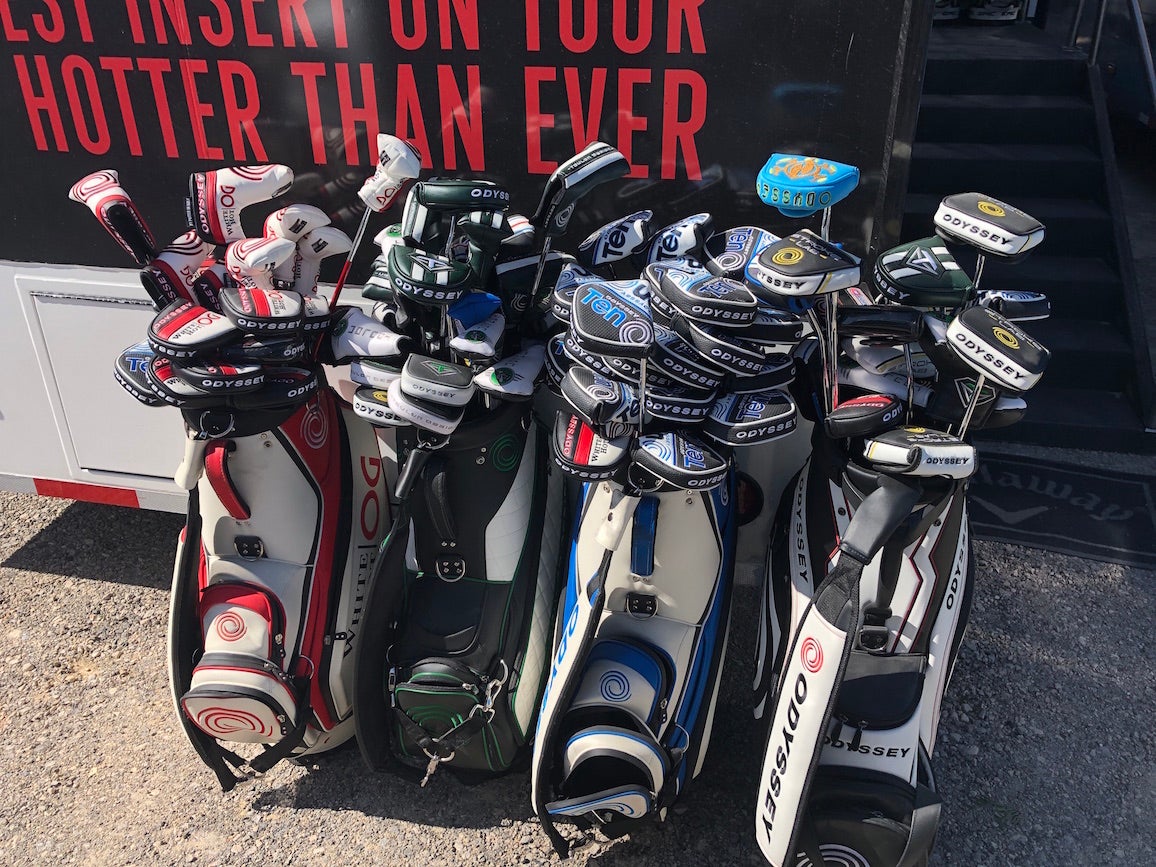 So, there are some Tour-custom putters, but for the most part, PGA Tour players are using the same Odyssey putters that are available on the shelf. At $299.99 a pop, on average, the flat-stick inventory is estimated at $29,999.
Odyssey White Hot OG #7S Putter
$219.99
This is one of the most iconic and most played putters of all time. The original formulation has been engineered into White Hot OG. Roll a few putts with the Odyssey White Hot OG #1 Putter and the performance will speak for itself. Check out 150+ reviews from our gear experts in the ClubTest 2021 collection.
Buy Now
View Product
Boxes of golf balls: 180
Obviously, Tour pros don't lose a lot of golf balls, but they do use a lot of golf balls. Some pros change out golf balls as much as every three holes! And, of course, you have to give some away to the fans after the round. As such, Callaway keeps plenty of golf balls in reserve. The estimated value of the Callaway golf ball inventory, at $47.99 per dozen, is $8,638.
Stroke Lab putter shafts: 200
Callaway keeps plenty of multi-material Stroke Lab shafts in the stash so if any golfer wants to test one out, they can. Conservatively, let's say you could fetch around $100 at retail for each shaft. That puts the estimated value at $20,000.
Tour exclusive putter covers: 50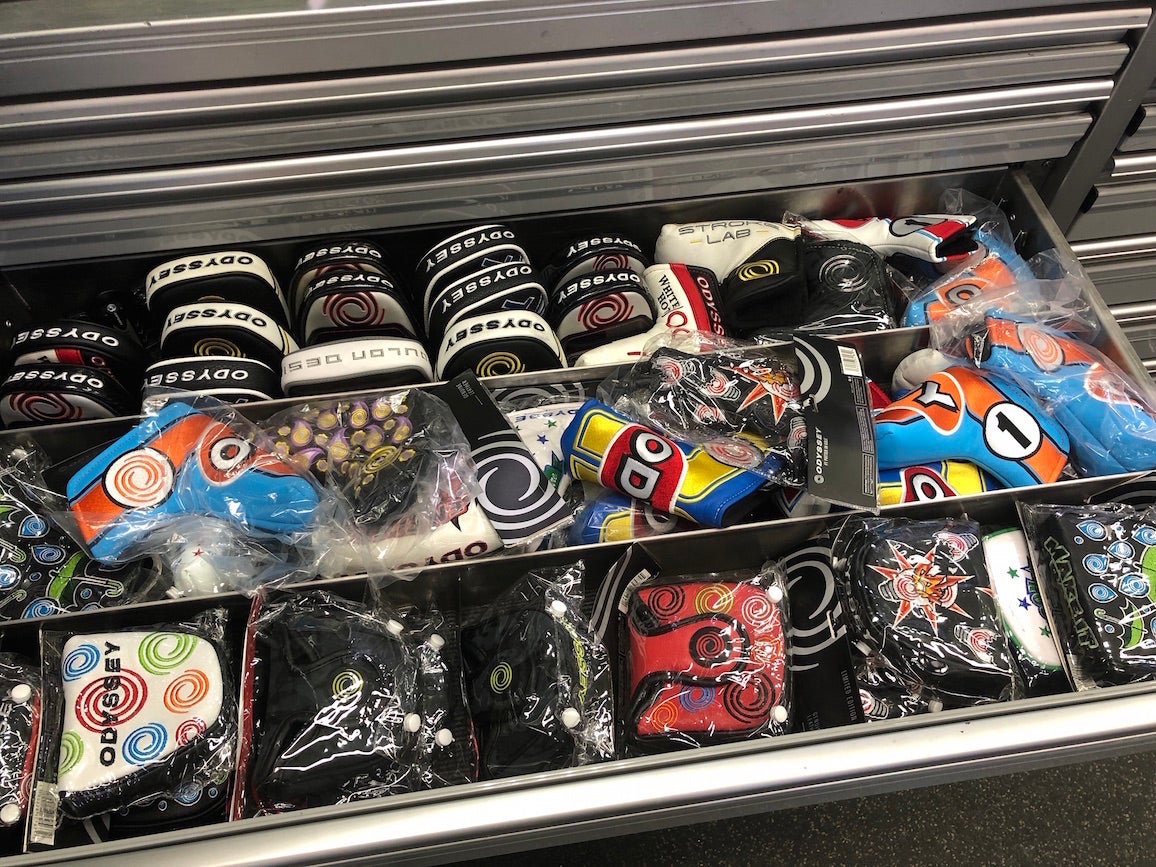 Odyssey often makes custom putter covers for certain golfers, and to celebrate certain occasions. Given their cool factor, each of these covers goes for about $100. That means the inventory of putter covers would be estimated at around $5,000.
Putter grips: 700
Every putter needs a grip, and some golfers (not named Harris English) go through the grips at a fast pace. At around $25 per putter grip, the estimated value is $17,500.
Launch monitors: 1 Trackman, 1 Foresight GCQuad
Most PGA Tour players these days have their own launch monitors, but just in case they don't, Callaway has two high-end options on the truck. A Trackman unit goes for about $19,000, and a Foresight GCQuad sells for about $14,000.
Machinery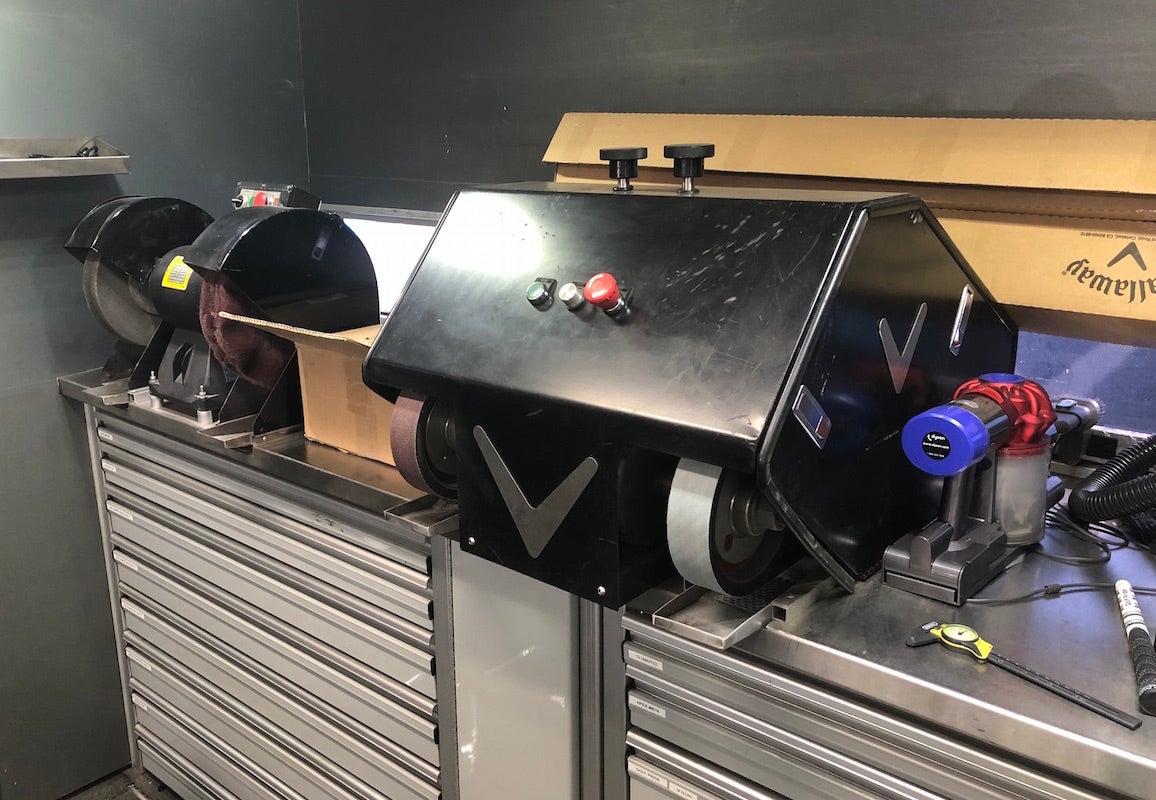 All of these clubs need to put together somehow. And the lofts/lies need to be checked. And the wedges need to be milled and grinded. Big-time machinery comes with big-time prices. Since some of the machinery is proprietary to Callaway, we're going to rely on their estimated value of $200,000 for machinery.
Estimated Total Cost
Drumroll, please? Based on the calculations above, the estimated total inventory of merchandise on the Callaway tour truck each week sits around $746,775. On a truck that measures just 34 feet long, 8 feet wide (14 feet wide when it's in working condition), and 12-and-a-half feet tall, that's a whole lot of valuable goods sitting in there!
Want to overhaul your bag for 2021? Find a fitting location near you at GOLF's affiliate company True Spec Golf. For more on the latest gear news and information, check out our latest Fully Equipped podcast below!