My official 2021 shopping list: The 17 best gifts for golf nerds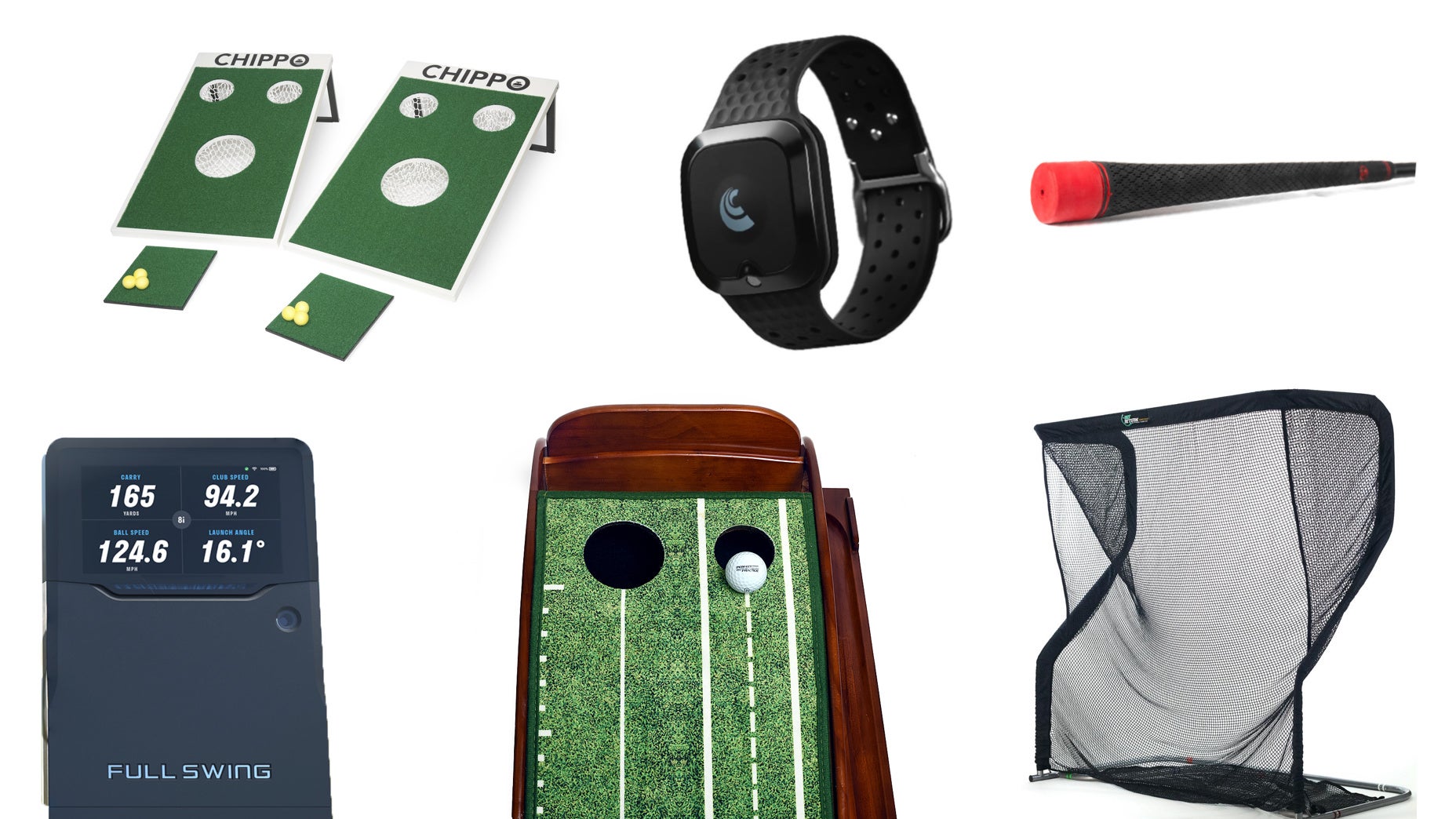 Hello, friends, and welcome to my first-annual best golf gifts for golf nerds guide! It's a pleasure to have you.
As the resident golf nerd here at GOLF.com and GOLF Magazine, I get a lot of different gadgets and gizmos arrive on my doorstep over the course of the year, and every now and again, there'll be a few products that capture my imagination. Products that are good enough that I feel comfortable personally recommending to anybody. This is a list of those products.
And so, without further adieu…
The best golf net
2021 will go down as the year my wife and I bought our first home, which was a huge development, because it marked the first time I could create my own indoor golf center (a.k.a. a mat and net in my garage). The net was from The Net Return: The Net Return Home Series V2 Golf and Multi-Sport Net.
They come in all different sizes, but Net Return, without doubt, makes the best nets for golfers on the market. They're not the least expensive around, but they're worth it: Think about it this way, if you're firing 150-plus-mph golf balls indoors, if there's one thing you can't afford to skimp on, it's the net receiving it. The net is sturdy, and can be disassembled into a duffle bag in about 10 minutes.
The best golf mat
But what good is a net without a mat? The mat was another thing that, if you're going to do an indoor setup right, I'd consider investing in. This is the mat you'll see at most high-end indoor golf places. It holds up over time, is easy to clean, roll up, and crucially, won't leave your wrist throbbing after a chunky iron shot.
The backyard training aid
Conversely, you may be looking for something more outdoorsy, more affordable and simpler: The kind of thing you don't need to think much about, just to stay loose by getting a few swings in. The KlockItGolf checks all those boxes. You screw it into the ground like a corkscrew and start hitting away with whatever club you want. It's a great way to get a beginner into the game and to practice your move without having to worry much about the result.
The best indoor putting green
If putting is more your thing, and you're looking for more than a putting mat, take a good look at the Dave Pelz GreenMaker. It comes in a variety of sizes, and better yet, is a DIY product: You assemble the floor of the green like a puzzle (it took me about 30 minutes), and overlay the turf on top of it. What you're left with is a truly premium putting green experience for a level of convince you don't see from similar systems.
The best putting mat
It's not easy to distinguish your product in a field as crowded as putting mats, but Perfect Practice has done that with their product, in my opinion. It's the one I recommend because it's easy to stand on and hit putts all day. Its slight uphill tilt trains you to hit putts firmly; the lines on the green help square-up your stroke; it's long enough to hit the key lengths of putts; the green rolls pure; and the ball is delivered back to you with total convenience.
The best putting string
And while we're talking about Perfect Practice, let's take a look at the other home run training aid they released this year: The Rain Drop. Its inventor, GOLF Top 100 Teacher Matt Killen, grew so tired of untangling string that he invented a retractible version. You can use it to work on your start line and keep it in your bag without the hassle of assembling it correctly.
The value putting aid
While we're on the topic of things that will help you hole more putts, I've become pretty obsessed with these cup reducers. I keep them in my golf bag because they're so light and easy to use, and I'll often pair them with a putting mat to help me practice more precisely. They're affordable, and you can even write on them, so you can practice getting the ball to enter the hole in a specific location. Indoor, outdoor; it's a simple, effective tool.
The best putting laser
Speaking of another value training aid that'll help you putt better: Short Game Gains' Putting Laser is ideal for whatever indoor putting setup you're working with. You can set it up on your club or behind the hole to monitor how your club is moving in relation to the line of your putt. Enough practice with this and your stroke will be in great shape.
The best value speed system
Look in my bag and you'll find the SuperSpeed C, a newly-released counterbalanced version of the SuperSpeed designed to promote more handspeed. I use it to warm up, and their new bundle means it comes with a speed tracker, which you can use both with the SuperSpeed C, and to measure how fast your swing is when you actually hit shots. You won't find a more multifunctional speed bundle on the market than this.
Best swing speed system
It's at a higher price point that most of its competitors, and the speed radar you'll need for it is sold separately, but The Stack comes with some seriously high-powered tech. Biomechanist Dr. Sasho Mackenzie helped designe the product, which features more than 30 different weight combinations and an accompanying app, whose algorithm is designed to customize the workouts to maximize your swing speed. You'll need to commit to get the most out of it, but if you do, you'll gain some serious speed.
Best ball marker
I'll be honest: I didn't come into this year thinking the ball marker market was due for an innovation, but then On Point came along and truly separated themselves from its competitors. On Point has a variety of different designs that will help speed up your pace of play by helping you visualize your putt and line your ball up quickly. I have a bunch of them in my bag, and it's an instant conversation starter whenever I break it out.
Best post-round recovery aid
After a long day walking a course on a hot summer's day, a quick Theragun session feels surprisingly satisfying. It's always my hips or shoulders that tend to get tight; when I put the Theragun to work on them, it feels like all the knots disappear in an instant, which helps with sleep, too.
Best swing path training aid
I have a nasty habit in my golf swing of getting the club stuck behind me, early extending, and throwing the club out to the right. A big swing key for me is rotating through, making sure the club exits more around me. I used to work on it by sticking an alignment stick in the ground, which was always annoying: You couldn't do it indoors, and if you use it outdoors, you'd have to move it periodically. The Swing Plate is one of those "I wish I thought of that" training aids. It's easy to assemble and move around, and you can use it to solve a variety of swing path issues, from over the top to stuck inside.
The best techy training aid
It's pricey, but the deWiz training aid is one of the coolest pieces of tech I've seen this year, and has a variety of pros lining up to endorse it. The deWiz looks like a wrist watch and is worn like one. Via a corresponding app on your phone, the deWiz will track the precise movements of your lead arm in your golf swing — and, crucially, help you change those movement patterns. You can use it to improve your tempo, your length of swing, or the direction your arms move, and there's a feedback system which will let you know if you're doing it right or wrong.
The best tempo training aid
The lag shot's set of training aids are both hyper-flexible and heavier than your other clubs. It's designed to hit balls with — something you can only do if you let the club load at the top, and turn through. If you cast the club, or tend to rush at the top of your backswing, it'll be impossible to hit the ball. It offers the two things I always look for in training aids: It gives you feedback, and it helps you engrain a feeling you can take to the course.
The best fun training aid
I suck at cornhole, but I'm not terrible at golf, which in a nutshell is why I like Chippo. Bust it out at your next summer cookout and it becomes an instant hit, and better yet, you feel like you'll get some chipping practice along the way.
The best value ball tracker
I'm all-in on the golf simulator revolution. It solves all the problems golf talks about needing to solve: It's faster, more convenient, and increasingly, more affordable. There are lots of ultra-expensive indoor systems you can go for if you're looking to make a big investment, but that's not a realistic proposition for most golfers. When it comes to a high-quality experience for a price point that won't set you back tens of thousands of dollars, the Tiger Woods-endorsed Full Swing Golf kit might be the most innovative tech on the market. It provides ball and club data, unlimited video storage, and starting next year, will be fully capable of indoor use.