This is one of the hottest training aids on Tour — its coach-inventor explains the best way to use it
Michaela Nichole Photography
Welcome to Play Smart, a game-improvement column that drops every Monday, Wednesday and Friday from Game Improvement Editor Luke Kerr-Dineen to help you play smarter, better golf. Today, we're talking about Perfect Practice's Raindrop training aid…
It's a common sight on a PGA Tour putting green: Players, before their round, putting their ball under a string towards a hole.
GOLF Top 100 Teacher Matt Killen uses the drill with his students — which over the years have included from Tiger Woods, Justin Thomas, the Korda sisters, J.B. Holmes and Sung Kang. But as much as he loves the drill itself (we'll explain why in a moment) there was one element that always bothered him.
"I've spent so many hours untangling string," he said.
So, in partnership with Perfect Practice training aids (you may remember them from their putting mats) he developed the Raindrop a retractable-string model which eliminates that problem altogether and lets you get on with the actually-important stuff: practicing.
Here's how it works: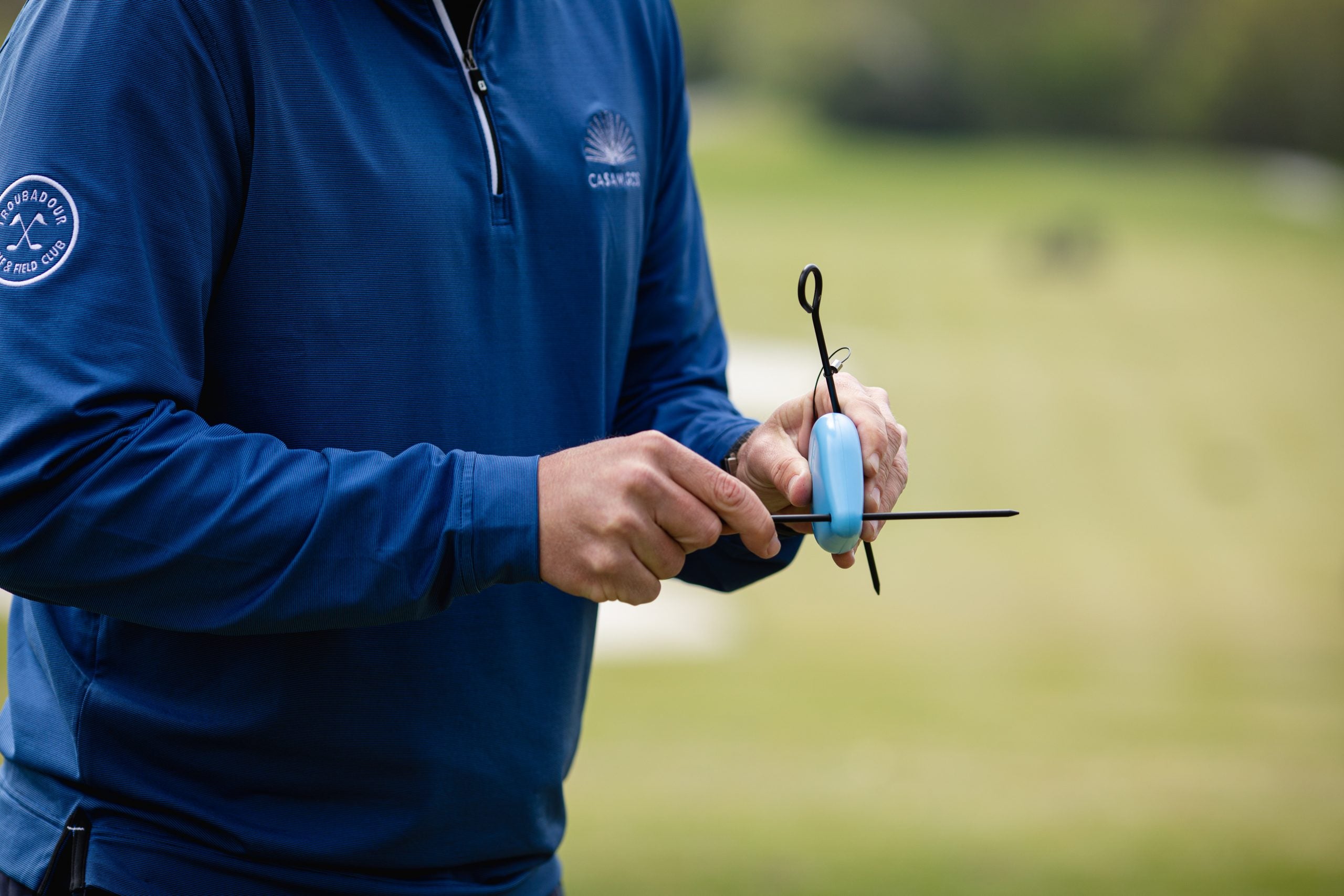 1. Set the stakes
First, you place one of the stakes inside the blue Raindrop string-holder as you see Killen demonstrating here. This takes about three seconds.
2. Pull the string
Once you've done that, you're ready to pull the string. Now is your time to go looking for a hole.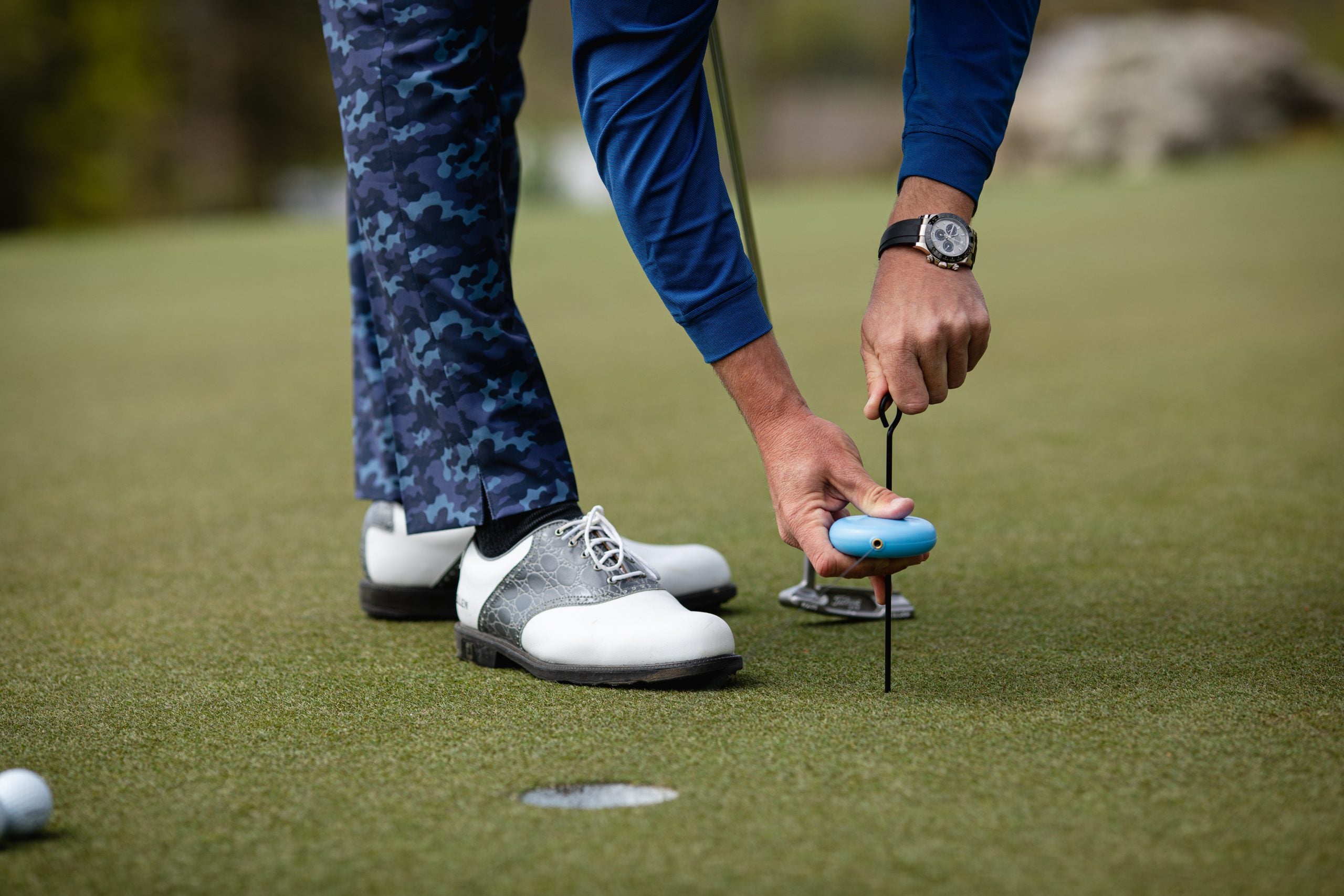 3. Find a hole
Once you find one, place one end of the RainDrop a few inches behind the hole, and another up to 20 feet away (that's how long the string goes to), though Killen recommends slightly shorter.
"Set your rain drop up on a straight putt from about eight-to-10 feet," he says.  "Once you've done that, place the ball under the string and gate your putter head with a tee outside the heel and toe."
And with a previously annoying task now a simple one, now you're ready to get cracking on the following drill — the same one Killen uses for his Tour players ….
4. Start putting
As you get set up, Killen says to use the string to run through all your checkpoints: posture, ball position, weight distribution, eye position, angle of eyes, alignment of feet, hips, shoulders and putterhead alignment.
That may sound like a lot, but it's simpler than it sounds.
"When you look down at the ball, the string should dissect the middle of the golf ball and your putter head," Killen says. "Your feet, hips, shoulders and eyes should all be running parallel to the string."
The drill can be adapted depending on how much time you have, but start with 10 putts. Start with a straight putt, then follow it with a left-to-right breaking putt, then a right-to-left putt. You don't need to make every putt, Killen says, but you should pay attention to each putt you hit.
"You will begin to see a pattern," he says. "What tee do you hit most? Do you start your ball off more frequently left or right of the string?"
If your ball starts rolling right of the string as soon as you hit it, the toe, you're pushing your putts; if it's the opposite, your pulling them, which means the clubface is closed.
"All this information will help you formulate a plan and make the necessary changes to improve," Killen says.
It's a useful drill from a handy training aid that I can personally recommend. I have one in my bag, and you can buy your own right here:
All of our market picks are independently selected and curated by the editorial team. If you buy a linked product, GOLF.COM may earn a fee. Pricing may vary.
The RainDrop – Retractable Putting String
$48
Developed in partnership with world renowned golf instructor and putting guru, Matt Killen. Close to 20 feet of retractable cable! The Raindrop will help you work on start line easily and quickly on the putting green. Either straight putts or breaking putts, this retractable string can do it all! Quick and easy to setup, and stores easily in your golf bag. Includes a neoprene carrying case to protect your raindrop and metal stakes.
Buy Now
View Product
Golf Magazine
Subscribe To The Magazine
Subscribe