What I learned going from Pinehurst to Prairie Dog Town
Zephyr Melton
I played my first round of golf of 2020 on Feb. 29, at Pinehurst No. 2. My second round came on June 22. That's 114 days between my ball dropping in the cup in the shadow of the Payne Stewart statue and my opening tee shot piercing the west Texas winds at Meadowbrook Golf Course in Lubbock, Texas. It was a long way from Pinehurst, but it felt good to be playing in my old backyard.
Adjacent to the massive manicured putting course at Pinehurst, "Thistle Dhu," is the charming short course called The Cradle; nine par 3s dubbed "the most fun 10 acres in all of golf." Adjacent to Meadowbrook's practice facilities is Prairie Dog Town — the fifth-most visited attraction in all of Lubbock.
Prairie Dog Town was established in the 1930s with just four dogs and two burrows, the first preserve of its kind. Since then, the population has exploded. Local legend Kennedy Clapp brought the preserve to the South Plains and for his efforts he was named "Mayor of Prairie Dog Town" in perpetuity.
If you're thinking having a prairie dog preserve within shouting distance of a golf course is a strange idea, well, you're not alone. The biggest challenge with the town is that prairie dogs don't live in towns. Instead, they like to dig their way out, routinely burrowing onto the golf course and wreaking havoc in the fairways, leaving grapefruit-sized holes in their wake. It's essentially Carl Spackler's worst nightmare. Lining up to hit a shot and seeing a prairie dog pop out of its hole gives off a certain Caddyshack vibe. All that's missing are the snobs; luckily snobs are in short supply at Meadowbrook.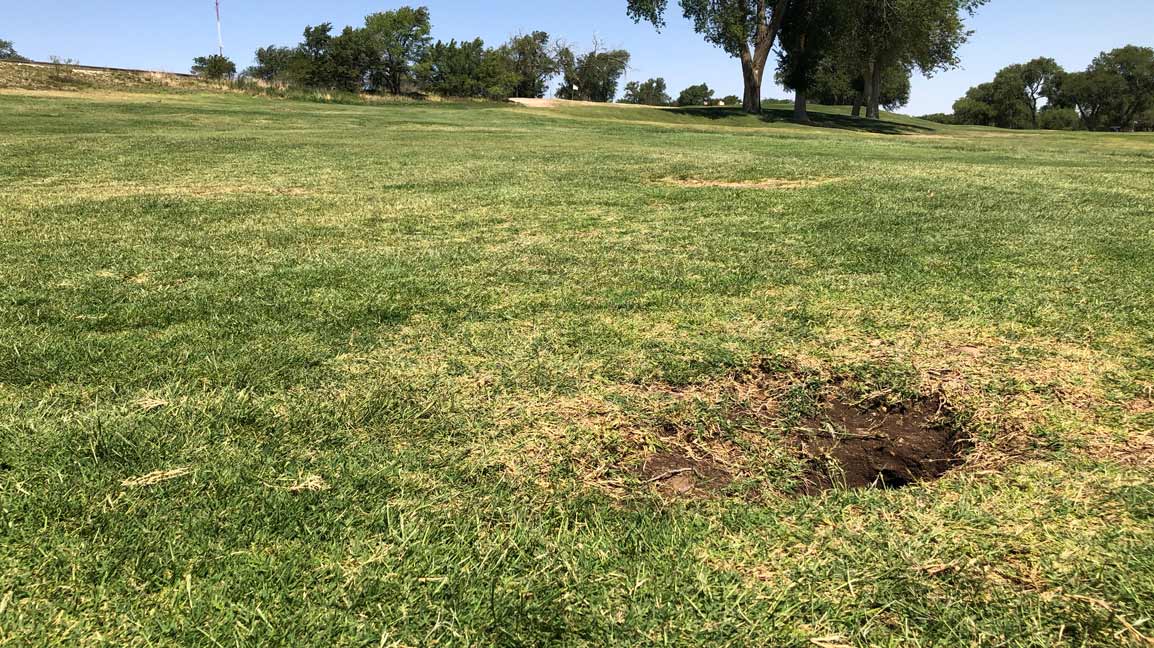 If there's a hidden benefit of dodging gopher holes, it's that you quickly acquaint yourself with golf's Rule 16. Specifically, 16.1e, which states, "If a player's ball has not been found and it is known or virtually certain that the ball came to rest in or on an abnormal course condition on the course, the player may use this relief option instead of taking stroke-and-distance relief."
This was a commonly cited section of the rulebook for junior golfers ironing our games at Meadowbrook. And, as you might expect, it was deployed rather liberally when errant shots came up missing.
I never much minded the prairie dogs or other ruggedness that defines Meadowbrook, though. That's just the kind of golf I grew up with. Us muni rats took pride in playing under less-than-ideal conditions and how we learned to be malleable in ways that aren't taught by some of the game's top minds (or at the best-conditioned courses).
I'd spent the months after Pinehurst huddled in a tiny apartment in Brooklyn before a marathon road trip home to Lubbock. Now, at Meadowbrook, the memories of my former life poured out. After a few holes, I remembered the feeling of clipping the ball off a bed of rocks nice and clean, to avoid scratching the blades. I tried to recreate that pitch shot I'd once mastered from a baked-out hard-pan dirt lie that skips and checks just so. These aren't shots that you often have to pull out at Top 100 courses; Pinehurst's demanding test came in a different format. But in a world with more Meadowbrooks than Pinehursts, they still have some use.
Every golfer knows the nostalgia that comes from revisiting your old stomping grounds, and so the solo round at Meadowbrook was comforting, even if the golf was unremarkable. I took a cart around the parkland course and shook the New York City rust off my game. There aren't many notable holes at Meadowbrook, but it felt good to be back out there.
Most of the day, I wasn't scaring any pins (or even the greens, period). Despite the familiarity of the track, I was considering another 114-day layoff. But a memory popped up as I reached the 18th — a swing thought I leaned on in those long-ago high school golf days. Tilt the shoulders back and let it fly. For the first time all day, a perfect high draw sprung off the driver face. I was left with a simple flip wedge into the green, which I clipped again and zipped back a few feet below the hole. I stepped over the putt, suddenly nervous. Straight back, straight through. First birdie in 114 days.
Back in February, I was certain I'd peaked for the year in terms of memorable rounds of golf. But being back at Meadowbrook served as a reminder that Pinehurst rounds are few and far between. Most of us that love to play golf spend most of our time at places like Meadowbrook. It's called a home course for a reason.