Why this pioneering golf course is focusing on access just as much as design
Courtesy Barrier Free Golf
Tim Andersen holds an old black plastic cord in his left hand. He reaches down with his right to grab the wrapper from a candy bar.
"This is a habit I got playing golf, just picking up garbage. I used to tell kids in junior golf, 'If you pick up garbage, you'll make a putt,'" Andersen says. He pauses. "Now, I've never had a kid ask me how long of a putt."
He chuckles. It's a July morning, and Andersen is hosting a walking tour of The Loop at Chaska, a nine-hole, par-28 short course in Chaska, Minn., less than a mile down the road from Hazeltine National. The Loop isn't open yet, but it's clear even now that it will look nothing like its major-championship host neighbor.
When unveiled next spring, its design and facilities will make it among the most inviting in the world — a course created predominantly for the adaptive golfer. There will be no bunkers at The Loop, and though all the grass has yet to grow in, there won't be any rough whenever it does. Carts will be permitted to drive everywhere (even on slopes and greens), while the adjacent facilities are being constructed to accommodate disabled golfers. If anything like this has ever existed in golf, it certainly wasn't intentional.
Andersen stops near the 9th green and admires the creek, built for drainage, which was his idea. He thought it'd be fun to model it after Oakmont Country Club's famous creeks. He scans the entire property.
"It's kinda wild looking at something you've been dreaming about for a long time," he says.
The 24-acre lot used to be home to the Chaska Par 30, a city-owned Robert Trent Jones Sr. design that was built in the southwest suburbs of the Twin Cities in 1972. The glory days brought around 34,000 rounds a year, but more recently that number dwindled closer to 15,000. The course, which was already struggling to break even, was in major need of expensive updates, many of which — like irrigation and drainage — would hardly be noticed by the golfers.
Andersen was well aware of the property. He'd driven by it on the way to Hazeltine for decades, where he was a long-time member. He's a golf diehard — a USGA rules official and member of the USGA Junior Am Committee. His wife, Wendy, ran Hazeltine's junior golf program for 25 years.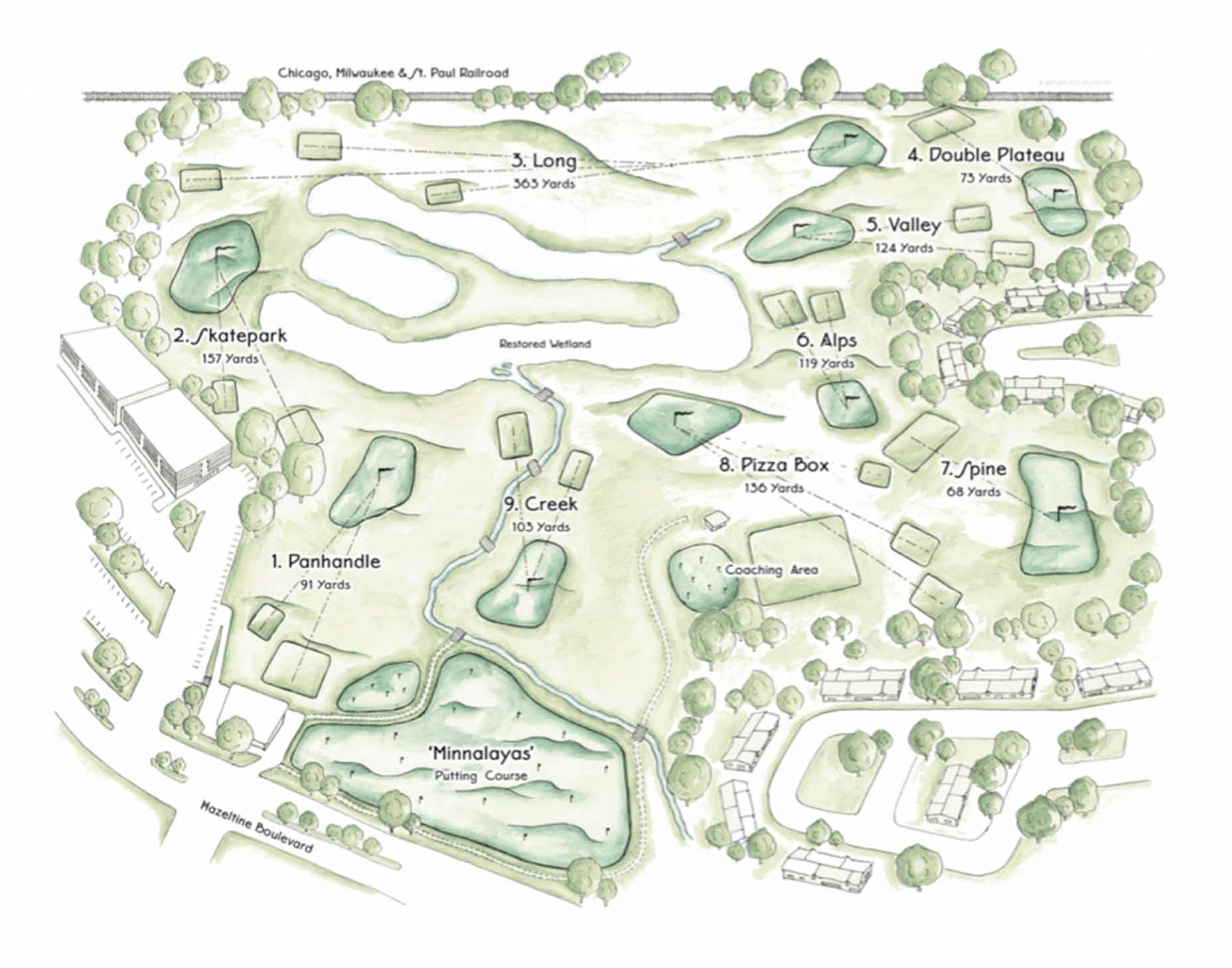 Once upon a time, Andersen, now 65 and retired, worked in the business of startups. Around a decade ago, he launched Learning Links, which has since been rebranded as Barrier Free Golf, a non-profit whose mission is to make golf accessible to all. His ultimate goal, though, wasn't to bring people to the golf course — it was to bring a golf course to the people.
So he called his old friend John Kellin, the long-time pro at nearby Chaska Town Course (also city-owned and one of the best public courses in the Twin Cities), which will co-host the 2024 U.S. Amateur with Hazeltine. Years ago, the two men worked together to form a high school golf invitational, but now Andersen had an even bolder idea with his accessible-course model.
Kellin, whose duties also included overseeing the Chaska Par 30, was intrigued. He'd seen first-hand the issues in his own short course and knew the costly renovations that were soon due, but he couldn't stand the thought of the property falling into a state of disrepair. The Chaska Par 30 seemed like the perfect fit for Andersen's vision.
"We looked at it as not only a great opportunity with Barrier Free Golf to open up a whole different realm of accessible golf," Kellin said. "But also a way to save our golf course that was dying."
Andersen approached the city of Chaska about a partnership with Barrier Free Golf. His non-profit raised about a million dollars, including more than $52,000 from Hazeltine and several thousand more in personal donations from the club's members. In September 2020, the Chaska Par 30 closed. A new, innovative project was officially underway.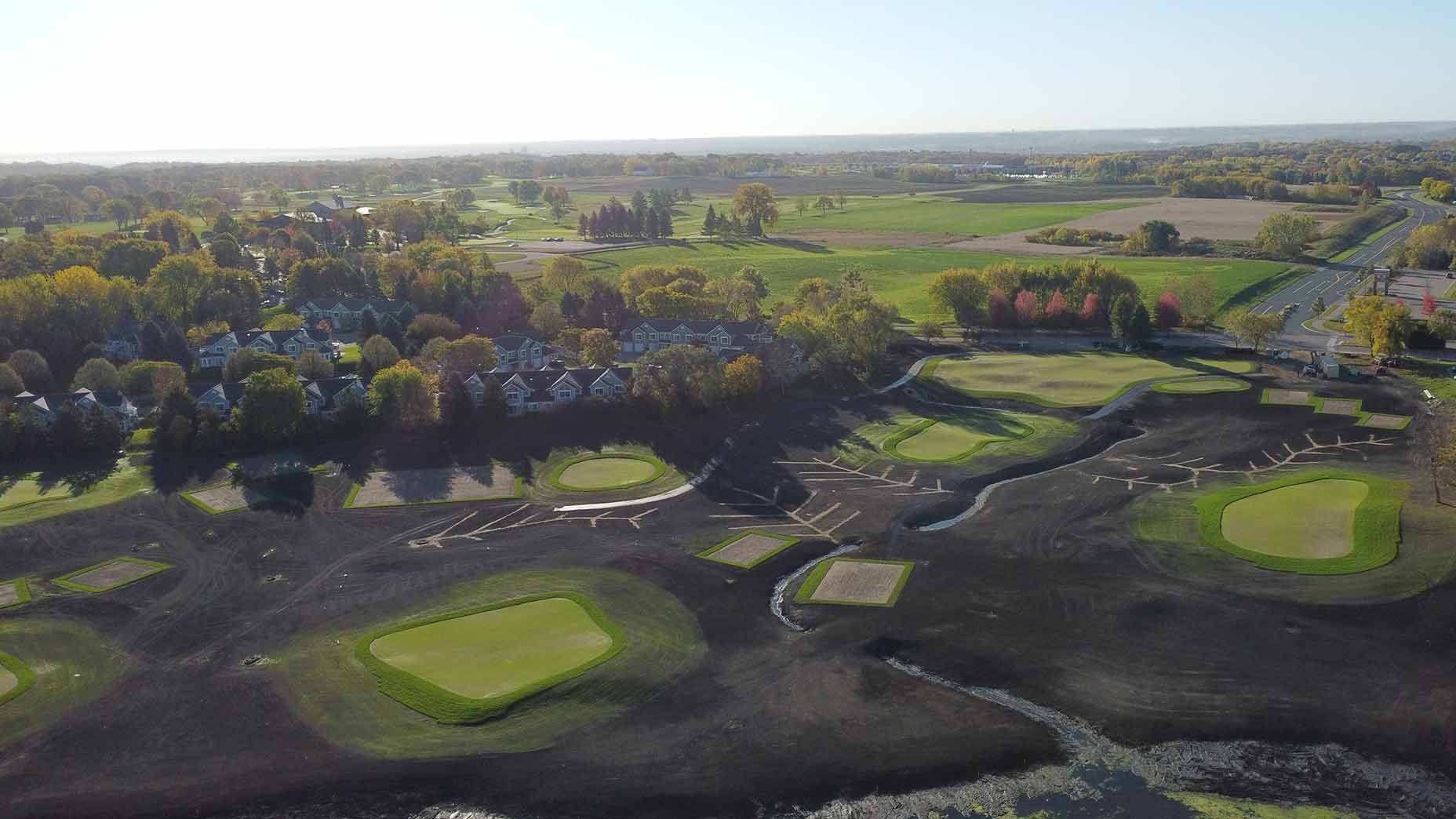 It didn't take long for work to get started on the new course, which had to be completely ripped up before construction could begin. Mid-America Golf was brought in to build the course and architect Benjamin Warren was hired to design it alongside four shapers.
Warren, 41, was an easy choice for Andersen and Co. Growing up in Scotland, he earned a fast appreciation for the importance of undulation, which made him particularly well-equipped to shape a course where ground game would be the primary factor in determining playability. It also helped that Warren, the lead architect and shaper at Artisan Golf Design, had also assisted on The Nest short course at Cabot Links. In the project's early days, he was sometimes spotted walking the new routing four or five times a day.
Warren changed the routing to move clockwise instead of counter-clockwise — allowing golf's large quantity of slicers to keep their balls in play and away from Townhomes — and removed every bunker.
Removing the bunkers was one of the major decisions made to improve the course's accessibility for the adaptive community. For seated players — those who compete using a motorized cart with a rotating seat — bunkers can be an unsalvageable hazard. Still, the decision was met with skepticism from the old course's regulars, who feared their course would become boring without its typical shape and defense.
But through consulting and focus groups, Warren's team learned that disabled golfers didn't want an "easy" golf course, and they certainly didn't want a boring one. Rather, adaptive players wanted a course with the same challenges you'd see anywhere else, just with slopes gentle enough to drive over for those in carts. That was the design team's challenge.
"Can a 30 handicap play this and have fun?" Andersen says. "And then if you could get a PGA pro out here playing it with his kid and he thinks it's fun, that's perfect. That's the wide variety of handicap. Everybody's enjoying it. And how do you do that? You do that through cool architecture."
To keep the course challenging without bunkers, the greens had to be the star of the show. Warren did this by expanding all the putting surfaces, which had the added benefit of dispersing the weight of any vehicles driving on top. When the course opens, the greens will run slower (8.5 to 9.5 on the Stimp), which will allow the design team to be more aggressive with the shape of the surfaces and help bring out the course's strategic and visual intrigue. In building the holes, Warren looked to the Golden Age of golf architecture and used templates like the Double Plateau, Alps, Punchbowl and others that would be conducive to slower greens speeds.
"It gave us the ability to build some pretty aggressive internal contours of the greens," Warren said. "Some whimsical contours."
Some holes have multiple tee boxes to accompany different skill levels, but at its core, The Loop is supposed to be fun. You can play every hole with nothing but a putter.
Tanelle Bolt had one thought when she first saw The Loop under construction last summer: Why doesn't everybody do this?
Bolt, 35, is paralyzed. Eight years ago she suffered a free-jumping accident and burst her T6 vertebra. Before her accident she managed two companies and competed in fitness competitions. Now she's made it her mission to raise awareness about the lack of equipment and resources available to those with mobility issues — and to help those who are in need of it.
She's also a golfer. The daughter of a golf course superintendent, Bolt was planting flowers and mowing greens at age 16. She was a guest on The ModGolf Podcast promoting adaptive golf back in 2019, which made its way to a member of Barrier Free Golf. They shared the podcast with Warren, who reached out to Bolt for help. Soon, she found herself at a roundtable with the course's stakeholders and other golfers with disabilities, and later, with an invitation to Minnesota to offer her expertise on the course.
She was blown away when she arrived.
"Dignity and equality are pretty much non-existent when you have a disability," said Bolt, who has since founded the RAD Society, which provides access to adaptive equipment. "You are always looking for the side entry or the elevator. With a disability you are reminded every day you are different from everyone else walking around you, but when I got there, sitting in the parking lot, there's a pathway to the front door, not the side door. I loved the fact that you pull up and you can see what's going on down below. You can see that it's accessible, that you are welcome, that it's for everyone and they are truly trying their best to be barrier-free. It's incredibly important."
The undulation and movement of The Loop's new greens will make them plenty lively, but they'll still be able to safely accommodate those who have to stay in carts. Bolt and Mark Sarkisian, who has polio, were brought in as adaptive design consultants and drove specialty carts around the property to make sure the terrain was workable. The course will buy about eight to 10 of these single-rider golf carts for those who need them. The wheels are wider, offset and have a different tread and weight distribution so they can drive on the greens at no harm to the course.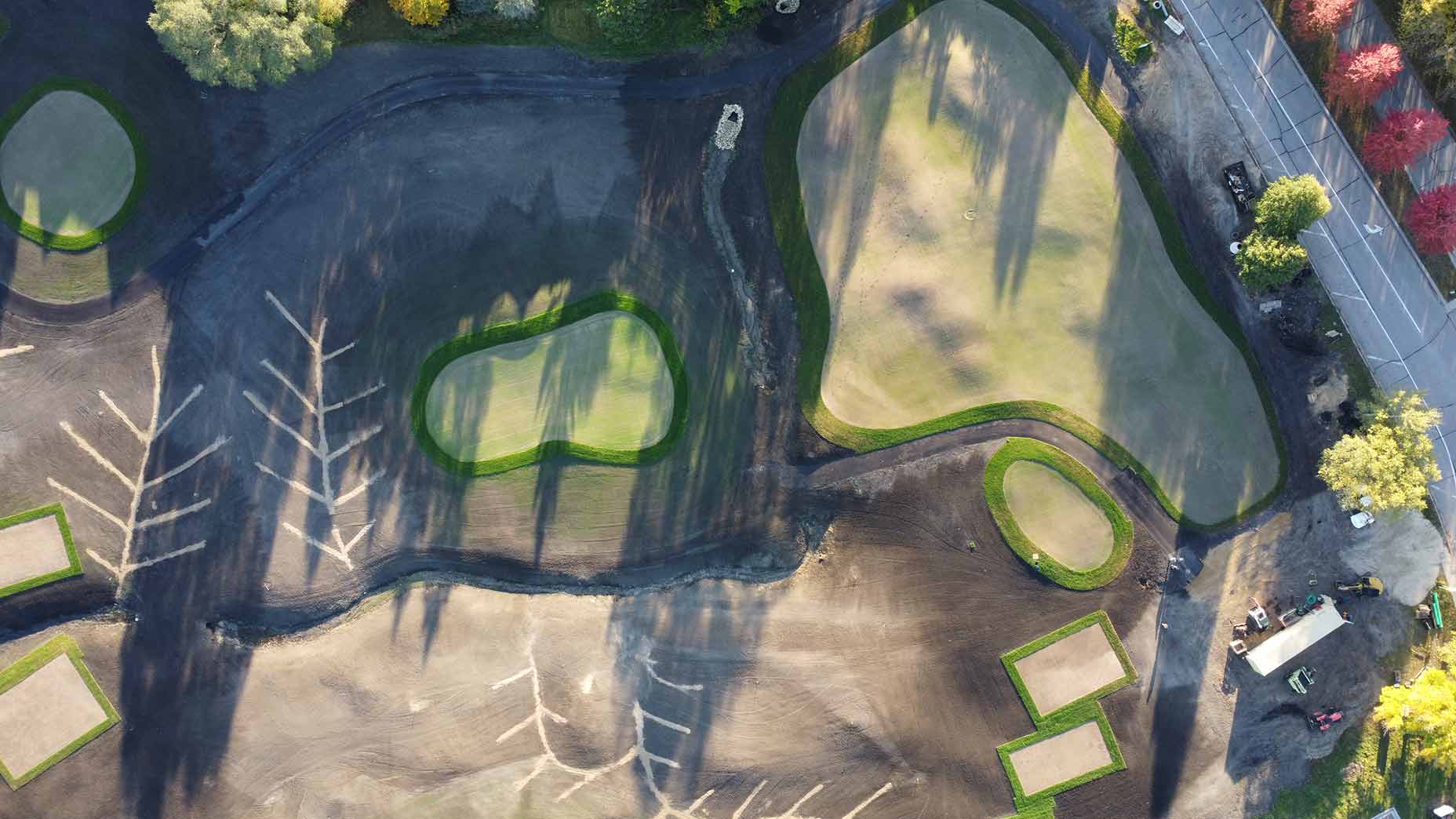 "A lot of the seniors who were against us doing this came back and they expected to see a flat field," said Matt Danson, who will be the head super of the course and handle the majority of the upkeep himself. "But we were able to put a lot of movement in. They're pretty happy."
Some intrigued regulars have taken step-by-step photos of the process. Others have stopped at the Dairy Queen across the street, grabbed ice cream to-go and watched the crew's progress from the parking lot in real time.
The 1,234-yard course has holes that range from 70 to 370 yards in addition to a new "Minnalayas" putting course — an expansive, rolling routing playing off St. Andrews' Himalayas Putting Course. There's also a practice area for lessons and clinics.
But the golf course is just a fraction of The Loop's total package. When Andersen brought in Bolt and other consultants, they realized additional hurdles they had to leap. Besides an inviting, stress-free route to the clubhouse, the bathrooms had to be big enough to accommodate wheelchairs and wide enough to support their turn radius. There's even a private bathroom and shower that will be built in the clubhouse. Good benches to rest on the course are important too, same goes for weather shelters.
"There's a number of places that are doing accessible programming, but I don't think there's been anything designed with accessibility as a core feature," Andersen says. "Parts of them have been incorporated after the fact, but to have disability access as a core design feature, environmental stability, and make it a golf course fun for the widest variety of handicap — I don't think anybody else is doing that."
They envision it as a place for disabled golfers, senior golfers, junior golfers, social golfers and veterans. Or in other words, for everyone.
Greens fees will be modest and Barrier Free Golf will have the ability to give a certain amount away each year. The clubhouse will be small by design, since it won't have a restaurant or bar. They'll have spaces for food or beer trucks to come in and set up for the day.
"If we change one person's life for the better, all this is worth it," Andersen says. "And I know we'll do better than that. There's just too many good people involved that'll make that happen."
Nearing 11 a.m. in Chaska, Andersen greets each green with the enthusiasm of someone seeing them for the first time. The bones of the course are here, the greens are sodded and seed is down. Irrigation work is well underway.
"Look how cool this green is," he coos. "Isn't that awesome? You can see where the water's going off right here, right? Kinda sheds it off in that corner a little bit. I mean, this is really cool."
Andersen's passion for adaptive golf doesn't end in Chaska. This will be his non-profit's first golf course, but he's hoping it won't be the last — and there's already been interest in places like Wisconsin and Texas. A few weeks ago, Andersen found himself in Pinehurst working the USGA's inaugural U.S. Adaptive Open, where 96 golfers ages 15-80, all with some form of disability, battled it out in golf's American mecca. Two of Andersen's sisters and one of his daughters have worked with the disabled community, too.
"So was it ingrained? Yeah," he says. "But I could see that they were way underserved."
Still, none of that information helps to explain what brought Tim Andersen to The Loop. For that, you'd have to go back to a conversation he had several years ago with Jack Burke Jr., the 1956 Masters champion. They met while playing in Burke's Champions Cup in Houston.
"Tim, this game's been really good to you," Andersen recalls him saying after a lengthy conversation. "What are you going to give back?"