A bucket-list golf trip to…Greece?! Yep, here's why that's now a real thing
Courtesy Costa Navarino
Why is there so little golf in Greece? Theories are as abundant as the olives in Kalamata.
"Too rocky, and water is scarce and expensive" is Tom Doak's guess. The architect has not only never been approached to build a course in Greece, he's also never set foot in the country.
"Golf isn't a Mediterranean sport, it's a northern European sport," posits Robert Trent Jones Jr.
"Plus, it's hot," Doak adds. "And there aren't many golfers!"
But there is at least one lunatic golf fan: the "guest service ambassador" who greets me at the Romanos. The luxury resort — all vaulted ceilings, marble surfaces, cerulean blue-tiled pools and curtain-billowing breezes — anchors Costa Navarino, a sprawling vacation spot set softly against the Ionian Sea in a remote region of the Peloponnese.
"I see that your passion is for golf," he says excitedly, eyeing my Titleist cap. "Have you ever met the Gold Bear?! I believe he has won 117 tournaments on his career!"
This is the rare Greek with something of a grasp on the game. In a country of nearly 11 million people, there are only nine 18-hole golf courses, four of them at Costa Navarino. So it's not surprising that the kid has never picked up a club.
"I think it is a demanding sport," he says, shaking his head. "A lot of secret of techniques!"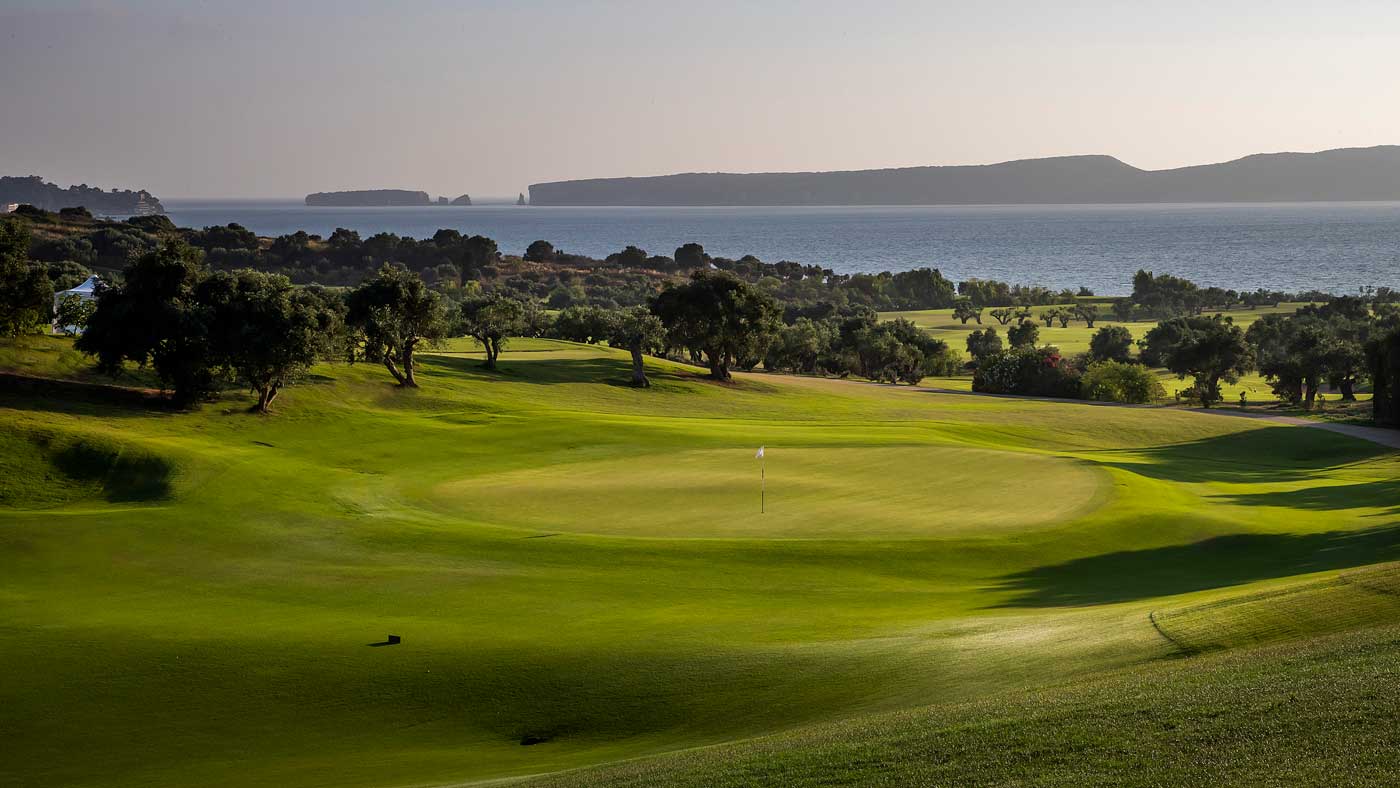 Costa Navarino has, until now, been something of a secret in itself, at least to American golfers. Its first course — the Dunes, designed in collaboration with Bernhard Langer — and its first resort — the family-friendly Westin, which seamlessly shares 320 acres of seaside property with the posher, couples-friendly Romanos — opened in 2010. A year later, Trent Jones Jr.'s Bay Course debuted six miles down the road on Navarino Bay, where a few centuries ago Greece gained its independence in a naval battle with the Turks. RTJ, a ravenous history buff, thinks of his windblown, beautifully sloping Bay Course as "a green apron to the sea."
Brits, Germans, Scandinavians and the French have flocked to Costa Navarino for a decade, drawn by the relentless sunshine, high-quality golf (the Dunes and Bay perpetually flirt with the list of Continental Europe's 100 best courses), easy access (affordable flights into nearby Kalamata International Airport) and first-class hospitality, an area in which the Greeks are scratch players.
What's suddenly reshaping the perception of Costa Navarino as a dream-golf destination is the opening, in February 2022, of two new courses: mountaintop stunners courtesy of José María Olazábal's design group; a sexy and chic, Mykonos-worthy W hotel opened its doors in August; and an ultra-high-end Mandarin Oriental arrives in the spring.
The two new hotels — the first W and Mandarin Oriental in all of Greece — are nestled into Navarino Bay and offer the most central access (via gratis, Mercedes Sprinter van shuttles) to Costa Navarino's four golf courses.
There's an audacious vision at work here; ambition that defies the region's earthy, rural roots. And a fortune is being spent — all for an outpost a hefty three-and-a-half-hour drive from Athens. Plato would be perplexed.
Costa Navarino is the dream of the late shipping magnate Vassilis Constantakopoulos. Over a span of 20-plus years, "the Captain" used his wealth to scoop up large waterfront swaths of Messenia, the agriculture-rich southwest corner of the Peloponnese. The intention was to put his birthplace on the map, honor his up-from-nothing beginnings and give back to a region made up of small farms, olive groves for as far as the eye can see and young locals in need of opportunity and a future.
The Captain is celebrated as a local hero, but not every Messenian was ready to buy in. Jones remembers building the Bay Course over a decade ago: "We wanted to widen a fairway, but they hadn't acquired a piece of the land in the elevation above the hole. The woman wouldn't sell, and she kept coming out with a kitchen knife and threatening my shaper!"
She's still there, Jones thinks. "Her property line borders the 6th hole, so if somebody hits it out of bounds it might be more than a few strokes penalty," he says, chuckling.
RTJ likes a good quip, but he's quick to praise what the Captain and his heir, Achilles, have achieved. He can't think of another golf destination quite like Costa Navarino in all of Continental Europe. "You might better compare it to Bandon or Pinehurst or Pebble Beach," he says. "And there's lots to do there besides golf. Warm people. Nice people. Great food. Sea experiences. We like to joke that on the 2nd hole of the Langer course, right by the sea, if you're playing double-bogey golf, you can just take off your shirt and go swimming."
Robert Trent Jones Jr. can't think of another golf destination quite like Costa Navarino in all of Continental Europe.

It's not an exaggeration. The three hotels currently open are vast playgrounds for sun worshippers, spa lovers, kite surfers, tennis junkies, entry-level foodies. English is the common language, but multiculturalism is everywhere — particularly in the open-air, moonlit restaurants.
Classic steakhouse? It's called Flame. Italian? Da Luigi. Traditional and modern Greek? There are several, including Armyra, Parelia (at the W) and, at water's edge, Barbouni. Japanese? The nirvana called Onuki is legit world-class. Servers named Adonis and Babis bring you your pink grapefruit–infused G&Ts. Beauties named Paola and Afrodite (with an f) field your questions about the menu. Sotiris is the devil in your ear when choosing between the chicken and the Wagyu rib eye. Breakfast, free to hotel guests, is treated like the Last Supper. Imagine the opulence of HBO's The White Lotus, but with a Euro beat and without the bickering Americans.
The courses are just as diverse and tasty. No Doak or Coore-Crenshaw designs here. The place courts tourists, not purists. But the golf is still first-rate. The Langer course, which wraps around the Romanos and the Westin, is considered Costa Navarino's championship course — and its toughest because of diabolical bunkering. The whip-smart kid who wiped down my clubs after a round called Jones' Bay layout a "holiday course," meaning it epitomizes resort golf: friendly fairways, large greens, killer vistas (of Navarino Bay). But that's like calling Marilyn Monroe cute. Typical of a RTJ II track, it's wily; a chess game waiting to be taken on in two-club winds and with thrilling elevation changes.
To play the two new Olazábal loops — the Hills Course and the International Olympic Academy Golf Course — you'll shuttle 20 minutes into the mountains, 700 feet above sea level. Jones likes to rib the work of players-turned-designers like Langer and Olazábal for what he calls their "straight-line" architecture. But the Ollie courses are precocious; a feast of doglegs, blind tee shots and bending fairways dotted with rocky outcroppings and archly placed olive trees. The Olympic — a collaborative enterprise with Greece's IOC and a place where the hope is to spark the talent of young Greek golfers — is the only Costa Navarino course with black tees, which tip out at just about 7,000 yards. Although its front nine is the least memorable of the four tracks, its back nine is a mindblower, a string of testy holes that ride along tiered cliffs high above the bay.
Because it's the only layout without water views, the inland Hills might, you'd think, be a comedown. But it's entrancing. Its cart paths, dusted with red clay, move like copper ribbons through native areas populated with aromatic jasmine, rosemary and fruit trees. Cradled in the folds of the mountains, the course is eerily hushed and strangely lush. Off the tee, it's even more beguiling. In golf operations manager Adam Kritikos's estimation, it's the gnarliest of the layouts for those hitting from the tips.
Kritikos had the best explanation for why golf in Greece has been so slow to gain traction — and why it's Greek to most Greeks.
"The perception here is that it's a rich man's sport," he says. "The first four golf courses in Greece were built at the same time: the 1960s to 1970s, during the military occupancy of Greece. We had a small dictatorship. And the old prime minister used to play golf, so the perception became, Ah, it's a sport for the rich. That thinking is still not so up to date."
For Americans, the price of putting it in play at Costa Navarino begins with the not-insignificant expense of getting there: a flight into Athens (there are none from the States into Kalamata) and a car rental for the journey to the coast. Once you're there, the numbers fall a little more in line: a standard room at the W goes for roughly $375 a night; at the Romanos, $340; at the Westin, $320.
Greens fees for the four courses are identical: about $190 in the peak golf season, which emphatically is not the peak summer season. Costa Navarino's busiest months are July and August, but you'd rather walk the surface of the sun than play midday in that heat. Early-morning and late-afternoon rounds, when the sun loses its bite and breezes pick up, are more common. If you like to feel as if you own a place, by all means get out in the summer, when each course books maybe a dozen rounds a day. Kritikos says the number jumps to 150 per course in the temperate months of February through May and September through November. That uptick explains the new lust for golf in Greece. Hospitality machers are eager to widen the country's tourism window, and golf is their magic bullet.
Dirk Bouts, a senior associate at Nicklaus Design, is WhatsApping me as he makes the mountainous drive west from Athens to the boutique village of Kilada, where a Jack Nicklaus Signature course set on the Aegean Sea will open next spring. "Hold on," he says a little nervously, working his way round a roadside obstacle. "It's always interesting here in Greece!"
Bouts has been overseeing the Kilada build for the past two years. "It's going to be a country club associated with a very nice six-star hotel called the Amanzoe. So the course will be semi-private, but definitely they'll be looking for people to come experience it, so the focus will be on resort play."
Another outlet for golf travelers in Greece will be an upcoming Nicklaus project on Rhodes: a top-to-bottom redesign of a beachside course called Afandou. Work begins in 2023. "Rhodes is a very cool island, and the presence of golf will make a big difference in extending the season there," Bouts says. "It's the perfect example of the future of golf in Greece."
Hospitality machers are eager to widen the country's tourism window, and golf is their magic bullet.
"There is nothing permanent except change." A sharp guy in a toga said that. But all the forward thinking in Greece makes it even more gratifying to take in its past. Just two hours north of Costa Navarino is Olympia, birthplace of the Games. An hour east of the resort are the spectacular ruins of Ancient Messene. A short drive south is Pylos, a port city that has survived and thrived since the Stone Age. Seven miles farther down the road is the historic Methoni Castle. There are estimated to be 250 million olive trees in Greece. Venture off campus in your rental car, past Messenia's farm stands, vineyards and fields of elephant grass and you'll feel as if you've seen 100 million of them.
The "welcome ambassador" at the W is a sage bellman named Stelios. He spent 19 years in the withering heat of a downtown Athens Hilton. Reborn, he now stands in the breezy foyer of Costa Navarino's newest and coolest pleasure dome, greeting bikini-clad guests and dispensing choice bits of wisdom and history.
Culture. Thought. Literature. Democracy. The cradle of civilization. Gesturing in the direction of the mountains and the deep-blue waters of the Peloponnese, Stelios says, "The flame started here."
To that list, it might just be time to add golf.