USGA chief Mike Davis stepping down to pursue lifelong passion, successor unknown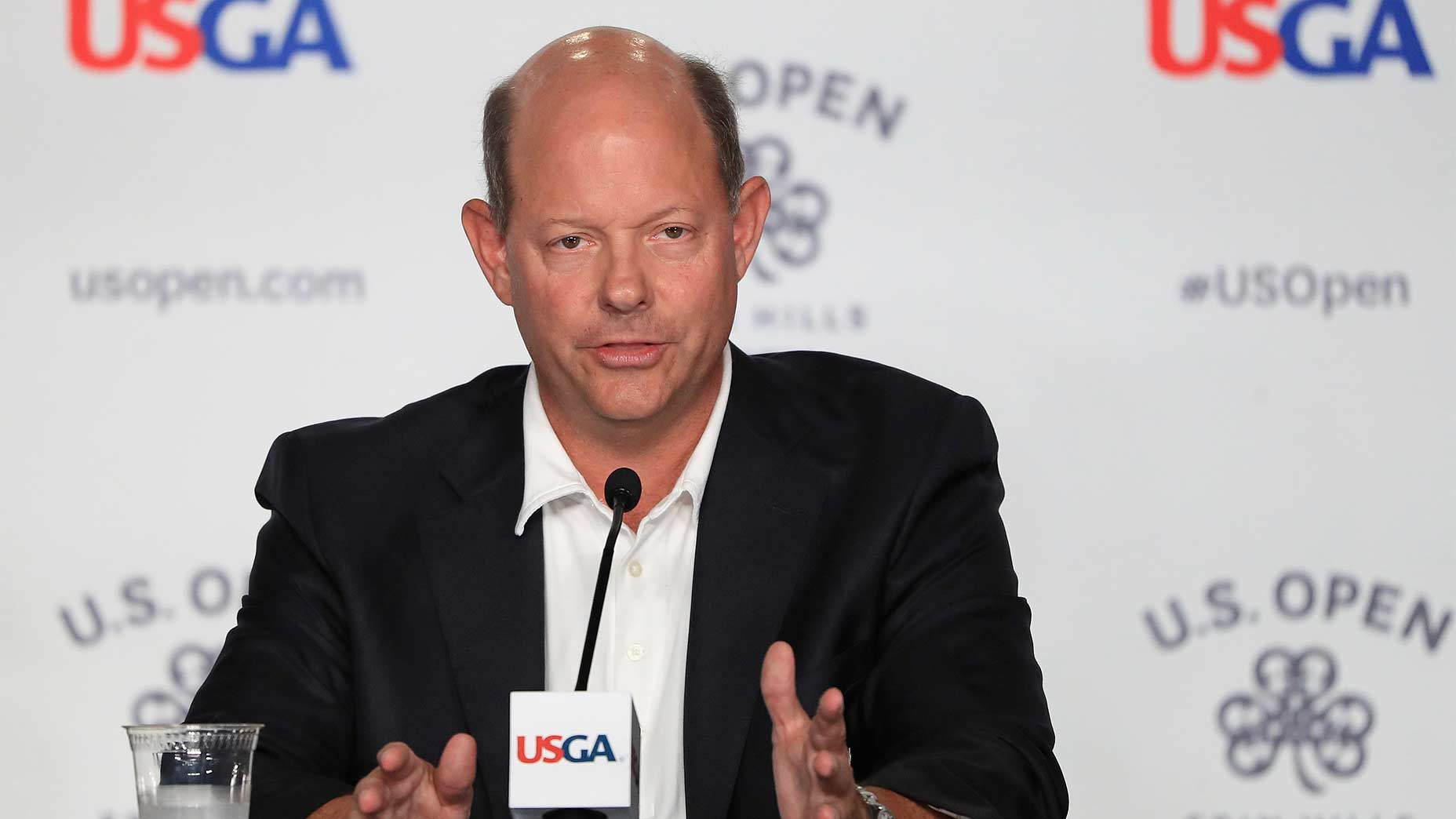 Getty Images
The course set-up man is changing course.
Mike Davis, a 30-year employee of the United States Golf Association who became the organization's first CEO in 2016 and who for more than a decade oversaw course setups at the U.S. Open, will leave the governing body by the end of 2021.
The news came Tuesday in a prepared statement from the USGA, which said that Davis will be shifting gears to work in golf course architecture as a partner with Tom Fazio II, Tom Fazio's nephew, in a firm the two have formed, Fazio & Davis Golf Design.
"Mike has been a transformative leader in golf and his actions to move the USGA forward have been numerous and decisive," USGA President Stu Francis said.
In written remarks that accompanied the announcement, Davis, 55, said that his decision to leave, while difficult, would free him up to pursue a long-time dream.
"I've been fascinated with golf design ever since I was a junior golfer," Davis said. "It started with doodling golf holes, and then reading and observing all that I could about golf course architecture."
Davis's planned departure marks the latest plot turn in a blue-blazered role that began for Davis in 1990, when he joined the USGA as assistant manager of championship relations. An accomplished amateur golfer who won the 1982 Pennsylvania State Junior championship and played collegiately at Georgia Southern University, Davis rose steadily through the executive ranks.
In 2011, he was named the USGA's seventh executive director, filling a post vacated by David Fay. Five years later, "CEO" became Davis's job title.
During his tenure as top dog in Far Hills, Davis was credited with beefing up the USGA's financial muscle by cultivating stronger corporate relationships, most notably through the inking, in 2013, of a $1.2 billion deal with Fox Sports (a deal that ended prematurely earlier this year, with NBC stepping back in as the USGA's lead broadcast partner). He was also recognized for introducing welcome changes to U.S. Open setups, such as graduated rough and drivable par-4s.
Such moves have been reflective of a broader effort by the USGA under Davis to bring a long-in-the-tooth organization more apace with modern times. Other notable steps have included revisions to the Rules of Golf aimed at simplifying the game's guidelines, and the launch of the Distance Insights project, a joint initiative with the R&A to study the past, present and future impacts of distance in golf.
But the Davis era also was not without controversy or criticism, and it was often Davis who shouldered culpability from golf fans and some of the world's best players for perceived USGA missteps. When not taking heat for polarizing U.S. Open setups (See: Chambers Bay, 2015; Erin Hills, 2017), the USGA in recent years has caught flack for rules kerfuffles (see: Dustin Johnson, Oakmont, 2016) and equipment regulation, or lack thereof, according to those observers of the game who believe the governing bodies have not done enough to police advancements in technology.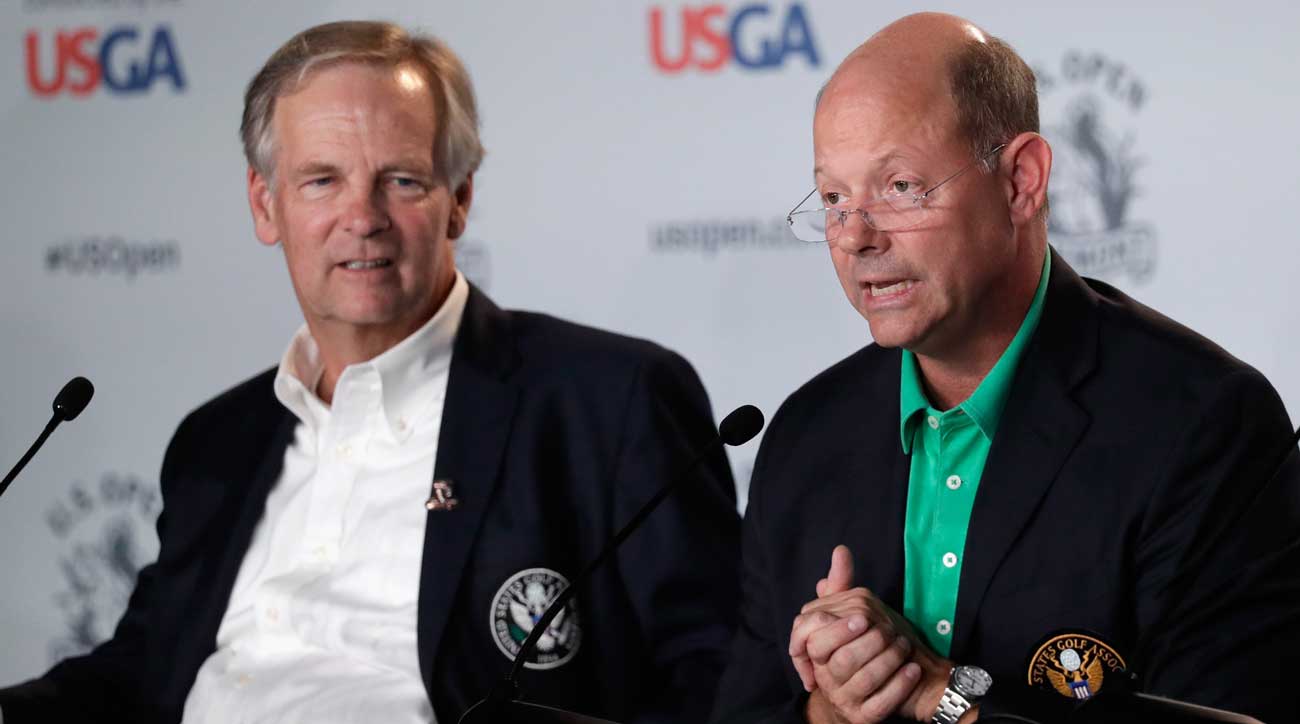 To what extent Davis was actually to blame for such failings was frequently beside the point. As the public face of the USGA, he has also been its lightning rod, a fate that the affable-seeming Davis has appeared to accept with equanimity.
In a 2019 interview with GOLF.com, Davis said he saw the criticism as part of the gig, which he likened to being a Beltway politician.
"Think about Washington," he said. "No matter the political persuasion, when was the last time you heard anyone say anything good about Washington? Even so, I think people understand that we need governance — that without governance, you get chaos."
That conversation took place before the U.S. Open at Pebble Beach, not long after Davis announced that he would no longer be in charge of course setup for the championship, a role he'd first taken on in 2006. Even as play got underway last year at Pebble, it was already an open secret in the industry that Davis would soon be leaving the USGA. Now, that open secret is public record.
In its prepared statement, the USGA said that for the time being, Davis will continue to focus on such priorities as leading the organization through the impacts of Covid-19 and helping establish a second USGA headquarters in Pinehurst. He will remain in his position through much of 2021, the statement said, long enough to ensure a smooth transition for the next CEO, who the USGA hopes to have in place before the 2021 U.S. Open.