The U.S. Am caddie-bunker incident: What really happened?
Match play is so much fun to watch because it's such a pure form of golf showdown. One golfer wins, the other golfer wins or they tie. It's black-and-white. It's simple. It's clean. But every now and then you can throw all that out the window because golf can make things devastatingly messy.
This brings us to an incident from the U.S. Amateur that you've likely heard some version of by now: Something about a caddie, a bunker and a disqualification. So what really went down? Luckily, the entire incident is preserved on YouTube for us to make sense of, so I parsed through the footage in hopes of assembling the sequence of events as they happened.
One word, before we dive in, on empathy: None of those involved are professionals. The players are amateurs. Bandon's caddies, though skilled, aren't usually operating under strict tournament rules. And there's plenty of room to sympathize with a caddie who knows he's done something wrong but doesn't want to ruin his player's chances. With that in mind, here's how things played out:
The players
Who was involved?
Tyler Strafaci, Georgia Tech standout returning for a fifth year in 2020-21.
Segundo Oliva Pinto, a native of Argentina and rising junior who transferred from UNC-Wilmington to play for Arkansas this summer.
The caddies
Tyler Strafaci's caddie was his father, Frank Strafaci, Jr.
Oliva Pinto's caddie was Brant Brewer, a local Bandon looper. When Bandon has hosted events in the past, winners have found success leaning on the local knowledge from the resort's full-timers. Brewer also received some positive attention earlier in the week after a particularly enthusiastic reaction to a made putt:
The situation
Feel free to watch in real-time on this YouTube video as we re-live the moment (the 18th-hole action starts at about the 16:19 mark). Strafaci and Oliva Pinto are all tied up heading to the final hole of their Round of 16 match. No. 18 at Bandon Dunes is a par-5 playing 524 yards, and Thursday afternoon is relatively windy, even by blustery Bandon's standards. Given the pressure of the moment, this hole's no piece of cake.
Strafaci's tee shot stays just inside the penalty area on the right. He lays up to 109 yards in the fairway with a nice angle at the right pin — but then he shorts his approach shot, which winds up just short of the green.
Oliva Pinto, meanwhile, makes poor contact with his second shot and is left with 225 yards for his third. His long-iron effort winds up in the front right bunker.
So both players are approaching the green, getting ready to play their fourth shots, when the drama really begins.
The incident
As the broadcast rejoins the group (at the 18:12 mark in the YouTube video), there's a strange sight: Oliva Pinto's caddie leaning over the edge of the bunker.
Interestingly, the broadcasters are talking about the lie he can expect to have, too — a combination of wind, water and bunker raking has left the sand's composition somewhat uncertain. Then Bones Mackay, who has been working as an on-course reporter, jumps in with an update:
"Guys, Oliva Pinto's caddie climbed down into the bunker, knelt down and felt the surface of the sand with his hand, trying to determine the kind of depth there," he says.
The camera pans to Brewer, in animated conversation with a rules official as Oliva Pinot stands by uncertainly.
Initially, the replays are inconclusive. Brewer adamantly pleads his innocence, the rules official calls for backup and Oliva Pinto stands by, swinging his wedge.
When confronted with the potential rules violation — testing the surface of the bunker — Brewer shakes his head. "I didn't," he says, several times. Eventually Strafaci Jr. chimes in.
"Yes you did, you touched the sand. You reached down and brushed the sand!"
A classic case of he-said, he said! One caddie's word against the other! No clear resolution in sight! Right?!
Not so fast, my friends. Enter the technological innovation behind "NB-Cee-It," the replay technology that cuts to an overhead shot of Brewer clearly brushing the sand with his hand as he stood in the bunker. The footage is rarely ever this clear in any instant replay (here's looking at you, NFL catch rules).
The official points out that while he didn't see the action itself, he can see the hand print, and wants an explanation for what he was doing with his hand.
At that point, we hear from Strafaci himself, who says he was wondering what Brewer was doing, but confirms that he didn't personally see him touch the ground. Another rules official approaches and Brewer reiterates his innocence.
"Sorry dude. He saw it, everybody else saw it," Strafaci Jr. says. "And you guys talked about it afterwards, which is the worst part."
At this point, it's an extremely unusual scene — and tense, too. Mackay is in the thick of things, as are two rules officials, the two players and the two caddies, plus a camera crew.
We can only guess that while he's in the scrum, the official receives confirmation from the booth that the footage is, in fact, clear and conclusive. He reestablishes some control over the situation to inform Oliva Pinto of the bad news: that he's responsible for his caddie's actions, and that in this case it's a loss of hole penalty. Strafaci looks on.
"What a way to lose a match," Oliva Pinto says, removing his hat, understandably bummed.
"Wait, what happened?" Strafaci asks. He hadn't understood the loss-of-hole bit, and was anticipating a stroke penalty. Instead, he hears what would normally be pure good news: "You have won, 1-up."
He dips his head. No competitor wants to win this way. That's a lot to process in real time.
Strafaci and Oliva Pinto come together.
"I know that's not the way you wanted it to be," Oliva Pinto says.
"I'm sorry about that, bro," Strafaci says. It's a sad scene, but reflects well on each player's character. As they part ways, it's clear they're both still in some shock.
"What just happened? Strafaci asks his father. "I'm so confused."
The ruling
Here's how my colleague Sean Zak astutely described it in his story on the incident from Friday morning:
"Rule 12.1/a states that before making a stroke at a ball in a bunker, a player must not deliberately touch sand in the bunker with a hand, club, rake or other object to test the condition of the sand to learn information for the next stroke. The player's caddie must abide by the same set of rules.
"In match play, the penalty for such an infraction is loss of hole, and in a tied match on 18 a loss of the match as well."
Well put! You can read more about 12.1/a (When Ball Is In Bunker) here.
The aftermath
Mackay caught up with each of the players immediately after the round. First he asked Strafaci what it was like to win the match that way.
"I was reading my putt over there and I saw the caddie go down and put his hand down," he said. "I didn't see it touch the sand or whatnot, but my dad saw it and I guess a couple other people saw it. But I just feel so bad for him. I mean, that was one of the best matches I've ever played, just back and forth and he's a great kid and he played great, we both played great. And for that to happen, I feel really bad for him.
"I'm gonna make it worth something. I'm gonna go out tomorrow and win my match and try to keep moving."
Then Mackay spoke with Oliva Pinto, who kept his composure despite the difficult loss.
"Regarding what happened, I wasn't looking at it, I was near the flag, I was trying to get a good read of where I wanted the ball to bounce and everything," he said. "As soon as I got back there the referee comes up and asks my caddie what happened and I'm completely shocked because I'm just trying to get my shot near and up and down and win the match. And apparently he touched the sand or something and it's a penalty — it's a hole — and the match ended there."
Mackay asked if he'd heard anything from his caddie afterwards, but Oliva Pinto said there wasn't much to say, anyway.
"He didn't say anything, but at this point it doesn't really matter. What happened happened. He can say anything but it won't change what happened."
The conclusion
By definition, only one player can emerge a winner from an elimination match. But Oliva Pinto scored some major points with an Instagram post he put up in the wake of his loss.
"He is a good guy and a great friend," he wrote above a picture of he and Brewer. "This can happen to anyone my man!" He added the hashtag #noonesfault.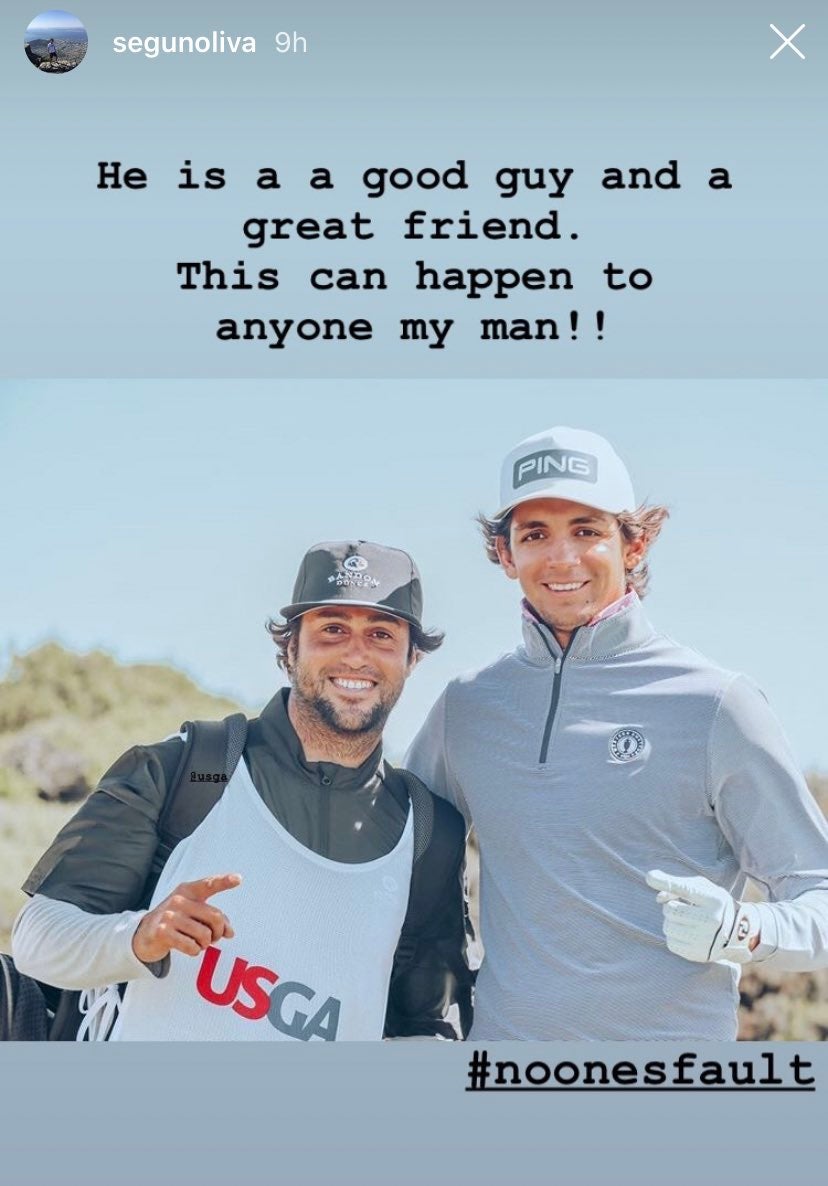 Of all the emotions Oliva Pinto could have turned to following the defeat — anger, frustration, bitterness — he chose empathy. That seems like a good place to leave this story.
Strafaci was set to face his next opponent, Stewart Hagestad, in the quarterfinals on Friday.