Golf carts, driver tweaks: Scouting Tiger Woods in his first round back
Getty Images
Golf fans got their first look at Tiger Woods since the PGA Championship on Monday, and courtesy of a rather unexpected venue: Via the JP McManus Pro-Am in Ireland.
"Today is about charity, about giving back to the local community," Tiger said before his round. "We're here to support [JP McManus]."
It was a good cause that brought Tiger to Ireland, but it also offered the 15-time major champion a chance to test his game across the pond, a week before the Open Championship at St. Andrews. And, of course, for the rest of us to follow along for the journey.
Here's a few things we noticed from the broadcast along the way.
1. The crowds were enormous
The first, most obvious and least surprising news from Monday was that the gallery Tiger drew was truly enormous. It was a Pro-Am in name only; the crowds were major championship level large, with the group following Tiger spanning some seven rows deep.
"There's way more people here than I was expecting," Scottie Scheffler said before his round. "I guess some guy names Tiger is playing."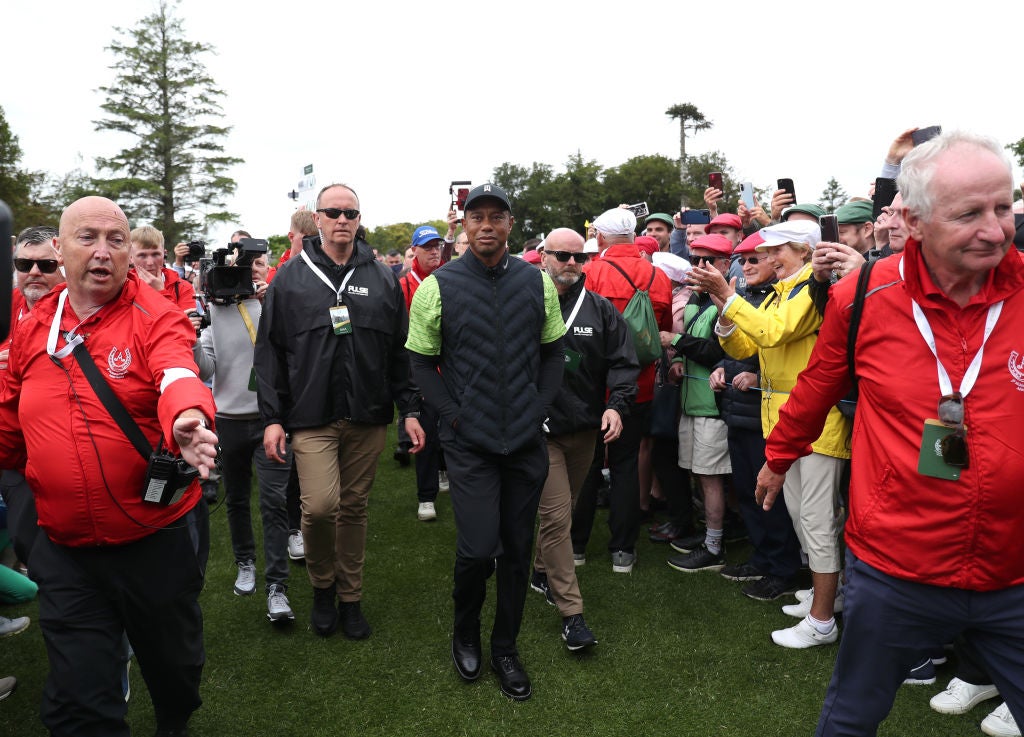 2. Tiger wasn't taking it too seriously
Tiger, for his part, looked like he was in good spirits. We didn't see game face Tiger, by design. Instead Tiger was more smiley, relaxed — and chatty. That yielded some fun moments on the broadcast along the way: Tiger spent a portion of his pre-round time going deep with Leona Maguire about the recent changes to Congressional, and when he was on the course, he wasn't fretting the bad shots.
In other words: This was more of a hit-and-giggle.
3. A new driver tweak
Tiger making the rounds, chatting with his fellow players, did yield something rather interesting for golf nerds: A new shaft in Tiger's driver.
From what we can pick up in the clip below, Rory says he uses the same driver shaft as Tiger — which means it's Fujikura Ventus Black 6X shaft — and obviously the same Stealth head. That's a low-spinning shaft that'll be good in windy conditions, but given Tiger isn't generating as much speed nowadays as Rory, his driver has more loft than Rory's gamer.
4. Chilly weather, uncomfortable swings
Based on what we saw on the broadcast, it was a bit of what we've come to expect from Tiger's swing in cold temperatures: Slightly slower than usual, with a few wonky iron shots thrown in.
Tiger has talked about the challenges of his body locking up whenever the temperature drops, and that throws off his mechanics. Put simply, when it gets cold, Tiger struggles to turn back and through as well as he usually does. His golf swing starts moving in different directions along the way — often too far left with his irons. When Tiger's club starts moving too steep, it causes him to miss his irons left.
That's what we saw at times on Monday.
Tiger left himself short-sided on the second hole, leading to a double bogey, then missed long left again on the third hole but saved himself with a fantastic up-and-down. He missed left again on the fifth hole (this time short) leading to a bogey.
"He's driving the ball so very well, it's just the irons — he's pulling a few of them," Wayne Riley said on the Sky Sports broadcast.
5. Casual golf carts
The theme of the day was that Tiger was out there, having fun, not worrying too much about the result. Tiger deciding to take a cart perhaps underlines that fact more than anything else.
He didn't explain why in his pre-round interview, simply that that he was taking one. Tiger didn't cart around for every shot, and since Joe LaCava hadn't arrived yet, it was Tiger's right-hand man Rob McNamara doing the driving. With the Open next week, and the weather less than ideal, was probably a smart move for Tiger to take it easy on his body.