'That separates the cream from the milk:' Jordan Spieth hits miracle flop shot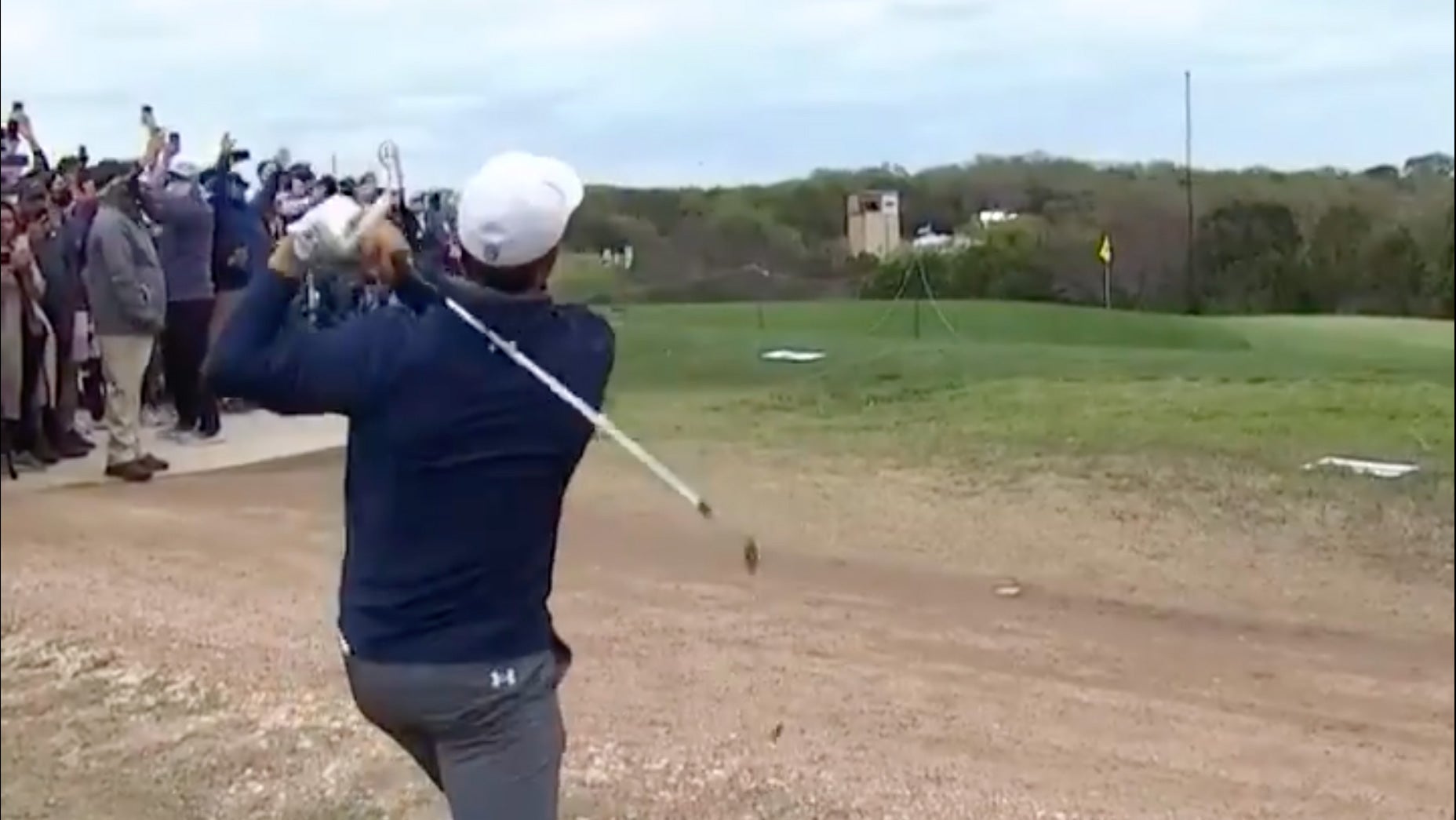 twitter.com/pgatour
Jordan Spieth had hit his tee shot right on the 308-yard, par-4 17th at TPC San Antonio, it took a bounce, and it went farther right and farther down the hole before settling on a dirt cart path almost parallel to the hole but about 50 yards away. "That's headed for another area code," analyst Paul Azinger said on NBC's broadcast of Saturday's third round of the Valero Texas Open. "Wow, that's going to be tough." 
Then Spieth got a look.
Yep, tough.
"I was looking to lay up way to the left and then walked up to the green and saw that that was just as difficult as going at the hole, so I figured may as well go to the hole in case I pull the shot off," Spieth said. "I think I told Wally [playing partner Matt Wallace] it was like a one in 10, but it was maybe like a one in five."
Or a one in one. 
Spieth, after a drop backward, took five practice swings, opened up his clubface and hit a rainbow flop shot about 10 feet short of the hole, and it rolled another 7. He'd make the birdie, and he and Wallace share a two-shot lead heading into Sunday.
"Stays back, face wide open, ball exits and races out in front of the clubhead," analyst Gary Koch said on the broadcast. "Wow. What a shot." 
"That separates the cream from the milk right there," Azinger said.
"Tell you what, if he goes on to win this event by one, he'll look back on that one," Koch said.
"Got that right," Azinger said. 
Give Spieth nine other shots at it, as he pointed out, and he might get it wrong. He could hit it short — he had taken a backward drop off the path, but the ball plugged slightly in the dirt. "Oh, that's no cherry lie," Azinger said on the broadcast. Spieth could also hit the shot long and into a trap — the green was running away from him. "If he goes at the hole or even behind the hole, he brings that bunker into play, which you do not want to be in," Koch said.
He wouldn't be. After the shot, Spieth fist-bumped caddie Michael Greller and grabbed his putter.
"That's just next-level stuff," Azinger said on the broadcast. "That's next-level short game and feel and trust."
"Well, we talked about it — his ball striking hadn't been that great with the irons, but the short game had been tremendous — second in the field in Strokes Gained: Around the Green," Koch said. "And that's why."