Why the teen caddie who helped Hale Irwin win the '74 U.S. Open is back at Winged Foot
AP
UPDATE: On Thursday at the U.S. Open, Hale Irwin and Peter McGarey reunited via a teleconference. You can watch their meeting in the video below.
***
Peter McGarey has returned to Winged Foot, the scene of his greatest triumph.
Okay, so maybe it wasn't exactly his triumph.
In fact, Peter didn't hit a single shot.
And since then? He has spent much of his life in the real estate business, mostly in the Cincinnati area. He's had nothing to do with professional golf.
Except for that one magical week in 1974.
That's when Peter, then 16 years old, got incredibly lucky, even for an Irish boy: He caddied at the U.S. Open, where the player at his side, Hale Irwin, happened to win the darn thing. With the exception of Eddie Lowery, who was 10 when he looped for Francis Ouimet in the historic 1913 Open at The Country Club in Brookline, it is likely that no winning caddie in an Open has been younger.
Peter was familiar with Winged Foot, the club just 10 minutes from his childhood home in the village of Larchmont.
He started caddying there in the late '60s and made good money, especially on days he arrived early enough to land two loops. He caddied in the 1972 U.S. Women's Open for Jane Booth, an amateur, who tied for fifth.
In that same year, however, Peter's parents split up, and he moved with his mother to Arizona. So long, Winged Foot.
So long, but not goodbye.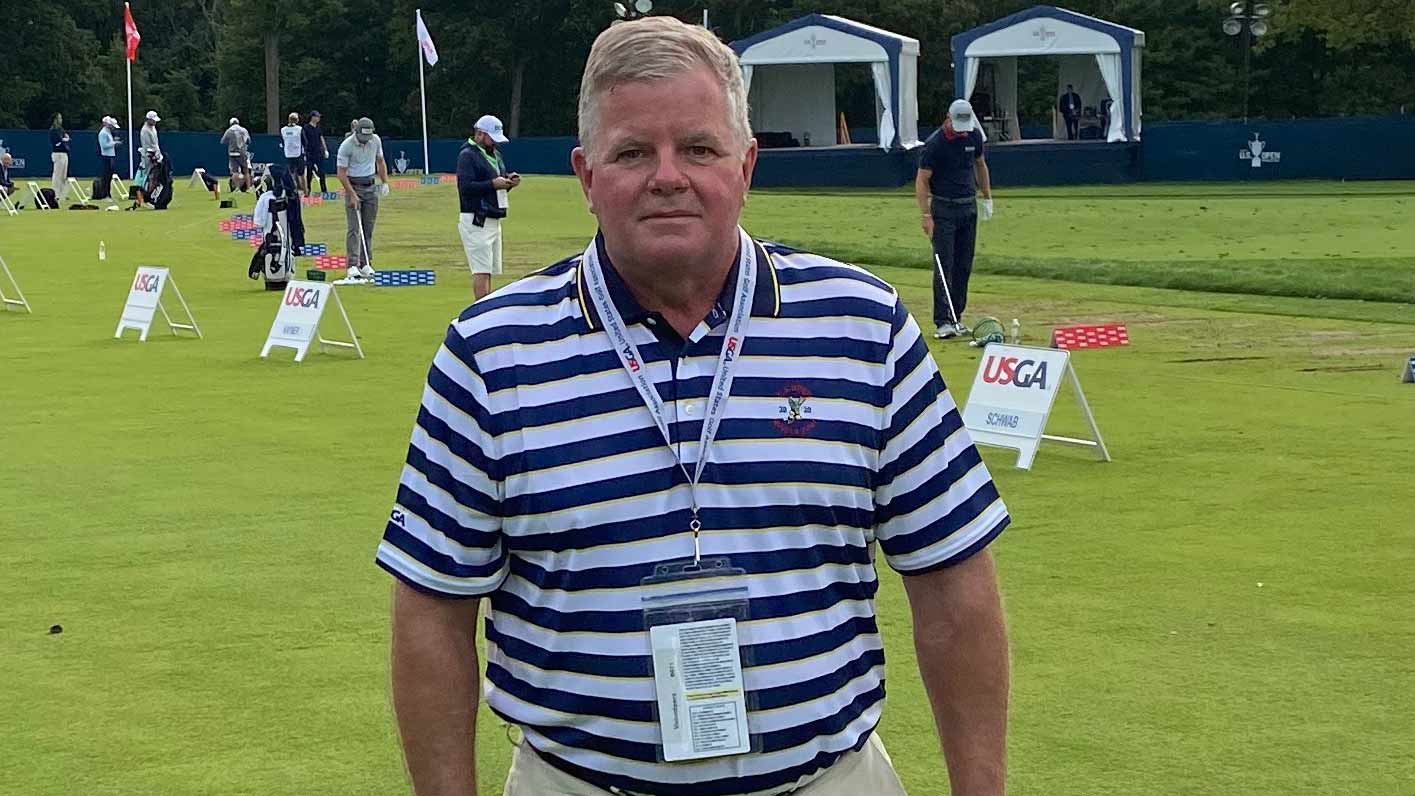 In late 1973 or early '74, Peter wrote to the club's president and its legendary caddie master, Gene Hayden, offering his services for the upcoming U.S. Open. The club said yes. Back then, it wasn't unusual for Open participants to use local caddies.
Peter was scheduled to go with his family on a vacation to Mexico. But Mamaroneck beckoned. There will always other vacations. There are not many Opens at Winged Foot.
When he arrived on property, he couldn't believe it.
"It felt like a different course," recalls Peter, who is now 62.
It wasn't long before he was assigned a bag.
Hale who? He'd never heard of him. No surprise, really, because Irwin wasn't yet a household name.
Through word of mouth, Peter learned that his guy wasn't too shabby, having won two tournaments in the early '70s, both on the same tough course, Harbour Town. And, just the week before, he had played well at the stop in Philadelphia.
Peter doesn't recall getting any special instructions when he first met his boss for the week. He does, however, remember making a mistake in a practice round. He wore hiking boots. Yes, hiking boots.
"Those have to go," Irwin told him.
The next day, Peter dutifully showed up in tennis shoes.
That wasn't the youngster's only misstep. Another time, when he went to replace a divot, he left Irwin's bag standing in the fairway, where it toppled over.
"That can't happen," Irwin said.
There was also the time during a practice round when Peter, starstruck, wandered over to a green to watch Arnold Palmer. Irwin had to call his caddie back.
Give the kid a break. He was 16!
When reached by phone the other day, Irwin didn't recall much about Peter, but he did remember his first impressions: "Well, young, not a big kid by any means, and here he's trying to carry this big old staff bag — 'ok, we'll see how this goes.' " Irwin added, "But, honestly, I could not focus so much on my caddie as trying to get a hold of the golf course."
Irwin didn't ask much of Peter.
"I didn't rely on him to read greens or get yardages," Irwin said. "I did that myself … It kept me looking around for slopes, and for hole locations, paying attention."
Irwin started the week with a three-over 73, three shots behind the leader, Gary Player. It was a decent start as everyone was having trouble with the fast greens and difficult rough. The journalist, Dick Schaap, would write a book about the tournament, entitled, "Massacre at Winged Foot." A massacre, indeed.
After 36 holes, Irwin was tied with Player, Palmer and Raymond Floyd. After 54 holes, he trailed 24-year-old Tom Watson by one.
"We were in it the whole week," Peter said.
We. You gotta love that.
On Sunday, Irwin passed Watson with a birdie at No. 9, before making a huge putt on 17 to take a two-stroke lead. Peter remembers that putt well. The "hairs on (my) neck were standing straight up," he says.
Irwin won by two strokes over Forrest Fezler, but Peter's work wasn't done just yet.
"You're going to have to protect that bag," Irwin said.
With a few friends helping out, Peter shepherded the bag to a safe place.
Irwin doesn't remember what he paid his young looper but did say, "I don't think I stiffed him by any means."
Peter does recall his payment but declined to part with the figure. "It was a lot," he said, adding that he used a percentage of his earnings to buy new tires for his mother's wagon back in Arizona. Before Peter flew home, his father threw a party for him at Westchester Country Club.
"I was like a hometown hero," Peter said.
Since their winning week, Peter and Irwin briefly reunited a couple of times, but only in passing. When the Phoenix Open came to town one year, Peter's mother suggested that he invite Irwin over for dinner. But Irwin couldn't make it.
Forty-six years later, Peter is still proud of the role he played at Irwin's side.
"I think I did my job well enough that I wasn't a disadvantage," he says.
This week, Peter is back at Winged Foot, volunteering on the practice range. It's not the same rush as carrying a bag — let alone carrying a bag for the victor — but it's something. Making the week even more special: Peter's grown son, Ben, is with him.
"I'm really excited," Peter said of his gig this week. "It's the chance of a lifetime."
More like second chance.