Inside Bryson DeChambeau's unique game plan for the 2020 U.S. Open at Winged Foot
USGA/Jeff Haynes
MAMARONECK, N.Y — Bryson DeChambeau thinks about the game differently than most golfers. It's one of the reasons why so many golf fans are fascinated by him. And while his methods are often unconventional, here's the thing: they push boundaries, produce results and get people excited about golf.
For those reasons, we're pleased to announce that DeChambeau has joined our growing roster of Tour contributors. In this role, he'll provide game-improvement articles and videos across all our platforms, along with exclusive looks from behind the ropes — so stay tuned!
"I have a lot of unique insights that I'm really excited to share," DeChambeau says. "Hopefully I can help provide my perspective, and help people play better golf. "
For DeChambeau novices, a quick primer: He adopted a single-length set of clubs in college and become one of precious few players to have won the U.S. Amateur and NCAAs in the same year. On the PGA Tour, he was struggling on the greens, so he changed his method and established himself as one of the most consistent putters. In 2020, he gained 40 pounds, became the longest driver on Tour, picked up a PGA Tour win and recorded his best career finish in a major.
This week, DeChambeau is at Winged Foot for the U.S. Open. I walked nine holes with him during his Monday practice round and learned how he's been preparing for the year's second major. Here's a peek at his game plan:
1. Hit lots of drivers
Yes, DeChambeau is planning on bashing lots of drivers this week. The goal, obviously, is to hit the ball straight, but if he sprays a drive here or there, the benefits of hitting driver outweigh the pitfalls of finding the rough. DeChambeau said the rough is deep but manageable, especially when you're coming out of it with a shorter iron or wedge. He feels he'll rarely encounter a lie from which he can't hit the green with a scoring iron.
"I plan to hit driver as much as I possibly can," Bryson says. "It's a tremendous advantage when you're that far up, and you can hit a pitching wedge out of it. When you've got a 5-iron or 6-iron, it's nearly impossible. You'll be pitching it back into the fairway."
2. Rough is a 20-yard penalty
Word is that tournament officials plan to cut the rough once more this week, early, and then not again for the rest of the week. I can vouch personally that the rough looks especially juicy this week, more so than in past U.S. Opens. But how severe is the penalty for hitting it in the spinach? DeChambeau spent lots of time on Monday testing various conditions of the rough. It's lie dependent, of course, but from an average lie, there's an almost two-club penalty when hitting from the rough.
"So to put it in perspective, there's about a a 20-yard penalty, for hitting into the rough. For me, that means about 12 to 15 percent extra on each club."
3. Get aggressive on the 6th and 11th holes
There are two sub-400-yard par-4s on the course — the 321-yard 6th hole and the 384-yard 11th — and DeChambeau sounds like he's planning to hit driver on both of them. Hitting the green might be a tall task, but he spent about 15 minutes practicing soft flop shots, like the kind you see below, from every angle around the green.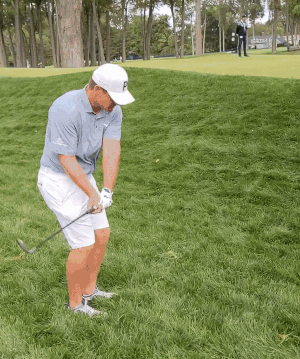 4. Cut the corner on the 8th hole
If I had to guess, I think DeChambeau will end up hitting a cut around the corner on the 490-yard 8th hole — the hardest hole on the course. But on Monday, he did practice hitting a high draw over the trees on the right. He found the right rough, but he smashed a short iron just short of the green, chipped up and two-putted for an easy par on a difficult hole. It's the kind of opportunity DeChambeau and just a handful of other players in the field can take advantage of.
8th hole. Look at Bryson's line.

Over right center of the tall tree with a draw 😬 pic.twitter.com/1oZpOc5uRj

— LKD (@LukeKerrDineen) September 14, 2020
5. Never miss long
DeChambeau has one golden rule when it comes to playing Winged Foot: Never miss a green long. Why? Because the course is filled with false fronts, greens that slope heavily back-to-front and steep drop-offs — not to mention the rough.
"You do not want to miss long on this golf course," DeChambeau says. "Short and in the fairway or on the fringe is better 99 percent of the time."