Why the President Trump-Mike Tirico interview had such an ironic ending
NBC
It was a sign of the times, crystallized in one interview. Here was President Trump calling into a charity skins game on NBC on what would have been PGA Championship Sunday.
Trump's back-and-forth with NBC host Mike Tirico covered a wide range of topics rarely seen on Golf Channel, from the source of the coronavirus to the state of the economy. But the discussion centered around Trump's love for the game and his relationships with Tour players.
Tirico asked Trump about Rory McIlroy's comments from earlier in the week, when McIlroy said he'd be unlikely to play with the president if invited again.
"A lot of [Tour pros] are very political, actually. Some like my politics very much and probably some don't. I guess the ones that don't I don't get to see as much, but they seem to like it," Trump said.
As a whole, he was exceedingly complimentary of the skins game and its participants, particularly Rickie Fowler, for whom he predicted major championship victories to come.
"I know so many of the Tour players and they're really fantastic people, I can't think of anyone I don't like, I can't say that necessarily in life, but when you meet these Tour players, they're just great people, it's something very special."
But it was the interview's ending that caught our ear.
"Thank you very much, Mike and it was great playing golf with you guys — I remember that very well and we had a good time," Trump said by way of sign-off. That was followed by a significant pause before Tirico responded.
"I got to see firsthand, you're a good putter, knock it to kick-in distance often," Tirico said before cutting to commercial. There would be no reason to read into the pause, or the back-and-forth, except for what we know when it comes to Trump-Tirico golf backstory.
Let's go back to an excerpt from Rick Reilly's book about Trump and golf, Commander in Cheat: How Golf Explains Trump, which included this bit about a past round he had played with Tirico. Read the excerpt and you'll see the sign-off in a different light — and get a chuckle, or shake your head. Here's that excerpt.
Adapted from Commander in Cheat: How Golf Explains Trump by Rick Reilly:
Once, Trump hosted three famous ESPN football announcers — Mike Tirico (now with NBC), Jon Gruden (now the Raiders coach), and Ron (Jaws) Jaworski, the old Eagles quarterback — at one of his courses. Trump loves to show off his courses to celebrities, and the more celebrated you are, the more he wants you to see them and the more he wants his members to see you. Trump arrived as the other three were warming up and he picked the teams immediately. "It's gonna be me and Gruden, 'cause I like winners."
Off they went. At one point, they were playing a blind par 5, and Tirico, who's a 12.3 handicap, had 230 yards into the green.
He hit the 3-wood of his life. "Oh my god!" his caddy said, open- mouthed. The thing had the flag covered from the start. It crested the hill perfectly and was going to be tight to the pin. Shocked at his sudden skill, Tirico high-fived his caddie and strode toward the green, his shoes barely touching the grass.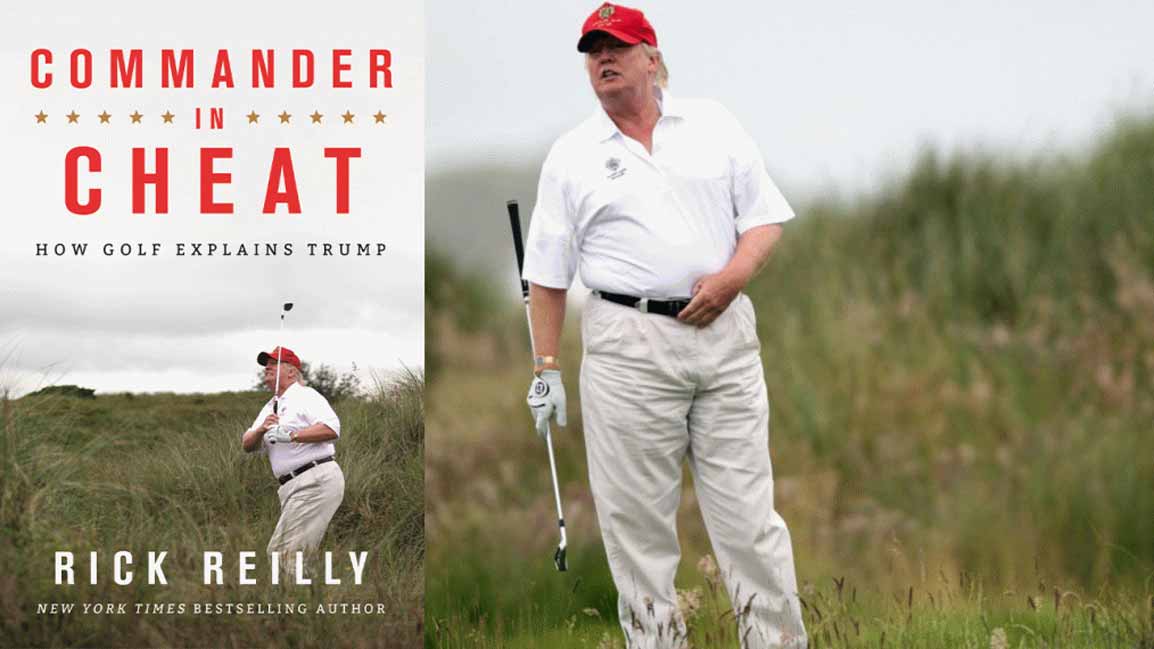 But, somehow, when they got there, the ball wasn't near the pin. It wasn't even on the green. It was 50 feet left of the pin, in the bunker. Unless it hit a drone and ricocheted sideways, there was no physical way it could've ended up there.
"Lousy break," Trump said to Tirico, who checked the marking on the ball to be sure it was his. It was. Befuddled, it took Tirico two swipes to escape the bunker on the way to a 7.
"Afterwards," Tirico remembers, "Trump's caddy came up to me and said, 'You know that shot you hit on the par 5? It was about 10 feet from the hole. Trump threw it into the bunker. I watched him do it.'"
What did Tirico do? He laughed, shook his head, went inside, and paid Trump his money. When it comes to golf, Trump is the tornado and you are the trailer.