How does a golf broadcast endure a hurricane? Just ask CBS' lead producer
Getty Images
It was only fitting that Hurricane-force winds were expected to blow CBS out of the 2021 PGA Tour season. Lead golf producer Sellers Shy had come to expect nothing less.
Less than 12 months earlier, the winds of change had ushered in a new guard at the network with similar ferocity, sending longtime lead producer Lance Barrow into retirement and promoting Shy into his post. Life since then had been a whirlwind — darting between PGA Tour sites, major championships, and all manner of restaurants along the way. Why would the final event of 2021 be any different? (Even if Hurricane Henri proved a glaringly literal interpretation.)
Sometimes, in golf television as in life, when you expect the wind, you get a flood.
So surprised was Shy by Henri's explosion of rain, he and his team never thought to move their small army of golf carts to higher ground before leaving their compound on Saturday. Instead, the focus had fallen upon temporarily removing expensive camera equipment from areas that might be affected by wind. When the CBS team returned to Liberty National early on Monday morning, they found their vehicles at the bottom of a newly formed lakebed.
"Half the tires were submerged," Shy told GOLF.com with a laugh. "Listen, I haven't seen a four-wheel-drive golf cart before, but we sure needed about 60 of them that day. It's not like golf carts can handle mud very well, and it was gnarly in our compound."
Even for Shy, a professional storyteller, it'd be hard to yield a better metaphor for the pressure of the last 12 months than producing a broadcast in the middle of a hurricane.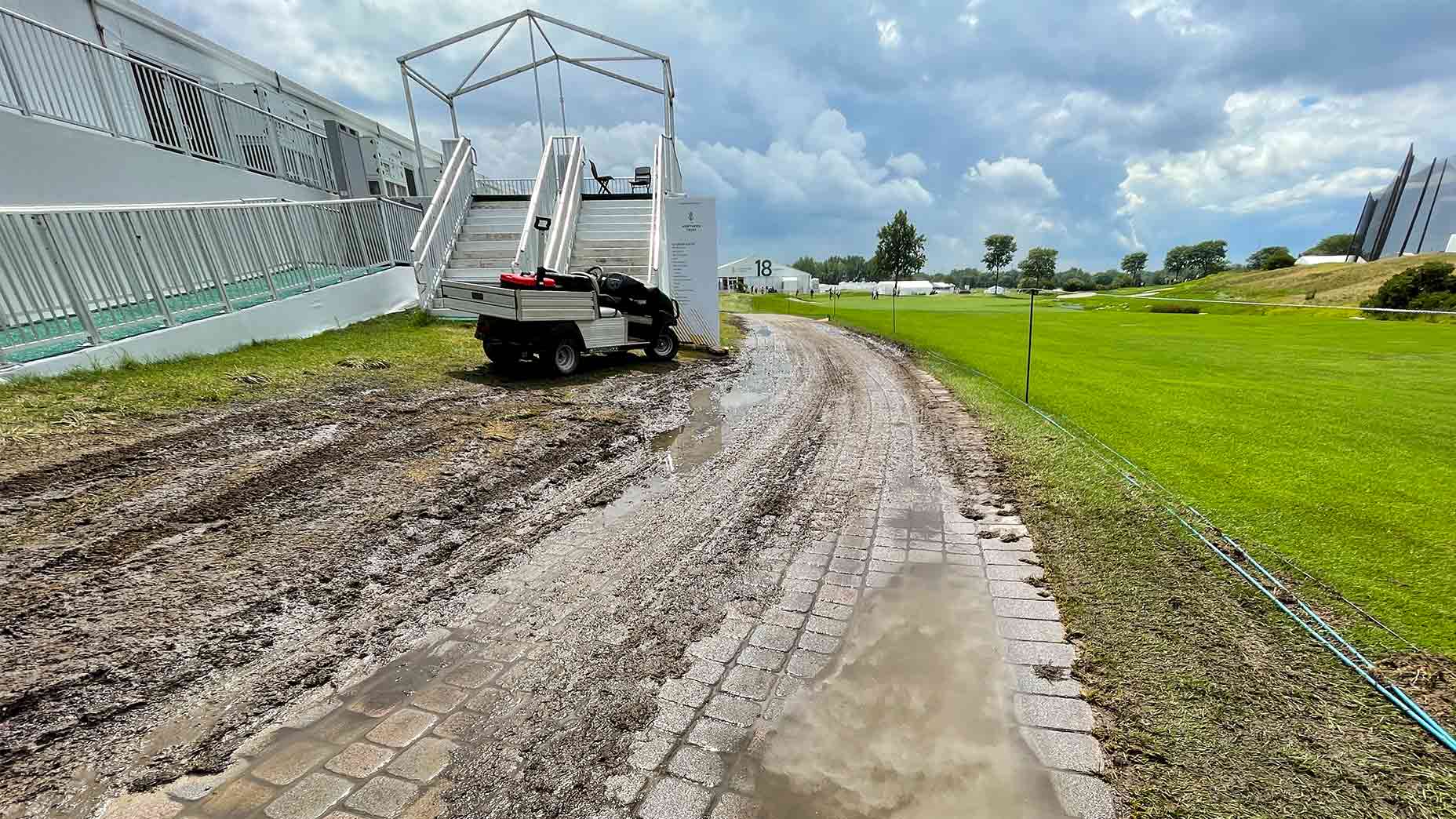 It has been almost 18 months since CBS announced Shy, a 20-year network veteran, as the heir apparent to golf television's most illustrious throne: lead producer of Golf on CBS. In taking the job, the Memphis native joined a powerful (and brief) lineage of sports television history behind his predecessor, Lance Barrow, and Lance's predecessor, Frank Chirkinian.
Chirkinian is viewed by most within the industry as the "father of golf television," but it's not unreasonable to consider him a founding father of golf as we know it. He wrote the playbook fo golf TV, and in doing so changed the way the game is consumed. Among his other innovations, 'The Ayatollah' brought microphones to tee boxes and greens, the practice of painting the inside of the hole white, and yes, even the invention of scores tabulated in strokes "over" and "under" par.
Just about everything falls under the lead producer's purview, from immediate decisions about commercial breaks (when to take them), sponsorship obligations and which golfers are shown; to bigger picture ideas, like the overall direction of the broadcast and its look, feel and sound.
In January, the move became official with Shy's first broadcast, which featured a flurry of technological shifts — drone shots, a "super tower," even new music. The most noticeable change lived in the lower right-hand corner of the screen; a constant, live leaderboard that updated with play.
"We went to our executive team, and presented them with a handful of action items," Shy said. "Fortunately, I'd say most if not all these items were not only supported, but also, once implemented, we felt that they were successful. And that to me is as rewarding as anything is that you have support from your executive team, and you come through."
What the CBS brass couldn't have understood was how quickly the golf-watching audience would endear itself to the changes, the leaderboard chief among them.
"You see a college football game, you see an NFL game, you see a basketball game and they all have a constant leaderboard, or constant little score strip," Shy said. "We felt strongly about having the same type of scoring system prominently displayed the entire time. You know you have to support that through another operator and another graphics production assistant but yeah, that goes back to laying it out there in front of our executive team."
CBS was even given the green light to implement many of the changes at the Masters — Shy's first in the lead producer chair. His first go-round at Augusta National was an encouraging one, punctuated by ultra-HD close-up shots and the now-famous image of caddie Shota Hayafuji bowing to the 18th green after Hideki Matsuyama became the first Japanese green jacket-winner.
For his part, Shy can't stifle a laugh when asked about sitting in the lead chair at the Masters for the first time.
"It was extremely rewarding," he said. "Knowing that you and your team are going to document another historical moment in the game of golf. You don't say that every week, that this is going to be a time in history that everyone will remember. It's why you get in the business."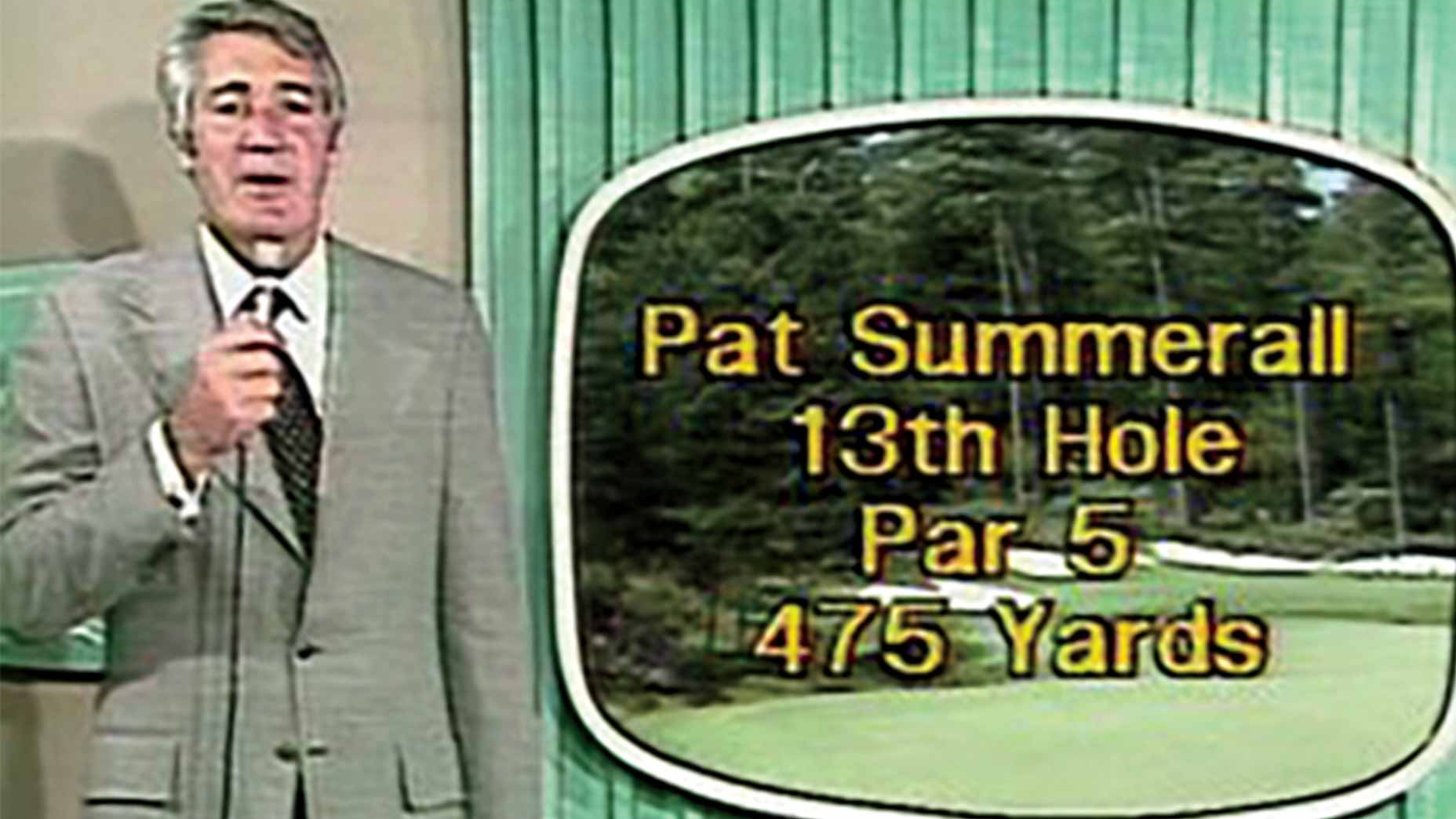 Back to last Sunday. Even on the rarest of PGA Tour off days — there was too much work to be done.
Even on this Sunday, in which no golf would be played on account of Hurricane Henri barreling down upon the northeast, Shy was diligently at work alongside a close team of producers, working to make four hours of live television appear from thin air.
"Yeah, well, I don't think it was a secret that Henri was on its way, so we knew that Sunday was bringing some severe weather," Shy said. "So we had to fill a four-hour show which we window dressed around the 2019 final round."
It was hardly glamorous work — cutting and editing down Patrick Reed's 2019 win at the Northern Trust into a four-hour show complete with updates from Jim Nantz and the CBS Sports crew in 2021. It wasn't what Shy had enlisted to do when he signed on as only the third coordinating producer of Golf on CBS since the Kennedy Administration. But then again, it absolutely was.
"We have a lot of people around us that are experienced in this and so we felt very comfortable, but it doesn't mean that it doesn't take a lot of work," he said. "We've experienced this before, so we knew what to do. It was just a matter of doing it."
The water-logged Monday finish at the Northern Trust was the final broadcast of Shy's whirlwind first season. Of all the moments from year one (the Masters, Phil's win at the PGA, eight(!) playoff finishes), CBS's new lead man insists he'll leave 2021 with something else.
"Sometimes you get so wrapped up in just the production, the graphics elements, the camera angles, the technology," he said. "Really, the biggest thing is the importance of an overall positive culture in your workspace, and that's what I learned is as important as anything else that we do on the screen.
"It's that pride in your job. It's that pride in maintaining the CBS Golf gold standard, that I have appreciated as much as anything."