As we approach the Masters, here's a secret. There's a tradition unlike any other inside THE tradition unlike any other.
It's the Masters on CBS, which is marking an unprecedented achievement at this very unprecedented tournament. The network is celebrating its 65th year of green jacket goodness at Augusta National in 2020. Here's a look back at the history of sports television's quirkiest show.
1956: A meeting between CBS Chairman William Paley and Augusta National chairman Clifford Roberts results in an agreement. Months later, CBS broadcasts Augusta National to the world for the first time, providing a whopping two and a half hours of coverage over the final three days, including one hour of Sunday's final round. The network could only afford to send six stationary cameras to Augusta, which were placed on holes 15-18. Still, the event drew an audience of some 10 million people.
April 2, 1956: Days before CBS airs its first Masters, As the World Turns debuts. The soap cleans up for another five decades.
Sept. 9, 1956: Elvis makes his first appearance on The Ed Sullivan Show. Hips and households shudder.
1959: Legendary CBS Sports producer Frank Chirkinian produces his first of 38 Masters. Chirkinian will later become known as the father of golf on TV (and as "the Ayatollah," for his naturally despotic tendencies). Just 33-years-old, Chirkinian lands the Masters after impressing CBS Sports executives as a freelancer at the 1958 PGA Championship.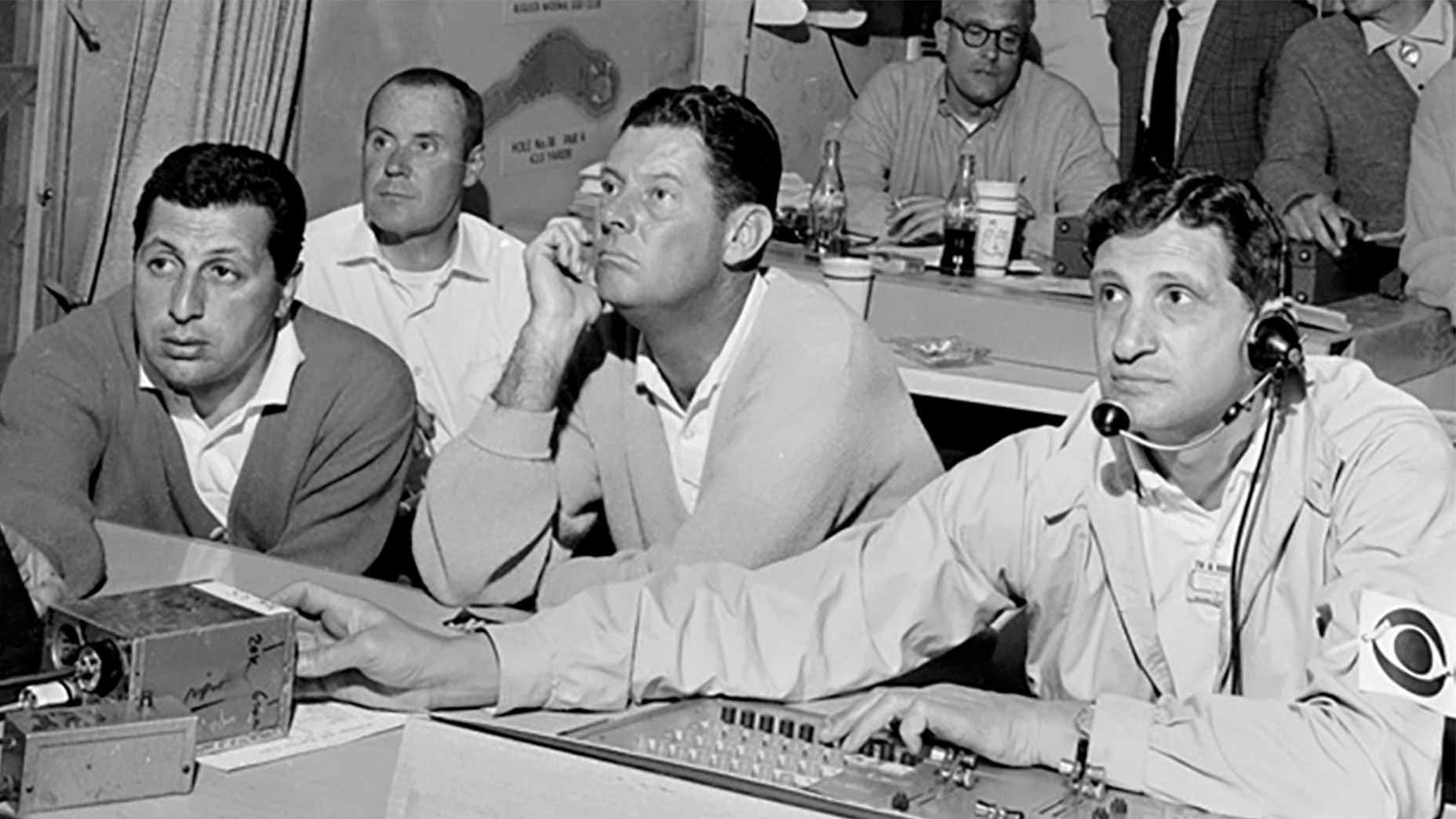 1960: Chirkinian, frustrated by golf's insistence with showing total scores, introduces a brand-new scorekeeping system at the Masters: over and under par.
Nov. 22, 1963: Barely a year into his gig as host of The CBS Evening News, Walter Cronkite, "the most trusted man in America" breaks the news of JFK's assassination.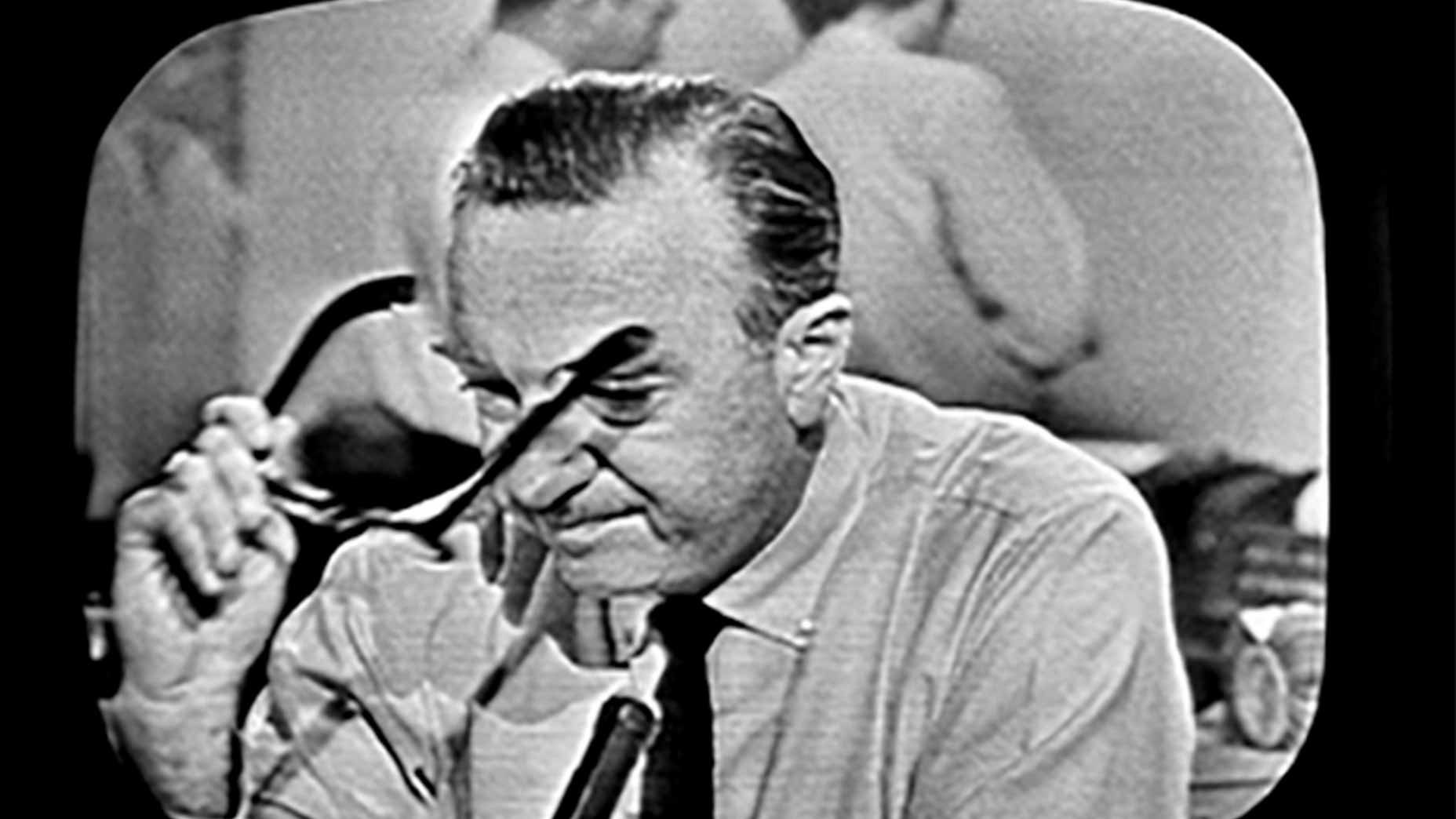 Feb. 9, 1964: The Beatles debut on The Ed Sullivan Show. Twisting. Shouting.
1964: The first television studio is constructed on-site at the Masters.
1965: Chirkinian spearheads a pair of sports television innovations, encouraging anchors to "eavesdrop" as players are addressing their shot to provide in-the-moment analysis and adding microphones to tee boxes and greens to capture the sound of golf shots and player chatter.
At the conclusion of his post-tournament Butler Cabin interview with Jack Nicklaus, Cliff Roberts turns to the camera and declares to the world, "next year, you'll be seeing the Masters in color." CBS Sports executives with no plans (and no budget) to colorize the event look on in horror.
1966: The Masters becomes the first-ever golf tournament broadcast in color. CBS also equips its Augusta National studio with the only color "stop-action" machine in the United States, giving Chirkinian and his crew the ability to show replays and pause action in full color.
"It was like walking into the light after a lifetime of darkness," Chirkinian later told Sports Illustrated. "It is still burned into my brain."
The effort to colorize requires some 60,000 feet of underground cable and $600,000, roughly $4.8 million in today's dollars.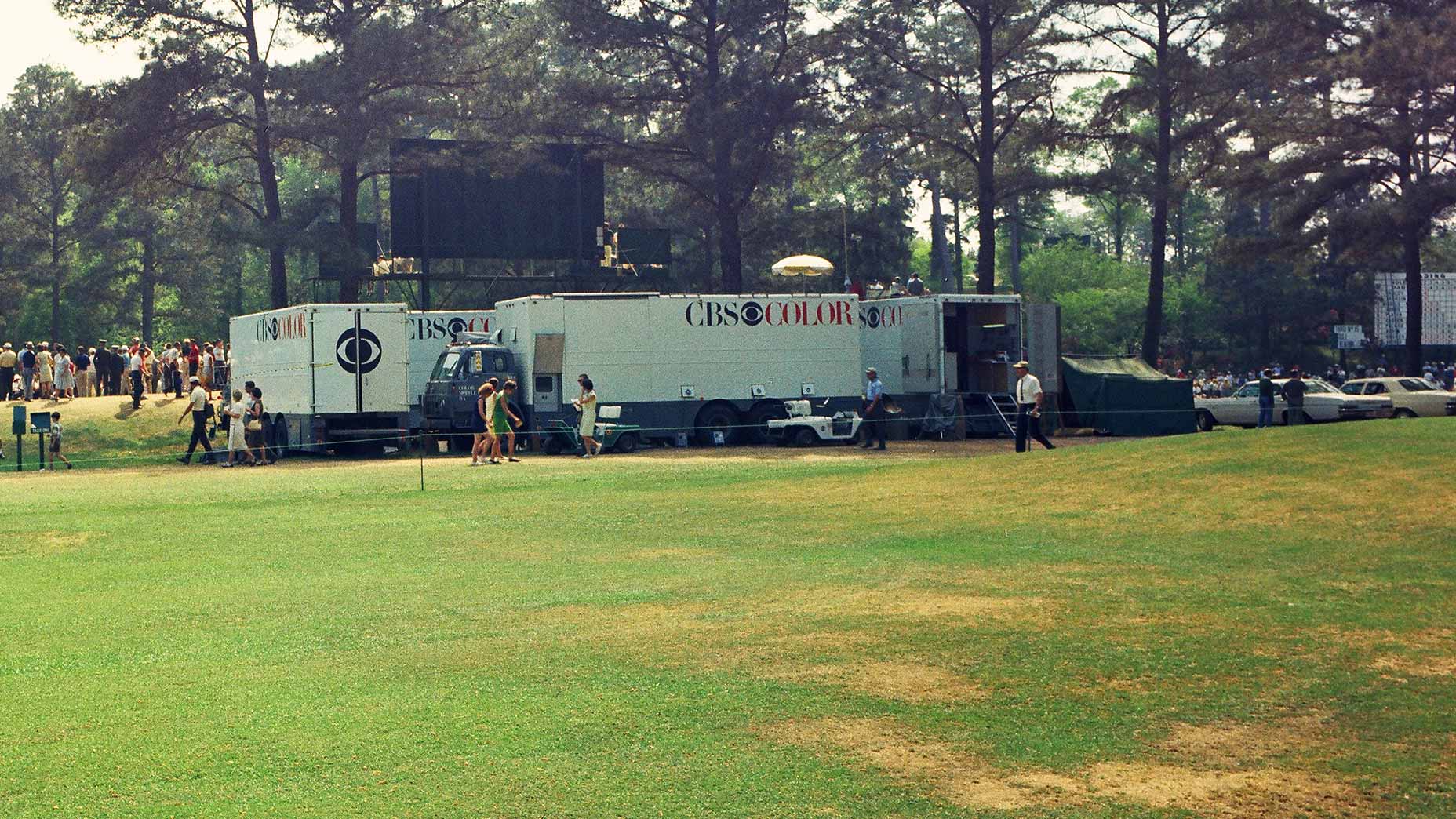 Jan. 15, 1967: CBS and NBC televise the first Super Bowl (Packers 35, Chiefs 10). No complete recording of the game exists because both networks "wiped" the broadcast tapes.
1968: Pat Summerall makes his Masters debut.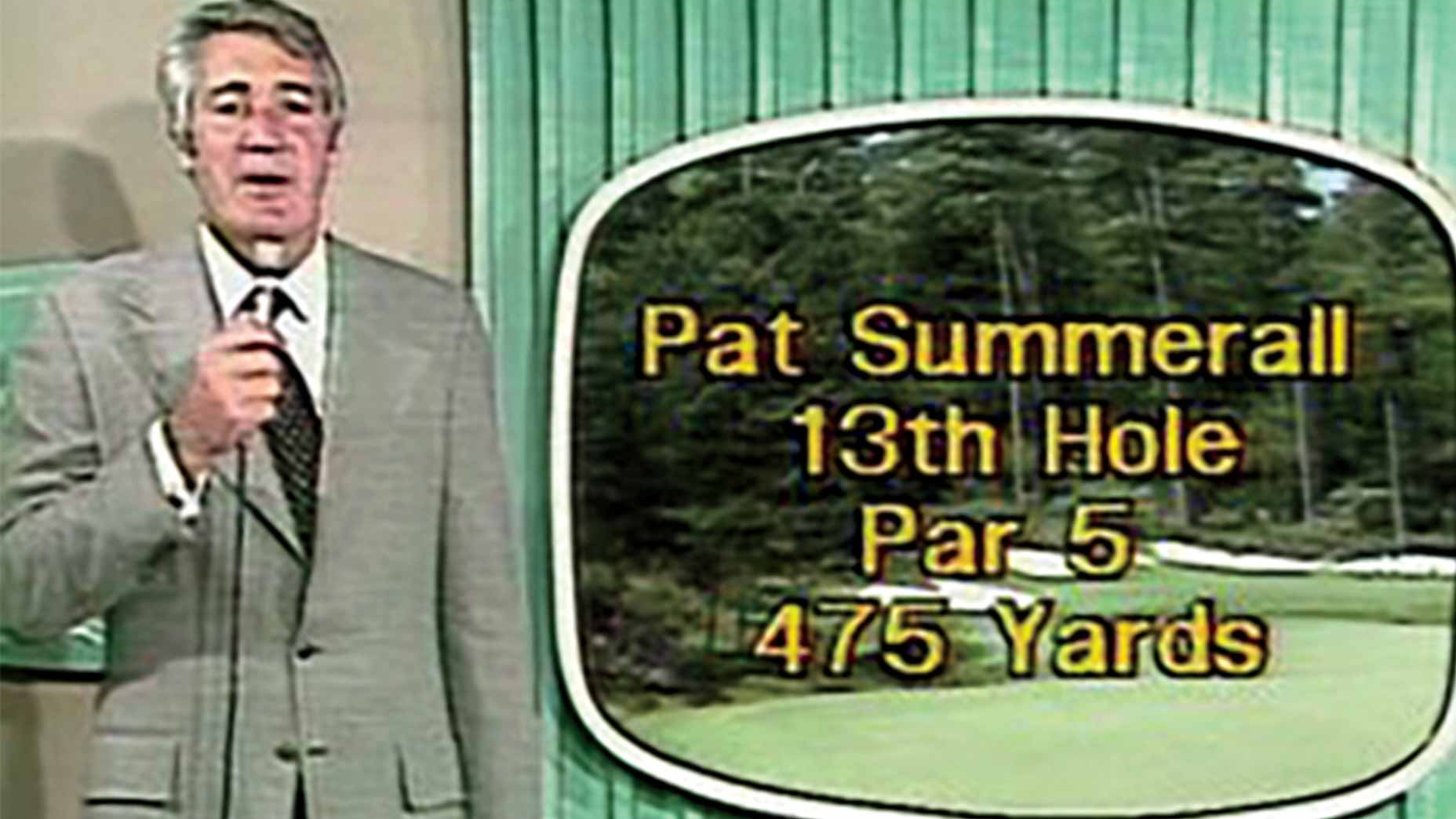 Sept. 24, 1968: Tick, tick, tick, tick. 60 Minutes debuts.
Jan. 1970: CBS begins its 50-year (and running) broadcast partnership with the PGA Tour.
1973: CBS expands to two hours of Sunday coverage.
1979: Augusta National and CBS drop their traditional contract structure in favor of annually renewed, one-year deals. While the contracts allow CBS to maintain the rights to the tournament for a pittance (estimates at the time price the rights agreement at around $750,000 per year), they give the network far less wiggle room to operate outside the best wishes of Augusta brass.
1982: CBS debuts its iconic Masters theme song, named "Augusta" by songwriter Dave Loggins.
USA Network takes over Thursday and Friday coverage, but uses CBS production crews and announcers. The move to USA Network expands Masters coverage to eight hours per week and four hours per day.
Jan. 10, 1982: Live, on CBS, Dwight Clark makes "The Catch."
1983: A 44-year-old Brent Musburger joins the on-air crew for the Masters. Chirkinian, fearing Musburger's youthful bombast would clash with Augusta National's subdued desires, offers a word of advice, "I'll kill you if you raise your voice one-half a decibel."
Musburger would go on to anchor Butler Cabin interviews for six years, while CBS grows to include 27 on-course cameras.
1984: For the first time in Masters history, cameras are stationed at all 18 holes.
1986: Jim Nantz broadcasts his first Masters at age 26, just in time for Jack Nicklaus' iconic victory. From his perch on the 16th green, Nantz calls Nicklaus' near-ace in the final round, delivering one of the tournament's most memorable lines, "the Bear has come out of hibernation."
1988: CBS shifts its Sunday, final-round television window to end at 7 p.m. ET, where it remains for more than three decades.
Aug. 30, 1993: After 11 years on NBC, David Letterman brings his brilliant brand of stupid to the Eye.
1994: Gary McCord offers the following on-air analysis of the week's lightning fast greens: "They don't cut the greens here at Augusta, they use bikini wax." He never works another Masters.
1996: Frank Chirkinian produces his 38th (and final) Masters for CBS, handing off the reigns to his 41-year-old apprentice, Lance Barrow.
1997: In Barrow's first broadcast in the producer's chair, he unintentionally breaks a longtime Masters faux pas. For the first time, television audiences are granted a glimpse of Augusta National's front nine.
Three days later, a record-breaking audience of 43 million viewers tune in to watch as Tiger Woods becomes the first Black golfer to win the Masters at only 21 years old.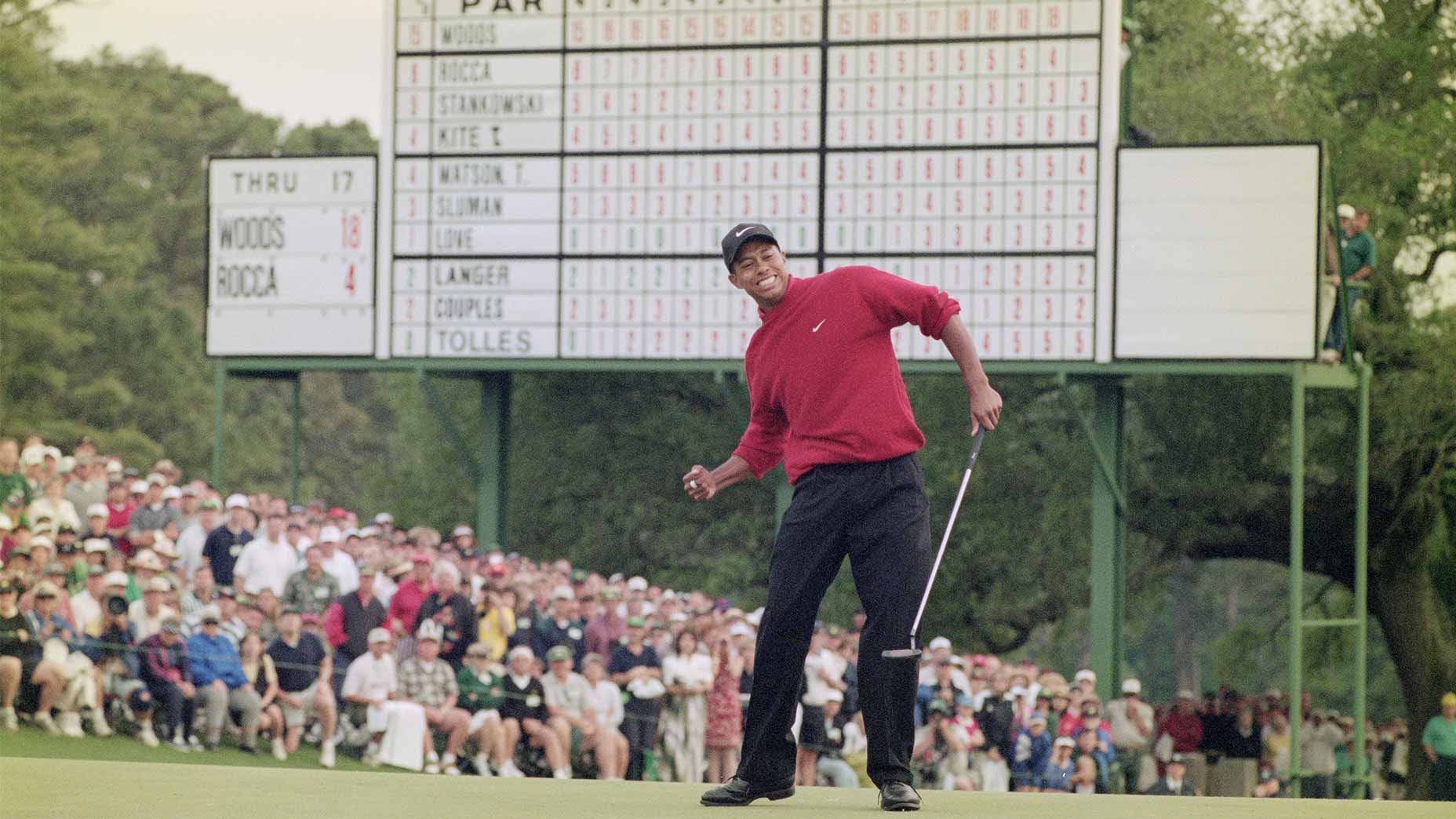 2000: The Masters becomes the first golf tournament presented live in HDTV on network television.
Oct. 2, 2000: Everybody Loves Raymond catapults into the top 10 for the first time, forever guaranteeing pro-am tee times for its star, Ray Romano.
2002: Complete 18-hole coverage of Augusta National is offered for the first time, while longtime lead analyst Ken Venturi calls his final Masters.
2003: Augusta National goes ad-free after sponsors protest the club's exclusionary membership policies.
2007: Nick Faldo joins as lead analyst alongside Jim Nantz.
2010: The Masters becomes the first major live sporting event to be produced and broadcast in 3D.
2013: CBS increases its Saturday broadcast to four hours, creating 18 total hours of live Masters coverage between ESPN and CBS.
2016: Dottie Pepper becomes the first female analyst at the Masters. The Masters broadcasts in 4K for the first time.
2018: For the first time, Augusta National allows CBS to utilize shot tracer technology on five holes (Nos. 9, 10, 13, 15 and 18).
2019: IBM, CBS and Augusta National develop technology to broadcast every shot on every hole, utilizing a record 110 cameras (just five fewer than were used for the network's Super Bowl LIII broadcast in February). Tiger Woods' rain-adjusted redemption win earns the highest rating of any morning golf broadcast in 34 years.
2020: Lance Barrow announces his 23rd Masters will be his last, naming Sellers Shy his replacement as lead producer for Golf on CBS.