6 keys to Will Zalatoris' sneaky powerful swing (and what you can learn from it)
Getty Images
Will Zalatoris is a breath of fresh air. It's heartwarming to see a young player exude such unmistakable joy for the game (like we all had as kids), untainted by the stress and strain of PGA Tour–level golf. My guess is that Zalatoris' infectious passion, attitude and skill will bring a ton of new young players to the sport, like Rickie Fowler, Jordan Spieth and Tiger Woods did before him.
I caught Zalatoris in action at the RBC Heritage on Hilton Head Island following his runner-up finish at the 2021 Masters. Not only does he have the "swagger," he has the game to match. Tall, wiry and lean, his swing is a study in matching your motion to your frame and getting the most out of it.
He can't weigh more than 160 pounds dripping wet, and though you wouldn't describe him as "ripped," he's what you'd call "golf strong," capable of executing any move or position without the need for bulk. That would just restrict his mobility, which is his number-one asset. As you can see in the sequence above, he creates excellent stretch-shorten cycles throughout his motion, giving him a high range of torque and speed where it counts.
Notice the high arm swing, which suits his limb structure, and the way he adjusts for this on the way back down to make things powerful and repeatable. Three top 10s in his last four majors. Yep, this swing is one to watch.
Here are the secrets to this swing.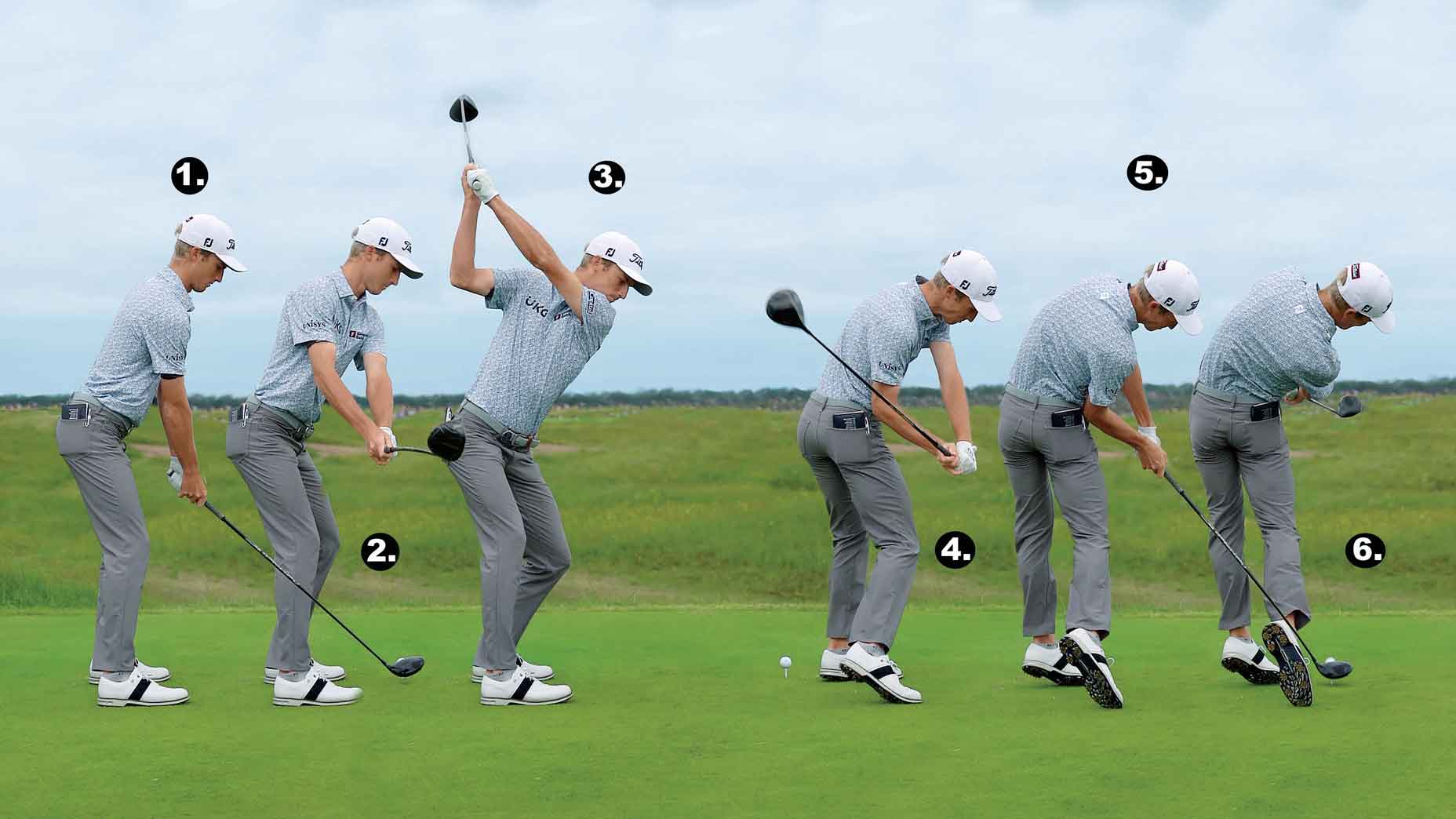 1. Address
Will's weight is balanced over the middle of both feet, with his arms hanging under his shoulders. A critique: He looks a little rigid. I like to see players keep their lower back straight with a slight curve in the upper spine. It relieves tension and improves mobility.
2. Takeaway
Will's club and arms are moving faster than his body — that's what a good takeaway sequence looks like. Plus, the club is outside his hands. I see too many swings where the club rolls to the inside. That usually spells trouble.
3. Top
Is this Will Zalatoris or Davis Love III? His beautiful, high arm swing suits his long arms and wiry frame. Interesting to note: His lead wrist is in slight extension (bent back), which sets the clubface in a neutral position.
4. Downswing
Will's lower-body shift creates a good amount of side bend in his right torso, and you can see how this "shallows" the club into a powerful delivery position. If there's one thing to steal from Will's swing, this is it!
5. Impact
Notice the extension in Will's left side, with his leg "posting" up. Perfect! He's on his toes, which maximizes his vertical force, and his upper body is tilting away from the target — the big bomber's secret to hitting up on the ball with a driver.
6. Release
Still a massive amount of side bend, a tribute to Will's flexibility. And check out that hip clearance! His belt buckle is already facing the target. This one went a mile, I guarantee it.