Tiger Woods keeps missing left. This TV commentator has a theory why.
Getty Images
Welcome to Play Smart, a column to help you play smarter, better golf from Game Improvement Editor Luke Kerr-Dineen (who you can follow on Twitter right here).
Right off the top, let's just make one thing very clear: That Tiger Woods is here, playing in another Open, walking around St. Andrews on his own two feet, is more than we deserve as golf fans. It's a testament to Tigers' toughness that will prove as much a part of his incredible legacy as any of the feats accomplished in his younger years.
Yet Tiger did not come to St. Andrews for a swan song. He scoffed at the idea of retirement when asked about it earlier this week. He's coming because he expects to play well. And as he was the first to admit that he simply didn't this week.
"I'm a little ticked that I'm not playing on the weekend," he says. "I certainly did not play good enough to be around. I wish I would have played better."
His putter was the primary cause of his poor play at the 2022 Open Championship — he had 70 putts over his two rounds with a number of three putts.
But throughout the tournament, we also saw Tiger struggling with a damaging miss that kept rearing its ugly head: A hot pull. When he hit it, the ball would start slightly left and fly straight on that initial direction, though slightly lower.
It was Tiger's predominant miss throughout the tournament: He missed left on the third, seventh, eighth, 12th and 16th during his first round, then on the fourth (twice), 11th, 12th, 14th and 16th during his second. That hot pull miss has lingered throughout the year. I wrote about it at the PGA Championship, and after his first round at the 2022 JP McManus Pro-Am.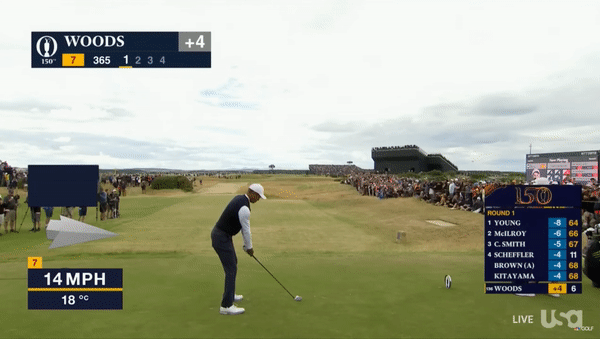 As for where what causes it, Sky Sports on-course analyst Wayne "Radar" Riley offered some astute analysis during Tiger's warmup today.
"What I'm seeing with Tiger is because he's so strong up top, I'm not sure if the bottom half works as well as it once did, sometimes just stays a little still," he says. "He can't get off his right side. Maybe he's scared because of the ankle injury. But because of it, his top half covers the ball very well. [His lower body] stays back, but the arms keep going and he flips the ball left."
The physique angle is one I hadn't really thought about — Tiger has says he's worked on strengthening his lower body as a way of maintaining power post leg injury — but it's a reflection of an ongoing issue that Tiger has talked about often. The combined effect of his back issues and knee injuries mean his lower body mobility is limited and unreliable, which is creating technique issues that cause bad shots.
The side-by-side of Tiger below isn't ideal (because he's hitting different clubs), but Riley's point still shines through. In the picture on the left from the 2022 PGA Championship, you can see Tiger's trail foot planted firmly on the ground as it carries more weight. In the picture on the right, from Tiger's 2019 season, you can see he's shifted his hips more towards the target, which means there's more weight to his lead leg and his trail foot is coming off the ground.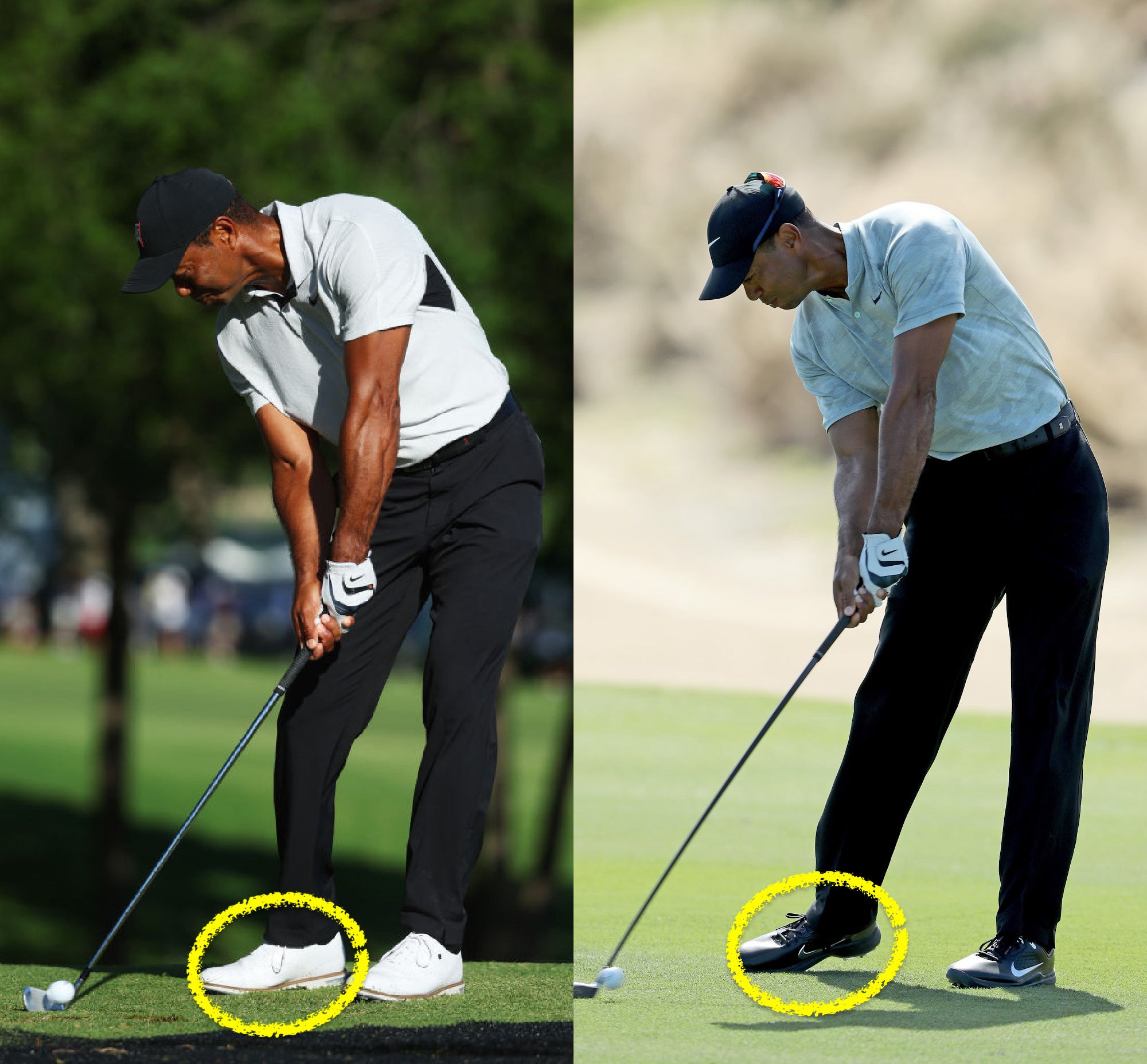 The effect of this, to Riley's point, is that pre-injury Tiger tilts his upper body further from the target than post-injury Tiger. That lack of upper body tilt, caused by his limited lower body action, means Tiger will occasionally get too steep and miss left.
It's not an unsolvable problem — especially not for a golf mind as sharp as Tiger's. But it is a fact of Tiger Woods' post-injury reality. Interestingly, it's the opposite problem than the one young Tiger used to have. But just as early career Tiger fixed one issue, late-career Tiger is now tasked with cracking another code.
Any rational person would view Tiger's 2022 major season, where he made three starts and made two cuts, and consider it an undisputed miracle. Tiger does, too.
"Just the three events I played this year, that in itself was something I'm very proud of," he said.
But Tiger is also Tiger. The man who defies the odds, and pushes past the previously defined limits. When he looks at his season, he sees parts that he's proud of — and the opportunities to improve even more
"We will do more hard work and give myself some more chances next year to play a few more events next year," he said after his final round.
If history tells us anything, the smart money is on him figuring out a way yet again.