How this struggling slicer 'reorganized' his swing and got down to a 6 handicap
GOLFTEC
It's easy to get lost in a sea of swing thoughts when things go wrong on the golf course. When there's a problem in your game that needs fixing, you'll try anything looking for the solution. But it's easy to forget, along the way, the most important rule of the golf swing: The clubface is king. It doesn't care what you swing looks like, it only cares if it's square.
GOLFTEC coach Christopher Woods works with players across a wide range of abilities and finds that self-diagnosing often leads to players focusing on the wrong fixes. One recent student, Steve Conroy, was a perfect example. He, like the majority of amateur golfers, was battling a slice. He'd lost the simple pursuit of a square clubface, and by the time he had found his way into GOLFTEC's southeast Portland location, his head was too far gone.
"Steve had a grocery list of items he was working on in his backswing," Woods said, "but not a single item was actually going to help his ball striking. We needed to reorganize his priorities."
How do you fix a slice? In this case, Woods brought it back to basics. During his initial swing evaluation he found that like most mid-to-high handicaps, Conroy's clubface was open at impact, and he was hitting a high, weak slice because of it.
"Steve sliced almost every shot and hit with too many degrees of dynamic loft," Woods says. "High, over-spinning shots were caused less by how he moved his hips and shoulders and more by his understanding of elbow and wrist movements."
And so they got to work on Steve's wrist flex in his golf swing, and at impact specifically.
The first step was getting Steve's wrist more flexed at the top of the backswing. Rather than a cupped left wrist, which leads to an open clubface, the pair worked on flattening and flexing his wrist at the top, and maintaining that flex coming into impact.
That move had the effect of squaring up his clubface.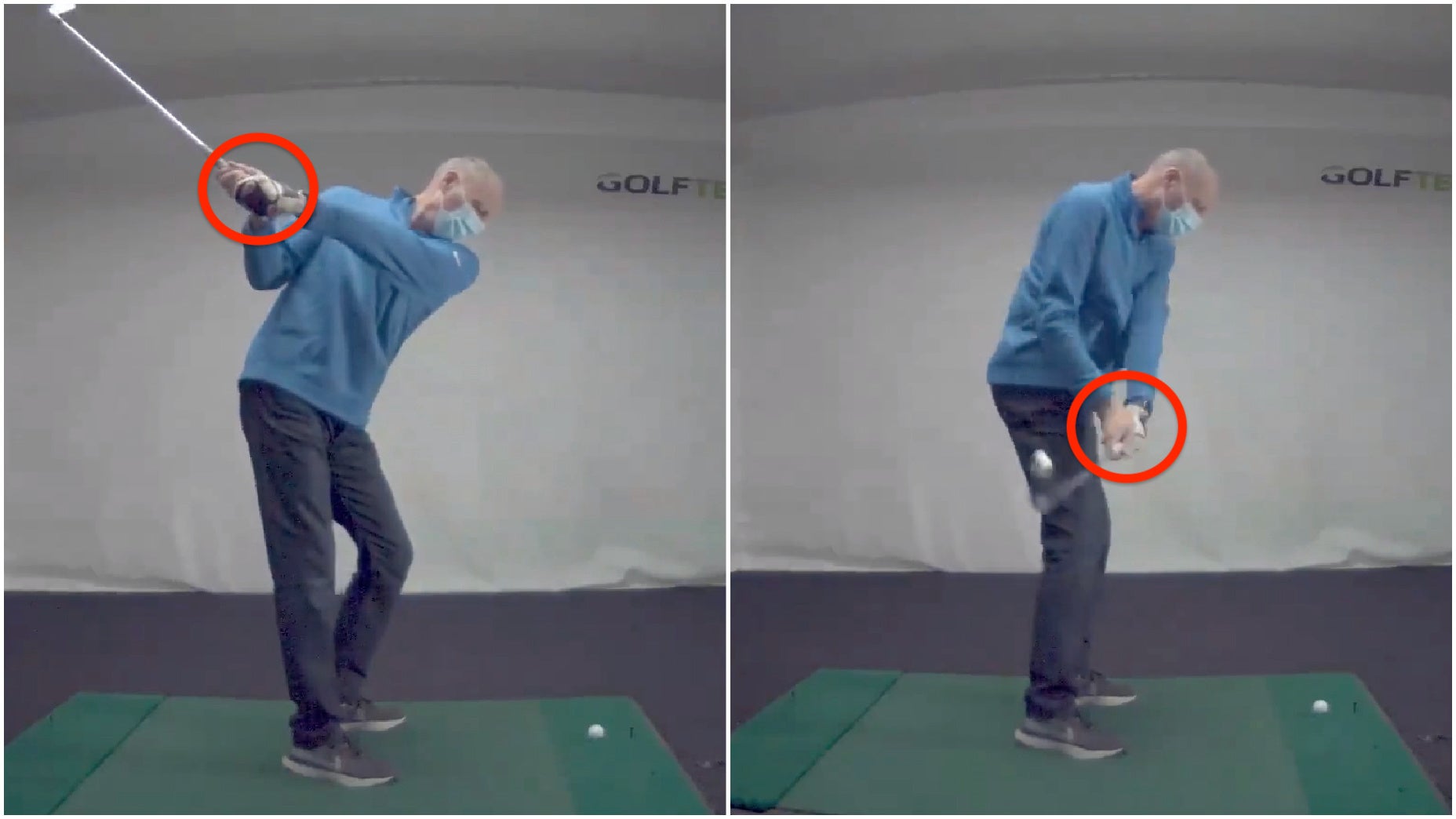 After that, Woods wanted Steve to feeling like he was "hyperextending" his elbows in the followthrough, which helped give him a more penetrating ball flight with better compression.
The golf swing is ever a work in progress but two moves later, Steve says he's living a happier golf life. He's down 5 strokes to a 6.3 handicap, breaking 80 regularly and playing the best golf of his life.
"I've changed from a slice to a draw and gained distance," he says, "but more importantly, consistency."
Looking for a fix of your own? You can book a GOLFTEC swing evaluation below.
All of our market picks are independently selected and curated by the editorial team. If you buy a linked product, GOLF.COM may earn a fee. Pricing may vary.
Swing Evaluation for GOLF.com Readers!
Ready to jump in and start your GOLFTEC Journey? Fill out this form to book a swing evaluation or club fitting! A local GOLFTEC Coach will contact you to discuss your game and goals.
Book your swing evaluation