Patrick Reed's elaborate practice putting game, explained
@lukekerrdineen
NORTON, Mass. — The practice putting green at TPC Boston isn't big. In fact, it'd be more accurate to say it's quite small. Put 15 people on the green and it starts bursting at the seams.
But early on Tuesday morning ahead of The Northern Trust, there was one man practicing on it: Patrick Reed, who, along with his caddie Kessler Karain, had erected an elaborate putting drill that consumed almost the entirety of the postage stamp-sized green. (Don't worry, there was only one other player on the green at the time.)
But while the drill may look like a work of art, it's actually relatively straightforward.
The drill requires 40 tees in total. You place the tees in batches of five at three, four, five, six and seven feet in eight directions around a hole. Once it's all set up, it should look like a big clock (or that spiral thing the White Walkers left behind at the start of Game of Thrones).
Setting it all up is actually the hard part. Once it's ready, Reed simply starts putting. He works in a clockwise fashion, starting with the shortest putts and getting longer. Once he makes a putt, he picks up the tee and moves to the next putt.
The goal, simply, is to make every putt. Once you've done that, you're done! And no, you don't have to make them consecutively.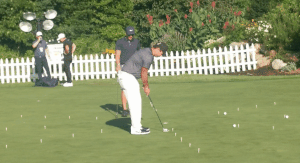 After watching Reed for a few minutes, I walked over to the range and bumped into John Graham, the putting coach to a number professionals, including Danny Willett and Cameron Champ.
Reed ranks ninth on the PGA Tour in Strokes Gained: Putting, and watching the way he methodically worked his way through each putt had me wondering: Is this how the best putters in the world practice? Grinding over each and every putt, even in practice?
"Some players putt for confidence. They want to sit on a short putt and see the ball go into the hole over and over again," Graham said. "But in my experience, it's generally the case that the best putters are the ones that put a lot of pressure on themselves when they practice."