See the fascinating ways U.S. Open nerves affect the world's best golfers
Getty Images
Welcome to Play Smart, a game-improvement column that drops every Monday, Wednesday and Friday from Game Improvement Editor Luke Kerr-Dineen (who you can follow on Twitter right here).
BROOKLINE, Mass. — The 1st tee represents, in many ways, the pinnacle of potential in the game of golf. It could be the beginning of the best round of your life. Or this week, the start of a fairytale major championship victory. Anything is possible, and it's all still ahead of you.
But with that infinite potential comes the gravity of expectations. Just as things could go right, things could also go very wrong.
What if I get my round off to a bad start?
First tee jitters are something we can all relate to, and legend has it that it was nerves that affected Tiger Woods the most. Pros will say they get nervous on the first tee, but how can we know if that's true? Does it actually affect them?
I was curious, so ahead of the first shot of this U.S. Open, I decided to run a slightly-scientific experiment: I picked a group of big-name players from Thursday's morning wave, and timed them hitting an innocuous shot on the driving range. Then, I did the same for their first tee shot of the tournament. I synced up the videos by the millisecond using the sound the golf ball makes once it's hit.
The differences were subtle, but interesting. Let's take a look at them.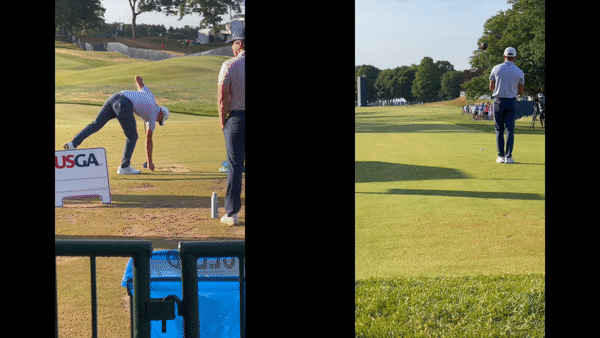 1. Collin Morikawa
Collin Morikawa, with the help of his coach Rick Sessinghaus,thinks about this stuff a lot, so it's no surprise he keeps his rhythm so consistent between the range and the higher-pressure first tee.
Earlier this week, he spoke about the importance of managing the "the little things," specifically, like the pace at which he walks. He tends to get too fast, and you can see on the range above he takes a few extra seconds to slow down, so the rhythm of how fast he hits golf balls on the range matches the speed of his pre-shot routine.
Thought this was some really interesting from Morikawa https://t.co/TgaCIRdg4K

— LKD (@LukeKerrDineen) June 15, 2022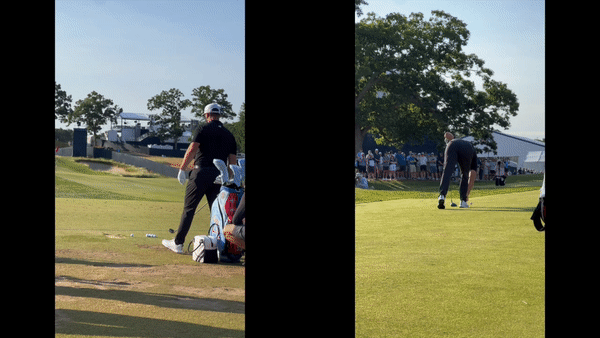 2. Jon Rahm
To my eye, Rahm has the second-biggest difference between his range and on course pacing.
On the range, Rahm stands over the ball for far longer. He appears to be thinking more, or perhaps struggling to get comfortable. Interestingly, getting to the golf course seemingly has the counterintuitive effect of freeing him up. He spends less time standing over the ball and thinking. Instead, he steps into the shot and lets it rip.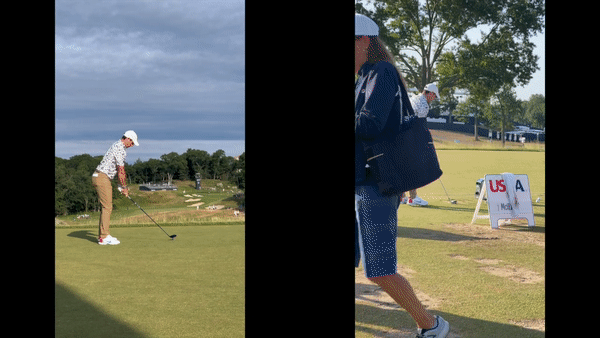 3. Rory McIlroy
Rory stood over the ball slightly longer on the first tee than during his iron on the range, but the difference wasn't too noteworthy. What's more interesting, looking at these, is how much less he's moving around on the course.
On the first tee he's holding his body mostly on the still. But notice him on the range: He's shuffling his lower body more, with less delay the moment he decides to make his swing.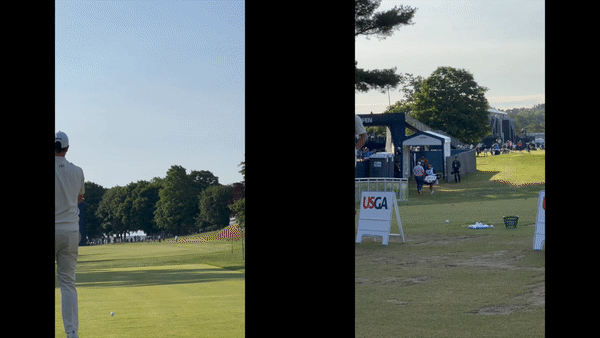 4. Adam Scott
Whether it's on the range or under scrutiny in a major, Adam Scott's beautiful, rhythmical swing remains the constant. Of all the players I analyzed here, Scott seems to have the fewest differences between his range and course rhythm. Even down to the slightest waggles and looks at the target, it's almost perfectly identical.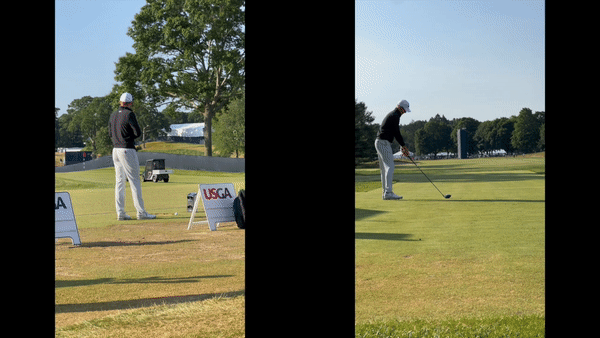 5. Jordan Spieth
Fidgeting, waggling, shuffling around is how golfers get their nervous energy out. It's always been especially important for Jordan Spieth.
Before hitting his first tee shot, you can see him standing over the ball for slightly longer than he did on the driving range, with a bit more fidgeting. The only other difference I notice is that Jordan Spieth's golf swing trigger — a move that helps start your swing, which for Jordan, is a slight flexing of his knees — is slightly more pronounced on this first tee, which starts his swing at subtly different speeds.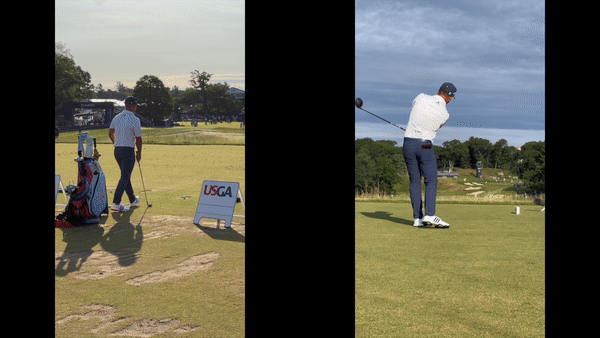 6. Xander Schauffele
Range Xander almost looks like a totally different golfer to first tee Xander. That's not necessarily a bad thing, but it is quite interesting.
Xander spends more time standing over the ball than most players, but on the range, that time is spent with lots of movement. He makes two half swings with his upper body, and adds two more practice takeaways before his swing.
On the first tee, I only counted one practice takeaway in roughly the same amount of time over the ball. There's still some movement as he gets that nervous energy out, but it's mostly confined to his hands, which he spends regripping as he's over the shot.