3 fixes for high handicappers that will help them shoot lower scores this season
GOLF Pass
The Golf Fix, when it first came onto the air, was whatever the golf instruction equivalent was to a shot of espresso. Its high-energy host, Michael Breed, would get you excited about the nitty gritty of the golf swing. It made you want to get out there and try it, then go play.
It wasn't a deeply academic look at the golf swing by design. It was factual information, of course, but it was also supposed to be fun. And it was!
Last year, NBC's GOLF Pass rebooted the series under GOLF Teacher to Watch Devan Bonebrake, and after a successful first season, just dropped season two (which you can stream right here).
"It's been a lot of fun. There's a great team that goes into making this show," he says. "The Golf Fix is all about 'infotainment' and want to make sure we're continually evolving and improving upon great ideas."
With the host of the GOLF Fix coming hot into the new season of the show, we gave him a quick call ahead of the meat of the 2022 golf season to get some advice on a problem that, for so many golfers, needs some serious fixing: How can a higher-handicap shaves some strokes off their game?
Here was his advice…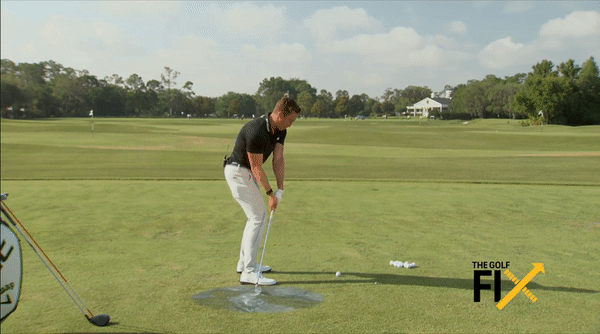 1. Hit more wedges
When golfers are trying to shave some shots off their game, they generally go for the show stopper clubs: Their driver, their irons, maybe their putter. But they'd be better served to spend most of their time practicing wedge shots.
"High handicappers probably aren't hitting more than at most, five greens a round." Bonebreake says. "There'll be some good full swing habits that carry over from hitting lots of wedges, but practicing hitting lots of different wedge shots will get you better at a club you'll be hitting on almost every hole."
2. Eliminate contact errors
It may sound counterintuitive to care less about the literal direction your golf ball is traveling. After all, who wants to see the golf ball sail into the trees? But Devan shares some good advice: Don't let perfect be the enemy of the good. Rather than stress over hitting it straight, instead, higher handicaps focus on hitting it forward. And to do that, you need to grove solid contact.
"If you can put the clubface on the ball relatively consistently, so you're not hitting chunks, tops and shanks, playing golf will become a lot easier," he says. "It may not go perfectly straight, but as long as you're advancing the ball forward each time, you'll be making progress."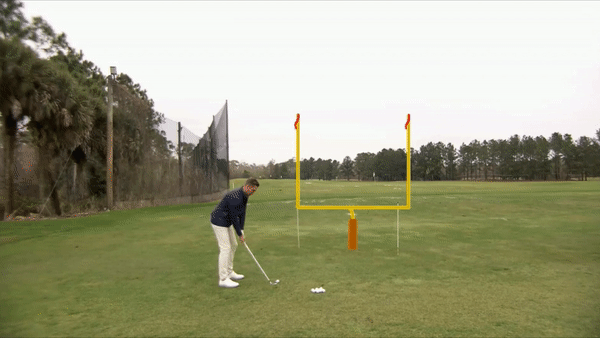 3. If you slice, practice hitting field goals
But of course direction is important, especially if your ball has a lot of slice on it. So, once you've practiced avoiding the worst kind of contact errors, Bonebrake says to gain some control over your ball by visualizing field goals. If you tend to slice, place the field goal to the right of your golf ball. Your goal is simple: To send your golf ball through the field goal, which will encourage you to swing more in-to-out.
"Don't worry about the target as much, all I care is: 'can I get the ball to start through the field goal," he says. "Once the ball starts entering the field goal, it'll be a lot easier for you to learn to close the face and hit that draw."