Copy the 6 keys to Dustin Johnson's powerful swing
Getty Images
Dustin Johnson was just a skinny kid when we first met, which was long before I recruited him to play at Coastal Carolina. He's packed on quite a bit of muscle over the 20 years I've known him, yet the same athletic elements present in his swing way back then still exist today.
Just as he's done with his physique, he's elevated the athletic moves that made him a promising junior to bag two majors, hold a stint at the top of the OWGR (135 total weeks, 3rd most all time) and build a reputation as one of the most powerful drivers of his generation.
Dustin, 37, has always bowed his left wrist at the top of his backswing. This requires him to rotate at breakneck speed on the way down, otherwise the face would remain closed, resulting in a left miss. Luckily, Dustin has always been fast, and with the work he's put in at the gym over the years, he's even faster. 
Surprisingly, Dustin's athleticism helps him most when he's not swinging his best or when faced with tricky lies. He has the uncanny ability to adjust to adversity without even thinking about it and still perform at an elite level. His 24 PGA Tour wins didn't happen by accident. That's the true proof of his one-of-a-kind athleticism.
Here's how his swing works.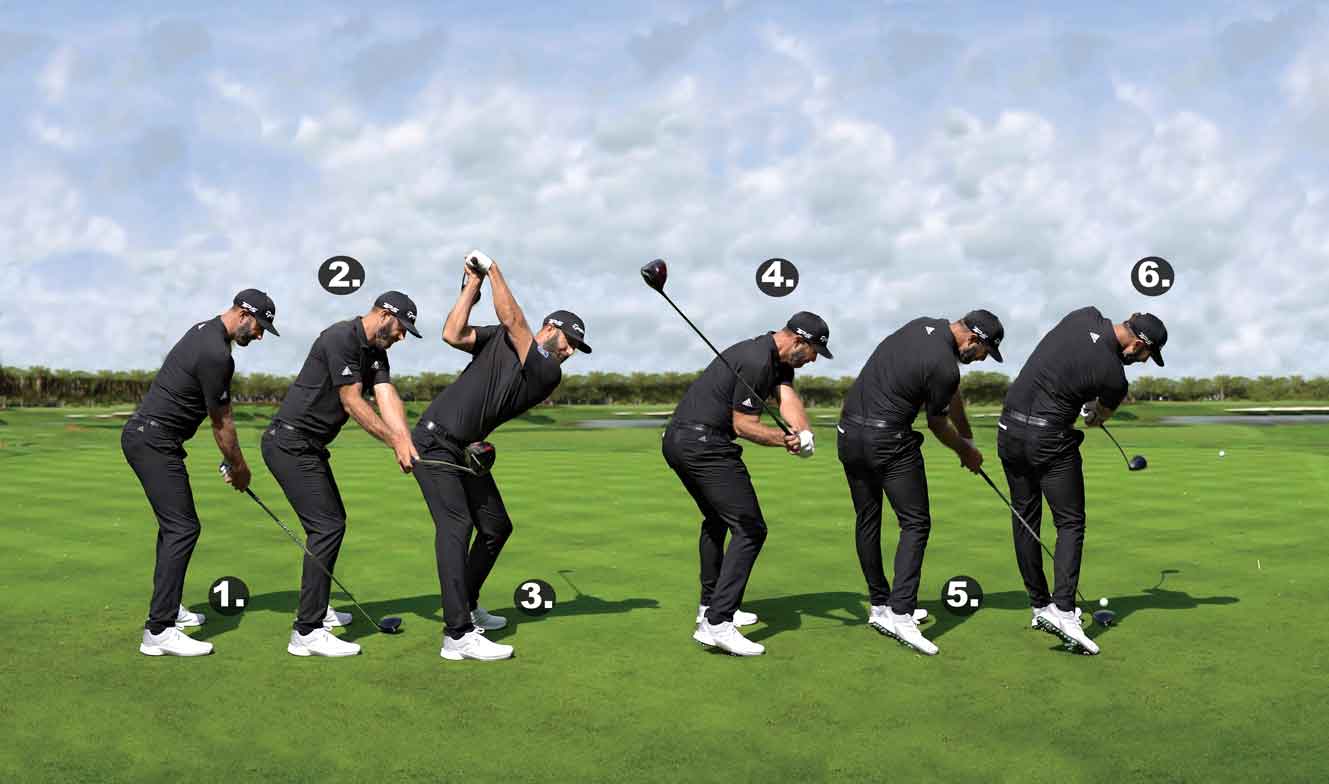 1. Address
Swings don't change overnight, but setups do. With DJ's height, I like to see his knee flex a little closer to his toe line. When his knees are a little straighter, he has to lean over more, which throws off his balance.
2. Takeaway
Dustin's takeaway is a little outside here, which is something we've been working on. When DJ's balance is off, he'll shift weight into his heels as he starts his swing and send his arms to the outside to counterbalance.
3. Backswing
Fact: The more your arms go out (get "vertical"), the greater the need to bow the left wrist, as Dustin is doing here. His flex really came to prominence when he got on Tour because in order to gain enough speed to compete, he had to get his arms a lot more vertical.
4. Downswing
One of the hardest things to do in golf is open up through the ball with your body while tilting away from the target, but Dustin does it so well. It's something he's always worked on. My advice: Copy this!
5. Impact
Dustin plays his best when his arms are under his shoulders at impact. When your arms get too far out and away from you, the ability to manage the clubface goes out the window. Enter the 10-way miss!
6. Release
DJ's left shoulder is higher than his right. That's a sign of turning without losing much right-side bend. Most rec golfers and slicers tend to have their shoulders level. Follow DJ and I promise you'll hit it longer and straighter.
Allen Terrell is a GOLF Top 100 Teacher and is the director of instruction at the Dustin Johnson Golf School in Myrtle Beach, S.C.
Golf Magazine
Subscribe To The Magazine
Subscribe