How this easy drill helped these 3 golfers eliminate their chicken wings
Getty Images
Many golfers have a chicken wing in their swings, but most of them don't know why. And, in an attempt to fix it, they usually fail to understand the root cause.
More often than not, the reason why you have a chicken wing later in your swing is because of certain moves that happen earlier in your swing.
When GOLFTEC dived into its data of millions of swings from students of all abilities, they found that the higher-skilled, lower-handicap players tend to do specific things well in their swings. Among them: their hips are shifted more toward the target at impact, they don't sway on the backswing and their arms are straighter through the ball, all of which give them more consistent control over the low point of their swings.
A chicken wing can often be the byproduct of not doing these things: golfers who sway too much, for instance, have to bend their arms to compensate for the other flaw. Hence the chicken wing.
Anti-chicken wing drill
Nick Taylor, who runs a popular YouTube Channel that you can check out right here, is a coach at GOLFTEC's Singapore location. In a recent video, Taylor explains that he'll often see golfers come to him struggling with bent arms through impact. When he does, he'll assign them a simple drill: Get into your setup position, then swing smoothly through to your finish. Focus on your technique, and don't worry about swinging hard.
"We start at setup position, extend the legs, lean backward, send my hips toward the target and my arms straight," he says. "You can see how from both angles my body is extending and turning into the finish."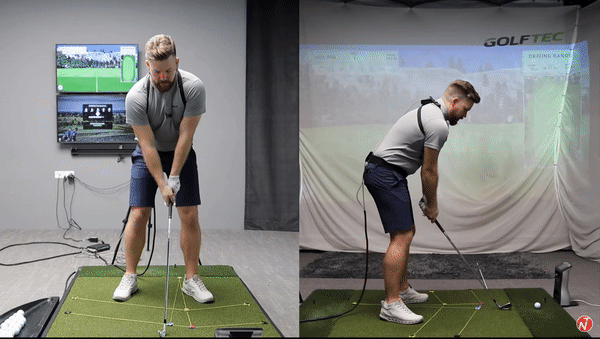 Once you're comfortable doing this, you can slowly start progressing. Start with hitting balls with an abbreviated backswing (with your club shaft getting to parallel to the ground), then hit a shot with a half-backswing (with your left arm getting parallel to the ground).
Again, it's not a drill for power — it's one to improve your form, so don't get sloppy. Be diligent and you'll start to see your chicken wing quickly start to disappear — and all the swing metrics around it improve — as Nick has shown with a few of his recent students.
When this transformation happens, you'll hit crisper iron shots, and your swing will look better, too.
Watch the full video below, and here's how you can find a location closer to you.