ClubTest First Look: Callaway's new Chrome Soft X LS (Low Spin) golf balls
Callaway
Spin is a determining factor in the result of every golf shot, so it's incredibly important to find a golf ball that provides the correct amount of spin for your game. When it comes to green-side shots, more spin is almost never a bad thing, but longer shots are more personal. Some golfers lose distance on their long shots by hitting the ball too low, so they may need a ball that launches high and spins a bit more. Other golfers already hit the ball high, and they may need a ball that spins a bit less to maximize performance.
That's part of the reason why most golf ball manufacturers offer at least two high-end models. Callaway, for example, has the Chrome Soft and the Chrome Soft X. Each option is made for the particular needs of certain golfers, and for most Callaway golf ball consumers buying in that top-tier price range, one of those options will suit their needs.
Better golfers with high swing speeds, though, sometimes need even more help getting spin down. For those who need even lower spin than the Chrome Soft X golf ball, Callaway is now offering a new Chrome Soft X LS (Low Spin) golf ball.
While Callaway reports that the standard Chrome Soft X golf ball is its No. 1 golf ball on the PGA Tour, and Chrome Soft is its best seller for the general public, Callaway staffers have had access to lower-spin prototypes not available at retail. Five-time PGA Tour winner Marc Leishman, for example, was one of those players.
Leishman, however, recently switched into the new Chrome Soft X LS retail model golf ball ahead of the 2021 Genesis Invitational; that's where GOLF.com caught up with Leishman to learn about his experience with the new offering.
"I was using the 'Double Arrow' model before, which I think was a tour-only ball. That was lower spin off the driver, but I found it spun more around the greens," Leishman tolf GOLF.com. "[The Chrome Soft X LS] spins very similar to that around the greens, I feel like it zips quite a bit. With a full wedge shot, it doesn't rip. The half-wedge shots it spins a lot, full wedge shots it spins normal. Then the driver it spins quite low, which is good. I feel like this one compared to the one I was using is a little bit hotter off the driver. It goes a bit further, and it's very good in the wind with the new dimple pattern."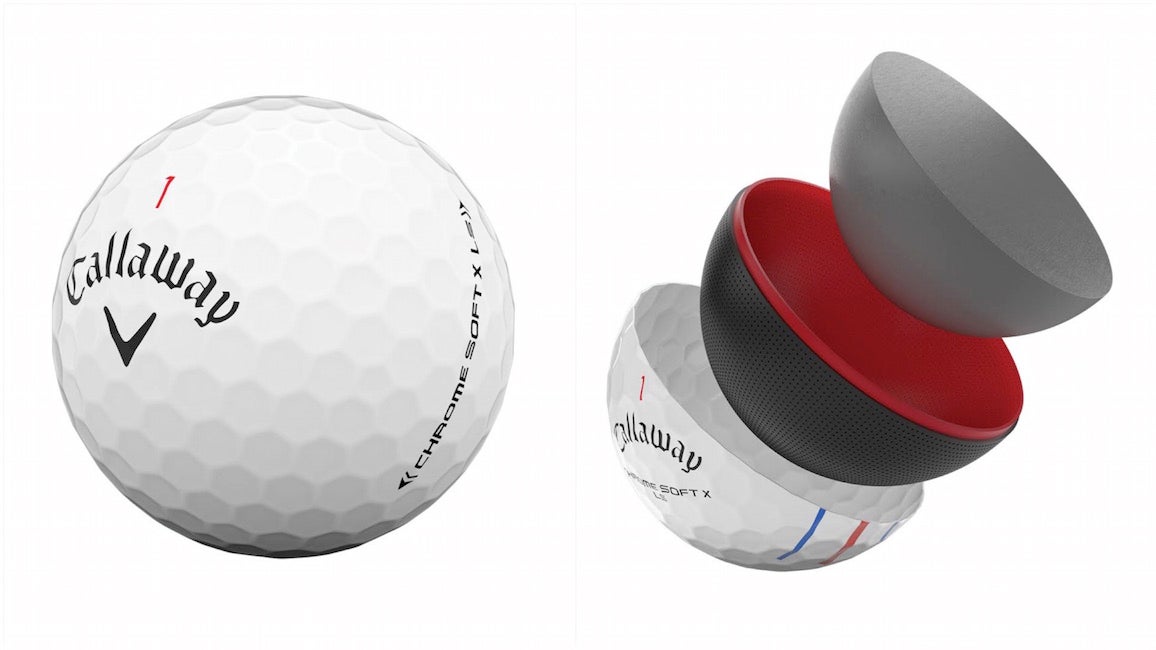 To achieve those desired effects, Callaway's Chrome Soft X LS balls are built with a four-piece, single-core construction. They have large, SoftFast Cores at their centers to boost ball speed. Those cores work in conjunction with a dual-mantle system that includes a Soft Inner Mantle and Firm Outer Mantle, which Callaway says is designed for more distance. Additionally, the new thin Urethane cover and dimple pattern is designed for increased speed and lower spin on long shots, while creating high spin and low launch on wedge shots.
Is the new low-spin offering right for you? The only way to know for certain is to get with a trusted fitter or local professional to find out. Most importantly, though, is that an especially low-spin Callaway ball is now an option for retail consumers, not just PGA Tour players.
Callaway's new Chrome Soft X LS golf balls will be available in three different options: Standard White, White Triple Track, and Yellow Triple Track. They will hit retail on April 1 and sell for $47.99 per dozen.
Want to overhaul your own bag for 2021? Visit the expert fitters at our sister company, True Spec Golf. For more on the latest gear news and information, make sure to check out our recent Fully Equipped podcast in the Spotify link below.