GOLF Magazine's inaugural ranking of the finest courses in Asia-Pacific is long overdue. Not only does the region boast an eclectic mix of architecture, but it's also home to some of the finest designs built this century. To say the course-build­ing business in the lands where the sun rises first is booming would be an understatement.
The ease of modern travel makes this region more attainable than ever. We trust that this ranking will help with future trips. Akin to golf in the United Kingdom, a proper letter of introduction gains you access to a majority of the region's finest courses, which makes this ranking even more meaningful and practical. It's a long flight, but you'll return with lifetime memories.
What are you waiting for?
More GOLF course rankings: Top 100 Courses in the World | Top 100 Courses in the U.S. | Top 100 Courses You Can Play | Top 100 Value Courses in the U.S. | America's Best Municipal Courses | Top 100 Courses in the U.K. and Ireland | Top 100 Short Courses in the World
Methodology: How we rate courses | Meet our expert raters
Ed. note: Unless otherwise noted, the course descriptions below were written by Ran Morrissett.
1. Royal Melbourne (West)
Blackrock, Australia
Alister MacKenzie, 1926
Beside the club parking area is the horse-drawn plough and scoop that was used to slowly construct what some people consider to be the finest course in the world, let alone Asia-Pacific: the West Course at Royal Melbourne. Because construction played out over a four-year period, the tie-ins are gorgeous, meaning the transition between where nature stops and man's hand begins is nearly indiscernible. The bunkers are steep-faced and chew into the putting surfaces. The sand is compact too, so to short-side yourself is to likely cost yourself a stroke. How refreshing to find hazards that play as hazards! Standout holes abound, including the short par-4 3rd with its green that falls away; the ½-par 4th that plays up and over the crest of a hill; the photogenic one-shot 5th; and one of the game's quintessential doglegs, the 6th, which sweeps right around a large native area to a fiercely contoured green. The course embodies all of Alister MacKenzie's design ideals, even though he was in the country for only nine weeks.
2. Kingston Heath
Cheltenham, Australia
Dan Soutar, 1925; Alister MacKenzie, 1926
Dan Soutar, Mick Morcom and Alister MacKenzie each played a key role in creating a visual feast and a strategic masterpiece, helped in large measure by the site's critical virtue of sitting on sandy soil. Any modern architect should spend time here, studying how Kingston Heath's creators teased so much from land that is neither rambunctious nor expansive. It's no wonder this course is a darling among design aficionados. A stellar collection of two-shot holes pose the full range of questions. Among the other standout holes are the par-5 7th with its exasperating swale in front; the tiny par-3 10th played over scrub; and the uphill one-shot 15th played across a series of bunkers that are a masterclass of presentation.
3. Tara Iti
Te Arai, New Zealand
Tom Doak, 2015
Tara Iti jumped onto our World list in 2017 as one of our highest debuting courses ever. Then it moved higher still. The course is buoyed by its enviable location in the dunes along the Pacific Ocean, along with superior fine-fescue fairways and swirls of natural grass and sand. The design is loaded with remarkable holes. The punchbowl 3rd green is something that must be experienced firsthand with its design highlighting the joys of a ball careening this way and that along the ground. Two of Tara Iti's one-shotters — the 15th and 17th — are hyper-photogenic as they play to greens along the coast. Another of the course's finest moments comes at the long uphill 12th, which plays away from the water to an open, tilted green that is 7 feet higher on its right than left. The tight playing surfaces combine with architecture that dazzles even when one's back is to the Pacific.
4. Hirono
Miki-Chi, Japan
C.H. Alison/Chozu Ito, 1932; Martin Ebert, 2019
Japanese golfers had never seen the kind of deep, strategically placed bunkers that architect C.H. Alison introduced to Hirono in the early 1930s — so much so that this style of bunkers became known as "Alisons." Originally, the course bore a sandy, scrubby appearance akin to Pine Valley (where Alison consulted), but tree planting changed Hirono's character over the decades. Thankfully, Martin Ebert's 2019 restoration effort reestablished sand as a dominant theme. No one seems to agree on which is its best par-3, as they are all outstanding. Certainly, the Fjord 5th across a lake and the Devil's Divot 7th played across a gulley with a series of menacing bunkers cut into the far face are as good a pair of one-shotters as you'll find on any outward nine. Another standout hole is the par-5 15th, where a central-hazard tree followed by a ravine put great pressure on the player's second shot. From inception, Hirono set the standard for design excellence and all other Japanese courses have been measured against it since.
5. Barnbougle Dunes
Bridport, Australia
Tom Doak/Mike Clayton, 2004
Australia's greatest links continually achieves top status thanks to a sophisticated design coupled with a stirring seaside setting with holes nestled in large dunes that run parallel to the ocean. Each nine fans from opposing sides of the clubhouse. The dunes extend inland "only" some 350 yards and the architects did a fabulous job in having the holes flow across them in every conceivable manner. One highlight is the short, 122-yard 7th, which is the Southern Hemisphere's equivalent to Royal Troon's devilish Postage Stamp hole. One of its design tricks is that it heads in a different direction from any previous hole, meaning golfers don't have a good read on the wind before hitting a short iron toward the green ringed by deep bunkers – and worse. The drivable 300-yard 4th is another instant classic, featuring a natural blowout bunker in the foreground that must be carried while avoiding two smaller — though equally penal — bunkers on the left closer to a green perfectly placed in a natural saddle.
6. Kawana (Fuji)
Ito, Japan
C.H. Alison/Komyo Ohtani/Kinya Fujita, 1936
There are no guarantees a great course will emerge from a great site. Routing a course — making all 18 holes connect while simultaneously complementing one another — requires vision and talent. It is a true gift and the primary differentiator between being a good architect and an elite one. In the case of the Kawana Resort, its owner, Baron Okura, did not think that the original routing took full advantage of the site's wonders, which range from views of snowcapped Mt. Fuji to cliff-top panoramas of the Pacific Ocean. Therefore, he organized for C.H. Alison to scout the property while he was working at Tokyo GC. Alison developed a different routing and several years later the course was built under the expert guidance of Koymo Ohtani and Kinya Fujita. The result is what some people consider to be their favorite course along the Pacific Ocean — including California and Oregon! There isn't a single weak hole, and the golfer eventually runs out of superlatives when describing how well this undulating land was utilized. Recent tree clearing along the perimeter has enhanced the site's phenomenal coastal setting. Just look at this view of the 7th hole; a decade ago, trees behind the green blocked off this water view.
7. Te Arai (South)
Tomarata, New Zealand
Bill Coore/Ben Crenshaw, 2022
Te Arai South is soon to form half of the Te Arai resort alongside the Tom Doak-designed Te Arai North opening in late 2023. Paired with their cousin just along the coast (Tara Iti), this stretch of coastline north of Auckland will soon rank among the world's dream golf destinations. "Playing Te Arai South is a beautiful experience where the linksland rises perfectly from the beach, mesmerizing the golfer with white sand below, the Pacific Ocean beyond and the islands in the distance. While the early holes dance in and out of the woods, from the 5th hole onward, Te Arai South unfolds into a mind-bendingly fun stretch of coastal golf featuring thrilling short holes, an array of fun short par-4s and some bold, diverse, restrained and zany greens punctuated by the Sitwell-inspired 16th. No commentary on the South course at Te Arai is complete without a nod to the wee 17th, which, no matter how hard the wind is blowing, is one of the greatest 100-yard holes in world golf. — Michael Goldstein, GOLF panelist
8. Royal Melbourne (East)
Black Rock, Australia
Alex Russell/Mick Morcom, 1932
Confident in his own work, Alister MacKenzie freely lauded the work of others. In the United States, he considered Perry Maxwell to be as talented as anyone; in Australia, his man was Alex Russell, who deserves full credit for the East Course, in addition to Paraparaumu Beach (No. 17), Lake Karrinyup (No. 36) and other gems in Australia and New Zealand, including Yarra Yarra (No. 44). The panel's appreciation of the East Course raises the question: What club offers the finest 36-hole day in golf at one location? Though many champion Winged Foot, Sunningdale and Baltusrol, it is hard to argue that Royal Melbourne isn't the pick of the bunch.
9. Victoria
Cheltenham, Australia
Alister MacKenzie, 1927; Ogilvy Clayton Cocking & Mead, 2019
Many courses worldwide built before 1940 have been undergoing thoughtful restorations. Victoria is a sterling example, with Mike Clayton meticulously overseeing much of the work over a 20-year period. Today, Victoria enjoys the style of golf that Alister MacKenzie introduced to Australia through his work across the road at Royal Melbourne. The bunkers and waste areas reflect a Golden Age aesthetic, green undulations and surrounds are both fun and challenging and the overall conditions are as firm and fast as any in the Sandbelt. The club's leadership and agronomy team also deserve credit for only fostering indigenous vegetation on the property while removing all other forms that had crept in over the decades. The short par-4s at the 1st and the 15th stand out even in a neighborhood full of such risk/reward holes. And the short green-to-tee walks make Victoria a walker's paradise. — Pete Phipps, GOLF panelist
10. New South Wales
La Perouse, Australia
Alister MacKenzie/Eric Apperly, 1947
Sydney's magnificent Harbour Bridge and Opera House speak to a city of impossible beauty, and the course at La Perouse is its crowning golf offering. The middle of each nine features holes along the rugged shoreline. The two most famous holes are the par-5 5th, with its long, downward sloping fairway toward the Pacific, and the 195-yard 6th that plays over an inlet of Cape Banks. But the stretch from 13 to 16 is as good a run of par-4s as you will find anywhere.
11. Cape Kidnappers
Te Awanga, New Zealand
Tom Doak, 2004
Drone shots of this course are evocative, showing holes on fingers of land hundreds of feet above the swirling Pacific Ocean. But golf is played from the ground, not the air, and that works just fine here with the site's tumbling landforms. The course's most famous hole is also its most feared: the 650-yard, par-5 15th, which falls away on both sides of the fairway and sports a horizon green perched precariously on a bluff overlooking the ocean. Architecture buffs are likely to be just as captivated by the playing angles at the preceding hole, a short two-shotter with a Road Hole green complex.
12. The Club at Nine Bridges
Jeju Island, South Korea
Ron Fream/David Dale, 2001
Nine Bridges' appeal starts with its tranquil setting on Jeju island, with holes etched into pine-clad rolling topography in the shadows of Mount Halla, Korea's tallest peak. Lakes, creeks and wooded slopes not only contribute to the beauty and variety but also are seamlessly integrated into the design. Nine Bridges routinely hosts important professional and amateur events, and the contestants uniformly praise both its challenge and presentation.
13. Shanqin Bay
Hainan, China
Bill Coore/Ben Crenshaw, 2012
A tropical island in the south China sea may be an unlikely location for world-class golf but Hainan Island features a plethora of dramatic landforms: steep stretches of rolling farmland, a broad canyon, majestic sand dunes and dense vegetation. Shanqin Bay's routing, bordered by the sea on three sides, embraces all of these geomorphic features creating a thrilling 18-hole ride. The tumultuous journey takes golfers high on a cliffside and hill where stunning ocean views prevail and dips and turns into valleys and ravines bordered by unyielding native vines and grasses. There's a pleasant mix of long and short holes that hug the land and are simultaneously natural and strategic. Fairway bunkering is relatively sparse as befits the terrain. Greens are strewn over both high and low land, creating a wonderful, motley array of approach shots. The interior holes may lack the visual drama of those on cliff and beach but do not cede any shot value or playing interest. At Shanqin Bay, Coore and Crenshaw turned hostile geography into an exalted playground for golf. — Joe Andriole, GOLF panelist
14. South Cape Owners Club
Namhae-gun, South Korea
Kyle Phillips, 2013
American designer Kyle Phillips' work has dazzled at such diverse geographic locations as the California Golf Club of San Francisco, Kingsbarns in Scotland and Yaz Links in Abu Dhabi. Add in this South Korean course and you start to gain a sense of Phillips' global footprint. Working for business magnate Jae Bong Chung, Phillips was given a sprawling coastal site complete with cliffs on an island just off the South Korean peninsula. You might assume the highlights are the par-5 6th, which twists uphill past rocks and large sandscapes, and the 220-yard 7th, which plays out over the sea. But then you arrive at the stretch from 13 to 16. The 16th is Asia's equivalent of 16 at Cypress Point, and there is a legitimate debate as to which is finer. No surprise given its owner, but the clean lines and décor of the clubhouse and lodging show immaculate taste, and the music library is a can't miss.
15. Cape Wickham
King Island, Australia
Mike Devries/Darius Oliver, 2015
Wickham wows with an opening stretch of seaside headland holes, three par-3s that skirt the sea and a Cape-style 18th that demands a bite-off-as-much-as-you-dare drive over Victoria Cove. Set on the northern end of King Island in the Bass Strait between Tasmania and mainland Australia, this course and Ocean Dunes (No. 39) occupy the windiest spots of any on our list. Wickham compensates with wide landing areas and greens that are open in front, meaning golfers are guaranteed to have fun, be they in a one-club wind — or five! Either way, you are set for a day of lasting memories.
16. Barnbougle Lost Farm
Bridport, Australia
Bill Coore/ben crenshaw, 2010
Unlike its sister course Barnbougle Dunes where the holes run up and down the coast within a narrow band of dunes, the routing here defies description, with holes to-ing and fro-ing in every direction, culminating with the par-5 12th set 1,300 yards from the coastline. With the wind whipping off the Bass Strait, you need to make constant allowances for how the wind impacts each hole. The gorgeous, tiny par-3 4th kicks off the course's finest four-hole stretch, but the pièce de résistance is Coore's work in the flats, namely the 2nd and 12th greens and the outrageously clever par-4 16th. The course storms home from there with a long par-3 to a green benched high in the dunes and a long two-shotter that tumbles over land to an open green that is much deeper than it is wide.
17. Paraparaumu Beach
Paraparaumu Beach, New Zealand
Alex Russell, 1949
"Alex Russell, the one-time design associate of Alister MacKenzie, is an oft-overlooked actor within the top echelon of golf in Australasia. Russell's crowning glory was at Paraparaumu Beach, where in 1948 — arguably drawing the curtain on the golden age of golf architecture — his life in golf culminated in creating one of the world's premier links. "Though Paraparaumu Beach may lack the stunning vistas of the modern masterpieces of New Zealand golf, its routing is one for the purists where restraint balances against its epic, rumpled landforms. Paraparaumu is a seamless stroll through the dunes which are of perfect scale for walkable golf. While most reviews emphasize Paraparaumu's short holes (notably the 16th to a deep but slender green), the real depth of strategic design comes from the diversity found within its two-shot holes, most notably the rumpled drivable 6th; the whimsical drive-and-pitch 8th; the rollicking 13th; and the strategic dogleg 17th. Once a bit overgrown and spongy, today's course soars under strong custodianship — the trees are gone allowing the native wastelands to flourish and the playing corridors are once again firm and bouncy. It's proper links golf of the highest order. — Michael Goldstein, GOLF panelist
18. Ellerston
Hunter Valley, Australia
Greg Norman/Bob Harrison, 2001
Greg Norman always professed his admiration for Alister MacKenzie. At ultra-exclusive Ellerston, he and design partner Bob Harrison adapted MacKenzie strategies and bunker stylings on a rugged landscape, resulting in one of the strongest, most option-laden tests in the Southern Hemisphere. Forced carries over ravines, greens set along ridge tops and the influence of Pages Creek add to the challenge. Few golfers can access to the course, which is shame given there is so much to admire architecturally.
19. Tokyo
Sayama City, Japan
Komyo Ohtani, 1940; Gil Hanse, 2018
The only word that does this course and club justice is elegant. The existing course is in the club's third location, and even though C.H. Alison designed the second iteration, today's course offers even better golf. Koymo Ohtani, who closely studied and worked with Alison, deserves primary credit. He routed today's course — anchored by a world-class collection of par-5s — and later a second green was added to each hole, with the goal of having one green with a warm weather grass and another with a cool weather variety. That made sense in that era but improvements in agronomy have rendered that approach moot. Still, the two-green system flourishes thanks to work done several years ago by Gil Hanse and Neil Cameron. At the par-3 4th, you play from the upper-right tee to the lower-left green, or you play from the lower-left tee to the upper-right green. Elsewhere, at the 6th, you can bounce a ball onto the open lower-left green that is at grade with the fairway with a creek hugging the green's left side. But the upper-right plateau green with deep guarding bunkers poses an entirely different ask. Tokyo GC occupies an expansive piece of property, which is precisely what is required to pull off such an elaborate two-green system. First-timer visitors to Tokyo GC will leave yearning for more two-green courses, though this design will always be in a class by itself.
20. Royal Adelaide
Adelaide, Australia
H. Rymill/C. Gardner, 1906; Alister MacKenzie, 1926
A dune system in the middle of the property was put to perfect use with holes fanning in and out of it on both nines. You haven't seen the best holes in Australia until you play the short par-4 3rd and the par 4-11th with its interrupted fairway that requires a shot over broken ground to a green nestled at the base of a large dune. Other highlights include the pugnacious par-3 7th green, which is ringed by eight bunkers and plays toward the sea less than 2 miles away. A tram line bisects the course, and the best hole on the east side of it is surely the dogleg-right 14th that features another interrupted fairway. The course and the club exude Old World charm.
21. Naruo
Kawanishi, Japan
Joe Crane/Harry Crane/Bertie crane, 1930; C.H. Alison, 1931
22. Peninsula Kingswood (North)
Frankston, Australia
Sloan Morpeth, 1965; Ogilvy Clayton Cocking & Mead, 2018
23. Himalayan
Pokhara, Nepal
R.B. Gurung, 1994
In a country known for trekking, golf architect one-hit-wonder Major Ram Gurung delivers a stunning walk across unirrigated ground in the sub-tropical region of Pokhara, Nepal. Holes run back and forth across the Bijaypur River, which flows downhill from the Annapurna mountain peak more than 26,000 above sea level. The ledge-top descent into the canyon at the 3rd amounts to the start of an escape from civilization for the next couple of hours. Strategic options abound at a hole like the 6th, a long par-5 with decisions about where to place your tee ball alongside whitewater rapids, followed by a choice to go for the green on your second shot. Heroics and skill are required to play the angles properly and to keep your ball dry if you want an eagle putt. If the 6th hole delivers foolish temptation, then the uphill, 150-yard 7th is about caution. The green is partially hidden on a plateau with wild vegetation growing out of the rocky precipice. Survive by playing your tee shot to the center of green. Did you make the carry from up there? Walk across the river and climb the ledge to find out. The flow and rhythm of the holes and how they relate to one another are excellent throughout. The ascent back to civilization — on the 16th-hole tee shot across a chasm — requires a moment of pause. You can't find this brand of excitement anywhere else. — Tom Brown, GOLF panelist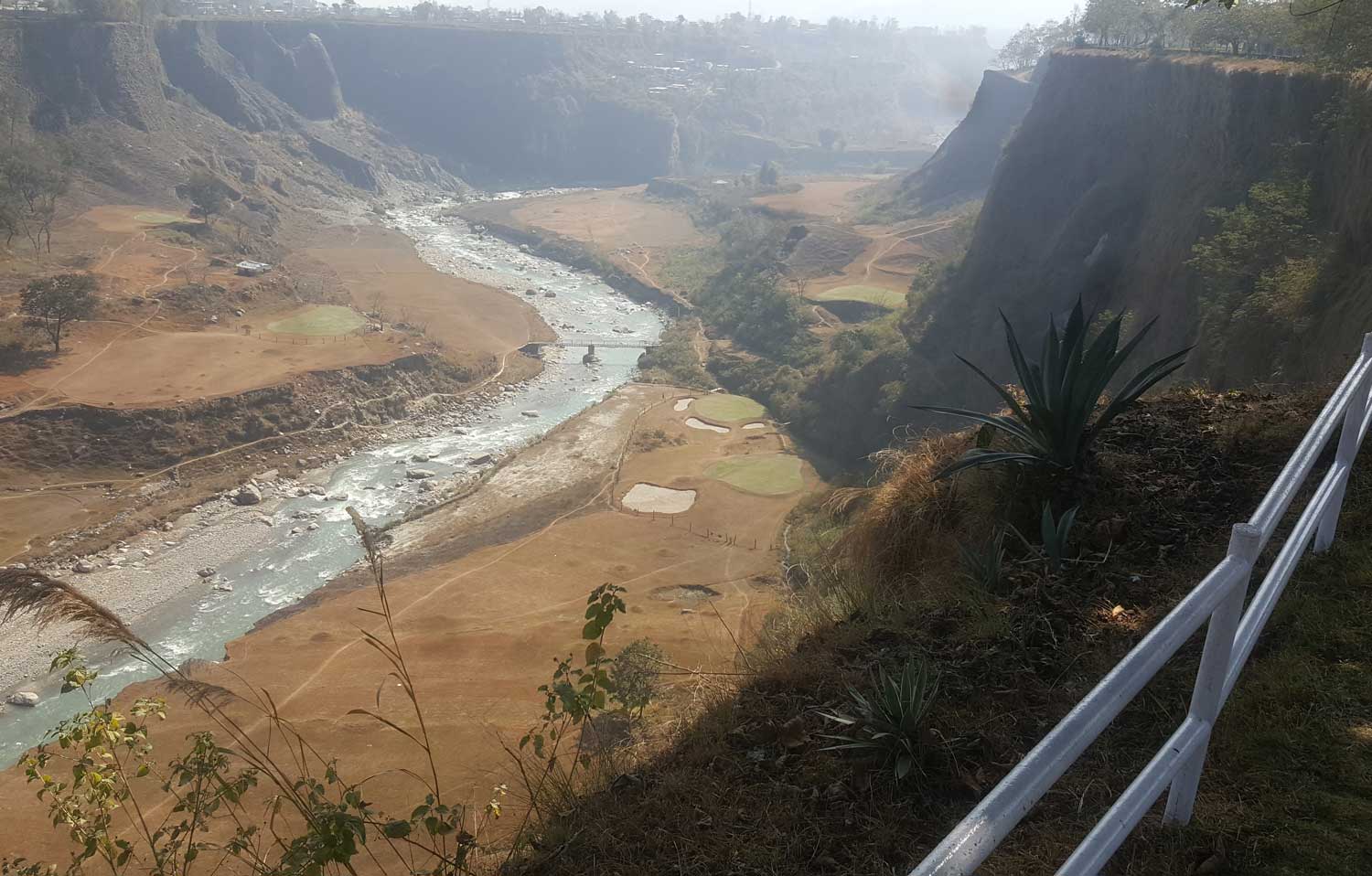 24. St. Andrews Beach
St. Andrews Beach, Australia
Tom Doak/Mike Clayton, 2004
25. The National (Moonah)
Cape Schanck, Australia
Greg Norman/Bob Harrison, 2000
26. Yokohama (West)
Yokohama, Japan
Takeo Aiyama, 1958; Bill Coore/Ben Crenshaw, 2016
27. The National (Gunnamatta)
Cape Schanck, Australia
Thomson Wolveridge & Perrett, 2000; Tom Doak, 2019
28. Kasumigaseki (East)
Kawagoe, Japan
Kinya Fujita/Shiro Akaboshi, 1929; Tom Fazio/Logan Fazio, 2016
29. Newcastle
Fern Bay, Australia
Fred Popplewell Sr., 1915; Eric Apperly, 1932
30. Lanhai Int'l (Yangtze Dunes)
Chongming Island, China
Jack Nicklaus & Jack Nicklaus II for Nicklaus Design, 2011; Ogilvy Clayton Cocking & Mead, 2018
31. Metropolitan
South Oakleigh, Australia
J.B. MacKenzie, 1908; Dick Wilson, 1960
32. Ono
Ono, Japan
Osamu Ueda, 1961
Ono GC was established after the war as a sister club of Hirono by Toyohiko Inui, the founder and developer of Hirono GC. Inui chose Osamu Ueda, who had restored Hirono, to design the course. The front nine is on relatively gentle terrain facing the huge Oike Pond, which is strategically incorporated into holes 7, 8, and 9. The back nine is laid out on slightly hilly terrain with the 10th being especially handsome thanks to its well-placed bunkers. The next hole features a pine tree as a central hazard, a favorite design ploy of Ueda's (he did the same at holes 4 and 7). At the 11th, the pine stands at the dogleg point and helps to make the hole a gentle double dogleg. Holes 14 and 15 flow uphill, and 16 is a gorgeous downhill heroic par-5. Many overseas visitors note how the par-3s (5, 8, 12 and 17) are all memorable and their individuality accentuates one's impression of the course overall. Ono deserves its praise as a true hidden gem among classically designed Japanese courses. — Masa Nishijima, GOLF panelist
33. Hoiana Shores
Quang Nam, Vietnam
Robert Trent Jones Jr., 2020
34. Kauri Cliffs
Matauri Bay, New Zealand
David Harman, 2000
35. Abiko
Abiko, Japan
Rokuro & Shiro Akaboshi, 1931; Brian Silva/Kye Goalby, 2013
36. Lake Karrinyup
Karrinyup, Australia
Alex Russell, 1928; Mike Clayton, 2007
37. Whistling Rock (Temple/Cocoon)
Chuncheon, South Korea
Ted Robinson Jr., 2011; Eric Iverson, 2017
38. Ayodhya
Boh Talo, Thailand
Thomson & Perrett, 2007; Pitak Intrawityanunt, 2012
39. Ocean Dunes
King Island, Australia
Graeme Grant, 2016
40. Osaka
Misaki, Japan
Osamu Ueda, 1937
In 2013, Osamu Ueda's masterpiece was revived with restoration advice from Japanese course architect Taizo Kawata. The removal of trees along the coastline opened panoramic views of Osaka Bay. Kawata was selective in what trees needed to be felled but he helped reveal a wonderful landscape, especially prominent at holes 3 and 7 that head toward the sea. Golfers now appreciate the gorgeous up-and-down seaside terrain. The course measures only 6,402 yards but is full of character. Take the 9th hole, a short par-5 of 477 yards that features a downhill tee shot into an attractive valley, followed by an uphill second shot whereby the golfer needs to decide whether to take the high-left or low-right portion of a spilt fairway. The back-nine's drama intensifies at hole 13 where the fairway is diagonal and features a slightly uphill tee shot, with the approach shot played to a long green with greenside bunkers left and right and the sea behind. The next hole, a par-3 along the cliff, is equally photogenic. Ueda let the land dictate the pars, and its unusual par finish of 5-3-5-3 is part of Osaka's charms. — Masa Nishijima, GOLF panelist
41. Woodlands
Mordialloc, Australia
J.D.H. Scott, 1919
42. Mission Hills (Blackstone)
Haikou, China
Brian Curley, 2010
43. Kooyonga
Lockleys, Australia
Herbert Rymill, 1923; Neil Crafter/Paul Mogford, 2012
44. Yarra Yarra
Bentleigh, Australia
Alex Russell, 1929; Tom Doak, 2021
45. Nikko
Nikko, Japan
Seiichi Inoue, 1955; Taizo Kawata, 2001
46. Peninsula Kingswood (South)
Frankston, Australia
Sloan Morpeth, 1965; Ogilvy Clayton Cocking & Mead, 2018
47. Stonehill
Sam Khok, Thailand
Kyle Phillips, 2022
48. Commonwealth
Oakleigh South, Australia
sam Bennett, 1921; Charles Lane, 1927; Sloan Morpeth, 1938
49. FLC Quang Binh (Forest Dunes)
Hai Ninh, Quang Binh, Vietnam
Brian Curley, 2018
Vietnam's coast is the stuff of any architect's dreams with sandy beaches giving way to rumpled dunes replete with coastal vegetation. The Quang Binh Resort occupies an enviable position along one such sandy stretch. Two of its courses — Forest Dunes and Ocean Dunes (No. 71) —make our ranking. Architect Brian Curley has designed scores of courses across Asia, and he considers this one of the finest sites with which he has worked. Still, any great site can be ruined by a crummy development plan, and that is decidedly not the case here. This is pure golf, with no development at the surrounds, leaving golfers free to soak up the bright white sands, ocean backdrops, pristine blue waters, clusters of dark trees and lush marshes. As it relates to the Forest Dunes course, Curley notes, "I hope some might consider this to be the most natural course in Asia as we didn't create a single formal bunker. Instead, we used irregularly edged transitional sandy lows and dunes with splashes of native grasses that cut through the fairways at all sorts of angles. Many of the fairways are interconnected and the large greens have strong interior movement, kick-slopes and backstops, all of which promote the ground game, not to mention having fun." The short par-4 7th is drivable and features two greens, one surrounded by sand and the other with a narrow lead-in of turf. Another standout hole is the par-4 15th that heads to sea, wrapping around a sandy marsh.
50. Pine Beach (Pine/Beach)
Haenam, South Korea
G.R. Baird/David Dale, 2009
51. Ballyshear
Tambon Bang Bo, Thailand
Gil Hanse, 2022
Do you celebrate blind shots? How are you in the face of an unexpected bounce, or having to endure the rub of the green? At Ban Rakat Club — affectionately named Ballyshear — architect Gil Hanse created a welcome break from the norm course (especially for Asia) that poses such unconventional questions, with inspiration drawn from C.B. Macdonald's historic-but-no-longer existing Lido course. Shapers transformed a flat site by moving sandy soil to create elevation changes. The par-5 6th hole with its alternate fairway is a triumph in design as it is so rare to find an alternate fairway that actually works — but if you accept the risk of finding the narrower right fairway, you are rewarded with a shorter shot to the green. The course features several C.B. Macdonald-style template holes, and they thrive because of the bouncy conditions. Recent advances with zoysia grasses have transformed what is possible in Thailand's climate; the firmness is produced by the low level of moisture percentage in the fairways, less than what is found at most professional tournament sites around the world. — Tom Brown, GOLF panelist
52. Titirangi
Auckland, New Zealand
Alister MacKenzie, 1927
53. Sentosa (Serapong)
Singapore
Ronald Fream, 1982
54. Kinloch
Kinloch, New Zealand
Jack Nicklaus, 2007
55. FLC Quy Nhon (Ocean)
Binh Dinh, Vietnam
Jim Wagner for Nicklaus Design, 2016
56. Jack's Point
Queenstown, New Zealand
John Darby, 2008
57. The Bluffs Grand at Ho Tram BA
Ria-Vung Tau, Vietnam
Greg Norman, 2010
58. Barwon Heads
Barwon Heads, Australia
Victor East, 1921; Neil Crafter/Paul Mogford, 2005
59. BRG Da Nang (Nicklaus)
Da Nang, Vietnam
Sean Quinn for Nicklaus Design, 2020
60. Royal Canberra
Yarralumla, Australia
John Harris, 1961; Ogilvy Clayton Cocking & Mead, 2016
61. Dunes at Shenzhou East
Wanning, China
Tom Weiskopf/Phil Smith, 2012
62. Grange (West)
Grange, Australia
Herbert Rymill, 1927; Vern Morcom, 1965; Mike Clayton, 2008
63. Mission Hills (Hainan Lava Fields)
Haikou, Hainan, China
Brian Curley, 2011
64. Lake Malaren (Masters)
Shanghai, China
Jack Nicklaus & Jack Nicklaus II for Nicklaus Design, 2011
65. Jagorawi (Old)
Gunung Putri, Indonesia
Thomson & Wolveridge, 1979
Peter Thomson — with design associates Michael Wolveridge, Ronald Fream and construction supervisor Max Wexler — took more than four years to build the Old Course at Jagorawi Golf & Country Club, in the Bogor Regency of West Java, Indonesia. The design is one of the best examples of minimalism on our Top 100 Asia and Australia list. The course was built without land-moving equipment, and the locally sourced construction crew used picks and shovels to clear the rainforest. Sand for the greens was screened from the rivers, which run adjacent to several of the holes. The fairways drain via narrow cement culverts on the perimeter, which flow into the surrounding jungle. But fear not if your tee shots go astray: forecaddies with flags are ready to assist should you carve one into the jungle. Jagorawi is a beautiful walk that follows the topography through the tropical environment. Green complexes are consistent with the slope of the land with an occasional dimple or rise. A round here is a reminder of how painfully over-shaped most modern courses are. — Tom Brown, GOLF panelist
66. Shanghai Links
Shanghai, China
Jack Nicklaus, 1999
67. Koga
Koga, Japan
Osamu Ueda, 1953; Shoichi Suzuki, 1996; Ko Tanihira, 2005
68. Oarai
Oarai, Japan
Seiichi Inoue, 1953
69. Arrowtown
Arrowtown, New Zealand
Reg Romans/B.V. Right, 1936; B.V. Right, 1971
70. Shimonoseki
Ahimonoseki, Japan
Osamu Ueda, 1956
71. FLC Quang Binh (Ocean Dunes)
Hai Ninh, Vietnam
Brian Curley, 2019
72. Myotha National
Sagaing, Myanmar
Lee Schmidt/Brian Curley, 2018
73. Stone Valley
Kim Bang, Ha Nam, Vietnam
Brian Curley, 2018
74. Jack Nicklaus GC
Incheon, South Korea
Jack Nicklaus, 2010
75. The Lakes
Eastlakes, Australia
Robert von Hagge/Bruce Devlin, 1968; Mike Clayton, 2007
76. Amata Spring
Tambon Nong Mai Daeng, Thailand
Lee Schmidt/Brian Curley, 2005
77. Victoria
Digana, Sri Lanka
Donald Steel/Martin Ebert, 1999
The island nation of Sri Lanka, just off the tip of India, is one of the most beautiful countries I have ever visited. Donald Steel delivered at Victoria with a minimalist design that gets the most from the land, courtesy of an excellent routing. The golf is challenging, beginning with the opening tee shot, which requires a carry over a severe right-to-left slope. The stretch from 4 to 6 is as good as it gets: the 4th (below) is a tiny one-shotter at the top of the property with lovely views in all directions; the 5th is a short two-shotter with a high road or a low road to either side of a large central tree, with the third option tempting players to try to carry the tree and drive the green; and the 6th might be the No. 1 handicap hole on the Subcontinent, playing dizzyingly downhill from a high tee over the treetops to a narrow fairway along a ridge, then over a stream to a green benched into the opposite hill. Improbably, the back nine is as good as the front, if not quite as dramatic. The course is narrower than I usually recommend — a tree almost criminally blocks off the left three-quarters of the approach at the 14th — but the par-5 15th and the Redan 16th are outstanding. I hope they eventually cut down a few trees to let the land breathe, because as the terrain and routing are the stars. — Tom Doak, GOLF panelist
78. The National (Old)
Cape Schanck, Australia
Robert Trent Jones Jr., 1988
79. The Dunes
Rye, Australia
Tony Cashmore, 1995
80. Hokkaido Classic
Abira, Japan
Jack Nicklaus, 1991
81. 13th Beach (Beach)
Barwon Heads, Australia
Tony Cashmore, 2001
82. Waverley
Waverley, New Zealand
Ernie Southerden, 1965
Even the most intrepid of golfers are unlikely to find themselves passing through rural Taranaki on the west of New Zealand's North Island. Waverley would be easy to miss, given how the undefined playing corridors drape over the almost overly rambunctious undulations. Three miles from the Tasman Sea, the landscape heaves like windswept sand. The routing flows with, over and against the terrain, turning this way and that, calling for the ball to be worked and the wind constantly judged. A rhythmic sequence, full of intrigue and adventure, is interspersed with half-par holes that tempt and frustrate. Wonderfully varied green complexes with elegant curves sit seamlessly within their surroundings. The elevated, "Tom Thumb" punchbowl green site of the 12th (below) is one to never forget. Bursting with contour and a spirit of adventure, the long 14th tempts a dangerous fence-line following route toward its semi-amphitheater green. The landscape is rich in texture, complemented with distant views of a dormant volcano to distract and inspire. While the sheep-kempt fairways may be too rugged for some, Waverley shares many of the characteristics associated with the world's best golfing playgrounds. — Clyde Johnson, GOLF panelist
83. Cathedral Lodge
Thornton, Australia
Greg Norman, 2017
84. Lonsdale Links
Point Lonsdale, Australia
Ogilvy Cocking & Mead, 2020
85. Kasumigaseki (West)
Kawagoe, Japan
Kinya Fujita/Seiichi Inoue, 1932; Taizo Kawata, 1994
86. Saujana (Palm)
Petaling Jaya, Malaysia
Ron Fream, 1986
87. Laguna Lang Co
Thua Thien Hue, Vietnam
Nick Faldo, 2013
88. Haesley Nine Bridges
Yeoju-gun, South Korea
David Dale, 2009
89. Dunes at Shenzhou West
Wanning, China
Tom Weiskopf/Phil Smith, 2010
90. Blue Canyon (Canyon)
Tambon Mai Khao, Thailand
Yoshikazu Kato, 1991
91. Royal Hong Kong (Composite)
Sheung Shui, China
Eden: l.S. Greenhill, 1931; John Hopkins/Peter Thomson, 1968;
New: John Hopkins/Peter Thomson/Michael Wolveridge, 1970
92. Glenelg
Novar Gardens, Australia
Herbert Rymill, 1927; Vern Morcom, 1954; Neil Crafter/Bob Tuohy, 1998
93. Port Fairy
Port Fairy, Australia
Members, 1963; Kevin Hartley, 1985; Mike Clayton, 2002
94. Nicklaus Club Beijing
Beijing, China
Jack Nicklaus, 2014
95. Royal Queensland
Brisbane, Australia
Carnegie Clark, 1921; Mike Clayton, 2005
96. The Australian
Rosebery, Australia
Jack Nicklaus, 1976, 2013
97. Anyang
Gunpo-Si, South Korea
Chohei Miyazawa, 1968; Robert Trent Jones Jr., 1997
98. Joondalup (Quarry/Dune)
Connolly, Australia
Robert Trent Jones Jr., 1985
Robert Trent Jones Jr.'s North American portfolio is expansive enough to make most architects jealous, but his work in Asia and Australia might be even more impressive, with his designs in several countries scattered throughout this ranking. No doubt, he was one of the early trailblazers from the U.S. who helped expand the game in Asia-Pacific. Built in 1985, Joondalup is just north of Perth in Western Australia. Perth is a charming city but its remoteness (it is three hours from Adelaide by plane) keeps many Americans away and has prevented this resort course from being better known. The Quarry nine is the showpiece of RTJ Jr.'s 27 holes here and highlights his natural flair for drama. Take the 3rd hole. Though short at 135 yards, it is all carry over a gnarly 60-foot deep quarry, and the green is adept at soliciting three-putts. On the Dune nine, Jones perfectly routed the dogleg-right 3rd hole to finish at the base of a steep cliff, creating an indelible backdrop. Try to book an early-morning or late-afternoon tee time; the effect that the shadows have across these landforms only heightens the excitement.
99. Siam (Old)
Tambon Pong, Thailand
Ichisuke Izumi, 1971; Lee Schmidt, 2007
100. Portsea
Portsea, Australia
Jock Young, 1926; Sloan Morpeth/Jack Howard, 1960; Mike Clayton, 2000
More GOLF course rankings: Top 100 Courses in the World | Top 100 Courses in the U.S. | Top 100 Courses You Can Play | Top 100 Value Courses in the U.S. | America's Best Municipal Courses | Top 100 Courses in the U.K. and Ireland | Top 100 Short Courses in the World