The British Poet William Cowper once — and famously — wrote, "Variety is the very spice of life… that gives it all its flavour." Cowper penned the sentiment more than 230 years ago, and, though it still rings true, it's doubtful he had golf on his mind when he dreamed it up. Yet kudos to ol' Will because if there's a dominant theme to GOLF's inaugural ranking of the Top 100 Courses in the UK and Ireland, it's variety. From the rambunctious links carved into the Emerald Isle's Southwest coast to the elegant heathland courses dotted across the English countryside, diversity rules. True, links and heathland designs dominate the list (the top 24 are one or the other), but beyond you'll find other course types, including common ground, moorland, parkland, cliff top, valley and downland.
I've been noodling around with course rankings for 37 years, and I can't imagine any other list offering such a startling — and appreciated — range of experiences. A quick example: The Old Course at St. Andrews (No. 1) is pocked with 112 bunkers — exactly 112 more than the number on Royal Ashdown Forest (No. 69). (An act of Parliament banned the addition of artificial hazards when Ashdown came to being in the late 1880s, paving the way for a memorable golf encounter—and the fictional exploits of Winnie-the-Pooh, Tigger and pals there some 40 years later.)
More GOLF course rankings: Top 100 Courses in the World | Top 100 Courses in the U.S. | Top 100 Courses You Can Play | Top 100 Value Courses in the U.S. | America's Best Municipal Courses | Top 100 Short Courses in the World
Just focusing on bunkers, we find great variety. The greens and fairways at traditional links courses, such as Muirfield (No. 4) and Royal Lytham & St Annes (No. 18), are guarded by steep, revetted bunkers. Perhaps the most imposing bunker on the islands is the infamous "Himalayas" on the 4th hole at Royal St. George's (No. 8) — a nasty 40-foot-deep (!) hazard forged from a towering dune. Other places (Prestwick, No. 19, and Westward Ho!, No. 55) showcase pits buttressed by railroad ties. And before you ask, yes, it was a trip to Prestwick in 1963 by Alice and Pete Dye that gave the duo the inspiration for railroad-tie-girded hazards at Harbour Town, and later TPC Sawgrass and other Dye gems here in the United States.
Strategic and photo-worthy sandscapes aside, some of the most memorable approach shots nested in our Top 100 British list play to bunkerless greens surrounded by tight, short grass. Two stellar examples are the 6th at Ballybunion Old (No. 9) and the 14th at Royal Dornoch (No. 3). On the former, you'll pine for bunkering if and when your approach shot gets swept away left of the long narrow green.
Again, variety.
It's the spice of life — and course design. You'll find it all over our latest ranking. Enjoy!
Methodology: How we rate courses | Meet our expert raters
Ed. note: Each of the top 30 courses in this ranking includes a description by Ran Morrissett, as do several of the courses from 31-100. Asterisks after course names indicate former Open Championship venues. The courses' locations may be found on this map, with the numbers corresponding to the course ranks. (Zoom in for a closer look!)
1. St. Andrews (Old)*
Fife, Scotland
The birthplace of golf features hidden pot bunkers, huge double greens, iconic holes such as the Eden, Road and Long and strategic options galore that change with the day's wind and hole location. On calm days, the course can appear innocuous but when the breeze picks up, the Grand Old Lady requires some of the game's deftest shots. The Old Course, which this month plays host to its 30th Open Championship, might well possess the fastest, best turf in the sport (despite, or perhaps because of, its constant use) and no design possesses the flexibility in allowing golfers of all ages and abilities to enjoy themselves. Modern architects, take note!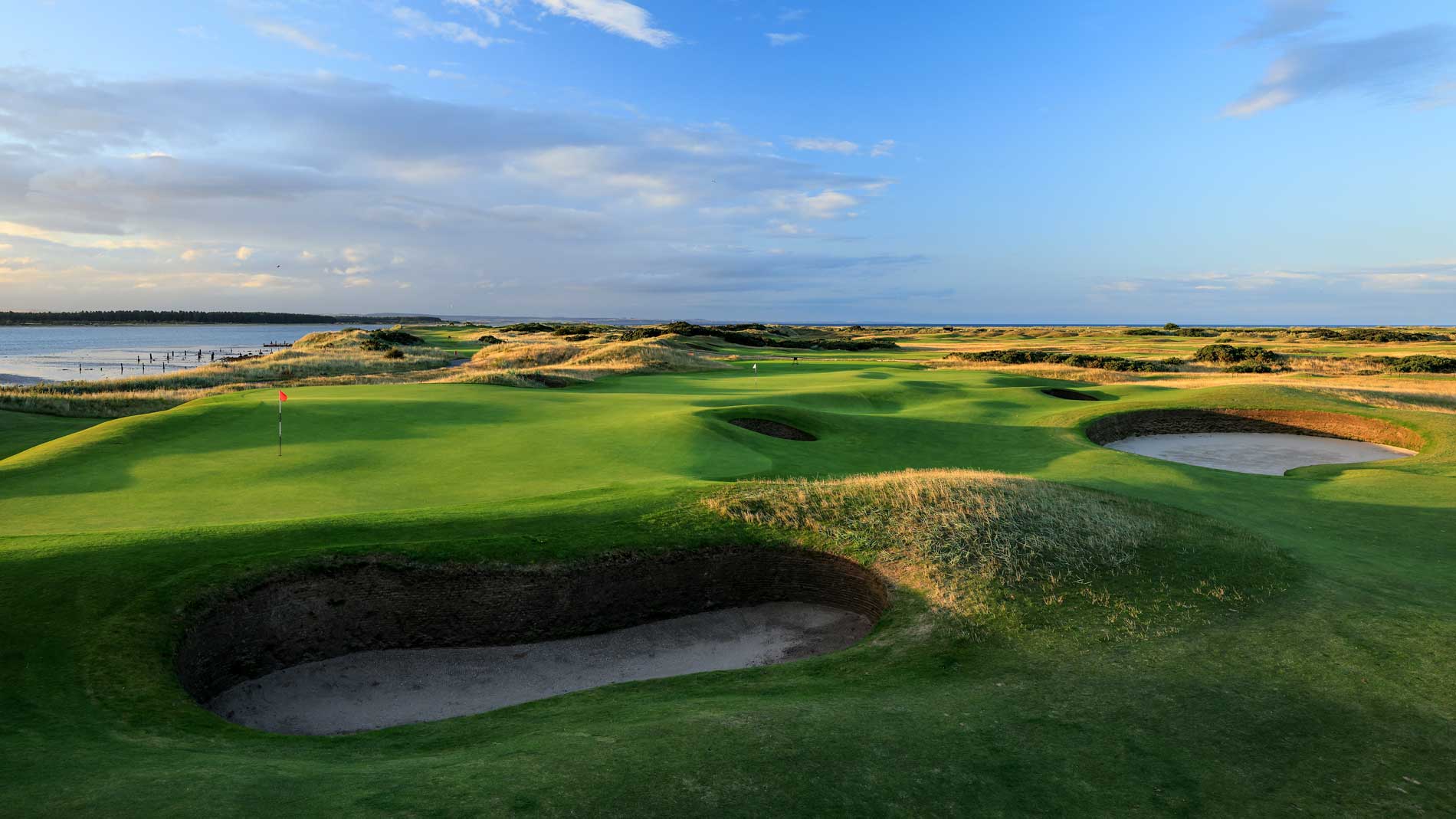 2. Royal County Down (Championship)
Down, Northern Ireland
The evolution over more than 130 years of this design is fascinating and has yielded what most consider to be the game's finest front nine. Blind tee shots abound, in brilliant fashion at such holes as 2, 5 and 9. Yet, ask members their favorite hole and they are likely to single out the banana-shaped 13th, which runs through a valley. Member George Combe deserves much of the credit for RCD as 120 years ago he shepherded the course through the transition to the rubber core Haskell ball. Always interesting to ponder why so many elite courses owe much of their substance to individuals who only designed a few courses.
3. Royal Dornoch (Championship)
Highland, Scotland
After Tom Watson played here before his Open defense in 1981, he said that the experience was "the most fun I've ever had on a golf course." Donald Ross grew up here, though Dornoch took its final shape as we know it well after he left. Indeed, the course is similar to Oakmont, Pinehurst No. 2 and NGLA in the sense that one man's steady hand (in this case John Sutherland's) elevated the design over a period of several decades. Its most famous hole (the two-shot bunkerless 14th, called Foxy) is along the North Sea but its finest sustained stretch is inland (holes 2 through 6). The 7th was markedly improved in 2019 by Tom Mackenzie. By the time you reach it, you are already bewitched.
4. Muirfield*
E. Lothian, Scotland
This 16-time Open venue so impressed Jack Nicklaus in his 1966 win that he named his own course in Ohio after it. Tom Weiskopf cites the primary appeal: "The continuous change in direction from hole to hole leads to different winds, great balance and maximum variety." The course enjoys a relentless sense of perfection with its near vertical greenside bunker faces exacting a heavy toll on those who stray. The absence of artificial mounding coupled with features sunk into the ground lend this low-profile course a sublime beauty. Indeed, when you reflect on Muirfield's clean lines, you realize how over-shaped and junky many designs are. The one-shot 13th into a saddle and the reachable, three-shot 17th will provide key moments coming down the stretch at the AIG Women's Open this August.
5. Royal Portrush (Dunluce)*
Antrim, Northern Ireland
The only course outside of England and Scotland to play host to the Open is perennially ranked in the world's top-15 courses, thanks to a superior 1929 H.S. Colt design that maximizes its setting in the high dunes along the Irish Sea. The golf world saw two new holes in action at the 2019 Open: the 7th and 8th, which replaced the old, comparatively dull 17th and 18th holes. Both nines touch the cliff line, with the course's most spectacular moment coming at the 5th, which doglegs right to a two-tiered green flush against the cliff. Indeed, many holes elbow one direction or the other, so driver is not an automatic decision.
6. Trump Turnberry (Ailsa)*
Ayrshire, Scotland
Turnberry began as a Willie Fermie design and part of the famous Culzean estate. It has been associated with the Turnberry hotel for more than 100 years. Neither World War was kind to the property, and Mackenzie Ross's reconstruction after WWII provides the core of today's layout. After a recent ownership change, Martin Ebert performed a superb upgrade that better utilizes the jagged cliff line. The famed tee at 9, near the iconic lighthouse, was preserved, but its semi-blind turtleback fairway wasn't, instead replaced by a stunning par-3. The 10th also has a new look: it's now a par-5, longer and more complex, while 11 moves closer to the shore. The 6th was shortened to accommodate a splendid new back tee at the home hole. All and all, the changes propel the Aisla course into the highest echelon of links for both challenge and beauty. Turnberry became an Open venue in 1977 and was the site of two of the most memorable editions, both headlined by Tom Watson.
7. Sunningdale (Old)
Surrey, England
Golf in the United Kingdom originated along its coastline on linksland but as the sport became popular, people wanted courses nearer to where they lived. One of the earliest inland courses that established a new standard in design was here at Sunningdale just after the turn of the last century. When you layer on Harry Colt's improvements (such as moving the 12th green high and to the left) to Willie Park Jr.'s original effort, you end up with England's highest ranked course.
8. Royal St. George's*
Kent, England
This 16-time Open host dates to 1887. "Sandwich," as it is known colloquially, occupies some of the most rambunctious dunes of any Open venue, which means there are more blind shots here than at any other current host site. Some professionals embrace that aspect while others are leery. Amateurs, who look at links golf as an adventure vs. a livelihood are more uniformly effusive in their praise. Though Sandwich is expansive, tense moments present themselves, including on the 4th tee, where you must clear a fearsome 40-foot-deep fairway bunker. James Bond creator Ian Fleming was a big fan of the perils of the perched 10th green, but the nerviest moment comes at the par-5 14th tee with out-of-bounds hard along the right.
9. Ballybunion (Old)
Kerry, Ireland
This Southwest Irish gem is wedged between huge sandhills and the Atlantic Ocean. "Nothing less than the finest seaside course I have ever seen," said Hall of Fame writer Herbert Warren Wind. Echoed five-time Open champion Tom Watson, "It is one of the best and most beautiful tests of links golf anywhere." Greenkeeper John Bambury embarked seven years ago to convert the poa greens to fine fescue and to re-establish the running game. His hard work has reached fruition. World-class holes abound, including the 470-yard 11th, which cascades downhill to a green between two dunes, and the picture-perfect 210-yard 15th.
10. North Berwick (West)
E. Lothian, Scotland
East of Edinburgh sits this fabled links. Among its many highlights is the 15th hole, the much-copied Redan, a par-3 played to an elevated, diagonal green that slopes from high-right to lower-left. In the memorability department, however, 15 takes a backseat to the par-4 13th, The Pit, whose green sits behind a low stone wall. Less discussed but just as thrilling is its 16th green, with its left and right plateaus separated by a deep channel. The sheer variety of obstacles here make other designs look milquetoast.
11. Lahinch (Old)
Clare, Ireland
Old Tom Morris' 1893 design, coupled with Alister MacKenzie's 1927 enhancements, including the 9th green and Martin Hawtree's 2003 push into the big dunes, proves an irresistible combination of beauty, challenge and fun. The course is a poster child for Irish tourism, with its tumbling dunes and the Cliffs of Mohr just to the north. The golf is every bit as good as the setting, headlined by a sterling set of two-shot holes that fall across the land in every conceivable manner.
12. Carnoustie (Championship)*
Angus, Scotland
This ancient links dates to 1842 and is defined by heather, gorse, jungle-like fescue rough, steep-faced revetted bunkers and the sinuous Barry Burn — all of which create havoc in the wind. The meanest of the Open rota courses has produced winners such as Ben Hogan, Gary Player and Tom Watson. A poor course set-up for the 1999 Open furthered its reputation as "Carnastie." That's a shame. Played from the appropriate set of tees, you will be pleasantly surprised — and thoroughly impressed — by the course's variety and its excellent, diverse set of greens, including the clever shared double-green at 4 and 14.
13. St. Patrick's Links
Donegal, Ireland
Ireland's dunes have benefited from sand deposits over the millennia along its West Coast as exemplified by its fabled links in the Southwest, including Ballybunion, Lahinch and Waterville. Set in the Northwest county of Donegal, St. Patrick's, too, will soon become a household name with golfers flocking here to experience the unbridled joy that comes from playing in and among heaving wind-battered dunes. The course looks like it has been there for a century, instead of having opened in 2021, which speaks volumes of the routing and the talented shapers who worked the project. Some of the interior green contours like those on 5, 10, 11, and 17 are as dazzling as the overall environment. Both casual golfers and architecture buffs alike should take note of the features that make the three longest par-4s (9, 11 and 16) so much fun to play.
14. Royal Birkdale*
Merseyside, England
Many consider this links to be the "fairest" Open rota course as most of the holes roll through valleys and blind shots are few, despite the course being set among towering dunes. Australian legend Peter Thomson won the first Open played here, in 1954, and Birkdale has staged nine other editions, most recently Jordan Spieth's remarkable win in 2017. Both nines are beautifully balanced, and Birkdale's great holes are evenly spread across the course. Two of the best are the 1st, a tough two-shotter that swings left through a valley, and the one-shot 12th, with its hard-to-hit green surrounded by peril; the 12th was added in the 1960s by Fred Hawtree Jr., making it one of the youngest holes on the rota.
15. Swinley Forest
Berkshire, England
Unlike America, England doesn't have a phobia about courses with par under 70. Seeing a 6,431-yard, par-69 course like Swinley Forest be embraced by our raters as an epitome of great design is a powerful message. Like Rye, its quintet of one-shotters and sub-70 par make it more of a complete test than a quick glance at its scorecard might indicate. Harry Colt considered Swinley Forest his "least bad" design, proving he was much better at letting his work speak for itself than he was at promotion!
16. Woodhall Spa (Hotchkin)
Lincolnshire, England
Credit architects H.S. Colt and S.V. Hotchkin for enhancing Harry Vardon's initial work and turning the course into one of golf's supreme inland delights, an oasis amid the surrounding flat fenland of Lincolnshire. Deep bunkers are Woodhall Spa's defining trait, along with plentiful gorse and a stellar set of par-3s. A meticulous restoration carried out by Renaissance Design in recent years saw trees felled and heather regenerated. The course is 150 miles north of London and not part of a cluster of renowned designs, so it gets less attention than it deserves. That's a shame, because some of the outpost courses on our list — including Notts, Silloth on Solway and Askernish — are here and are emphatically worth the travel.
17. Portmarnock (Old)
Dublin, Ireland
On approach to the Dublin airport, keep your eyes peeled out the window for a glimpse of Portmarnock's idyllic location at the end of a peninsula. The sense of seclusion is palpable, even though you are only 7 miles as the crow flies from a bustling capital city. Seve Ballesteros, Bernhard Langer and Ian Woosnam won Irish Opens here. Arnold Palmer once tabbed the 15th as one of golf's best par-3s and yet the other par-3 on that side, the shorter 12th, is just as good. Be prepared for some of the fastest, purest fescue running conditions you'll find anywhere. Also, don't miss Portmarnock's third nine, the Yellow Nine.
18. Royal Lytham and St. Annes*
Lancashire, England
Regardless of whether the wind is blowing or how much technology changes the game, Lytham's 205 bunkers mean that this rugged links will always be ready to test the best, just as it has done since 1926 when it played host to its first Open Championship. One of those bunkers, in the left-center of the 18th fairway, cost Adam Scott the 2012 Open. Indeed, the entire 18th hole is a masterclass of how to stagger fairway bunkers to create playing interest and should be recognized as one of the game's top dozen finishers. No one was better at getting out of jail than Spain's Seve Ballesteros, who twice won here in glorious fashion.
19. Prestwick*
Ayrshire, Scotland
This site of 24 Open Championships (including the first 12) features an irresistible combination of quirk and muscle. The lumpiest/bumpiest ground is near the clubhouse and yields such marvels as the 1st, with a stonewall and railroad line hard down the right of the fairway, the Narrows 15th and the famous Alps 17th. Meanwhile, a brawny collection of two-shotters defines the stretch from 6-10. Add all the asks together and you have a historic course like no other. The more you travel, the more you appreciate Prestwick's unique charms. Its influence on the direction of architecture is undeniable, thanks to the impression it made on designers from C.B. Macdonald to Pete and Alice Dye, who, a few years after their 1963 visit, included railroad planks at Harbour Town.
20. Cruden Bay (Championship)
Aberdeenshire, Scotland
This cult classic is a personal favorite of both Pete Dye and Tom Doak. Twenty-three miles north of Aberdeen, Cruden Bay offers many novel features, including the postcard-perfect par-3 4th, which overlooks the Water of Cruden and the fishing village of Port Erroll, and the par-4 14th, with its funnel-shaped bathtub green. The 4th kicks off a five-hole stretch that any links would love to claim as its own, so varied and well-conceived is each hole. The walk from the parking lot down to the course provides long views that will have you itching to play.
21. Royal Troon (Old)*
Ayrshire, Scotland
Arnold Palmer, Tom Weiskopf and Tom Watson are among the Americans who have triumphed at Troon, yet the most memorable shot was struck by a non-winner: 71-year-old Gene Sarazen, who aced the 123-yard "Postage Stamp" 8th during the 1973 Open — with a 5-iron! The mighty-mite 8th gets much of the attention, but Troon also has a host of sterling two-shotters, including the 7th, 11th, 13th and 15th. The stonewall separating the course and the rail line is unnervingly close to the right of the 11th green and serves as a great litmus test to determine who is (and isn't) in control of their swings. Celebrate the Postage Stamp but pay heed to the course's other riches, too.
22. St. George's Hill (Red & Blue)
Surrey, England
From London's heathland to the cliffs of Northern Ireland to sandy sites in the Netherlands, H.S. Colt enjoyed many fine sites in Europe over his extended career. One of the best is this property, where he teased a diverse collection of holes from the rolling landscape. His placement of the green sites — some on knobs or plateaus, some at ground level, and the magnificent 10th green at the hole's low point beyond a hillock — define the challenge. Most vexing is perhaps the ½ par 4th hole, which is downhill and only 272 yards but it is shocking how quickly one goes from the hunter to the hunted.
23. Sunningdale (New)
Surrey, England
H.S. Colt's New Course is now 100 years old and stands on its own merits to its sister course. In fact, some golfers prefer the more muscular New Course to the Old. Heathland golf around London is famous for many reasons but the strength of its par-5s isn't one of them. Two of the New's par-5s — the 6th and 13th — are exceptions and anchor each nine. Additionally, the best par-3 at the club is on the New (the 5th, which plays from high point to high point across a heath-laden valley). The par-4s run the full gamut, from the beefy 4th that rewards a fade off the tee and a draw for an approach to the sub-400-yard 12th, which plays to a plateau green.
24. Rye
E. Sussex, England
The opener is the easiest hole (and the course's only three-shotter) and then … hold on! What follows are a dozen par-4s, 10 of which measure more than 420 yards, and an infamously diabolical group of five par-3s that have this 6,503-yard course weighing in yard for yard as one of the most difficult on our list. The fact that you can walk Rye in two and half hours makes you question the merit of courses that are so much longer.
25. Ardfin
Argyll, Scotland
Australian architect Bob Harrison didn't need to rely on bunkers to make this one of the world's most photogenic courses. In fact, "only" 29 such hazards are spread across the 18 holes. Still, the golfer is put on notice early, with the tee shot at the 205-yard 2nd needing to carry a 100-foot (!) chasm. The 6th tee is on both the farthest point inland and the highest point, providing sweeping views across the water to the Isle of Islay three miles away. The thrill ride continues, with holes 8 through 11 hugging the cliff line. Eventually, golfer find themselves teeing off along the pebbled shoreline for holes 12-14, some 250 feet below the aforementioned 6th tee. Harrison mixes up the asks with a variety of fine green complexes. Most are open in front to accommodate for the wind; some greens (e.g., 3rd, 7th) fall away from the player; a couple (e.g., 6th, 11th) are knobs that are particularly vexing to hold; and the long narrow green at the 9th necks down to 12 paces and amply defends par at this all-world, drivable 295-yard par-4.
26. Kingsbarns
Fife, Scotland
This 1999 Kyle Phillips design 15 miles from the Old Course has earned the respect of links fans, who can be a tough bunch as they generally travel to the United Kingdom to play courses that are 100-plus years old. There is much to admire here, including the 606-yard, par-5 12th, which arcs around the bay, and the 212-yard, par-3 15th that demands a carry over the sea. Others might relish the shelf green at the 9th that poses similar intriguing questions as the 12th at the Old Course. Kudos to Phillips as the seamless melding of flat farmland and Old World links contours is quite the design accomplishment.
27. Royal Liverpool*
Merseyside, England
"Hoylake," as it's popularly known, welcomed its 12th Open Championship in 2014 (and will again play host to the championship in 2023). It's not a dramatic course in the conventional sense as there are no lighthouses or cliffs that doll things up. But its fairways are rumpled and its numerous revetted bunkers are well placed and invariably extract a ½-shot penalty. There's also internal out-of-bounds, known as "cops," a feature for which the course is well known. When the wind is up, Hoylake is one of the game's fiercest links, one that requires supreme shotmaking, as demonstrated by Tiger Woods' virtuoso performance at the 2006 Open.
28. Machrihanish
Argyll, Scotland
Situated on the Mull of Kintyre, the course makes the most of its romantic setting, starting with the opening tee shot set on a diagonal across the beach. One panelist considers the 3rd the ideal links hole, writing: "The tee ball is blind over a heaving dune, which creates a sense of adventure as you aim your ball into the unknown. Then, as you crest the hill, a view of the Irish Sea emerges in the distant with the beautifully situated green in the foreground, sunken in its own natural amphitheater." The rumpled fairways never let up and serve up the usual awkward stances that complicate playing in the wind. But the real star is the greens. The putting surfaces from 12 through 16 are brilliantly constructed and a reminder that the best links holes aren't necessarily confined to those closest to the sea. Always a delight to find a course that poses so many first-rate questions, all while measuring under 6,500 yards.
29. Royal Cinque Ports*
Kent, England
This former Open venue, often referred to as Deal, is a few miles south along the English Channel from Royal St. George's — but the two properties couldn't be more different. St. George's is the bigger, more sprawling of the two with Cinque Ports being built on a thinner ribbon of land. While it doesn't have the vastness of St. George's, RCP has micro-contours galore that will delight any links golf aficionado. The humpy-bumpy fairways are rivalled by its superlative collection of greens, from the punchbowl 3rd to the 12th between two ridges to plateaued surfaces at 6 and 16. Bernard Darwin deemed the dip before the 16th green to be "the valley of inglorious security." To his point, you might initially be happy to see your ball at the base of the green in two but trying to hit to an elevated surface from a tight lie is no small ask.
30. Castle Stuart
Highland, Scotland
GOLF Magazine's Top New International Course of 2009 has maintained its lofty results thanks to a brilliant Gil Hanse/Mark Parsinen design. Highlights include wide fairways, wild and woolly bunkers and panoramic views of Moray Firth and the Scottish Highlands. Its thrilling finish features three consecutive ½-par holes where anything can happen: the drivable 16th, the brutish one-shot 17th (which plays in the opposite direction as 16) and the par-5 18th, which cascades downhill toward the distinctive white art-deco clubhouse. The stunning long views across the Moray Firth provide inspiration and comfort even when your swing does not.
31. St. Enodoc (Church)
Cornwall, England
32. Walton Heath (Old)
Surrey, England
33. Royal Porthcawl
S. Wales, Wales
34. Ganton
E. Yorkshire, England
35. Royal Aberdeen (Balgownie)
Aberdeen, Scotland
36. Askernish
Inverness-shire, Scotland
37. Trump International Scotland
Aberdeenshire, Scotland
38. Royal West Norfolk
Norfolk, England
If you love Prestwick, you will adore Royal West Norfolk, too. Sleepered bunkers and interesting green placements are the obvious comparisons but the design, which, like Prestwick, dates to the 1800s, also boasts a host of original features. Look no further than the reachable par-5 8th, which twice hops over a marsh, and the par-4 9th, with its fortressed green bulwarked by planks. At low tide, you might even be able to play a recovery shot from the marsh. The noble clubhouse clings to the shoreline with the North Sea churning below.
39. Waterville
Kerry, Ireland
40. Notts
Nottinghamshire, England
41. West Sussex
Sussex, England
42. Silloth on Solway
Cumbria, England
43. Royal Worlington & Newmarket
Suffolk, England
44. Gleneagles (King's)
Perthshire, Scotland
45. Western Gailes
Ayrshire, Scotland
46. Woking
Surrey, England
47. Loch Lomond
Dunbartonshire, Scotland
48. Alwoodley
W. Yorkshire, England
49. Gullane (No. 1)
E. Lothian, Scotland
50. County Louth
Louth, Ireland
51. Addington
Surrey, England
One of the United Kingdom's best restoration projects is presently underway at this rambunctious heathland course just outside London. Clayton, DeVries & Pont are overseeing a reduction in trees, the regeneration of proper conditions for heathland golf, and the return of J.F. Abercromby's bold design features. One of the game's best one-two punches is surely the 485-yard 12th followed by the 230-yard 13th, both of which will have you spewing superlatives.
52. Formby
Merseyside, England
53. County Sligo
Sligo, Ireland
54. Enniscrone (Dunes)
Sligo, Ireland
55. Royal North Devon
Devon, England
56. The Island
Dublin, Ireland
57. Nairn (Championship)
Highland, Scotland
58. Burnham & Berrow (Championship)
Somerset, England
59. Saunton (East)
Devon, England
60. The Berkshire (Red)
Berkshire, England
61. Pennard
S. Wales, Wales
62. St. Andrews (New)
Fife, Scotland
63. Brora
Highland, Scotland
When venturing to Dornoch, always save time for a round or two on this most natural of links courses 30 minutes to the north. Brora is a common ground course where sheep and cows enjoy the right of way, but not to worry: a wire encircling most greens ensures the livestock won't do any damage. The out-and-back routing is laced with good to great holes, featuring a couple of abrupt changes in elevation, but the golf largely is played over rumpled land with three- to eight-foot rise and falls. Of note is the 17th, a 430-yarder that is as one of Scotland's finest holes. In fact, Brora might well turn into your trip's most memorable round as you become comfortable playing in front of the four-legged spectators. Few golfers have played here only once, which is a tell-tale sign of the joys that await.
64. Trump Internatioinal Golf Links Doonbeg
Clare, Ireland
65. Tralee
Kerry, Ireland
66. Carne (Wild Atlantic)
Mayo, Ireland
67. Huntercombe
Oxfordshire, England
Willie Park Jr. invested his own money into this project so to say that he gave it his all is no exaggeration. If you want to see what design features the man who built Maidstone prized, make the 50-mile drive west of London toward Oxford. You will find that Park favored the innovative use of pits, hollows and depressions much more so than bunkers. Plus, virtually every hole is capped with a memorable green complex. One moment, you're admiring the lay-of-the-land 2nd green that is an extension of the sloping fairway, and the next, you're agog at the boldness of the bunkerless 4th green with a 10-foot deep pit guarding it, not to mention the three-foot-plus step in its dramatic two-tiered green. For fans of the recently restored Meadowbrook outside Detroit, this course provided Andy Staples with much of his inspiration. Staples isn't the first architect to study Park's inland masterpiece for ideas: C.B. Macdonald was there in 1906 doing the same!
68. Adare Manor
Limerick, Ireland
69. Royal Ashdown Forest
E. Sussex, England
70. Southport & Ainsdale
Merseyside, England
71. Hillside
Merseyside, England
72. Stoneham
Hampshire, England
73. Portsteward (Strand)
Londonderry, N. Ireland
7

4. Wentworth (West)
Surrey, England
75. Huntstanton
Norfolk, England
76. Hankley Common
Surrey, England
77. Renaissance Club
E. Lothian, Scotland
78. Broadstone
Dorset, England
79. European Club
Wicklow, Ireland
80. The Golf House Club
Fife, Scotland
81. Walton Heath (New)
Surrey, England
82. Aberdovey
Surrey, England
83. Old Head
Cork, Ireland
84. Royal St. David's
Mid Wales, Wales
The front nine on what is one of four Welsh courses to appear in our ranking heads away from town. The glories of Snowdonia National Park's mountain range serve as the backdrop for the 5th and 6th holes, which head in an easterly direction. As one starts to return toward town, the 13th-century Harlech Castle lords over play until you disappear into some rousing dunes for holes 14-17. It's exemplary how the holes explore the various aspects of the property and ultimately build to a climactic finish with a long one-shotter in front of the clubhouse.
85. The Berkshire (Blue)
Berkshire, England
86. New Zealand
Surrey, England
87. Machrie
Argyll, England
88. Rosapenna (Sandy Hills)
Donegal, Ireland
89. Moortown
W. Yorkshire, England
90. Macrihanish Dunes
Argyll, Scotland
91. Skibo Castle (Carnegie)
Highland, Scotland
92. Worplesdon
Surrey, England
93. Dumbarnie Links
Fife, Scotland
94. Cleeve Hill
Gloucestershire, England
95. Liphook
Hampshire, England
96. Delamere Forest
Cheshire, England
97. Fraserburgh
Aberdeenshire, Scotland
When you stand on the first tee, you might question why we highly recommend this course: the hole is dead flat and is followed by a 2nd hole that climbs what appears to be a mountain. But once you crest the hill, you quickly find yourself in some of the game's most glorious dunes. Among the highlights is the 345-yard 13th, aptly named Hillocks, with has two Spectacle bunkers cut into mounds that wall off the fairway some 230 yards from the tee; the wind will have a large say in whether you should attempt to carry them. Regardless, the green is nestled in its own series of dunes and features a five-foot drop from back to front. James Braid deserves the design credit, and he built one fine hole after another all the way through the 17th, before the Home hole returns to the same field as the 1st. The word "hidden" soon won't preface "gem" when discussing this links.
98. Prince's*
Kent, England
99. Ballyliffin (Old)
Donegal, Ireland
100. Littlestone (Championship)
Kent, England
Need help unriddling the greens at your home course? Pick up a custom Green Book from 8AM Golf affiliate GolfLogix.