Bobby Jones, Babe Ruth and even the term 'mulligan' play a part in Winged Foot's rich history
Christian Hafer
From the moment you get a glimpse of the clubhouse at Winged Foot Golf Club, you know you're in the presence of something historically significant. Upon entering, there's no need to wonder, If these walls could talk.… There is no if. Take a look at what's hanging from every surface and you'll not only feast on Winged Foot's remarkable history but also the role the club has played in shaping the game itself.
Sit at the bar after your round — if, of course, you're lucky enough to have scored one — and each conversation you'll eavesdrop on will be passionately about golf. "Neil, swing by here for a moment" is a steady refrain as a member seeks out the club's encyclopedic historian, Neil Regan, who'll recall for visiting guests the 1929 U.S. Open in thrilling detail while gazing at Bobby Jones' scorecard from the event. Maybe Regan will share the tall (and taller with each telling) tale of a fabled Mickey Mantle long drive or the origin story of the term "mulligan."
"Spend five minutes in the locker room or clubhouse and listen around you," said Regan. "You won't hear many business discussions. This is a golfer's club. Golf is always on our members' minds."
Regan's family has Winged Foot roots going back nearly 70 years, and he became a member himself in 1990. "When I see the names of the founders, I know their children and even their grandchildren," he said. "I've seen families grow up around here."
A self-proclaimed late bloomer when it comes to golf, Regan's first passion was history. He knows a lot about, well, a lot. At Brown University, Regan was a Classics major. Once he became a member at Winged Foot, Regan grew fond of Doug LaRue Smith, the historian who proceeded him.
Smith would routinely hold shop in the clubhouse with tales of America from the turn of the 20th century. He embodied "The Greatest Generation" — a decorated World War II hero, Silver Star and Purple Heart recipient, and successful advertising mogul. During his time in the military, Smith suffered a broken back and earned the right to go home. Rather than head back stateside, he left the field hospital and rejoined his infantry to continue fighting.
Though Smith seldomly spoke of his time at war, when probed about why he took such a liking to preserve the history of a country club, he had a profound response.
"When we were fighting in WWII, we weren't fighting for freedom as a concept. We were fighting for free people," Smith would say. "There's a difference. Free people are free to do what they choose to do. And that's the important thing. I chose to play golf. By keeping a history of this golf club, it's the small histories that keep us free."
Utilizing his resources as an advertising executive, Smith began putting together "Foot Notes," a member newsletter that ran four to five times a year. The newsletter allowed Smith the opportunity to inform members not only of current happenings and upcoming events but also with tidbits of the storied past at Winged Foot. Smith worked with Bill Morley, a fellow member and history buff, in the organization and upkeep of historically significant artifacts and documentation in several closets within the clubhouse's attic.
There aren't many clubs that are preserving history from a PGA Championship, five U.S. Opens (soon to be six), two U.S. Women's Opens, two U.S. Amateur championships, Walker Cup and a U.S. Senior Open. And that's just from tournaments hosted. Tommy Armour was a Winged Foot member who won three major titles. Head professionals Claude Harmon and Craig Wood both won Masters while working at Winged Foot. The list of accolades from those attached to the club goes on and on.
When a friendship blossomed between Smith and Regan, they began working together to raise awareness for the club's history. Regan, and Smith before him, became popular figures in the clubhouse.
Regan often recalls the tale of Mickey Mantle hitting a drive that is hard to believe even by today's standards. In May of '59, a month before the '59 U.S. Open, Mantle allegedly struck a drive more than 300 yards on the 15th hole. "By the time Mantle got back to the clubhouse, that ball had landed in a member's backyard some 360 yards out," Regan recalls. "After a Google Earth search, and with confirmation from Mantle's playing partner, who was a member here, I estimate Mantle's drive went anywhere from 310-330 yards depending on the tee box. Remember, this is 1959."
Mantle isn't the only New York Yankee to leave his mark on Winged Foot. In 1929, Babe Ruth used an off day to soak in the U.S. Open action. The winner that year was Bobby Jones, golf's equivalent to Ruth. There's an iconic photo of Ruth kneeling down behind Jones with a cigar in his mouth. A moment in time that could have only happened at Winged Foot.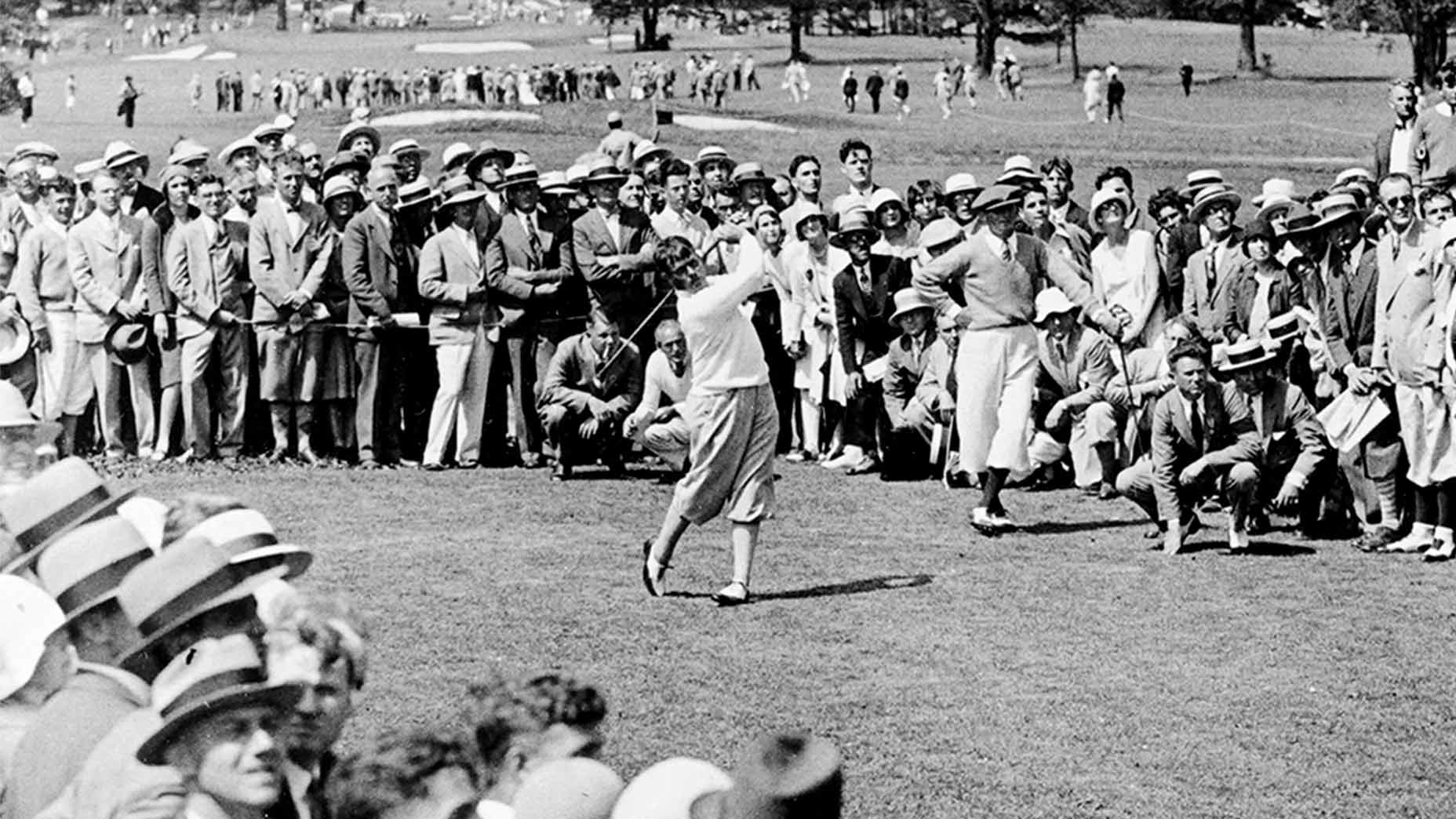 Ruth was spotted spending significant time playing at Winged Foot in the weeks before the U.S. Open while nursing a mysterious injury. But in '29, the most prominent sportswriters in town were Winged Foot members, and so Ruth's transgressions remained their little secret.
Even the term "mulligan" is said to have roots stemming from the club. While many variations exist and plenty of clubs claim ownership to one of the most well-known golf terms, Smith traced its origins to Winged Foot during his tenure as club historian. A hotel executive named David Mulligan would often cut out of work early and race up to Winged Foot from New York City. He was known to rush to the first tee without a warm-up and would often ask to hit a second shot, citing his drive as an excuse. And with that, the story goes, the mulligan was born.
Regan resumed the role of club historian alongside Smith starting around 2000. Smith contributed to the cause up until his death in 2007. When Winged Foot's West course began the restoration process 12 years ago, there was new energy to celebrate the club's history. Regan began working with Dermod Sullivan and the club's board to expand the collection of historical artifacts and expand its presence throughout the clubhouse, scouring auctions and the likes of eBay for new items to be added to their collection.
From a Bobby Jones signed scorecard to a photo of Ruth to tournament-used gear from Claude Harmon to a fan's paper periscope used to see the action above the crowds at the '59 U.S. Open, there's a vast collection for members and visitors alike to wander and gaze at throughout the clubhouse. And what's on display only scratches the surface of what's tucked away in the attic, where Regan sets up shop with a view of the 18th green through a tiny window. It's a scene straight out of "American Pickers," but you won't find anything for sale in this room.
History will long be preserved at Winged Foot, and more will be uncovered soon.
The year 2023 marks Winged Foot's 100th anniversary. The club's founders left a box in the Cornerstone to be opened at the 100-year mark. "I'm anxious about what's inside just thinking about that," said Regan. "We're excited to celebrate and possibly discover even more of Winged Foot's history."
Golf Magazine
Subscribe To The Magazine
Subscribe