Why Jordan Spieth's 'perfect swing' bogey echoed another famous miss
Getty Images / CBS
Jordan Spieth's bogey on the 17th Sunday while in the lead at the Pebble Beach Pro-am definitely was surprising. The man has played that course so well, and he was wrapping up a weekend of ball-striking his you-know-what off. 
But at its core, that escapade — Spieth's approach landing one yard short of the green, splashing in the bunker and commencing his downfall — was so, so unsurprising. And it was extremely reminiscent of another treacherous miss from last year, and a painful reminder of just how hard it is to excel on the PGA Tour.
For those who watched, and those who didn't, here's what Spieth said to caddie Michael Greller as they sized up the 185-yard approach:
Spieth: "It's gotta be down [wind], right? The last hole played — well — my ball landed short of the pin."
Greller: "The last hole [the wind] played more northerly, wouldn't you say?"
Spieth: "Yeah."
Greller: "Which would make this more help than hurt."
Spieth: "Well no, I thought last hole didn't because my shot, I thought, landed — it actually landed short of where … "
His voice trailed off on the broadcast before saying, "North-northwest is where it is."
Agreement! A somewhat northerly wind. Technically, yes, that should be a helping wind, a little off the right. And if that was the case, then 8-iron was the club for Spieth. A north-northwest wind would make sense for why his approach into 16, which plays more into that wind, would land short of the pin. Okay, got it.
Spieth: "I'm not going to like, just slice it into it.
Greller: "Yeah."
Spieth: "It's more like a hold. Like yesterday's shot at 9."
Greller: "Yeah, yeah. I agree. Full commitment."
Spieth: "It's gotta be enough, right?"
Greller: "Yes. You've got adrenaline, too, ya know?"
Spieth: "Yeah."
Chances are you've seen the highlight. Spieth's 8-iron, hit perfectly, betrayed perhaps by the wind, finished just short on a hole where he needed to cover 174 yards. His immediate response: "Dude, that was just flushed. That's the exact shot I wanted to hit. It just came right here [referencing the exit window] instead of right there. Oh, my god that's such a good shot."
On the broadcast, Spieth called that swing his best of the day. Later, he upped the ante to reporters later by calling it his best swing of the week. Does that sound familiar? For golf nerds with archival minds, it should, because we heard the same words from another pro a little less than a year ago.
Think back to Masters Sunday and Xander Schauffele's ill-fated tee shot at the 16th. With just three holes left, Schaeffele faced 181 yards to the hole, and probably about a 165-yard carry. It was a 184-yard shot, in Schauffele's mind. He thought the wind was down and off the left and so he pulled 8-iron, just like Spieth. And just like Spieth, Schauffele's shot struck the ground one yard shy of the putting surface.
The result? Schauffele's tee shot rolled into the water, and his tournament chances sunk with it. He walked off the 16th with a triple-bogey 6.
While there's no arguing the situations were different, the shots were mirror images. Even Schauffele's response afterward was particularly Spiethian.
"I hit it perfect," he said immediately to caddie Austin Kaiser, which he repeated again to reporters after the round. "I hit a perfect 8-iron."
The fans at home have to wonder: How is it possible that flawless 8-irons from two of the best ball-strikers on the planet could end up so woefully short of safety? Wind, for sure. We get that. But the main reason is that those two holes require two of the most exact shots in golf. And year after year it is proven just how damn difficult they are.
For starters, missing long on 17 at Pebble isn't very fun! Of the 12 tee shots that resulted in bogeys on the 17th Sunday, the three nearest to the hole all wound up long. Being just long is tricky! You saw where Spieth putted from after his sand shot. Being just five feet above the hole leaves you with a speedy, squirrelly putt. Augusta National is doubly so. Matsuyama's tee shot — which came directly after Schauffele's water ball — ended up only a couple paces above the hole, and here's what his birdie putt looked like. Yes, he made bogey. A winning bogey.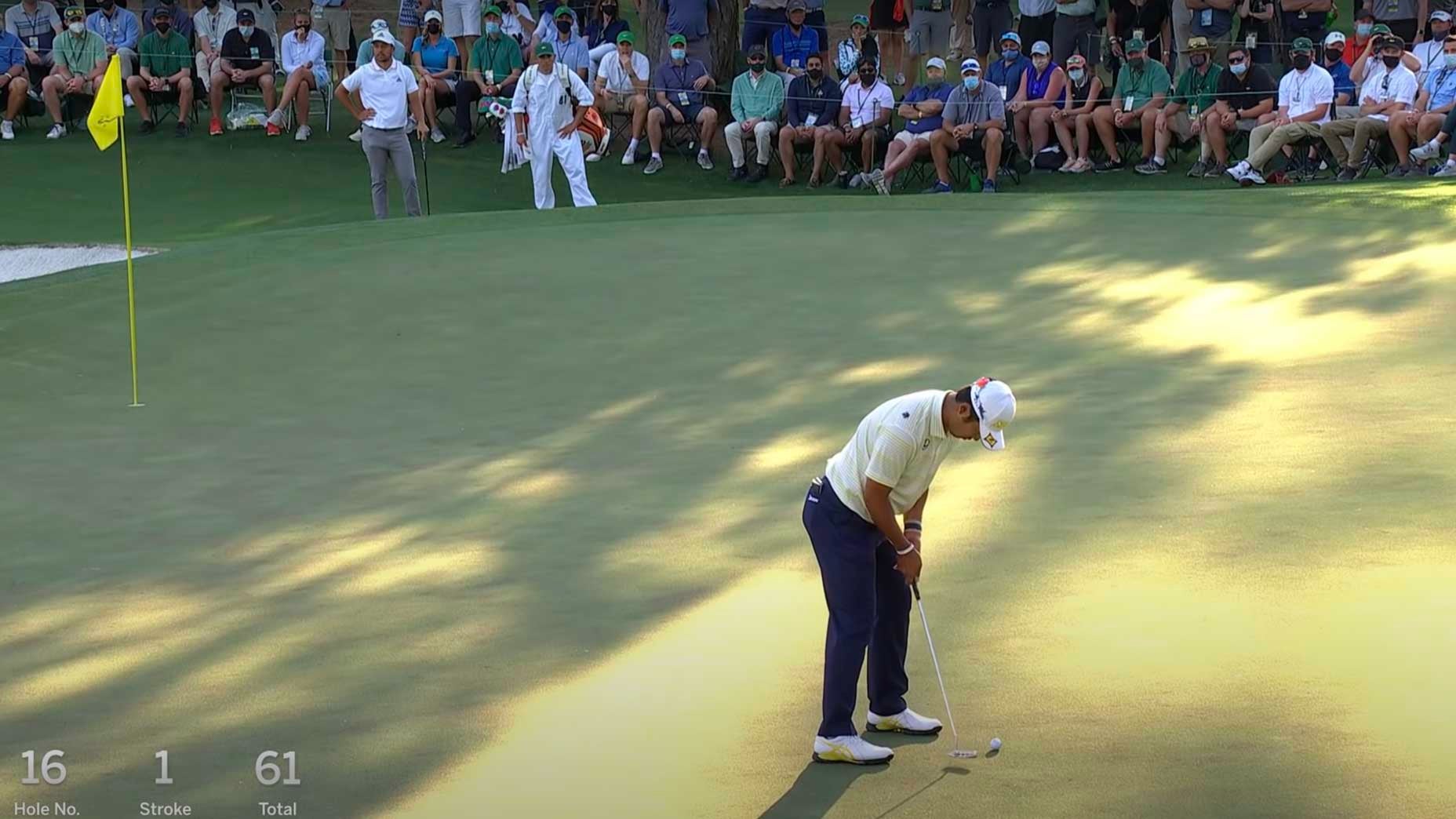 Nobody wants that putt! Nobody wants to be long on that hole, nor on Pebble's 17th.
Now, Pebble's greens in the winter won't play quite as fast as Augusta's in the spring, but the firmness of each course was probably similar on these two days. That's championship golf for you. Beau Hossler called the 18th green "firm as the cart path" yesterday afternoon, another reason why Spieth wanted 8-iron in his hands. Entering that green with the wind slightly at your back, you want all the downward trajectory you can get. And laying off a 7-iron sometimes isn't as easy as going 100% with an 8-iron.
"It's really hard to win out here," Schauffele said that day. "Especially at this course. I'll throw [hole] 16 in the memory bank. I think a lot of the great shots into 16 are left-to-right. High cuts into that mound. I've been hitting a good, high cut all week. I just didn't think of it at that time."
A lesson learned, we think.
A high cut from Xander might have called for a 7-iron in that moment. But most pros would tell you it's easier to hit a perfect shot when they're swinging full speed than it would be at, say, 90 or 95%. So they'll gladly take the lesser club in those moments, relying on adrenaline like Greller mentioned, or the fallacy of a tame Mother Nature. They are not wrong to believe that their perfect is going to be perfect. It's just really hard for us watching at home to agree with the terminology once we see the result.
Agree? Disagree? Feel free to lob praise, critiques or any commentary to the author at sean.zak@golf.com.