The 10 best men's golfers under the age of 25, ranked!
Getty Images
Ready to feel old?
We can make that happen. Honestly, it may have already happened this past weekend, when a slew of young guns took over the leaderboard at the PGA Championship — and a 22-year-old took home the trophy. It seemed past time to take stock of the PGA Tour's next wave and to reassess the future (and the present!) stars on Tour. It's time to rank the 10 best men's golfers under the age of 25.
Let's set the parameters, first. That's under 25, not 25-and-under, which eliminates a few key names. World No. 1 Jon Rahm is 25 and has now aged out of this category. Apologies, too, go out to 26-year-olds Bryson DeChambeau and Xander Schauffele. As for that grey-haired generation headlined by Justin Thomas and Jordan Spieth? They're 27 each — practically ancient.
The biggest shocker, to me, was realizing that one of those PGA contenders, Cameron Champ, is also too old for this list. It seems like he was at Texas A&M yesterday, but alas — he's 25 as of June 15. And a final tip of the cap goes to last week's 36-hole leader Haotong Li, who turned 25 the Monday of PGA week.
But enough about the guys who aren't on this list. Let's get to who did make the cut! To determine who's in and who's out, I dived into results, stats, rankings and deep within myself.
A final pre-amble: This no space for participation trophies, but it's worth acknowledging the first couple golfers outside this vaunted list. First, a shoutout to Rikuya Hoshino, the world No. 131, who is a multi-time winner on the Japan Tour. We have no doubt that the 24-year-old has plenty of game — we just haven't seen it measured much against the world's best players.
Then there's unlucky No. 11, which belongs to Doc Redman, who could make me look like a dang fool because he just keeps posting solid finishes on Tour, including three top-25s since the restart. But hey, rules are rules, and this isn't a Top-11 list. We haven't even used the bold font yet. Let's get to it.
Top 10 under 25
10. Maverick McNealy
World Rank: 171
Age: 24
Greatest strength: A red-hot putter (No. 11 on Tour) and an unflappable demeanor
Room to improve: A middling irons game (No. 164 on Tour)
McNealy actually has a lower world ranking than a couple golfers who didn't quite crack this list, but there's good reason to get him into the 10 spot, as he's already shown an ability to contend in his rookie year on the big Tour. A couple of McNealy's best career results — a T8 at the Rocket Mortgage Classic and a 7th-place finish at the Barracuda Championship — underscore what the golf world has expected for years now: McNealy is here to stay.
9. Rasmus Højgaard
World Rank: 94
Age: 19
Greatest strength: Driver (5th on European Tour in distance, 3rd in strokes gained off the tee)
Room to improve: Chipping and putting (slightly below European Tour average)
Fans of the PGA Tour may not know this name, but give it some time. After all, did you see the number "19" above this paragraph? The Danish star-in-the-making became the third-youngest golfer to ever win on the European Tour when he claimed the Mauritius Open in late 2019. There may have been some hangover effect when he missed his next four cuts, but the "W" was no fluke; since then, he's reeled off four top-6 finishes in his last five starts.
The most exciting thing about the precocious teenager, besides his 328.3-yard average drives? There's two of him. Here's what he had to say after his maiden victory:
"My identical twin is as good, if not better than me."
Ah, yes. That would be Nicolai Højgaard, Rasmus' brother, who was actually heralded as the better player for a while. Nicolai has done quite nicely for himself, too, notching a runner-up finish at last year's KLM Open and working his way to European Tour status. As for the last time the two paired up on the same team? They were formidable at the 2018 World Amateur Championship, where they brought home Denmark's first-ever victory. Here's hoping for years of Højgaard leaderboards to come.
8. Robert MacIntyre
World Rank: 81
Age: 24
Greatest strength: Laser-like irons (8th on the European Tour last year)
Room to improve: Driving accuracy (hitting just half his fairways this year)
Let's stay across the pond for a moment with a nod to the reigning European Tour Rookie of the Year. Before the Højgaards made him look like a relic, Robert MacIntyre, a 24-year-old Scotsman, threw down three runner-up finishes on the Euro Tour and really shined at Royal Portrush as part of a coming-out party in 2019.
The Open Championship was MacIntyre's announcement to the world that he's here to compete. First, he showed that he feels comfortable being himself on a big stage during a second-round spat with Kyle Stanley after the American didn't yell "Fore" on a wayward tee shot that ended up striking his caddie's mother.
"Aye, there were harsh words," MacIntyre told The Scotsman. "It wasn't too pleasant. But you've got to tell him it's not right. He didn't take it well at all."
Then he really showed his game, charging up the leaderboard with a 71-68 finish in challenging conditions that left him T6 for the tournament. Even though he's not yet found his footing since golf's restart, expect MacIntyre to be an international force — and an entertaining one, at that — for years to come.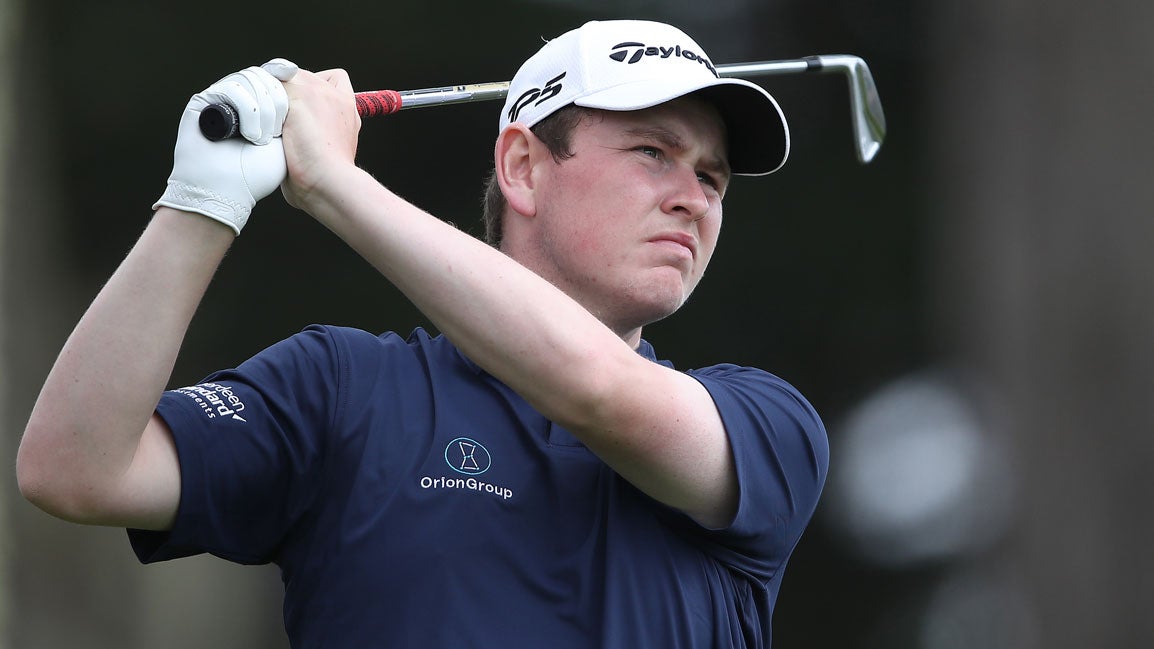 7. Will Zalatoris
World Rank: 150
Age: 23
Wait a minute — a Korn Ferry Tour player made this list? Let's just say that you should trust us that Will Zalatoris won't be spending time on golf's secondary circuit for much longer. In his last seven starts, he's posted six top-6 finishes, including a victory.
Last week, I recorded a podcast with the guys from DataGolf (embedded below) who emphasized how rarely players on lower Tours play to a PGA Tour level (they have the ability to compare scores cross-tours). The biggest outlier? Zalatoris. They have him ranked as their No. 38 player in the world, despite the fact that he's never made a PGA Tour cut. If there's any Zalatoris stock still available, we'd recommend you buy it up.
6. Joaquin Niemann
World Rank: 69
Age: 21
Greatest strength: Irons (8th on Tour in strokes gained approach)
Room to improve: Putting (160th on Tour this season)
Okay, we're officially in the "PGA Tour winner" section of this list. Joaquin Niemann is starting to feel like a veteran, so it's almost unfathomable that he's just 21 years old. But the Chilean star piled up a win, four top-10s and 20 made cuts in his first complete calendar year on Tour.
In many ways, 2020 has actually been a letdown for Niemann thus far — he's logged two T5 finishes but mostly also-rans. But nobody who is as young as Niemann has the same level of experience that he does. When you throw in his top-tier iron play (still 8th on Tour this year), it's worth remembering that this guy's eligible for this list for the next three years, too.
5. Sungjae Im
World Rank: 27
Age: 22
Greatest strength: He's good at everything! Better than Tour average in every major statistical category.
Room to improve: His iron play has gone cold in recent weeks.
Okay, when I said nobody had the same combination of experience and youth as Niemann, I should have mentioned that the same is true of Sungjae Im. That's because the 22-year-old gets double the experience of any other player every year based off the sheer amount of golf that he plays. In 2018, he played 34 tournaments and was the best player on the Korn Ferry Tour. In 2019, he played 35 tournaments and was the best rookie on the PGA Tour. The only reason he's slipped all the way to No. 5 on the list — which feels wrong, given his 1-3-T10 finishes right before the break — is because he has just one top-50 finish since golf's return, a T35 at WGC-Memphis.
Still, it feels like a sure thing that Im will get back on the right track — nobody is more devoted to staying dialed in. There's also no shame in being behind these next four players.
4. Scottie Scheffler
World Rank: 46
Age: 24
Greatest strength: Driver (9th in strokes gained off the tee)
Room to improve: Putting (right on Tour average)
Am I a prisoner of the moment in suggesting that Scottie Scheffler could be as high as No. 2 on this list? Maybe. But if the PGA Championship showed us anything it's that Scheffler's here to stay.
Scheffler was arguably the best player on the Korn Ferry Tour last year and leapt straight into PGA Tour contention once fall events started, logging three top-5 finishes in one four-tournament stretch around the new year.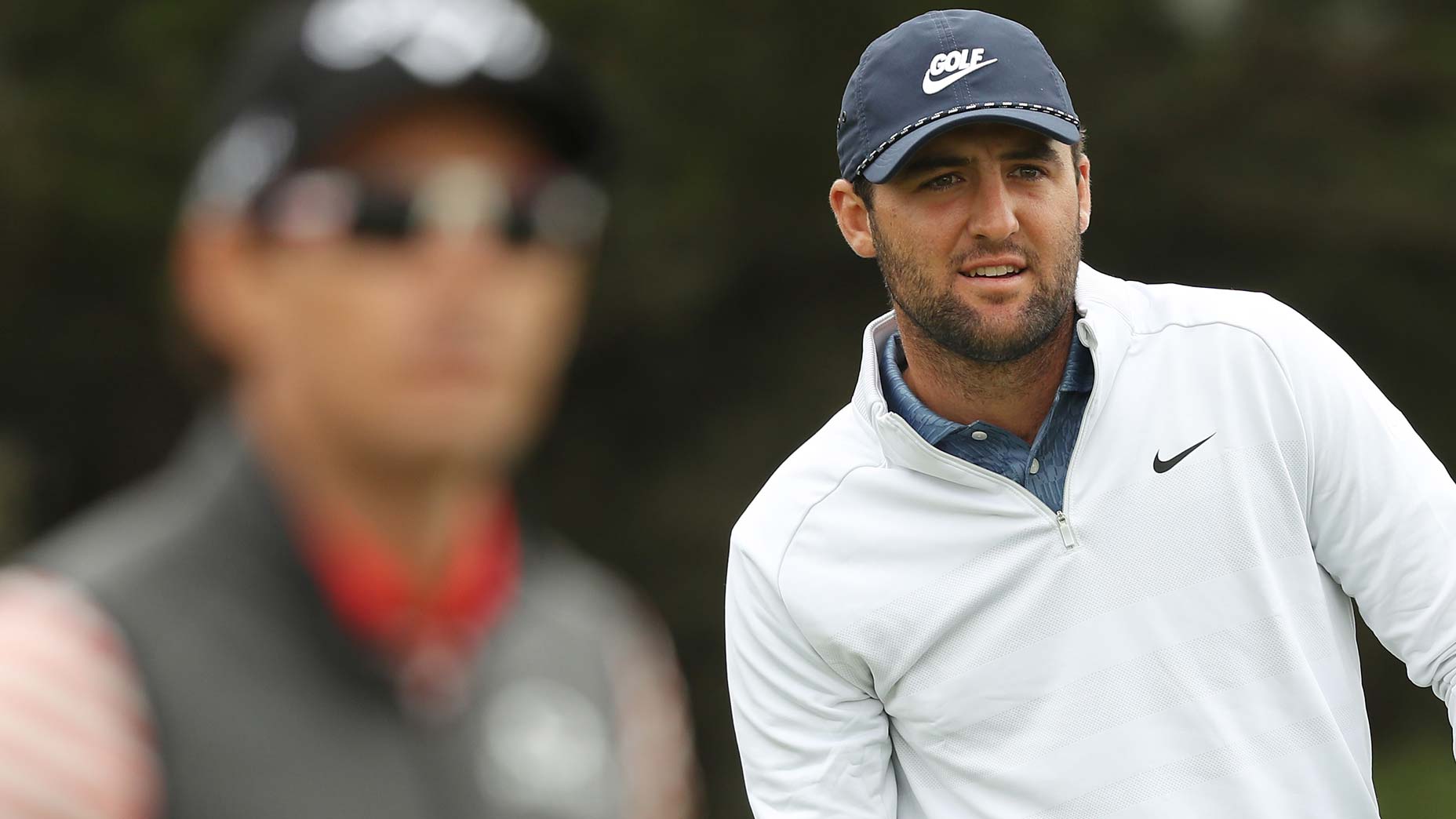 Sure, he hasn't gotten the hype of the three names to follow, but we're here to tell you that he's very much in the conversation. Oh, and speaking of DataGolf's rankings: they've got Scheffler all the way up at No. 14, ahead of names like Tiger Woods, Dustin Johnson and Tony Finau. Don't sleep on Scottie!
3. Matthew Wolff
World Rank: 171
Age: 21
Greatest strength: Driver (7th on Tour off the tee)
Room to improve: Chipping (204th on Tour around the green)
Week-to-week, Wolff may have the highest actual ceiling of any player on this list. When he's on, he's really on, and he's already shown that off a handful of times in less than two years on Tour. There's less and less wonder at his swing and increasingly more at how he's become one of the Tour's elite drivers — and one of its elite young stars in the process.
The clearest example of Wolff's rising star came when he won last year's 3M Open with a walk-off eagle. But we've seen it again of late, first when he finished runner-up to Bryson DeChambeau at this year's Rocket Mortgage Classic and certainly at last week's PGA Championship, where he was off-the-charts from tee to green and only a cool putter kept him from winning a major championship on his very first try.
In other words, the peaks have always been there, back to his college days. What's especially exciting is that Wolff's valleys are showing signs of rising. While his 54-MC-MC-2-MC showing after the PGA Tour's restart suggested some serious volatility, Wolff has settled in the last month with a strong showing at the Memorial (T22) and a good title defense at the 3M (where he faded to T12) before his PGA Championship. After what he described as the best ball-striking week of his life, Wolff must be feeling pretty good about his prospects.
2. Viktor Hovland
World Rank: 30
Age: 22
Greatest strength: His golf swing (15th on Tour off the tee, 10th approaching the green)
Room to improve: His short game (179th around the green, 135th putting)
From tee to green, Viktor Hovland is already one of the best golfers on the planet. Legitimately — one of the best on the planet. When he put together one stretch of eight consecutive top-16 finishes across the PGA, European and Korn Ferry Tour last fall, it was a clear reminder that the Norwegian's golf swing can travel.
To this point, the rest of his game hasn't matched his elite ball-striking; he himself has maligned his chipping, and his streaky putter has kept him from contending at a handful of events. But a win at this winter's Puerto Rico Open and a solo 3rd at the Workday showed off this youngster's massive upside.
1. Collin Morikawa
World Rank: 5
Age: 22
Greatest strength: His irons (arguably the best on Tour)
Room to improve: Putting (140th on Tour)
One of the most fascinating things about the top three players on this list is how similar their playing styles are. Each of the three is significantly better than the average Tour player tee to green and notably worse around the green. On weeks when Wolff, Hovland or Morikawa get hot with wedges and a putter, look out.
Where Morikawa sets himself apart from his peers is that his weaknesses are better and his strengths are positively elite. You've heard plenty of writers on this very website wax poetic about the way he hits his irons. For that reason, the Cal product has made himself the clear frontrunner in the debate on which of these three will have the best career. The result obviously speak for themselves, too: Morikawa has three PGA Tour wins and just one PGA Tour missed cut. Tiger-like numbers.
Let's let PGA runner-up Paul Casey take it from here:
"There's always a bunch of guys that rock up on the scene, and he didn't necessarily get the most publicity out of the group he was in, but you know, I can consider myself veteran; I've been around the block, so I know talent when I see it," Casey said. "Talent's — you know something good. We could just tell."
Of the three emerging superstars, Casey has his money on Morikawa.
"Those of us who knew, knew that he was the one," he said. "Even if the media weren't talking — well, they were talking about him, but that's where we were focusing our attention, and we weren't wrong."
He's exactly right: Morikawa is head and shoulders above the rest.
For now, at least.