Phil Mickelson returns to Twitter amid debate over Saudi golf league
Getty Images
Two hearts. And clicks back on those hearts.
Phil Mickelson liked two tweets, and a short while later, he unliked them. And that activity this week marked his return to Twitter, or any kind of known public interaction, two and a half months since he said he would be "taking some time away" following controversial comments on the LIV Golf Invitational series, a new, Saudi Arabia-funded golf league.
What Mickelson was interacting with may also give you a hint at where his feelings lie, with the Saudi league now less than a month from its first event, the PGA Tour saying this week that it would not grant releases to its members wishing to play in it, including Mickelson — and the PGA Championship starting next week, when he could defend his title won a year ago.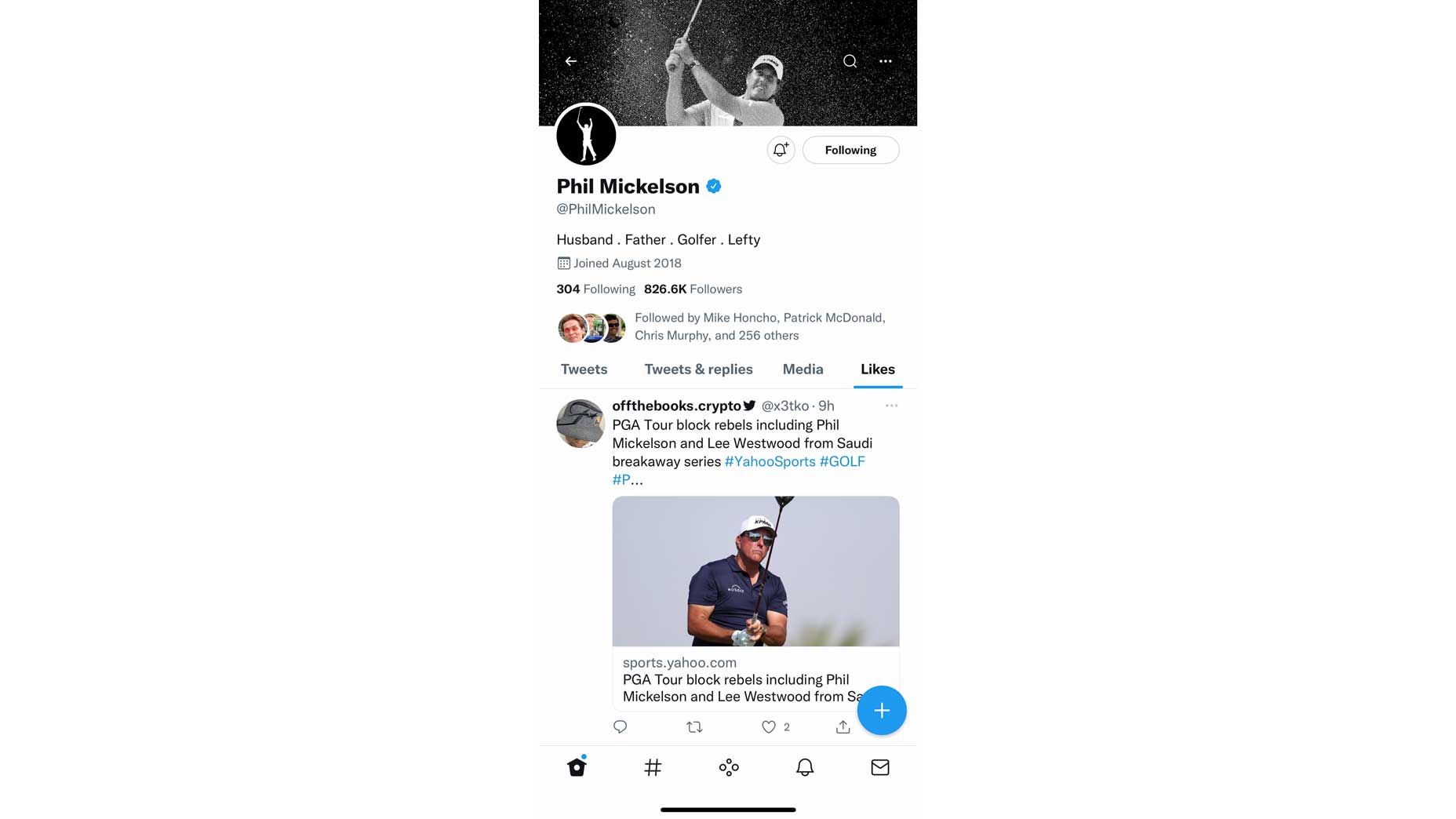 Mickelson liked a comment that said, "Yet @PhilMickelson gets canceled…WTF," which was in response to a tweet from media personality Clay Travis, who wrote, "The NBA, which pulled its All Star Game out of Charlotte over a transgender bathroom bill, is playing games next year in the United Arab Emirates where homosexuality is punishable by death." He also liked a tweet that read, "PGA Tour block rebels including Phil Mickelson and Lee Westwood from Saudi breakaway series #YahooSports #GOLF #P…," from an account entitled "offthebooks.crypto," which appears to be a news aggregator. 
Mickelson first unliked the comment, then the tweet. The tweet had not tagged him, so perhaps somewhat oddly, he may have had to search for it.
The likes and dislikes were Mickelson's first known public activity since Feb. 22, when he put out a statement in response to comments he made for a forthcoming biography on him by Alan Shipnuck. (Shipnuck has disputed Mickelson's characterization of their conversation.) In an excerpt for the book, published Feb. 17 on firepitcollective.com, Shipnuck detailed Mickelson's involvement with LIV Golf, the new company headed by Greg Norman that is expected to launch the invitational series in early June and is backed by the Public Investment Fund of the Saudi Arabia government.
Mickelson called his new partners "scary motherf———s," and he also insisted that PGA Tour media rights should be redistributed more equitably to Tour members.
"Although it doesn't look this way now given my recent comments, my actions throughout this process have always been with the best interest of golf, my peers, sponsors, and fans," Mickelson wrote in his statement. "There is the problem of off record comments being shared out of context and without my consent, but the bigger issue is that I used words I sincerely regret that do not reflect my true feelings or intentions. It was reckless, I offended people, and I am deeply sorry for my choice of words. I'm beyond disappointed and will make every effort to self-reflect and learn from this."
Mickelson has also not played in an event since the Saudi International during the first week of February, though speculation grew over his return two weeks ago, when Mickelson's agent said the player had registered to play in both the PGA Championship and next month's U.S. Open, along with requesting a release from the PGA Tour to play in the first LIV Golf Invitational Series event, which is June 9-11 in London. Registering for these events, however, does not mean Mickelson will definitely play in them. And this week, the Tour denied all of its members' requests for the LIV tournament.
As for the PGA Championship, Seth Waugh, the CEO of the PGA of America, said last week on the 5 Clubs Conversation podcast that he has had "a number of conversations" with Mickelson as he decides whether to defend his title next week. Waugh thought Mickelson would make a "late decision" to play. 
"And I think, you know, we'll continue to have conversations," he said. "I've known Phil for 20-something years, and he's a complicated guy with complicated thoughts and in a complicated situation. And so we're all trying to figure out what's best for him and frankly what's best for the game and we're going to keep having those conversations."
Golf Magazine
Subscribe To The Magazine
Subscribe