NBC's quirky U.S. Open goal-post graphic polarizes golf fans
getty images
It's good!
Or, wait…is it a gimmicky eyesore?
At this week's U.S. Open, the NBC broadcast team rolled out a graphic unlike any before it: a rendering of a football goal post that, on a few occasions, the broadcast transposed onto the driving zone on the par-4 15th. The graphic sat snugly between trees that flank the fairway and was designed to give viewers a sense for the accuracy of tee shots through what is a tight driving chute.
Golf broadcasts aren't known for innovation, so when new bells and whistles appear, golf fans take note. The posts were no exception, and reactions were — predictably — mixed. Jay Rigdon over at Awful Announcing called the posts "pointless fun." But there were plenty of other opinions, too. Here's a sampling of takes from golf fans on Twitter, spurred by the graphic's cameo down the stretch on Sunday afternoon.
First, its supporters:
Now, its detractors:
One technical problem with the posts: "converting" a field goal didn't necessarily equate to a good drive. On Sunday, eventual champion Matt Fitzpatrick successfully knocked his tee shot through the uprights yet missed the fairway right by 30 yards.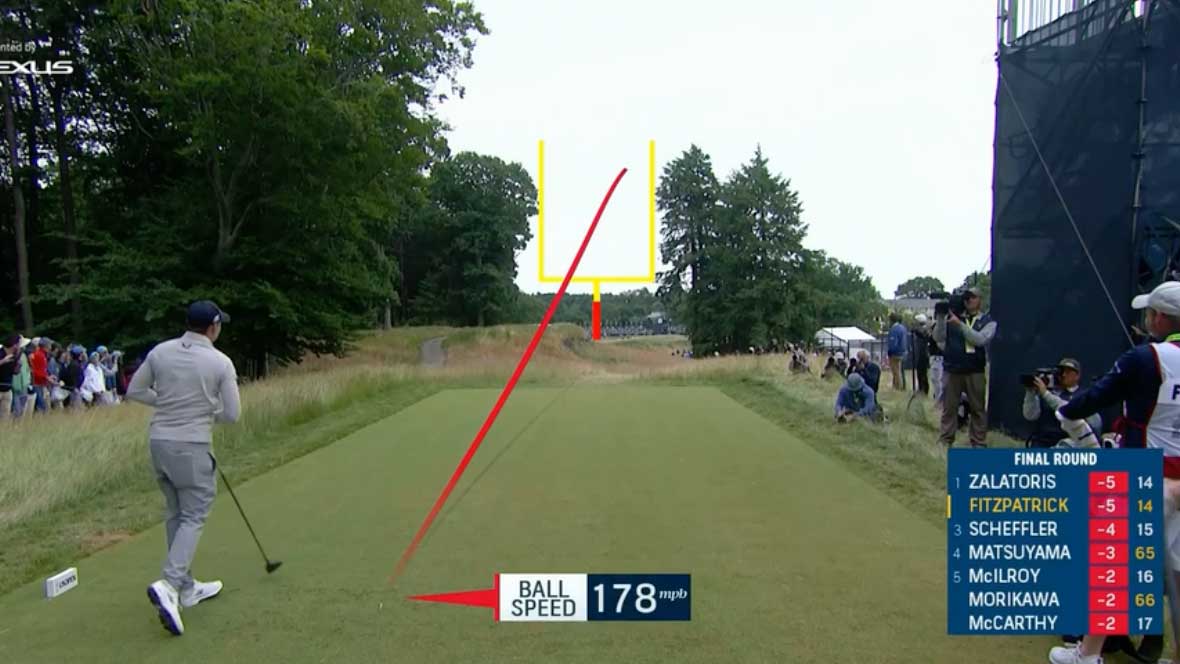 NBC used the graphic infrequently but did employ it throughout the week. In the first round, the posts appeared when Justin Thomas was on the tee.
"Justin Thomas for the extra point…," said analyst David Feherty.
When Thomas split the uprights, Feherty's NBC colleague, Paul Azinger, couldn't help himself.
"It's good!" Zinger cooed.
NBC also worked the posts into a hole flyover:
Love the graphic or loathe it, give NBC credit: it was different. Makes you wonder what the network might trot out at for its Open Championship coverage next month. Goal posts seem unlikely at the windblown Old Course, where players will try to keep the ball low.
Perhaps a limbo pole?