EVANS, Ga. – There was no escaping the leaderboard watching Thursday or the reality that loomed for players riding the cut line at the inaugural Augusta National Women's Amateur.
Every time the digital scoreboard rotated back to the leaders, this ominous message displayed.
"Exactly 30 players advance to final round. Playoff if necessary."
Knowing that, so many women came out of scoring with a measure of cautious relief, having posted three-over totals in the clubhouse through two rounds at Champions Retreat. Most of the afternoon, that number looked safe with the wind picking up and the pressure mounting as the day wore on.
But with closing par 5s on both sides of the course, late birdies quickly changed the math. When it was done, 11 players stood tied for 21st, leaving an 11-woman playoff for the last 10 spots in Saturday's final round at Augusta National Golf Club. Only one would be left devastated.
"We get a little bonus golf, I'm afraid; a terrible bonus," said former Augusta National caddie master Gray Moore, who carried the bag for Andrea Lee, whose par from just off the front of the 18th green in two left her part of the playoff throng.
Sent out in three groups in the order in which they finished, nine players got to return safely to the clubhouse with pars on the first playoff hole. Only Spain's Ainhoa Olarra and Italy's Alessia Nobilio had to play on to the par-3 17th hole with bogeys.
After making double bogey on that hole earlier in regulation to fall into the playoff, Olarra poured in a 25-foot birdie putt to book the final spot in Saturday's final round at Augusta National. An emotional Nobilio has to settle for a consolation practice round with 41 others on Friday in expected rain. Olarra was elated.
"It felt really good actually," said Olarra, who works as an auditor at Deloitte since graduating from South Carolina last year. "It was just a nice way to finish."
This wasn't like a typical cut line, with the difference being a chance to be among the first 30 women to ever compete for a tournament trophy at Augusta National or simply play a soggy casual round on Friday. Three players — Sofia Anokhina of Russia, Amanda Doherty and Anna Redding – made birdies on their last holes of regulation to get into the playoff, while South Korea's Seo-yun Kwon made an eagle on her 36th hole to vault into it.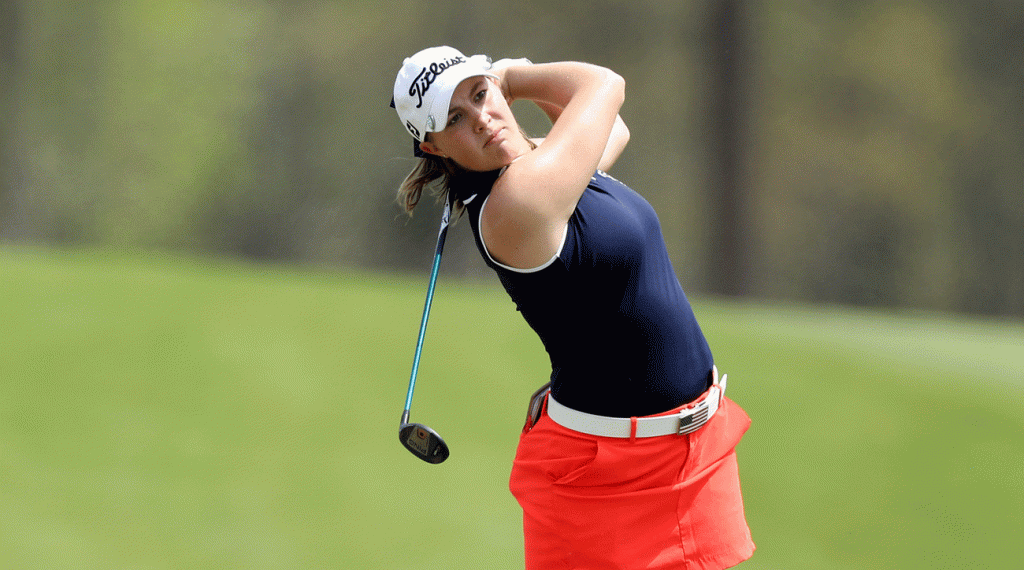 ---
"I was shaking so much," said Redding of the 6-footer she made on the 18th hole to grab the final playoff spot in dramatic fashion like her men's basketball classmates at Virginia did Saturday to force overtime and reach the Final Four. Redding charged at her 8-foot birdie try on the playoff hole and had to clean up a downhill two-footer to book her spot at Augusta a day after her 22nd birthday.
"Oh my goodness, we're the first women to ever compete at Augusta National," she said. "It's such an honor. This is by far at the top of my resume. Nothing tops it."
Doherty made her own nervy downhill 5-footer for birdie on the 9th green in regulation that elicited the loudest cheer of the day from her large contingent of family and friends from Atlanta. Her father, Mike, is caddying for her and studied the leaderboard to know exactly where she stood, but Doherty didn't want the information. She still assumed it mattered that she got up and down from 75 yards.
"It's huge … I almost don't have words for how excited I am," Doherty said.
Meanwhile, at the other end of the leaderboard, soon-to-be LPGA rivals Jennifer Kupcho and Maria Fassi will face off in the final pairing on Saturday that everyone anticipated. Kupcho's streak of seven consecutive tournament rounds in the 60's – with two wins and a second-place finish in her past three college starts — ended with her only two bogeys of the tournament on the last five holes Thursday.
Her second-round 71, however, has her at five-under and one shot ahead of Mexico's Fassi, who birdied two of her last three holes to stake a spot in the final pairing.
"It's going to be a birdie feast out there," Fassi said. "It's going to be a lot of fun. She's great to play with and we're good friends, so if it's going to be with her in the final group, it's going to be a really fun one to watch."
"Obviously it will make it very entertaining for everyone to watch," Kupcho said of her narrow lead over Fassi and a trio at 3-under – Americans Sierra Brooks and Kaitlyn Pipp and Thailand's Pimnipa Pathpong. Japan's Yuka Yasuda (2-under) and 16-year-old first-round co-leader Zoe Campos (one under) were the only other players to leave Champions Retreat under par.
Kupcho and Fassi are not only familiar rivals, they're two of the longest hitters in the field, which should prove to be an advantage at Augusta National.
"When I play with her, we're close but she definitely is out-driving me by probably 10 or 15 yards," Kupcho said of Fassi. "And when I do finally out-drive her once a round, I'm like, 'Hey, I just out-drove you.' We're pretty similar. I think my ball-striking and my iron game is probably a little bit more zoned in, but I think her putting is probably stronger."
That will be Saturday's story. Thursday's second round, however, was all about the drama of earning a third round in front of huge Augusta galleries and a national television stage.
Anokhino — by far the highest-ranked amateur in the field at No. 313 — birdied her 18th hole in regulation and made a comfortable two-putt in the playoff to become the first Russian golfer to ever compete at Augusta National.
"I wasn't stressed or nervous … it was just that confident, like, I got it, I can do it," she said. "It was probably the best feeling ever, and I made the putt."
Kaleigh Telfer of South Africa, who started the day one shot off the lead before shooting 78 to slip into the playoff, was relieved to survive another round.
"Everyone's goal was the make the cut," she said. "It just makes everything more real."