AUGUSTA, Ga. — When the Jack (Nicklaus) and Gary (Player) Show hits the Augusta National interview room, as they do every year after striking the ceremonial opening tee shots at this little invitational, you never quite know what you're going to get.
Well, that's not entirely true. You know you're going to get something on the ball debate. ("The golf ball has gotten ridiculous," Nicklaus said.) You know the conversation will turn to Tiger. (Said Player: "How can you compare Tiger Woods to Jack Nicklaus? It's not fair. Let him play today with these greens and raked bunkers or bunkers all the same width, and with a driver and a ball that goes 50 yards further). And you know you're going to get at least one delightful Player-ism: "If you can't read a green," Player quipped, speaking of pros who rely on green books, "you should be selling beans."
But there are also unexpected diversions when these two men take the dais, fascinating tales from the crypt that have you on the edge of your seat.
"What was the biggest distraction for you two from the galleries?" a reporter asked. The question was a follow-up to a query about cell-phone usage by PGA Tour fans.
"From the gallery? Distraction?" Nicklaus said. "We never had any distractions from the gallery, really."
That's not entirely true, either.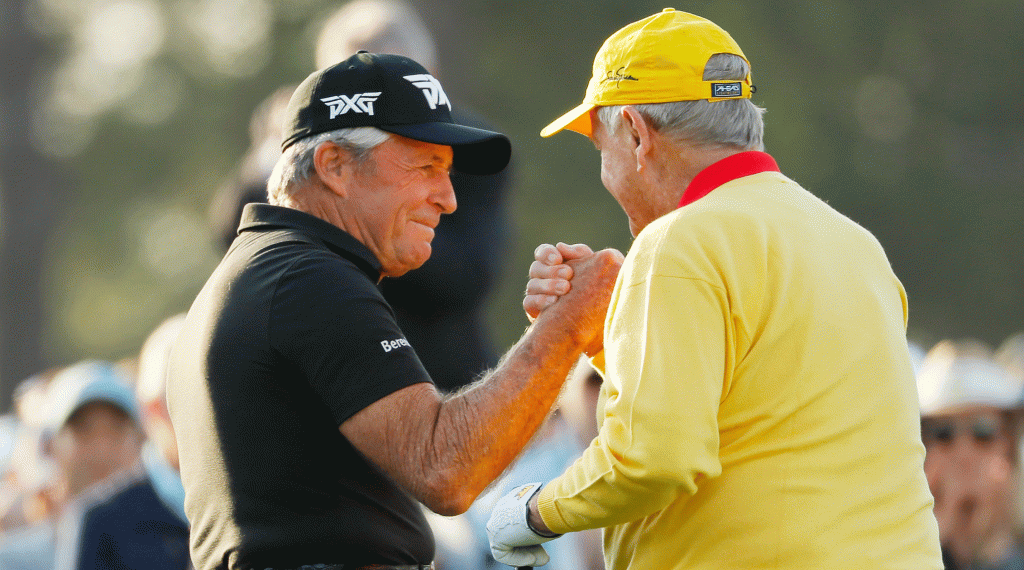 ---
For Nicklaus, the question stirred memories of the 1969 PGA Championship at NCR Country Club, outside Dayton, Ohio, where a pack of anti-apartheid protesters descended on the scene to make life difficult for a certain South African in the field.
"Gary had the worst distraction in Dayton," Nicklaus said. "That got pretty nasty."
Here, Player jumped in.
"They threw telephone books at my back twice, they threw ice in my eyes several times, they charged Jack and I on the green on No. 10 as I was getting ready to hole an important putt, and the ball is between my legs and they screamed on my backswing.
"But I wasn't bitter about it. I mean, our country practiced the most terrible system, as America did, as well. So, I just tried to there again make the adjustment with my mind, and I met people and I said, 'If you want to kill me, you don't have to threaten me. I'll come to your office tomorrow and you can kill me.'"
Nicklaus and Player were paired together during one of the rounds at NCR, "probably the worst day of it," Nicklaus said, adding, "I remember one fella who was probably about 6‑4, 250, charged on the green and he was like this coming at me. I had my putter in my hand and I swear, I would have killed the guy, because I had my putter — I didn't know what he was going to do. I reared back like this to hit him because I would have and he swerved off, saved his life, saved me and everything else."
Player, who lost that PGA by a stroke to Ray Floyd, said he "definitely would have won" if not for the protestors. "That's not even a doubt." If Player had won that week, his career major total would be an even 10.
Player said he faced similar challenges at the Masters, where on one occasion in that same era armed policemen slept with him in his rental house. Same thing at the U.S. Open.
"We all had that," Nicklaus said. "I've had on several occasions where I've had the police stay with me. I had one place I was at one time, the officer was leaving, he gave me his gun for the night. He says, 'Here, you might need this tonight.'
"I said, "Oh, really?'" Nicklaus recalled, beginning to laugh. "I left and went to another hotel."