Tournament leader hits 20-foot putt that trickles 30 yards past the hole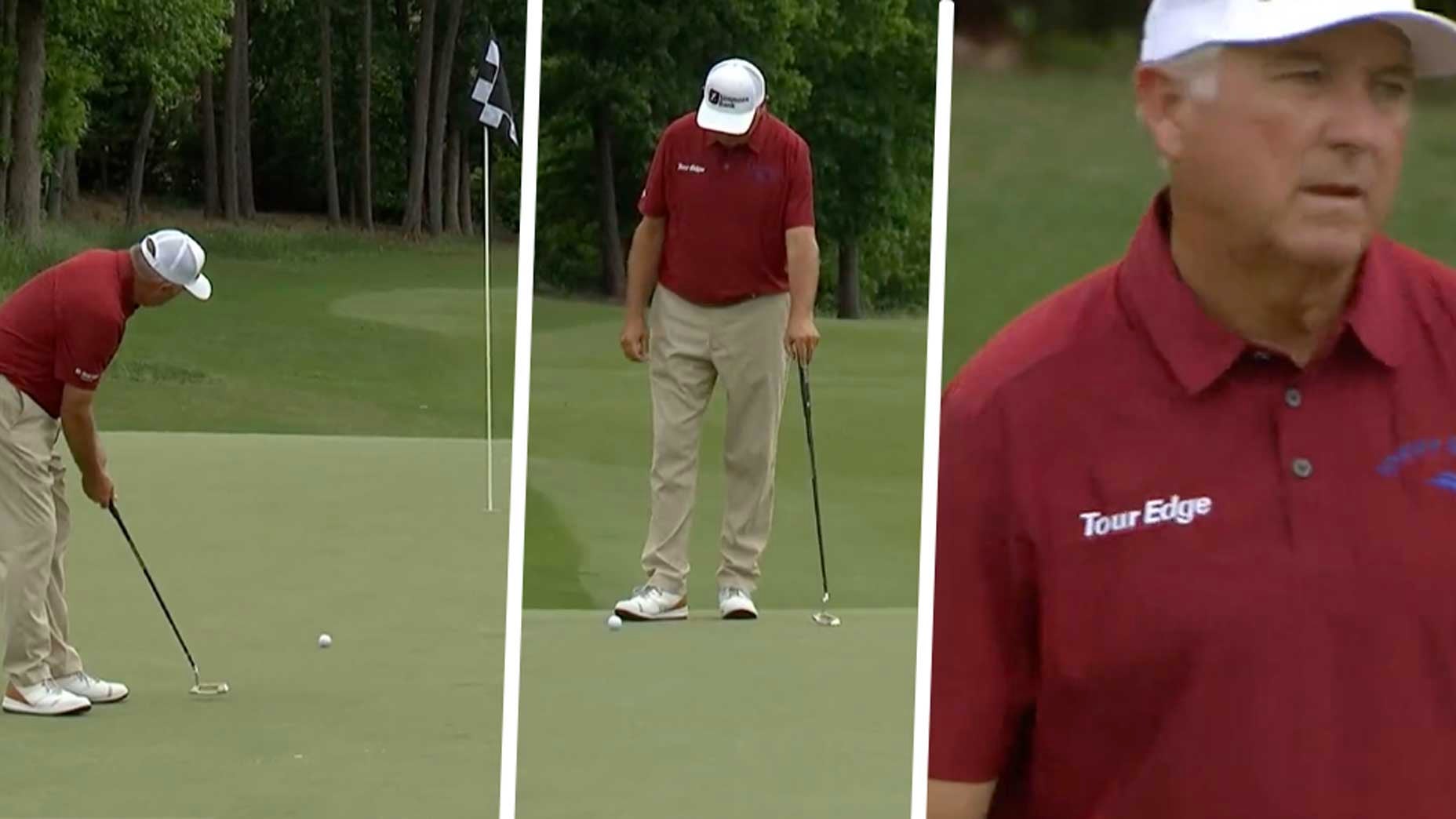 Twitter.com/ChampionsTour
Lee Westwood put it well recently when he said simply, "If you want to play a game that's fair, don't choose golf." Unfortunately for Ken Duke, he chose golf a long time ago.
Westwood had been asked about the idea of getting free relief from another player's divot in the fairway — commonly discussed as potentially unfair. Duke, on the other hand, was slapped around with some absurd green speed — or was it just a tough pin location? — at this week's Champions Tour event in Georgia.
Duke was out front at the Mitsubishi Electric Classic and on the home stretch of his second round Saturday afternoon. He was eight under for the event and in cruise control with just 22 holes to play. He even reached the green in regulation on the 15th, maybe 20 feet above the hole. What happened next he'll likely never forget.
Duke hit his birdie putt with too much pace. How much is too much? That margin was pretty darn thin Saturday, as Duke's ball eased by the hole. He started walking after it, as everyone would have. Only when one of the broadcasters said "Oh, woah" did we think he was in danger of making bogey.
"Easy."
"Woah now."
"Oh, my gosh."
"Woah now!"
Duke reached his ball as it slowed 10 feet past the hole, hand in his pocket, ready to mark. And if his ball ever truly stopped, surely he would have marked it quickly.
"Wait a minute," the broadcasters continued.
"Woah."
"He better move."
"That needs to stop."
Duke looked up at either his caddie or the group he was playing with, now aware of his fate. Behind him was a false front to the elevated green, and behind that, a hill of fairway that his ball would end up rolling down. Duke started his trek back up the hole as his ball raced by him, at least 30 yards down the hill. On the green in two, quickly pitching on again for four.
Duke didn't hide his disgust entirely, but he certainly kept from pouting. He was still in the contention! But his fourth shot pitched into a greenside bunker, from which he played back to nearly the exact same place as his second shot, 20 feet above the hole.
This time, wisely, he took a little heat off his putt, still saw it trickle beyond the hole, and cleaned it up for a smooth 7, triple bogey.
Was it unfair green speeds? Was it an unfair pin location? The latter might have been true. David Toms played alongside Duke, who he admitted was in complete control of his game at that point. "Some of the pins are little tough out there," Toms said, referencing the Duke triple. "… that's just how the golf course is playing."
When asked for clarification, Toms didn't blame anyone. Instead, he blamed the wind: "Even though he had a tough downhill putt, he had as good a chance to make it as he did to miss it. [He] hits it off the green and didn't really hit that bad of a putt. He caught a gust of wind once it got past the hole and it just trickled and trickled."
Perhaps Mother Nature was the one being unfair.