The best stuff we didn't report in 2021: Our staff's year-end notebook dump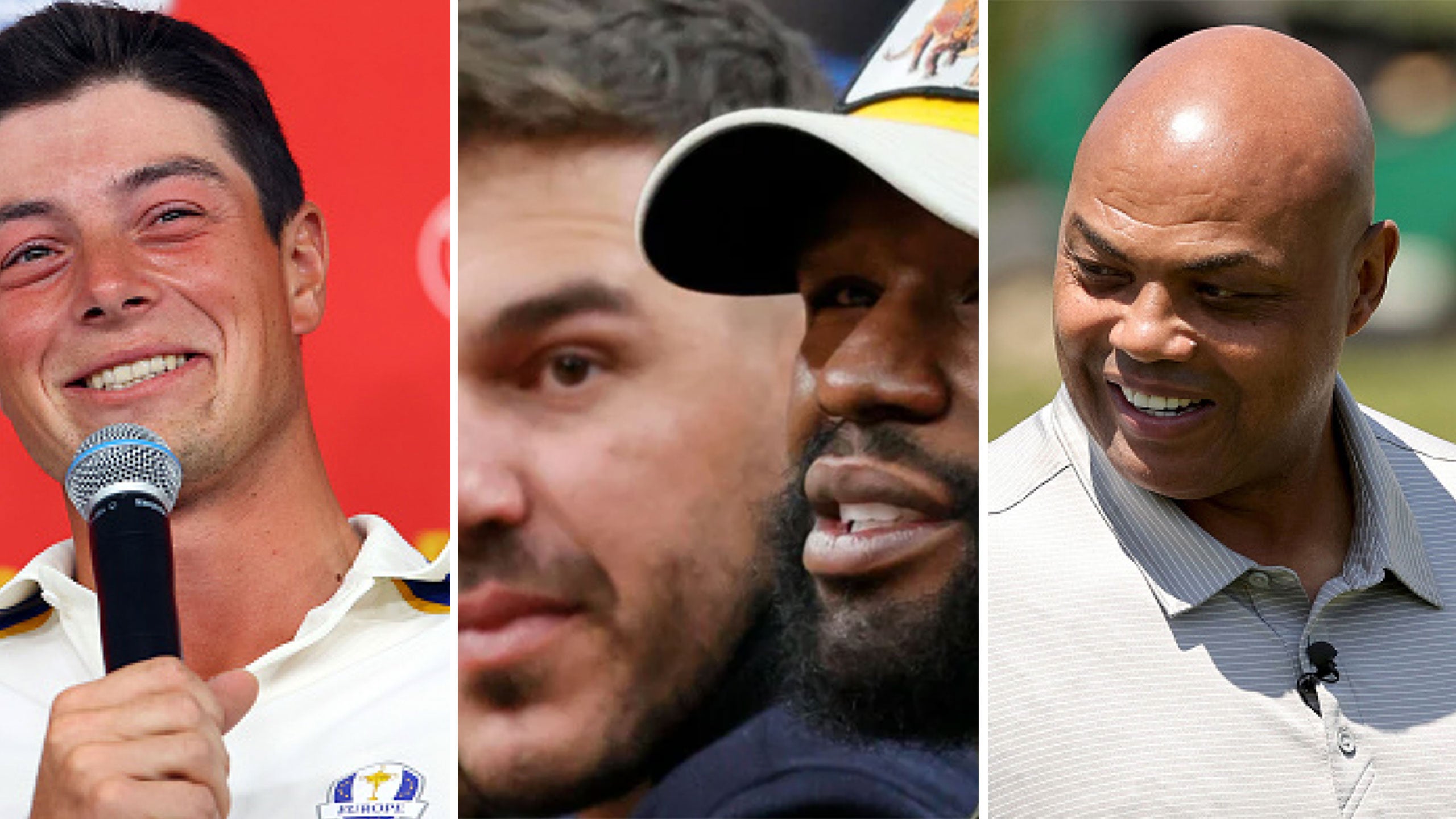 getty images
GOLF.com's fleet of reporters, writers and do-it-all content creators covered the game inside and out in 2021, giving readers and viewers a front-row seat to Bryson DeChambeau's speed training sessions, Olympic golf in Japan and the U.S.'s blowout win at the Ryder Cup on the shores of Lake Michigan. Most of our team's observations, learnings and scene-setting made its way on to one or more of our platforms, but some did not. As we put a bow on the year, we asked our staff to delve back into their notebooks, phones and memory banks to retrieve a fun or revealing nugget that never came to light. Here's what they came back with…
'Wait, so — what do you do?'
I stopped by to chat with the Brothers Koepka on the driving range at the Hero World Challenge. They were fresh off a win over Team Bryson at The Match, Vol. 5. They'd celebrated that night with a trip to Duke vs. Gonzaga, where Brooks and Chase got courtside seats. When they showed up, who was sitting next to them but…Floyd Mayweather!
Chase said the former boxing star was friendly and plenty chatty all game. They talked hoops, sports, business, jewelry, Vegas. But it wasn't until a final chorus of "Brooksy" cheers rained down from the seats behind them that Mayweather finally got curious about his seatmate's identity.
"Wait, so — what do you do? What's your thing that everybody knows you?" Mayweather asked Brooks, per Chase. He had zero idea who Koepka was.
What a perfectly Vegas way to wrap up a week in show biz. The biggest event of the month on the golf calendar certainly didn't register to the man they call Money.
I was going to follow up and ask Brooks more about it — and make sure I had the story right — but never got the chance, which is why I never included it. Now I'm dropping the story here with the caveat that I hope I understood exactly what Chase was telling me. — Dylan Dethier
An Ian Poulter impression for the ages
As someone who suffers from Resting Happy Face, Viktor Hovland always looks as if he's thinking of something funny. Sometimes, he really is.
It was a spring afternoon in Hovland's adoptive hometown of Stillwater, Okla., midway through a daylong photo and video shoot for which many Tour pros of his stature would not have had the patience. Nearly everyone looked tired. Hovland said he was. But his trademark expression remained unchanged: mischievous gaze, impish grin.
During a break between shots, the conversation turned to the upcoming Ryder Cup. Was Hovland pumped? Yes, he was. Did he have a strong opinion about captains' picks? A beat went by before Hovland cracked a smile and busted out a spot-on Ian Poulter impression.
"My passion for this event has been well documented," he said, in a pitch-perfect parrot of Poutler's intonation and plummy vowels. The cameras weren't whirring, so I pulled out my cell phone.
"Any chance I could get you do that again?"
Hovland's reply was friendly but firm: "Are you kidding? You think I'm going to let you put that out on Instagram?"

Funny guy. Smart guy, too. — Josh Sens
Charles Barkley, People's Champion
For years, I thought the American Century Celebrity Tournament at Lake Tahoe must be one of the most fun events to attend in golf. After covering the event for the first time this year, my intuition was correct. The area is beautiful, the course is full of spectacular views, there's a party going on in every direction, and the field is loaded with star power.
I was most intrigued to follow Charles Barkley around. He's been on the notorious end of every bad golfer joke for years and years. To his credit, Barkley never quit the game when most would have walked away rather than dealt with that level of public humiliation. Not Charles. He kept grinding away until something clicked with the help of his coach Stan Utley to become a respectable player once more.
While most A-listers moved around the property and occasionally took a photograph or signed an autograph, they didn't spend all that much time with the crowd. Frankly, some wanted nothing to do with fans at all. But Sir Charles was the People's Champion.
Barkley spent hours and hours interacting with fans in attendance. Not only would he stop to take photos and sign autographs, but he would ask fans questions with genuine curiosity. Barkley wanted to know where they were from, who else they were excited to watch, and would provide his candid commentary on the NBA when asked a question. I was taken back by just how sincere he was. You could tell this wasn't something he does just for show in the public eye. Barkley truly cares about anyone in his presence.
When he finished handling every fan request, an event crew member attempted to get him in a golf cart to speed up his afternoon practice round. There was a welcoming party to go over the rules for competitors. "I don't give a damn about no welcoming party," Barkley said. "I'm going to enjoy my evening walk around the course. When I get there, I get there."
The course was closed to fans at this point. Barkley might have lost his swing for a while, but he never lost his smile. Now, he has them both. Barkley was left alone in peace to enjoy the game he's back at peace with.
No one earned that peaceful walk in the beauty of Tahoe more than him. — Tim Reilly
Bryson's driver secret
Ever since Bryson DeChambeau's driver broke during the PGA Championship at TPC Harding Park, we've been forced to wonder how his equipment would hold up over time. All those endless range sessions in the dark. The speed training work in Chris Como's living room. I mean, if you can crack a driver head at your little public course, what would happen with Bryson's gear when he's constantly whipping it 18% faster than the PGA Tour average.
Well, during a January photoshoot in Dallas, he and his team divulged a little info that protects against driver failure. At any given time, Bryson has not just one gamer driver. That wouldn't be enough of a safety net. He has not just two gamer drivers. Who knows what could happen? DeChambeau has not just three gamer drivers! He has four!
Four drivers that are his "touring" gamers, working their way around the country from event to event. They don't come out when he's ball testing. They don't get a workout during speed training sessions. They're not even in the room! They are the distinguished, chosen few. How does he work them all into the rotation?
That'll be the first question I ask in 2022. — Sean Zak
An ode to Shinnecock
Shinnecock Hills, one of the golfing temples on the East End of Long Island, does many things well. Near the top of the list, I was reminded on an early-October visit: the understatedness of its shingled clubhouse. No fountains out front, no Jacuzzis in the locker rooms, no $85 Wagyu ribeye on the menu. When you have a course as pure as Shinnecock's, not much chest-beating is required.
Heck, the place doesn't even have air-conditioning.
Architect Stanford White, who finished the clubhouse in 1892, purposefully perched the hangout on the highest point on the property so breezes would blow through the back windows and doors and help cool off sweaty golfers.
My favorite touch hangs in a frame on a wall in the men's locker room: a letter from Raymond Floyd, who won the 1986 U.S. Open at Shinnecock, to Silas R. Anthony, Jr, who won the club championship there that same year. The correspondence — typed with black ink on a "Ray Floyd" letterhead — is dated August 20, 1986, and was in response to a congratulatory note Anthony had sent to Floyd. It reads in part:   
Winning the U.S. Open is a lifelong dream fulfilled. It certainly has been the most satisfying victory of my career. . .coming from behind and on a course like Shinnecock. Thanks for sharing it with me.
What a lovely sentiment: thanks for sharing it with me, as if the course is a national trust, which, in a way, it is. There are many fabulous designs across the game but only a select few would elicit that kind of response from one of the world's best players, let alone in letter form.
Oh, Shinnecock's Southsides are pretty tasty, too: mint, gin, lemon juice, simple syrup, splash of soda, lots of ice. Be sure to grab one at the turn. — Alan Bastable
No rest for this rules official
In late March, during the WGC-Match Play, Dustin Johnson and Kevin Na became wrapped up in a bit of a rules controversy when, during their round-robin match, Na appeared to have retroactively conceded a putt to Johnson, which, of course, is a no-no. Seeking clarification, I called up Gary Young, one of the PGA Tour's top rules officials, and he both explained the behind-the-scenes talk and texted me screen grabs of the rules in play. But we've reported that, and you can read about that here.
But what I didn't write that day is that Young, it sounded like, took my call over dinner. (You could hear various conversations in the background and the clinking of plates, glasses, knives and forks.) We talked for a good 20 minutes. And his texts came some 12 hours after his day started in Austin, Texas.
Say what you will about the rules and their sometimes confusing nature. And those who help enforce them also often do so with little fanfare (though Young just recently got a bit of national TV exposure when he stood over Patrick Reed and his ball in a sandy waste area during the final round of the Hero World Challenge). But they are also meticulous in their craft. Even at the expense of their food possibly getting cold. — Nick Piastowski
A U.S. Open view like no other
This is under the category of viva le difference.
I like San Diego, love nearby La Jolla Shores and enjoy the Torrey Pines courses. I don't like shuttle buses. That makes me like you and everybody else you know.
During the U.S. Open this year, I stayed in the so-called media hotel, the Sheraton La Jolla, oddly charming chain lodging just beyond the I-5 roar. I didn't rent a car. (The prices were offensively high.) There was a shuttle bus from the hotel to the course, maybe a 20-minute trip with cooperative traffic, but I was determined to use it as a little as possible.
There were a variety of walking routes from the hotel to the golf course, some less dangerous than others. Most of them were about four miles, if you didn't make a wrong turn. I never didn't make a wrong turn.
The surest and most scenic (and much longer) route, I discovered one night in the long dusk of June in Southern California, was across the golf course, down the famous cliff by the Gliderport, south along the ocean beach, past Scripps Pier (famous surf spot) and into La Jolla Shores, where there are restaurants and civilization. At one point, on this walk home after work, the tide was so high that the Pacific's mild evening breakers were landing on a collection of boulders. I waded on through. No big deal. It was beyond nightfall by the time I made it to town. I was hungry, wet and cold. All part of the fun.
The next morning, Southern California was bathed in sunshine, after the morning fog lifted. The beach was wide and warm. I made my way past the nudists' beach, briefly into the surf, air-dried myself, hiked up the cliff steps, entered the golf course through the NBC compound, used the outdoor pool shower at the Torrey Pines Hilton to freshen up and into the press tent for another day of typing fun.
But that's not the point here. At the top of the cliffs, there's a picnic area and picnic tables. Right there, you are a few hundred yards from live U.S. Open golf but you'd never know it. It was a different world, unconnected to the golf in every way. And there, among the beach people and the hikers and the hang-gliders, was a familiar face, a Frenchman I've seen for years, enjoying the sunshine and a sandwich. Thomas Levet, the former Ryder Cupper and now a broadcaster. Talk about your busman's holiday. We had a brief nice-spot, what-a-day exchange.
The only thing missing was a dog and a bottle of wine. — Michael Bamberger
A different side of DeChambeau
Back in September, I found myself chasing Bryson DeChambeau into the middle of nowhere — the Nevada desert — for the strangest golf event I'd ever seen: the World Long Drive Championships.
On my second day, I tracked down Bryson's closest friend on the circuit, World Long Drive champ Kyle Berkshire. Their relationship struck me as strange. I couldn't understand why Kyle — a thoughtful and surprisingly reserved guy — was so drawn to Bryson's machismo, so I asked him about it.
"He is one of the most selfless people I've ever known," Berkshire said of his friend. "In my experience, he treats service people — waiters, waitresses, golf cart attendants, pro shop works — very, very well and with a lot of respect. I'm always aware of how people treat service workers, because you're not going to be held accountable for it one way or the other, so in my opinion, that's a true measure of someone's character."
I was stunned. Of all the things the public knew DeChambeau to be, selfless was … not one of them. But Berkshire was convinced.
"He's always treated those people very well — and that's not just around me," Berkshire said. "I've witnessed him do that when he didn't know I was watching. He's just a good person, and I don't think people realize that.
It was an illuminating moment, one that helped me to understand a bit more about why Bryson went through the PR hell of committing to a long drive event the day after the Ryder Cup, and about the big man himself. — James Colgan
How scoops start
One of my best pals from working out on the LPGA beat works as a rules official for the Tour, and each week I'm on the road, we always make time for a couple nights of dinner and drinks. It's always valuable as a reporter to get perspectives from a variety of sources, and there are few people as close to the action as rules officials.
Much of what we talk about is strictly off the record, but the tidbits I did snag — particularly regarding controversial rulings — gives me a leg up on the competition when I head out to the course to report on the events of the day. Reporting on site doesn't stop when you leave the course. And often the best tips are unearthed over a couple pints. — Zephyr Melton
A Phil fan for life
When Phil Mickelson committed to the PGA Tour Champions' season-ending Charles Schwab Cup Championship at the eleventh hour, the greater Phoenix area was buzzing. As an ASU alum, Phil is one of Arizona's favorite sons, and he took a lot of heat for skipping his annual stop at the Waste Management Phoenix Open in favor of a hefty appearance fee in Saudi Arabia. But now, Arizonans would again be able to watch Phil up close.
I took my kids to Phoenix Country Club to watch Saturday's third round — their first-ever pro tournament — and we followed Phil for a few holes. He was playing alongside University of Arizona alum Jim Furyk. The gallery was four rows deep. On the short par-4 12th, Phil drove it into the left rough. My five-year-old daughter snaked through the crowd to the rope line just in time to watch a classic Phil flop stop within gimme distance, setting up a tap-in birdie.
The crowd went nuts, and my girl was smiling from ear to ear. When Phil claimed victory on Sunday by a single shot, I can't help but think that shot wasn't pivotal. And now, anytime golf is on TV, my daughter asks, "Is Phil playing?" — Jessica Marksbury