10 years later, we're still buzzing about Bubba Watson's miracle wedge at the Masters
Getty Images
As escapes from the forest go, it was up there with Hansel and Gretel's. At the 2012 Masters, on the second hole of a sudden-death playoff against Louis Oosthuizen, Bubba Watson pulled his drive deep into the right trees on No. 10 at Augusta National. His chances of survival looked decidedly grim. Except to Bubba himself.
"Before I even got to my ball, I was already looking at the gap," Watson said afterward at the champion's press conference. This "gap" was the narrow corridor formed by patrons left and right. Only problem: It pointed miles left of the green. But, with Oosthuizen facing a difficult pitch after a shaky approach, Bubba was feeling hopeful. More hopeful than CBS analyst Nick Faldo, who, when asked by broadcast partner Jim Nantz if Watson had a chance to put the shot anywhere close to the green, replied, "I doubt it, to be honest."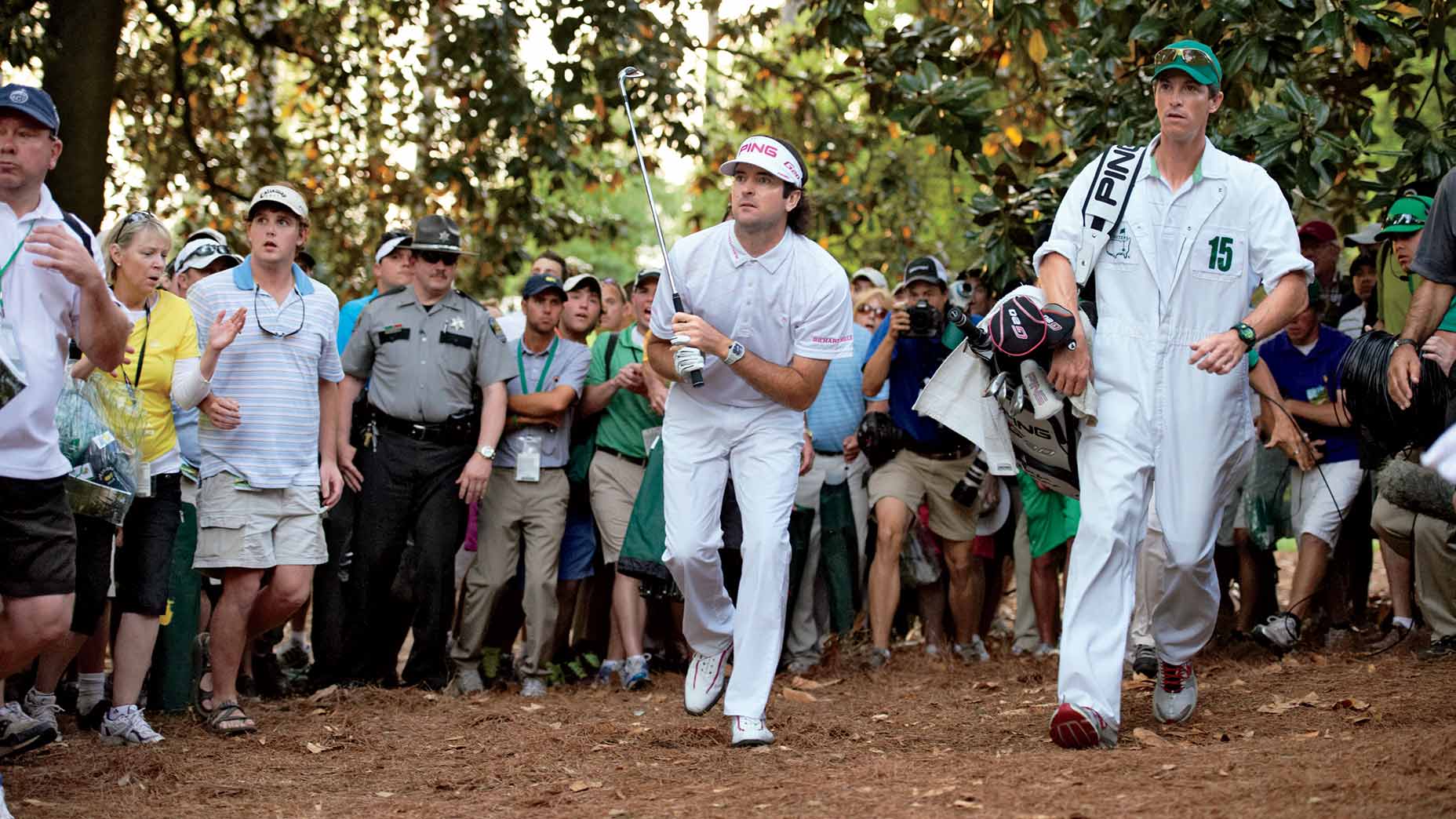 Buoying Watson's spirits was the fact that he'd already made a par from the right trees on No. 10 in regulation. A clean lie in the pine straw — "almost like fairway," Watson later noted — made shot-shaping easier. In keeping with his glass-half-full attitude, a nearby TV-camera tower became a blessing too.
"Even though the tower was in my way, I didn't want to ask if I get relief or anything because it just set up for a perfect draw — well, hook," said the southpaw.
Watson had about 164 yards to the hole, but the number in his head was 134 yards, the carry to the front of the green. What followed was the apotheosis of "Bubba golf" and maybe the most famous rope hook in golf history. His checklist: Hood the clubface, close his stance and "swing as hard as you possibly can" from inside out.
"I hit 52-degree, my gap wedge, hooked it about 40 yards, hit about 15 feet off the ground until it got under the tree and then started rising," said Watson in the glow of victory, laughing. "Pretty easy."
After Oosthuizen eventually tapped in for bogey, "pretty easy" also described the two-putt from 10 feet that earned Watson his first of two Masters victories to date, fashioned by one of the most masterly shots ever struck.
Golf Magazine
Subscribe To The Magazine
Subscribe