This simple speed test reveals an interesting fact about your golf swing
Welcome to Play Smart, a game-improvement column that drops every Monday, Wednesday and Friday from Game Improvement Editor Luke Kerr-Dineen to help raise your golf IQ and play smarter, better golf.
There are lots of different ways to create speed in your golf swing.
Specifically, there are four ways you can generate clubhead speed.
You can lengthen your swing, you can move the club around more forcefully, you can hinge and unhinge the club faster, or you can rotate the club faster. You can do plenty of different things with your feet and body to change these things, but as Dr. Sasho Mackenzie (who you can follow on Twitter here) explained during the recent GOLF Top 100 Teachers Summit, all routes towards more speed lead back to increasing one of those four things.
In the recent Fit For Golf Podcast (which you can listen to below) host by Mike Carroll dived a little deeper on this idea with Sasho, and along the way, revealed an interesting test that golfers can try the next time they're on the range.
Why is my 7-iron fast and my driver slow?
It started with Sasho laying out a scenario that most of us have probably encountered at some point: Two golfers who hit their irons about the same distance, but hit their driver different distances.
"Let's say we're both 95 mph 7 iron club head speed, but your driver speed is 125 mph and mine is only 120 mph, what's going on there?," Sasho asked.
This was something Sasho dived pretty deep on in his research, and he found that golfers who tend to rotate and release the club more with their hands transfer more speed to their driver than golfers who use their body to drive their hands through impact with higher speed. Or, put more simply: The more you release the hands, the more speed you'll probably have with your driver.
"They're really putting the brakes on your hands to get speed out to the club…that scales to the driver" he says. "The only caveat is that maybe this negatively influences your accuracy."
Of course, there's no right or wrong way to do it.
To my eye, Hovland is more of a higher hand speed guy, while Rory is an example of a throw-the-club type. They both mash the ball far and straight. Really, it's about finding what you can do well enough to repeat.
But there is a way you can find out which end of the spectrum you're on.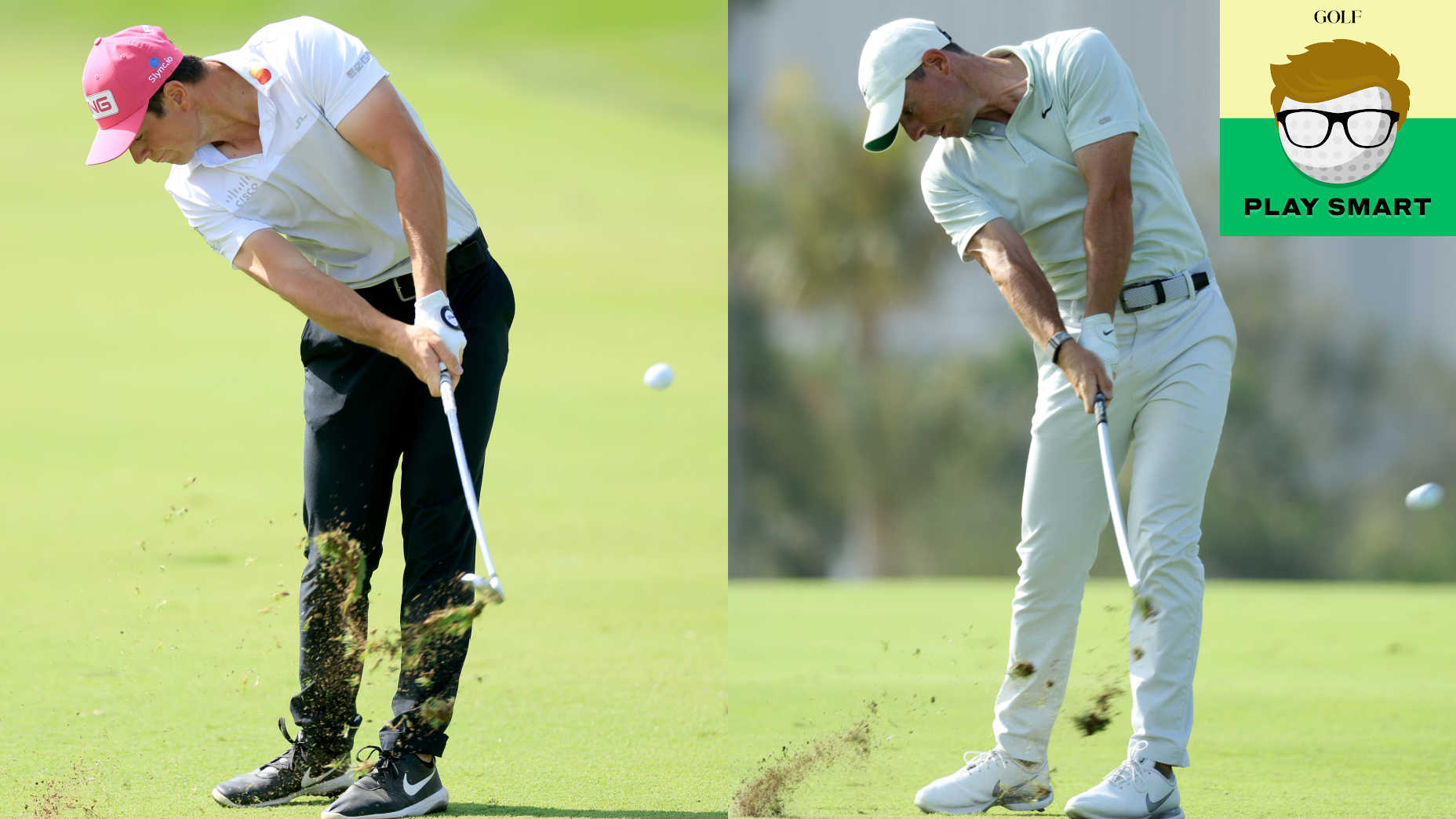 The test
Next time you're hitting balls with access to something that monitors your swing speed (hey, what a coincidence, you can buy your own swing speed monitor right here!) here's what you need to do:
Hit balls with your 7-iron until you're nice and warm.
Take note of what your maximum speed is with your 7-iron.
Multiply that number by 1.18 — that, according to Sasho's research, is the average 7 iron-to-driver ratio.
That number is your "expected driver speed."
So let's say you swing your 7-iron 92 mph; multiply that number by 1.18 and it means that golfer's expected driver speed is 108 mph. Most golfers will swing about that range. If your driver swing is faster than that, it means that you're really good at sending energy out to the clubhead. If your driver is slower than that, it could be a power leak, or that your swing relies on a different kind of speed which may benefit your accuracy more than your speed.
Either way, try that test on yourself and you'll understand a little bit more about your own swing.
All of our market picks are independently selected and curated by the editorial team. If you buy a linked product, GOLF.COM may earn a fee. Pricing may vary.
PRGR Black Portable Launch Monitor
$229.99
The 2021 PRGR Portable Launch Monitor is the perfect addition to your game. It is an affordable and super-accurate Doppler Radar-based pocket-size portable launch monitor that is incredibly easy to use. It provides you with Swing Speed, Ball Speed, Carry Distance, Total Distance, and Smash Factor for each club. With this simple device, you are not only able to measure your swing data with a golf club, but also with any of the SuperSpeed Golf Training Clubs.   New updates with the HS-130 A Model:   Extended higher resolution display Higher quality Processor Ability to Toggle Modes of Measurement (Metric / Imperical)  Keeps recent history up to 500 Shots Works indoors into a net or outside at a driving range Higher Quality, Dual, and Faster Doppler Radar Sensor New Scientific Launch Algorithms for Increased Precision and Consistency Improved ability to read high lofted wedges    Purchase this radar for game improvement while hitting golf balls or SuperSpeed training.   What's inside the box? PRGR Black Portable Launch Monitor: Red Eyes Pocket HS-130A Instruction Manual
Buy Now
View Product