This eyebrow-raising putting stroke was almost illegal — here's why it wasn't
Twitter
Welcome to Play Smart, a game-improvement column that drops every Monday, Wednesday, and Friday from Director of Game Improvement content Luke Kerr-Dineen to help you play smarter, better golf.
It's strange that anyone would ever define a game that's supposed to be played for enjoyment as "terrifying" in any way. No tennis player would describe hitting a forehand as "terrifying," just as no basketball player would use that term to describe the process of shooting a 3-pointer (indeed, I personally relish the opportunity).
But there's a unique kind of terror that accompanies a short putt for par, and at times even pros succumb to it — just ask former U.S. Open champion Lucas Glover. During the Honda Classic last week, Glover stepped up to a short putt after two long and smooth practice strokes, then jolted the ball into the hole.
All of our market picks are independently selected and curated by the editorial team. If you buy a linked product, GOLF.COM may earn a fee. Pricing may vary.
Adidas Tech Response 2.0
$64.99
Inspired by a tennis shoe, the Tech Response 2.0 is made to be easy-to-clean and exceptionally comfortable. Featuring a breathable synthetic upper and a Cloudfoam sockliner and midsole, the Tech Response offers day-long support and exceptional comfort both on and off the golf course. The outsole has non-marking adiWear rubber, eco-friendly ThenTech EXP cleats, and X-traxion primary lugs for added balance, traction, and overall durability. This is the kind of golf shoe you'll never want to take off. 
Buy Now
View Product
Initially I thought this was an intentional technique, but it was not; it was a mini-yip — something Glover has battled at points throughout his career. When the clip hit social media, many golf fans wondered if it should've resulted in a penalty.
One of the foundational principles in golf is the act of making a stroke. It's been extensively reviewed by the governing bodies — indeed, questions over whether using a belly putter constituted a "stroke" were the driving force behind the anchor ban. But read the rule book, and under Rule 10.1, you'll see the "stroke" defined as the following:
A stroke is made by fairly striking at a ball with the head of a club. The fundamental challenge is to direct and control the movement of the entire club by freely swinging the club without anchoring it.
In the associated language under 10.1/a, the rules outline three methods that do not constitute a "stroke":
A player holes a short putt by striking the ball with the bottom of the clubhead, using a motion similar to that used in making a shot in billiards or shuffleboard. Moving the ball like this is a push.
A player moves the club along the surface of the ground pulling it towards him or her. Moving the ball like this is a scrape.
A player slides a club beneath and very close to the ball. The player then lifts and moves the ball by use of a forward and upward motion. Moving the ball like this is a scoop.
Which brings us back to Glover.
After the putt dropped, a small group of commentators on social media speculated that the putt was more of a push, which should have constituted a two-shot penalty. And while it may look that way to the naked eye, when you slow down the video, as I've done below, you can see the tiniest of backswings. You can also see Glover's arms move (slightly), which means yip or no yip, this was a legitimate stroke under the rules of golf, fair and square.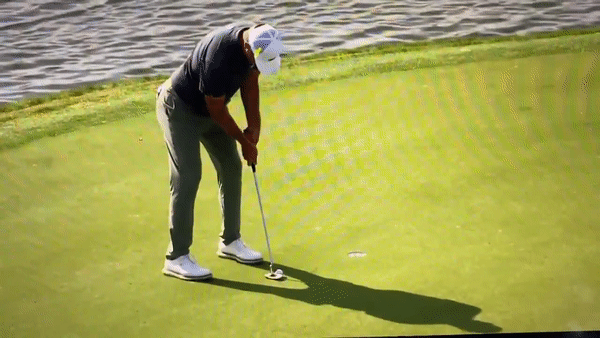 You may be wondering why there are rules limiting the use of a push vs. a stroke at all. The question is simple: Because it's easier to push the ball in your desired direction, rather than actually hit it. It reduces the number of variables in your stroke or swing, which is why there are rules against it.
So if you want to use Glover as a form of inspiration, that's fine — just make sure you always make a backstroke, even if it's super-short. And, if like Glover, that stroke is symptomatic of a larger issue, you may want to check out some of our yips-curing content.