How this firefighter's high-stress putting drills helped Lucas Glover temper his yips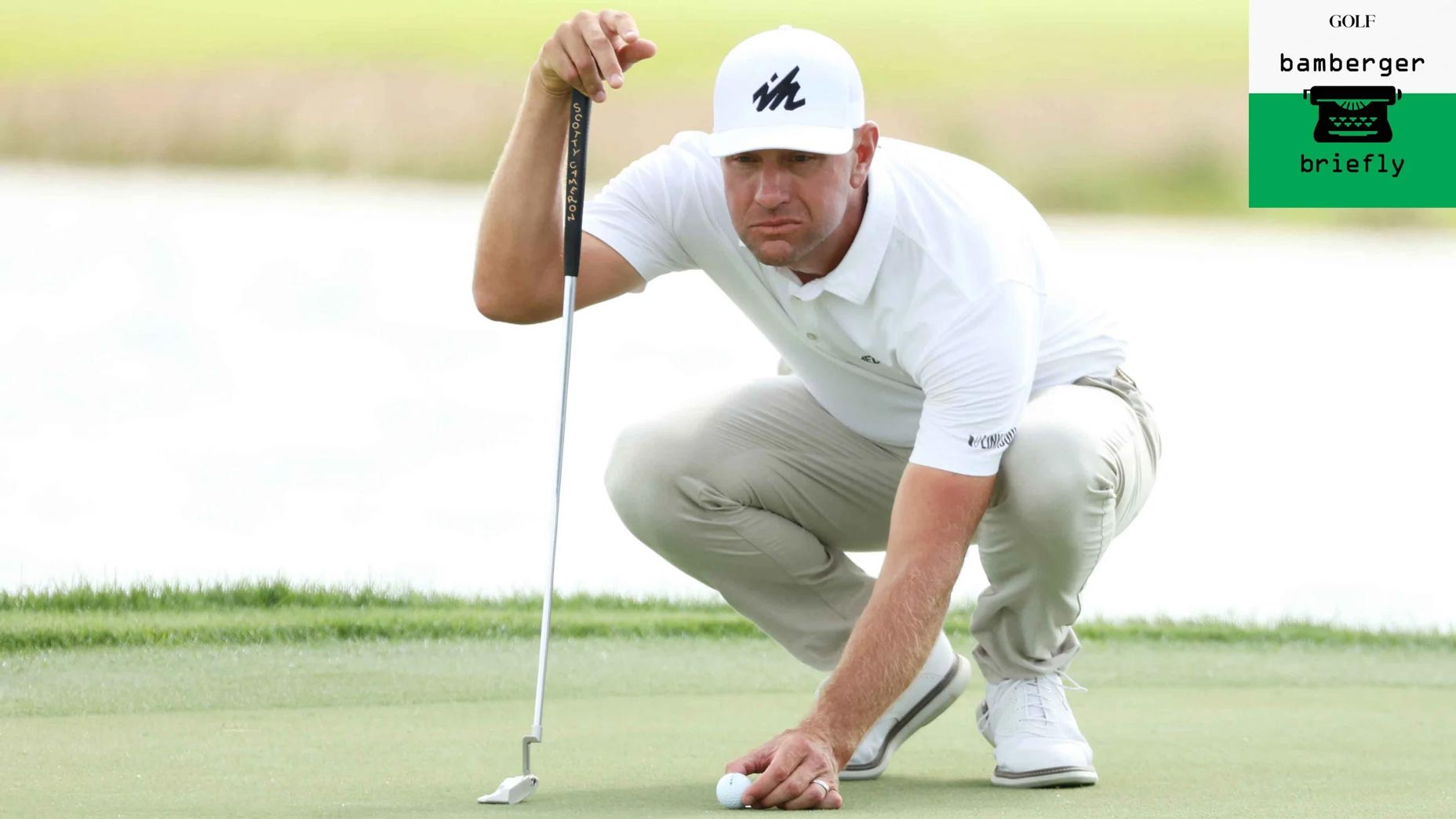 getty images
At the risk of repeating myself, and recognizing that my rooting interests and my gambling interests unwisely and often overlap, I have a dark(ish) horse for this week's British Open: Mr. Lucas Glover.
Yes, close readers with long memories (two months is long these days) may recall that in May I was on the verge of touting Glover, in the days leading up to the PGA Championship, as a dark-horse pick. Then I learned of one significant problem: Glover was not in the field.
Glover, winner of the 2009 U.S. Open, was not in this year's U.S. Open at Torrey Pines, either. But he is in this week's British Open at Royal St. George's. He was in, and planning to play, even if he hadn't won last week's event, the John Deere Classic, which he did do. It was on TV.
Sunday night, Glover took a charter flight, with other touring pros, from Moline, Ill., to merry old England. Lucas and his "team." Which is to say Lucas. His longtime caddie, Don Cooper, couldn't make the trip. His passport had expired. Lucas is not traveling with his family or his agent or, to use the words he used in his post-victory press conference, "a gentleman named Ward Jarvis."
A reporter had asked Glover about his putting routine, and this (with minor editing) is what Glover said that night:
"I started working with a gentleman named Ward Jarvis, who works with several other guys out here. I started with him right around Puerto Rico this year and we developed a couple of things that I do every time, no matter what.
"Two weeks ago, at home, I started taking a practice stroke behind the ball instead of beside it because it helped me get a more consistent set up. I started taking a practice stroke right down my line from right behind the ball and then just walk in and get going."
Ward Jarvis. The gentleman from Kentucky is not at the Open this week. But was at the Deere, and he hardly told Glover a thing all week, because Lucas didn't need much.
This week, Jarvis is back home, in Paducah, where he's a professional firefighter. (Twenty-four hours on, 48 hours off. That's how the fire-house shifts go there, and in many other cities.) A professional firefighter with a rooting interest in four golfers playing in the Open this week at Royal St. George's in southern England: Glover, Brendon Todd, Jimmy Walker and amateur Cole Hammer.
Jarvis, a 43-year-old husband and father with a master's degree who found he doesn't like indoor work, comes by his second job, as a golf coach, the hard way.
"I have stuttered my whole life and I have played golf my whole life," he said Tuesday, by phone. "I started making connections between the mental connections of stuttering and the mental connections of yipping. The similarity is what you do in these pressure situations."
Yipping golfers often don't yip while practicing. They need the stakes to be high for the yip to appear. So one of Jarvis' goals is to create practice scenarios that have this-is-not-a-test anxiety. In his own high-pressure situations, when working live fires, Jarvis finds he doesn't stutter. He examined the reasons why he doesn't and brings that thinking to the golfers with whom he works.
Glover's issues chiefly relate to short putting. Brendan Todd's issues relate to shots off the tee. Jimmy Walker's issues relate to chipping. Cole Hammer, 21, is too young to have golf-swing issues. But he apparently likes what Jarvis says.
"I started making connections between the mental connections of stuttering and the mental connections of yipping."
Glover found his way to Jarvis by way of his manager, Mac Barnhardt. When Barnhardt and Glover talk about Glover's putting issues, they don't use the word yips. They say "the ya-yas." Just for fun. They're not afraid of the word.
"I think everybody has the yips, at times," Barnhardt said in a phone interview. Putting yips, chipping yips, driving yips. Some kind of performance anxiety. When Tiger Woods was suffering from the chip yips in Tour events, he chipped at home with no issues at all.
"You can't be cured of the yips — everybody has them. But you can minimize them."
Tom Watson agrees with that. He has said, more than once, "Once a yipper, always a yipper." But that doesn't mean that once you yip one, you're going to miss the next one and the following one and the one after that.
Watson, winner of 5.5 British Opens, has a unique golfing sensibility. In interviews, he will often mention Byron Nelson and his lifelong teacher Stan Thirsk but also, now and again and apropos of nothing, the lefthander Russ Cochran.
Cochran won only once on the PGA Tour but was able to play the Tour successfully for almost 20 years because he had a spectacular short game and a knack for getting the ball in the hole. Watson admired his game. Cochran is from Paducah. Jarvis learned the golf swing by watching Cochran and getting instruction from him. Jarvis played college golf at Samford University, in Birmingham, Ala.
Tom Weiskopf was the opposite of Cochran. He had perfect mechanics, a perfect physique for golf, and all through his career he looked like he was going to win multiple Grand Slam events, particularly the three played in the United States. He won one, the one that is played in the British Isles. He won the Open at Troon, in 1973. He told me once, years ago, that he won on the Scottish linksland because the golf was so unpredictable and quirky there. Allowing and accepting golfing weirdness was part of the equation. It let him, he said, bury his perfectionistic impulses and accept surprise.
Weiskopf once told me, "It's too bad I was born in the United States — I should have been born a Scot."
Soon after hearing that quote I relayed it to a wise old Scottish teaching pro named John Stark. "Then we may never have heard of him," Stark said. "His whole technique might have been different."
All of that is to warm you up for the interesting thing Jarvis does with Glover and others. Maxwell Smart would call it The Old Stolen Ball Trick. Lucas will be practicing, stroking one putt after another. Getting in his groove. Then Jarvis, mid-stroke and with no warning, will hook a ball away, like a croupier raking back a pair of dice.
"The ball-removal drill gives your brain a different experience," Jarvis told me. "Golf has a lot of chaos. I try to bring structure to the chaos, but also chaos to the chaos."
Links golf, as Watson and Weiskopf know, comes with a lot of built-in chaos. Royal St. George's is Chaos Central. I like Luke. He's in the field, so that's good, and he's come to terms with the chaos that is part of the game.
Michael Bamberger welcomes your comments at Michael.Bamberger@Golf.com