It's out there: A better golfing version of you. What's the key to unlocking it? Finding the right coach. Enter our 2021 class of GOLF Magazine's Top 100 Teachers, who are here to share a few of their own student success stories — and what you can learn from them.
Shaun Webb
MEET THE TEEN WHO TACKED ON 17 MPH OF SPEED
Student: Chanc Willis (18, Reinhardt University)
Chanc Willis weighs about a buck fifty. When we first started working with him a year ago, he was averaging 114 mph with his driver. Impressive, yet considering his athleticism, it was clear he was leaving speed on the table. We went to work, and by the time he entered college, he was pumping it at 131 mph—the fastest we've recorded from a junior at Athletic Motion Golf.
We focused on getting Chanc to maintain width on his backswing, specifically getting him to keep his right arm more extended. A lot of my recreational students collapse their trail arm — that pretty much shuts down your whole body. Fight the fold the next time you practice. You'll find that maintaining width encourages your trunk and shoulders to rotate more going back. The result? Extra speed you never knew existed.
Chris Mayson
HOW A TOUR PLAYER MADE GOOD WITH AN ULTRA-STRONG GRIP
Student: Brendan Steele (38, OWGR No. 80)
Brendan Steele, a three-time PGA Tour winner, may have the strongest grip on the pro circuit. When most golfers look down at their grip, they see two knuckles on their glove hand. Brendan can see four. It's what feels natural to him, and, rather than changing it, we've worked to get the best out of it.
Strong grips like Brendan's tend to close the face, so we run three elements to keep it open: 1) maintain a stable lower body so he doesn't extend too early, 2) keep his lead wrist slightly "cupped" and 3) make sure his body is always rotating. If you're a strong grip player like Brendan, these three moves will prevent the clubface from flipping over and help you hit much straighter shots.
Brech Spradley
HOW THIS JUNIOR STOPPED HIS SWAY AND STARTED STRIPING HIS IRONS
Student: Will Jordan (17, elite junior)
One of my talent- ed juniors, Will, was guilty of "swaying" on his backswing. For many players, that means chunks and tops. For Will, it meant getting stuck.
Enter one of my can't-miss drills. Have a buddy hold a club or swim noodle to the right side of your head and another inside your right knee, like I'm doing here with Will. The first "guide" helps you extend your right side, rather than sway, on the backswing; the second delays your hips to improve your sequence and stops your arms from get- ting "stuck." Will used to be a swayer. Now he's a striper—with a schollie to play at SMU!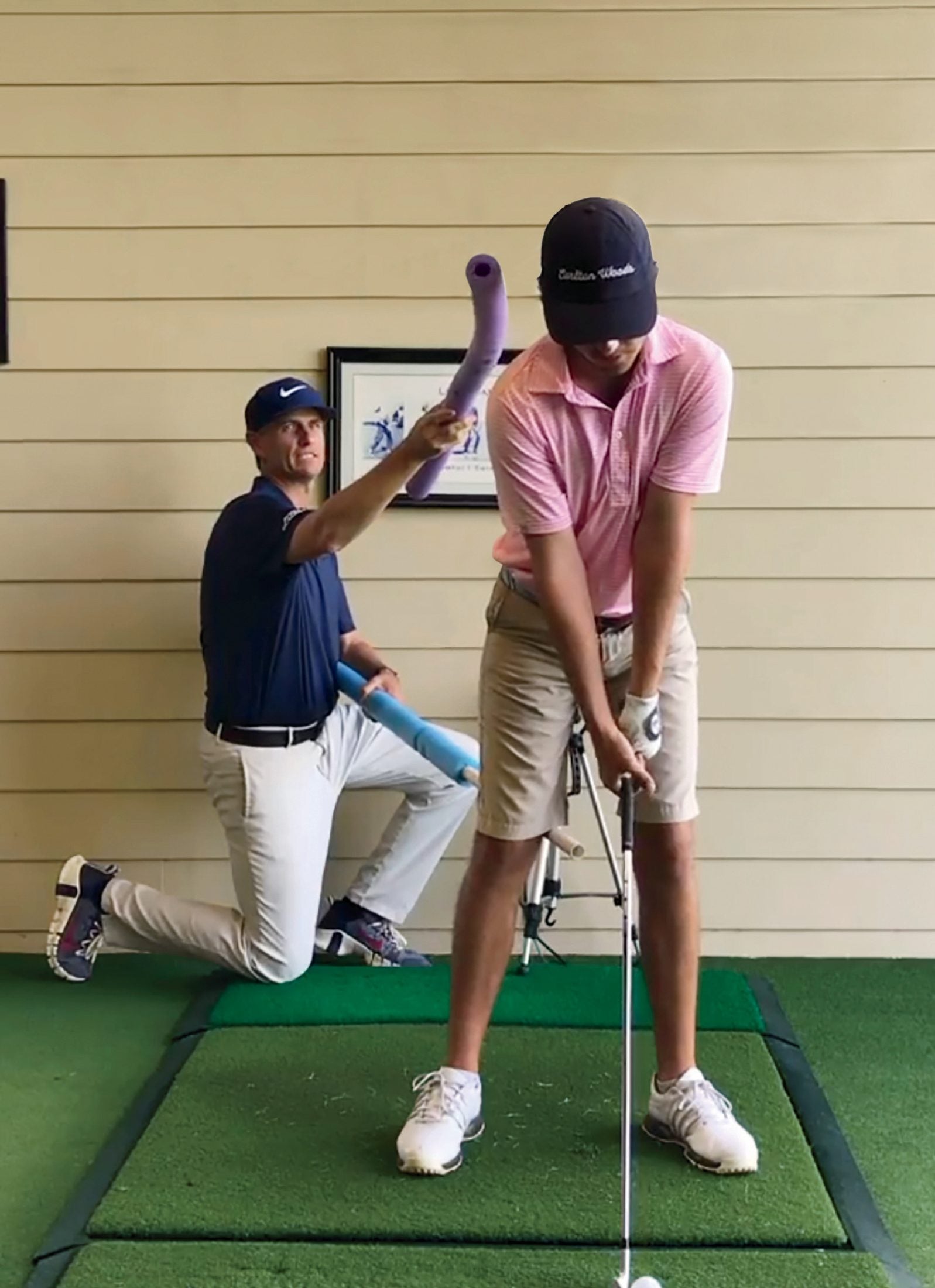 Trillium Rose
HOW A SUPER SENIOR WITH BACK PROBLEMS LEARNED TO SHOOT HIS AGE
Student: Stuart A. Bernstein (83, 12-handicap)
When I first started working with Stuart, he had spinal stenosis. He was shooting in the 90s and like most older golfers, his main goal was to play pain free and lower his scores.
When golfers have physical limitations it's important first and foremost to recognize them. Understand what you can and can't do, then building your game around them.
For Stuart, that meant taking it easier in his full swing and focusing heavily on his short game. We worked on his wedges from 50 yards and in, rotating his torso and maintaining extension in his arms through impact, which improved his contact and consistency. By keeping the swing thoughts simple, his shots around the green improved which took some pressure off of his long game. If you don't have the distance you once did, you can still shoot low scores!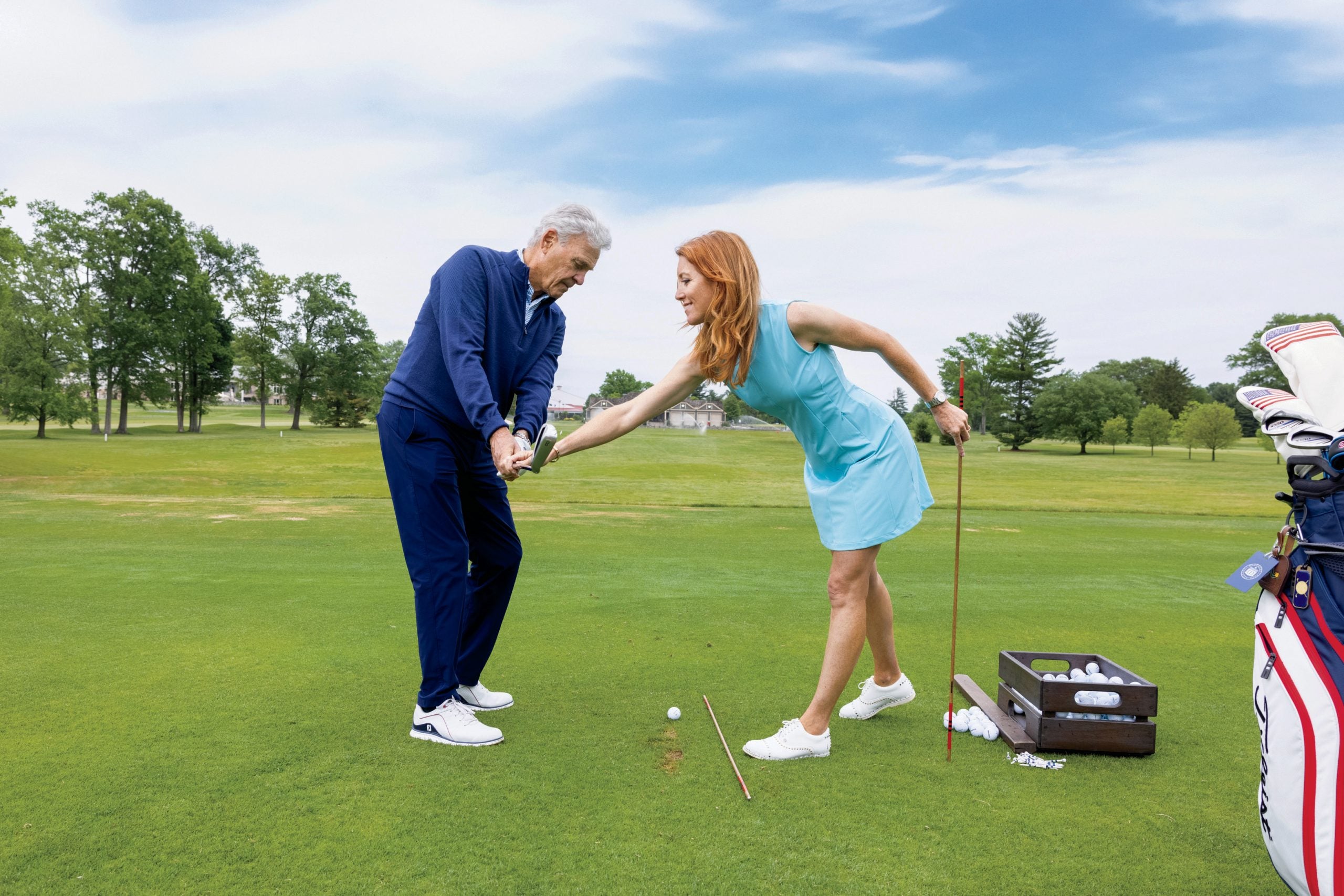 Kate Tempesta
GETTING YOUR KIDS TO FORM A LIFETIME LOVE FOR THE GAME
Students: The kids of the Birdie Basics camp
Golf can be an intimidating game for children. Youngsters quickly feel discouraged and often quit. When that happens, it's golf that loses. Helping a young child forge a life- time love for the game means making them feel successful from the get-go. I do it by engaging all their senses and making the fundamentals of the game feel fun, like hitting water balloons instead of actual balls (below). Children need a space to be who they are, and learn golf the way they are meant to learn. Every time I see a child's face light up, I know I've done my job.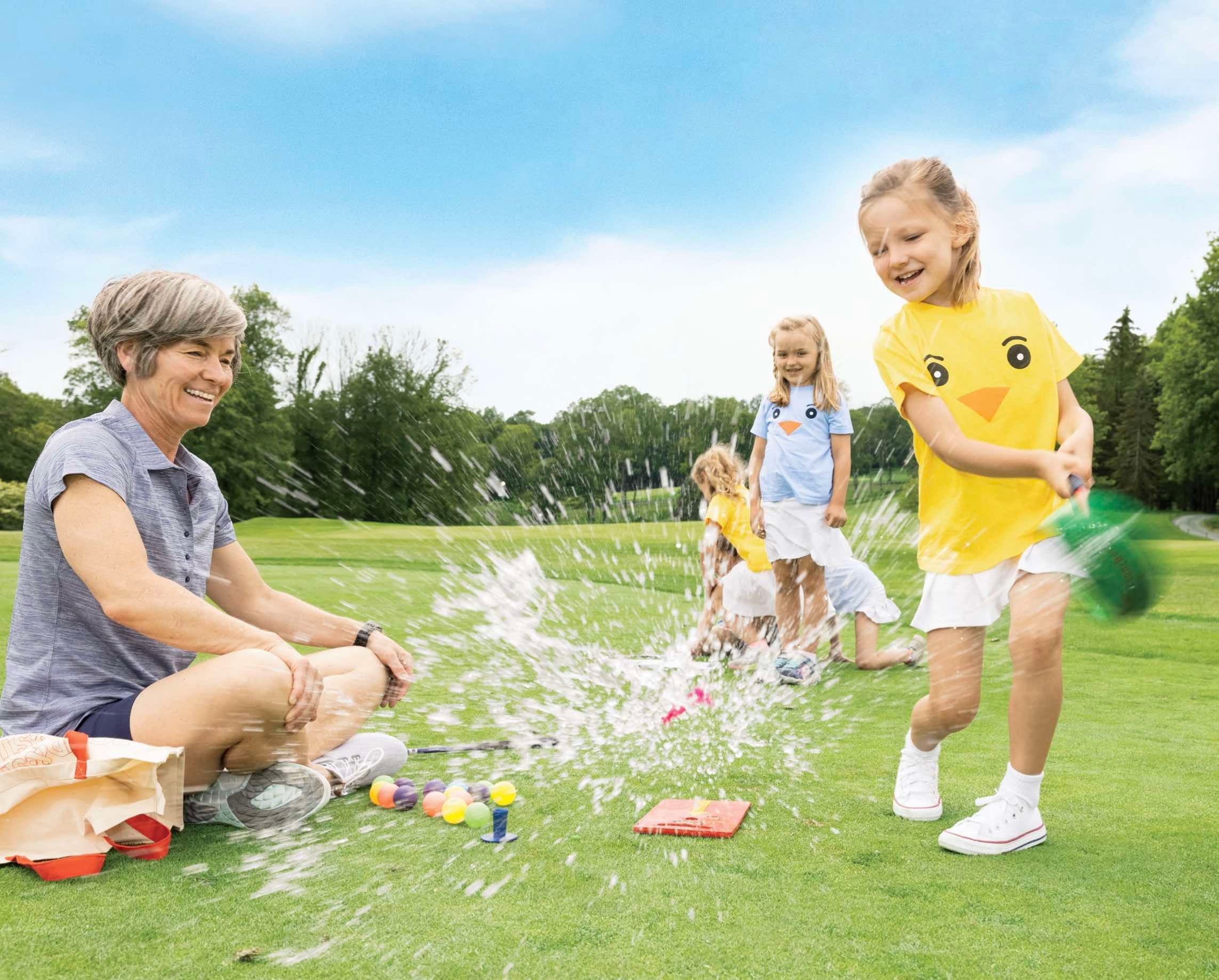 Bryan Lebedevitch
A JUNIOR WHO'S GROOVING HER STROKE WITHOUT REALLY THINKING ABOUT IT
Student: Lucy Wang (14, 2-handicap)
I've been working with Lucy for about 10 months; she's one of those juniors who has more talent than even she realizes. As a coach, it's my job to help get the best out of her. With talented juniors, it's important to keep them focused on playing golf, not the golf swing. That's why I use little tricks to get Lucy to work on technique with- out thinking about technique. Here, I've added some visual aids (putt gate and elevated putting line) to get her focused more on starting the ball on line than worrying about her strokes. The goal: Make 10 putts in a row from this station. Works like magic.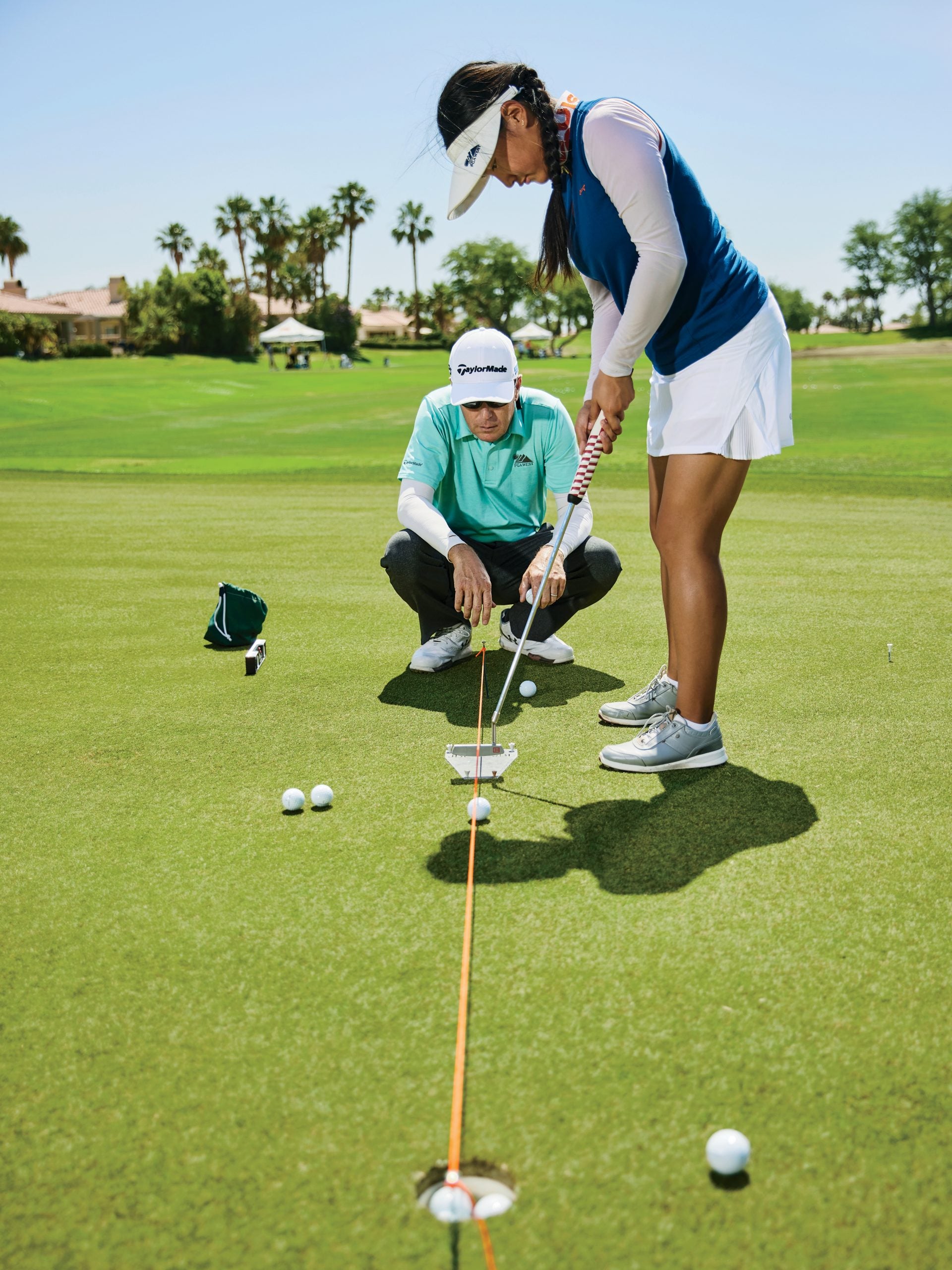 Drew Steckel
HOW THIS YOUNG GOLFER GOT GOOD IN A HURRY
Student: Aiden Dinani (13, elite junior)
There comes a point when technology, especially the use of video, becomes a detriment to learning. Trust me: Sim- ply making swings in front of a camera doesn't really teach you how to play golf. One of my top juniors, Aiden, is dripping with talent, but we're not making things crazy technical right now. Youngsters need to know that there's more than one way to swing the club. I ask him to swing long and loose, with lots of rotation, and let him find his way to create speed. Other than this natural speed training, we work on hitting lots of different shots. Challenge yourself to practice unique situations and swings. That's something every golfer can do, and the dividends are huge.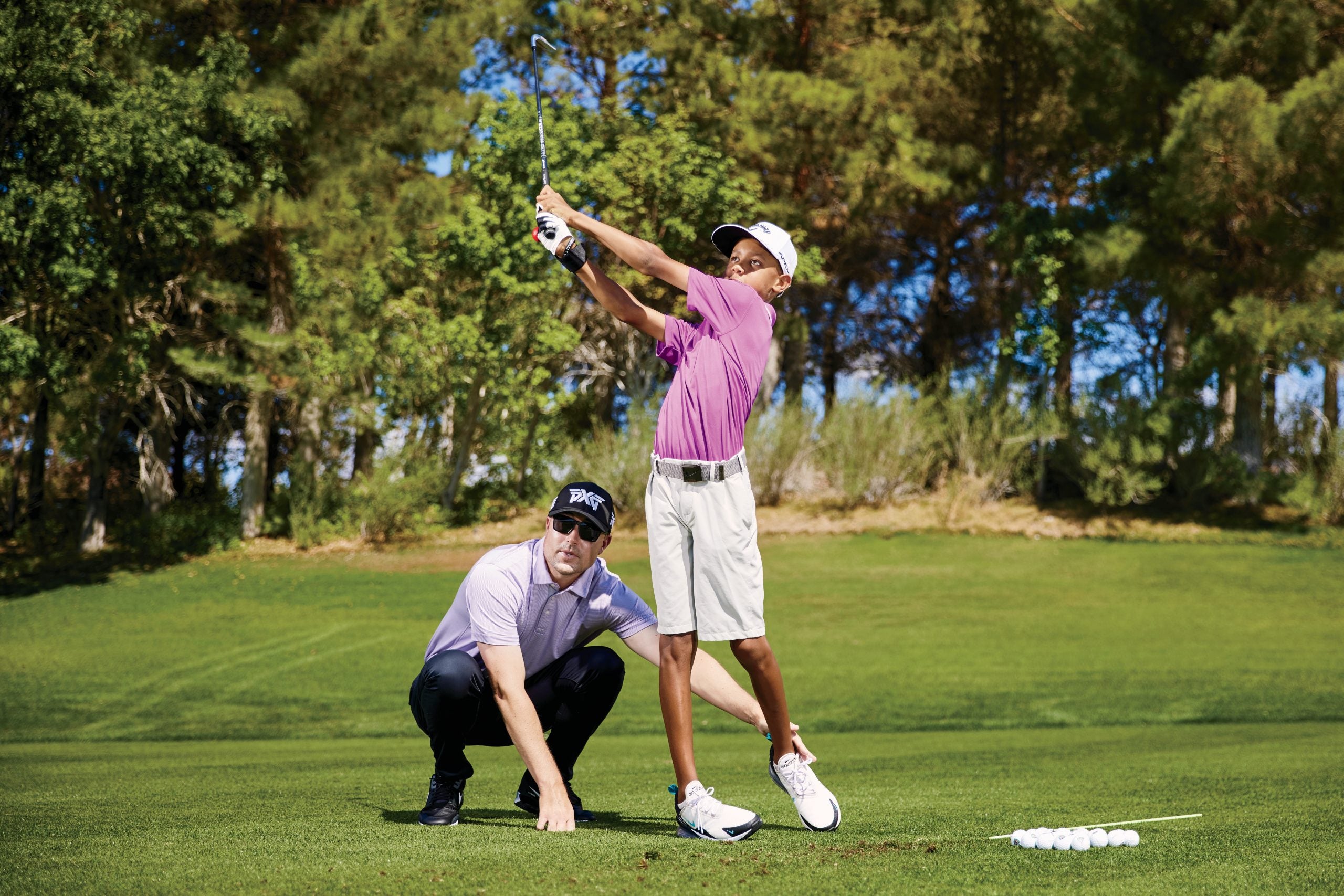 Nick Clearwater
HOW THIS PLAYER USED DATA TO GET TO SINGLE DIGITS
Student: Gianna Dela Cruz (25, 2-handicap)
At GOLFTEC, we've captured data on mil- lions of swings from all kinds of golfers. Every day we're put- ting those insights to work, helping golfers' games. One of the biggest differentiators we've found between higher and lower handicaps is the way their shoulders move on the backswing. Higher handicaps tend to turn too level with their shoulders, which sends the club over the top later in their swing. Lower handicaps turn their shoulders on more of an incline, with their arms deeper around them, like Gia and I are working on here. It helps deliver the club back to the ball on an inside path for a more consistent strike.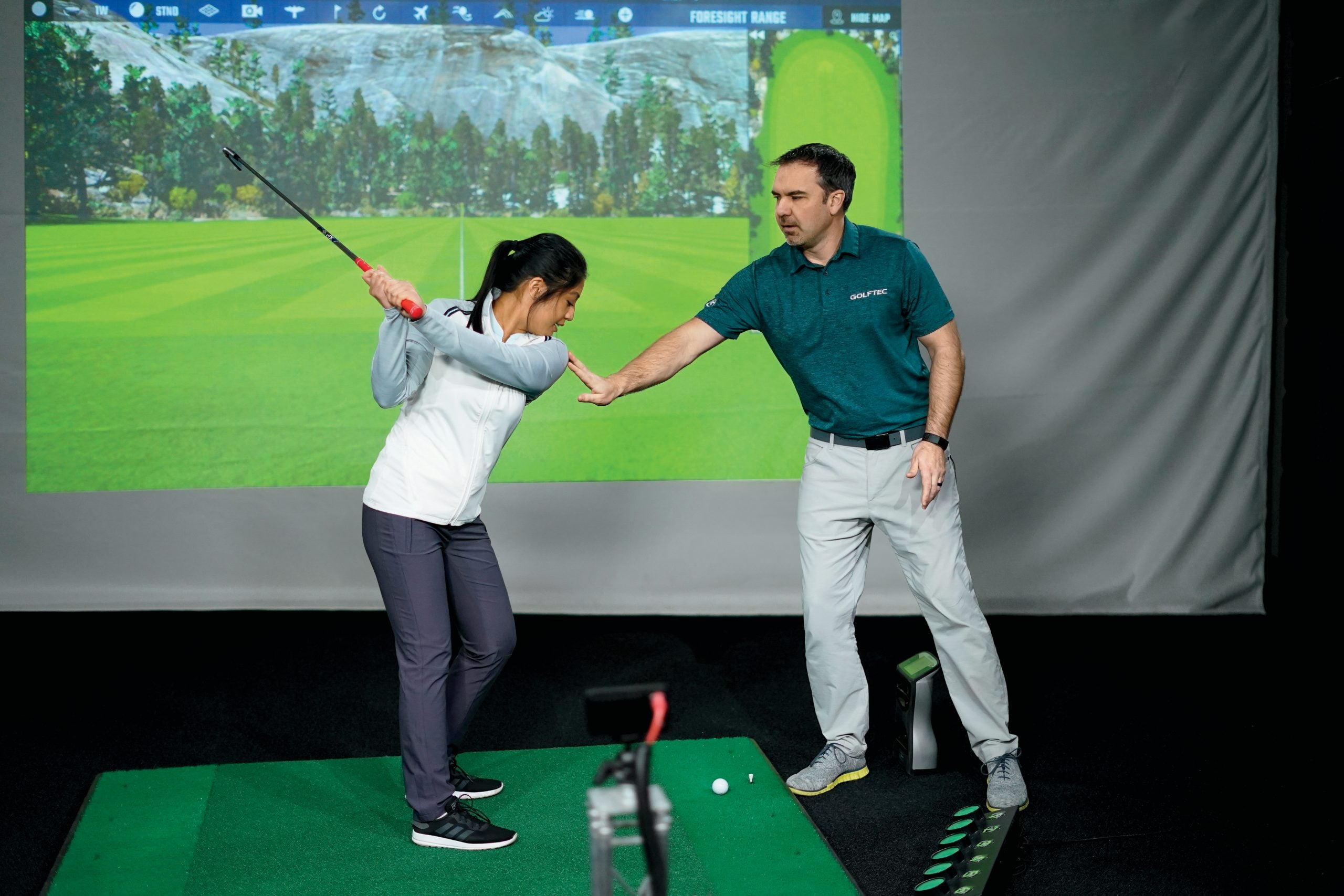 Justin Parsons
HOW ONE OF THE GAME'S ALL-TIME BEST BALL STRIKERS GETS A FEEL FOR REPEATABLE POWER
Student: Louis Oosthuizen (38, 2010 Open Championship winner)
Louis Oosthuizen may be a major winner, but he's like a lot of regular golfers in that he's a "feel" player and not very technical. He's not someone who likes swing thoughts. His main concern: Where is the ball going? That said, we do keep an eye on flaws. Louis tends to come out of the shot when he doesn't fully load his right hip on the backswing—a common mistake at all levels. We created the device at left, but you can just as easily use your golf bag or a chair. He sets up with his rear end against the board and keeps it there. Do likewise and you'll load your right side for power like you've never seen.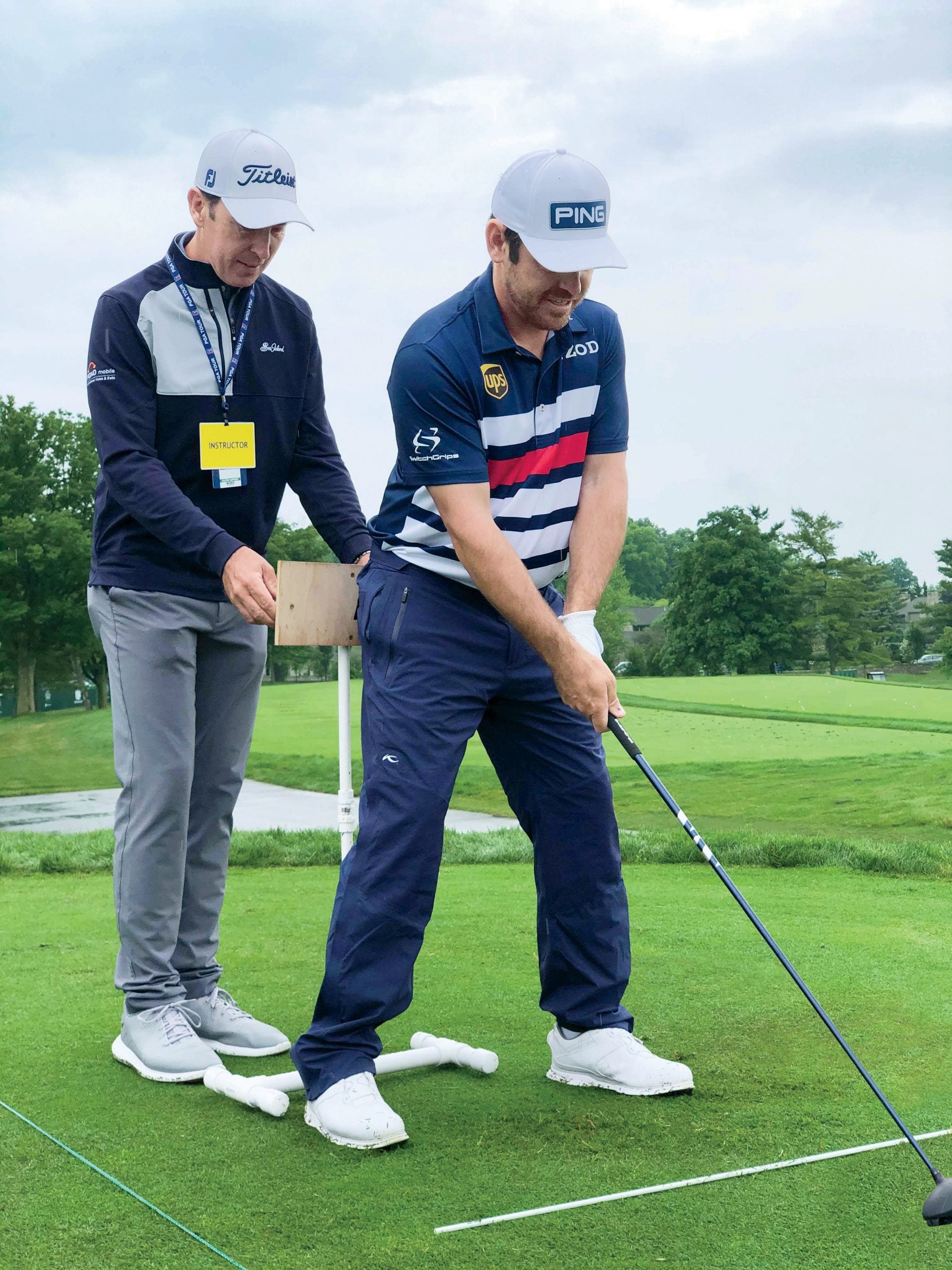 Allen Terrell
DJ PROVES THAT TALENT MEANS NOTHING WITHOUT HARD WORK
Student: Dustin Johnson (36, No. 2 ranked player in the world)
When I was his head golf coach at Coastal Carolina University, I knew Dustin was something special. But his success wasn't guaranteed. Everyone can see the God-given talent he's been blessed with, but not everybody sees the hard work that goes into it behind the scenes. DJ's gift is that he keeps things simple. He doesn't spend time on stuff that doesn't matter. During the off weeks, that means spending hours dialing-in his wedges and perfecting his fade with his driver. Dustin may have the talent, but over the years, he's worked hard to harness it.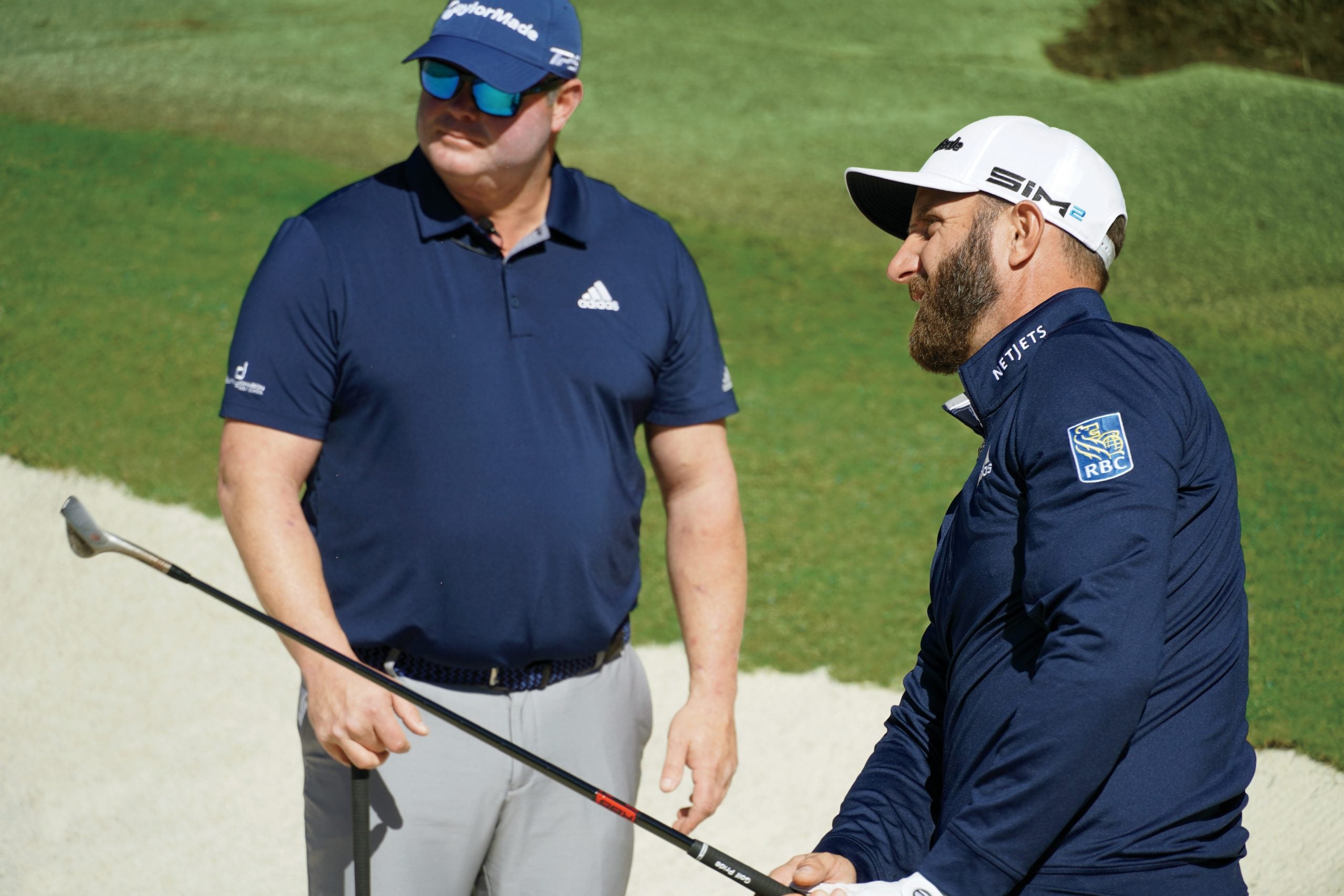 Wayne Flint
THIS SENIOR PROVES THAT STAYING IN BALANCE NEVER GETS OLD
Student: Dr. Lawrence Johnson (84, 18-handicap)
Dr. Johnson had a long and distinguished medical career. Now retired, he practices and plays a few holes one or two nights a week. For him and most other older golfers, it's critical to get balanced at address and stay balanced all the way through the swing. The trick is to use your body pivot to drive your arms. If you simply "throw" the club at the ball using only your arms and wrists, you're toast. You know you're doing it right when, halfway down, the butt of your grip points at the ball (right). That's the path to balance and pure strikes.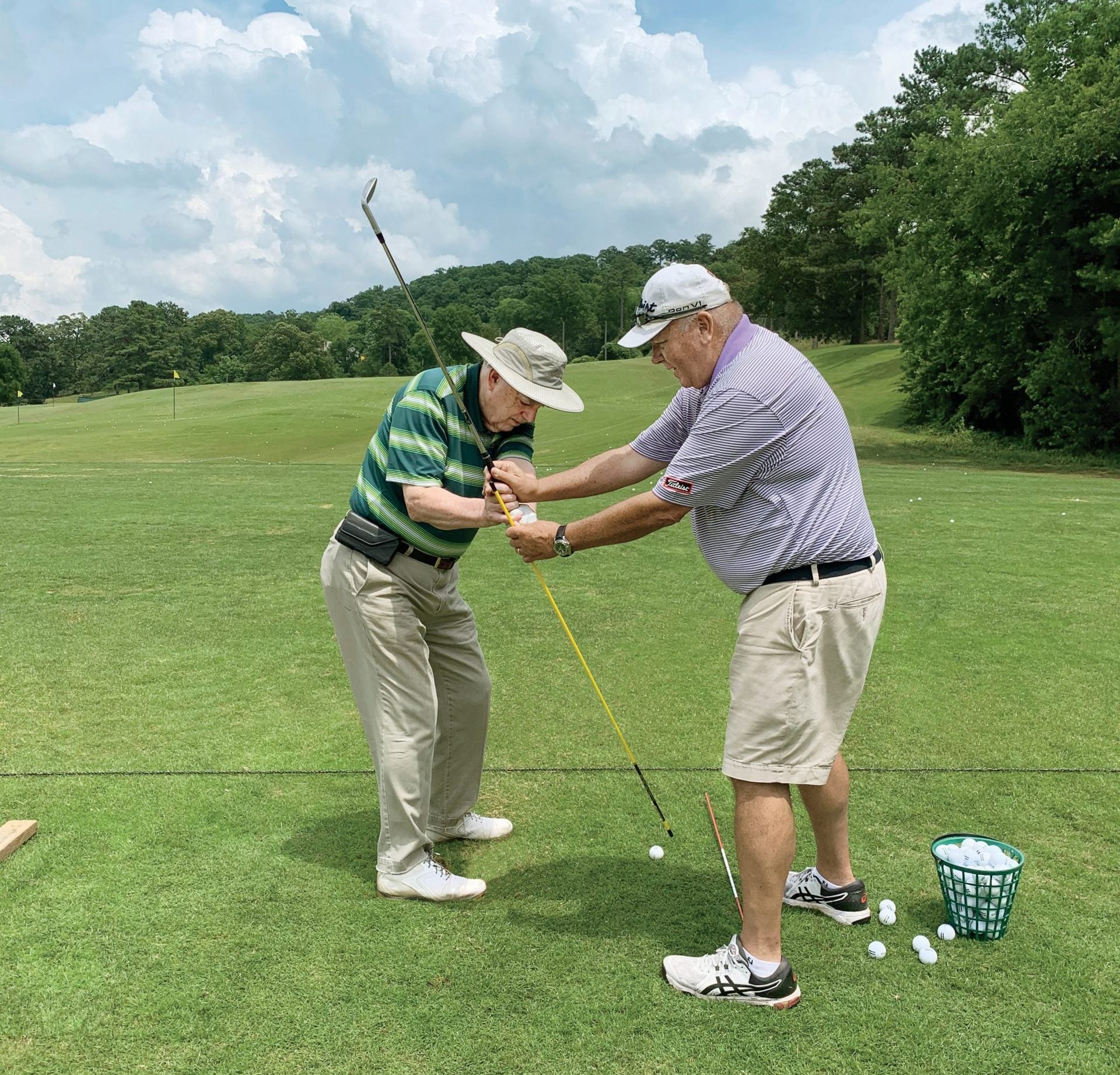 Jeff Smith
STRIKE IT PURE WITH THE MOST INSPIRING GOLFER YOU'LL EVER MEET
Student: Mitch Robinson (31, 19-handicap)
In high school, an awkward fall on a trampoline left Mitch paralyzed from the neck down. Doctors said he'd never walk again, but Mitch fought his way back, and today he's not just walking—he's swinging! He's my hero, and I'm honored I get to help him on his golf journey. Lots to unpack here, but our goal right now is solid con- tact, which every golfer needs more of. Here's what I tell Mitch: "Smash the club through a spot one inch in front of the ball." This trick moves the bottom of your swing slightly forward. Boom! Ball-first contact.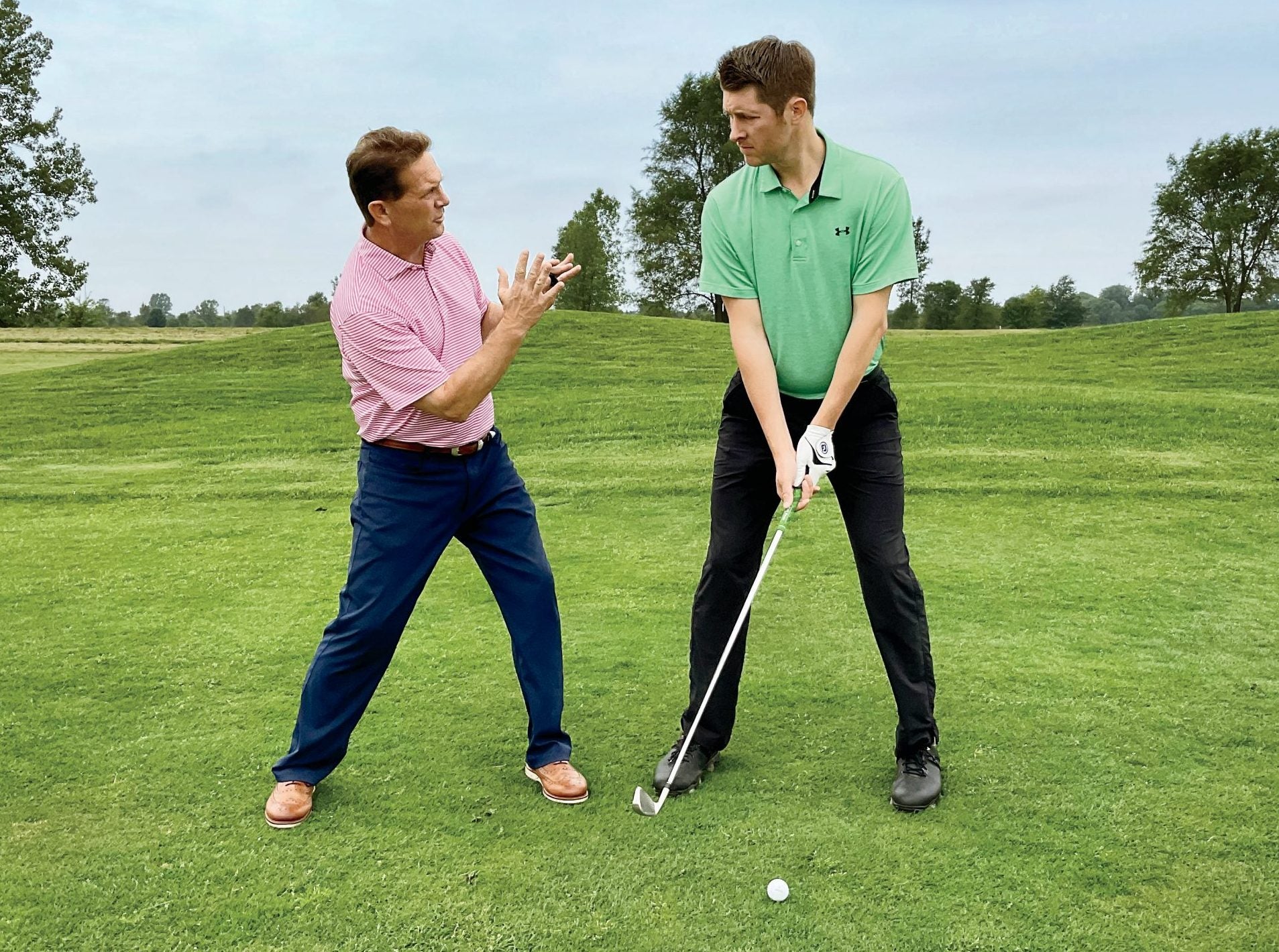 Golf Magazine
Subscribe To The Magazine
Subscribe